With beautiful multicolor, a matte finish and delicate crackle on each surface, Cookies Circle Ceramic Mosaic is our latest collection, which will quickly become popular and is taking kitchen, bathroom and living room design to the next level. Now check out how amazing cookies circle ceramic mosaic designed as kitchen backsplash and shower wall.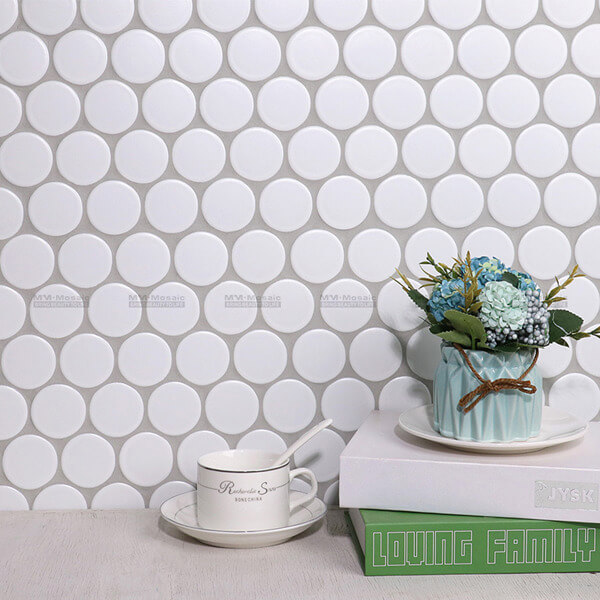 1. Light up your kitchen
The kitchen, a place where we prepare meal entertain and interact with others, is the heart of any home. So the decoration of this room is very important.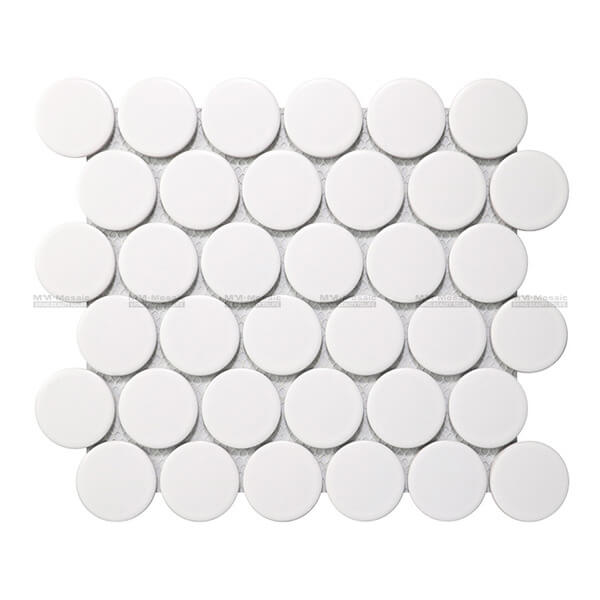 Cookie Circle Ceramic Mosaic Matt White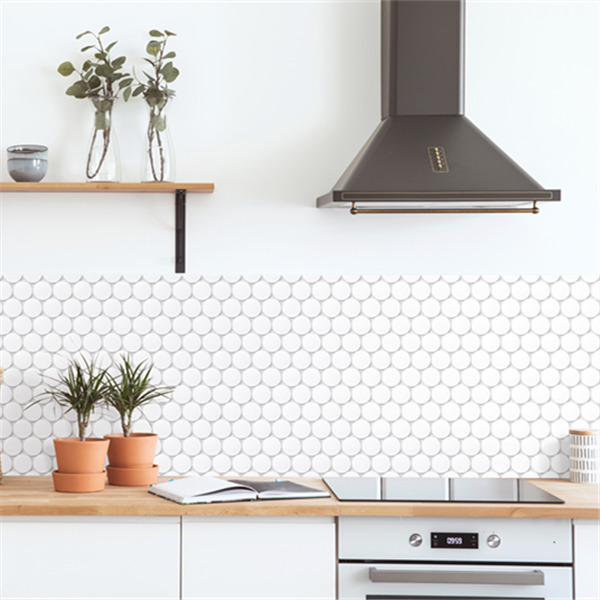 Here is a kitchen design that, upon first glance, create an amazing effect due to its elements are so visually eye-catching, and it fit perfectly. Similar color is the key ingredient that makes the kitchen memorable. When done right, this foundational design principle can bring a great impact to your home decoration while simultaneously combining it together. With the similar tones between penny backsplash and cabinetry, the kitchen might give a warm atmosphere that you'll never want to leave.
2. Liven up the Bathroom
This room of the below design has three windows with a white curtain, which can keep the bathroom light and airy. What' more, because of the moisture, the bathroom wall tiles particularly require durable surfaces that are easy to clean and wear abrasion resistance. Fortunately, with our latest collection of cookies circle ceramic mosaic, you can avoid the annoyance of cleaning. This suitable interior wall tiles will make your bathroom tidy and organized.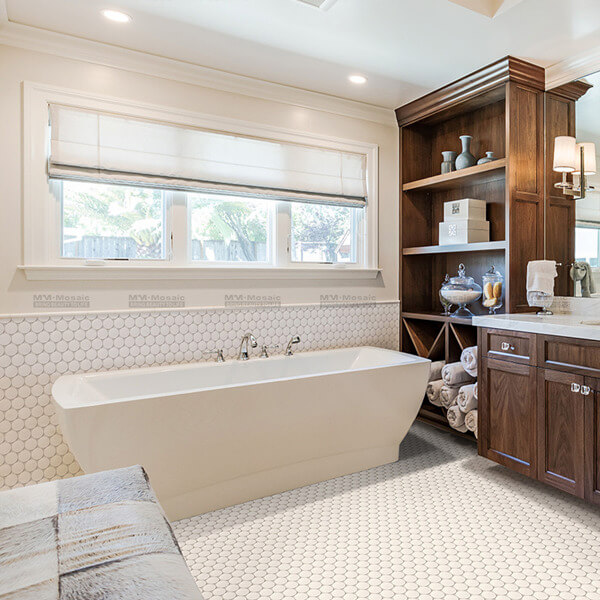 Covering your shower interior wall with our white penny tile will transform the bathroom into a simple, pure and cozy space where make you relax after a busy day. Want more bathroom decoration, you can browse this article: Decorating Bathroom With Trendy Finish Porcelain Mosaic Tiles >>>.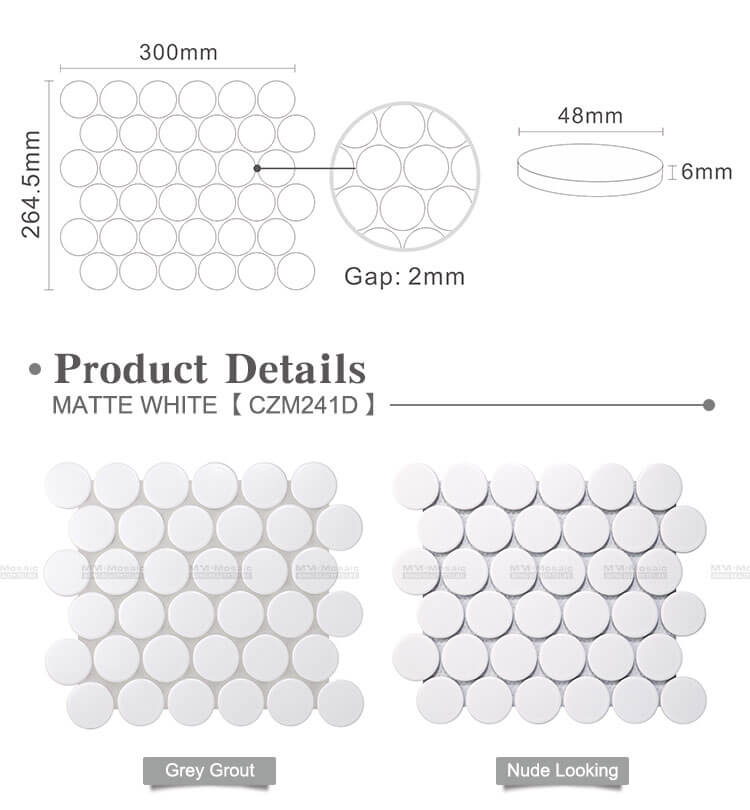 Details of Cookies Circle Mosaic

3. Visually expand the living room
How to make my living room seem larger? This is the common question in every homeowner. In order to add versatility, we provide this Dark Ice Crackle Mix patterned that complements the various color in the collection. The blend color transforms a space; these exquisite mosaic create a colorful look and a feeling of spaciousness, bringing surprising effectiveness to your house. It is a myth that blend color mosaic is inappropriate for installing in a compact room. But in fact, mosaic tile penny circles work well when is used in the back wall just like the below design shows: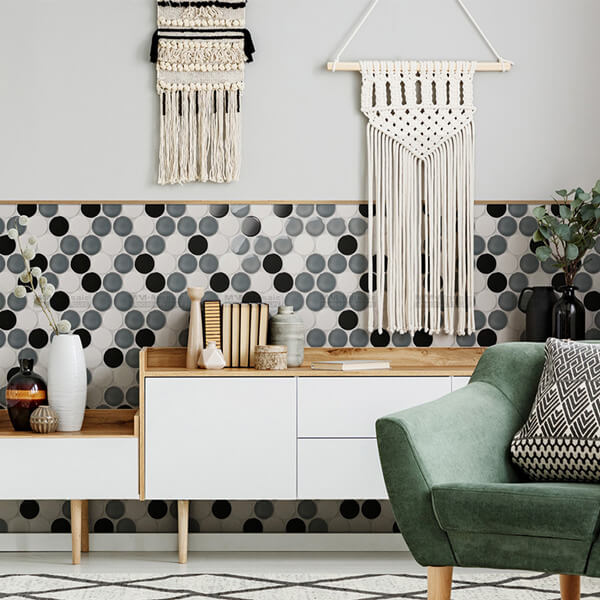 The black and white carpet combine well with the mosaic blend color of black, white and grey. Using blend color mosaic in this space tricks the eye into thinking that space is much bigger than it is, therefore it can contribute to creating a sense of scale where it doesn't naturally exist.
Finally, to help you complete the look, the optional color of the newest collection includes Matte White, Matte Black, Light Ice Crackle Mix, Dark Ice Crackle Mix Carrara for your choice.
Love this latest collection? Please don't hesitate to contact us for some samples. Want more mosaic inspiration? Follow our Pinterest Board for more home decoration ideas. With more than ten years of experience, MM-mosaic has premium tiles and thorough export service, meanwhile, can provide professional home decor inspiration for you.