Probably, you are familiar with the classic mosaic shape like square shape, subway or even the hexagon-shaped mosaic that we mentioned in our last article. But what about the other forms, such as fish scale porcelain tile? Though It is a bit odd, more and more designers use it in home interior design.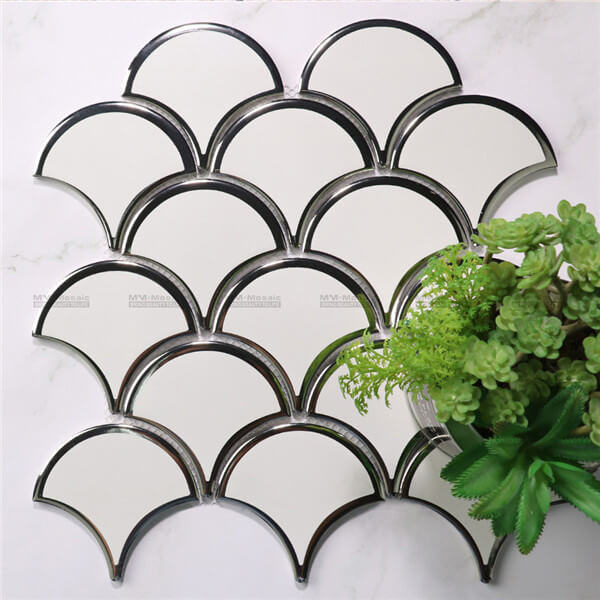 Why we that name? As you can easily guess, they were named this way due to their shape and the resemblance of the pattern with the scale found on fish. The color of these tiles is various and different colors express different styles and feeling, for example, white means pristine pure winter, green means oasis and blue represents the ocean. Our newest arrival collection uses silver color with a glossy surface, just like a fish in the deep sea. So how to install this beautiful mosaic into your home decoration? We can answer this question with a few examples of delicate interior designs that actually have these.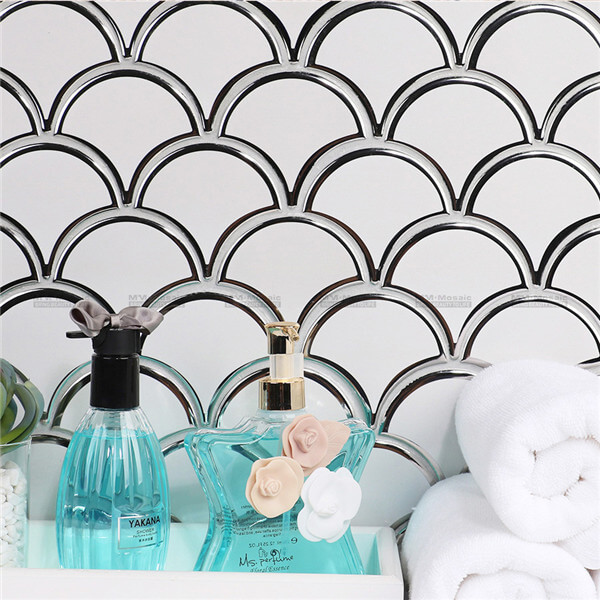 Basically, you can use this fish scale glossy metallic print tiles like you would any other type. In the kitchen, you can have a tiled mosaic kitchen backsplash that will look that much more interesting if the mosaic also has a sparkling color or form an eye-catching pattern.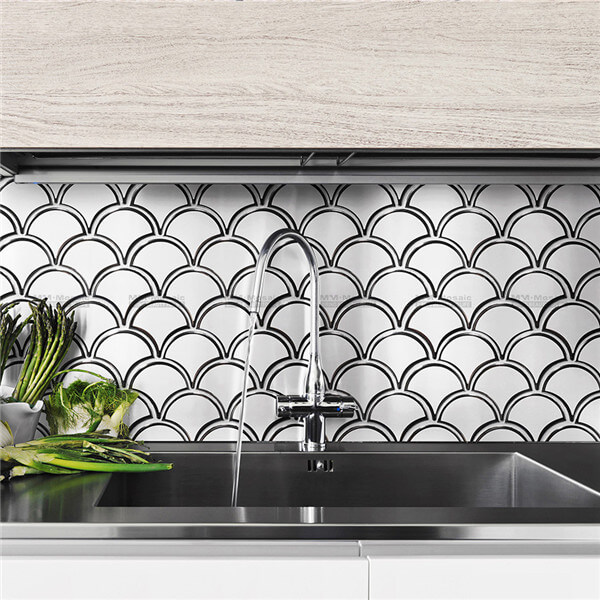 You can see the above design, the silver metallic print fish scale mosaic pairs well with the metal tap and the metal cooking stove. The running water from a tap which makes the fish scale mosaic seems to come alive. What's more, if you think all the silver color is too dull, you can install wooden cabinetry just like the design shows, which adds a more natural atmosphere.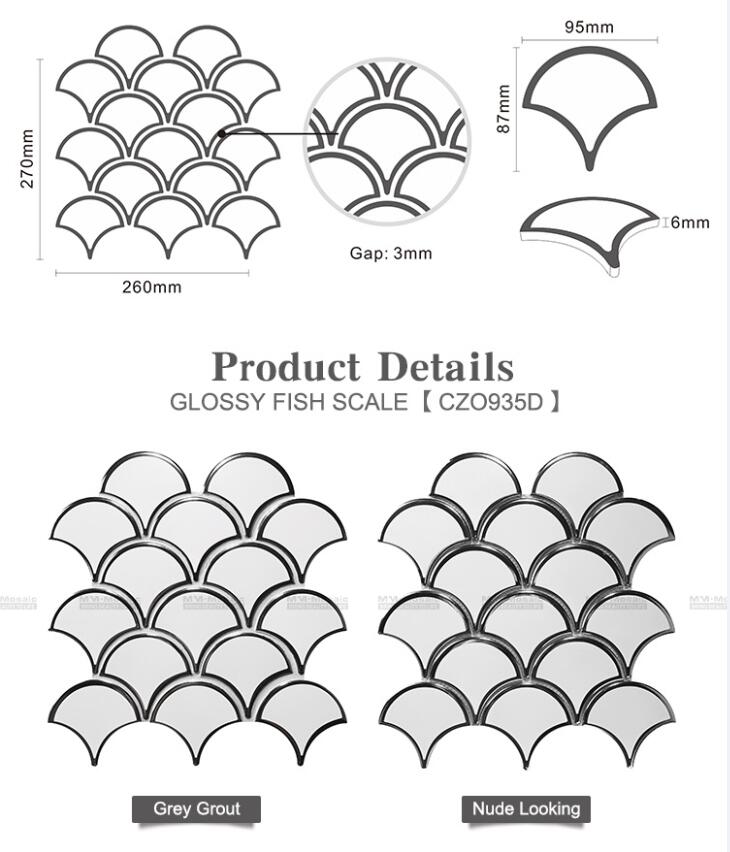 Chip Size: 95x87x6mm; Sheet Size: 270X260mm
Thickness: 6mm; Gap: 4mm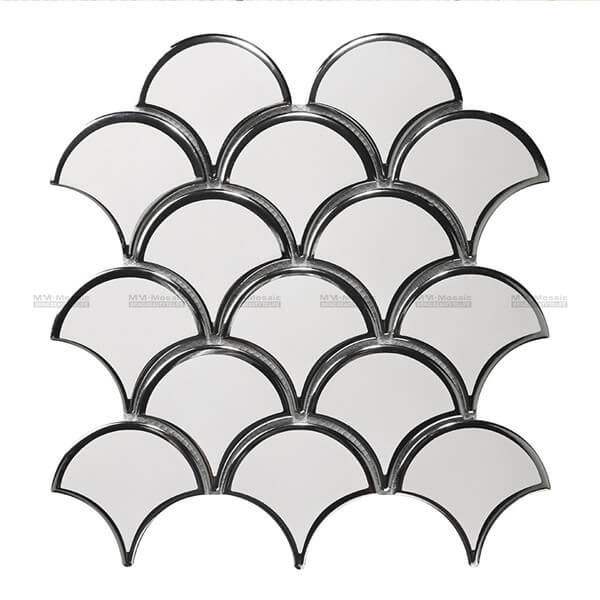 Glossy Metallic Print Porcelain Mosaic Fish Scale CZO935D
These gorgeous mosaic are suitable for a wide range of installations and are recommended as fish scale tiles bathroom. Why is it widely used in showers? Not just because fish live in water and this is the room mostly associated with it. The exceptional shape with a metallic print pattern can definitely spruce up a simple-looking bathroom or make a small shower feel modern.
What's more, if you want you can have all the bathroom decorated with this glossy fish scale mosaic. It would be a unique and interesting look but before you choose to use these tiles on every wall, you should pick a color that's easy on the eyes. Just like the color of our latest metallic print porcelain tiles, the soft sliver color, which combines well with the pure whitewash wash tray as well as can brighten up the shower.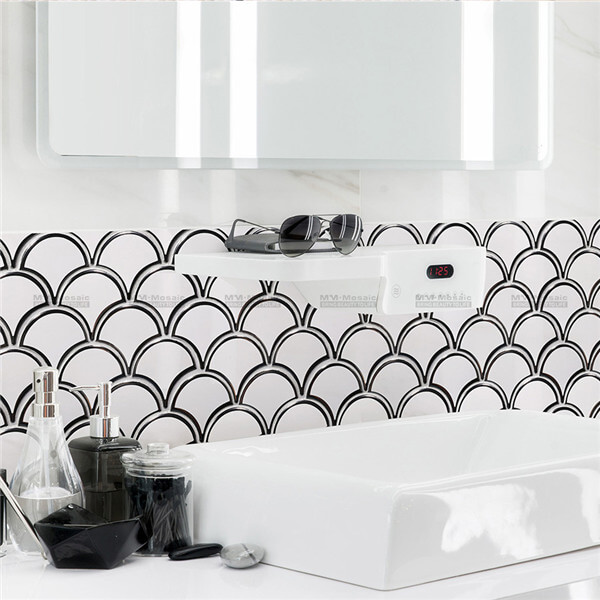 More than that, this fashionable silver tones, with special shape design and metallic print pattern, fully shows the elegance and romance of modern life. If you are attracted to fish-scale mosaic, here are various colors and another installation method for your reference: Style Collection: 286x286mm Wave Pattern Crackle Fish Scale Mosaic>>>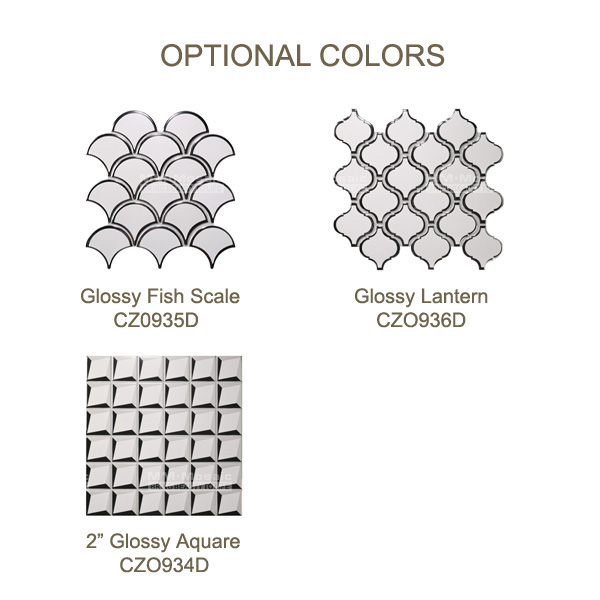 As you can see, there is plenty of ways to do this latest collection beautifully. Inspired by these amazing spaces? If you want to learn how you can improve your space to suit your style with a free home decor consultation and find more space design, please contact us immediately! MM-Mosaic, as a professional mosaic wholesaler and manufacturer, can provide some inspirations and suggestions for you.