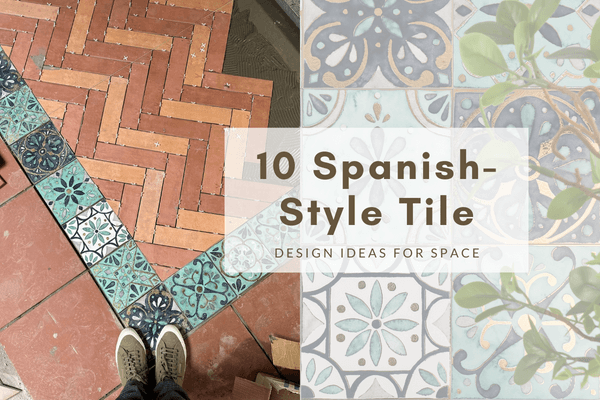 If you are looking to add a touch of charm, elegance, and old-world aesthetics to your home, then Spanish-style tiles might be a perfect choice. With a wide variety of colors, patterns, and materials, Spanish tiles are popular all over the world. They add a sense of vibrancy and warmth that instantly elevates the look and feel of any space. Here are some Spanish-style tile ideas that will help you incorporate this timeless design into your interior space.
#1 Unique Patterns for Entryway
Spanish tiles are famous for their distinct styles, depending on the originating region. Mosaic tile patterns are a perfect way to bring Spanish tile designs to life. Have a look at our client's project - the entryway floor uses different tile shapes, such as square pattern tiles and earthy colors herringbone to create a beautiful pattern that is full of charm. This entryway floor design not only shows the rustic nature of Spanish-style tile but also makes a statement in this space with Spanish tile. This type of flooring can work in any home, whether you have a modern or traditional decor style. You can further enhance this entryway with Spanish-inspired decor items such as lanterns, pottery, and wrought iron fixtures.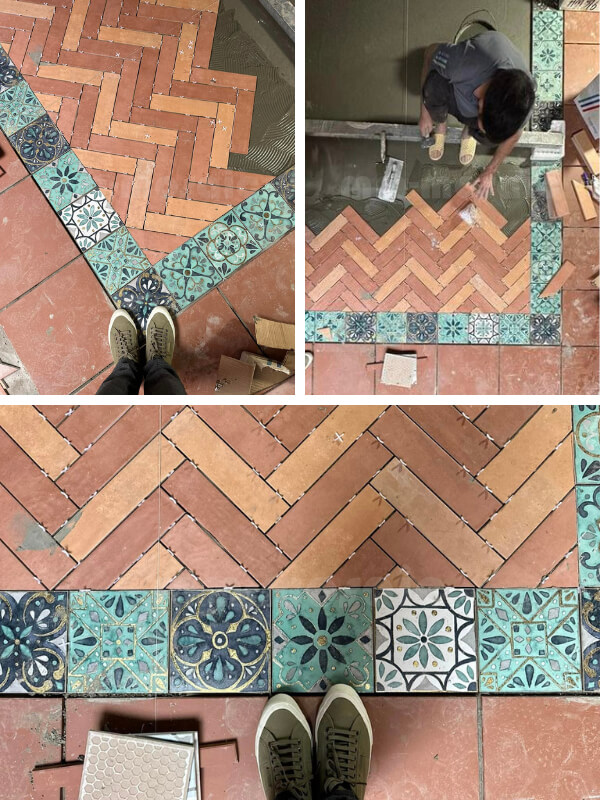 Featured Product: 8"x8" Square Wall Tile ROD1906
#2 Rustic Green Stacked
If you're looking to add a Spanish touch to your shower, stacked tile, and Terrazzo patterns are a staple in Spanish tile designs. This Spanish tile shower wall idea is perfect with a modern twist. Stacked subways are a great choice when it comes to Spanish-style tiles, but choosing a diverse style of Subway tile will update the look while staying timeless. A minimalist Terrazzo patterns floor pulls the entire look together and adds just the right amount of nature. If you want to add the final maximalist touch, pair the tiled look with wallpaper! This style of a bathroom can work in any home, whether you have a modern or traditional decor style.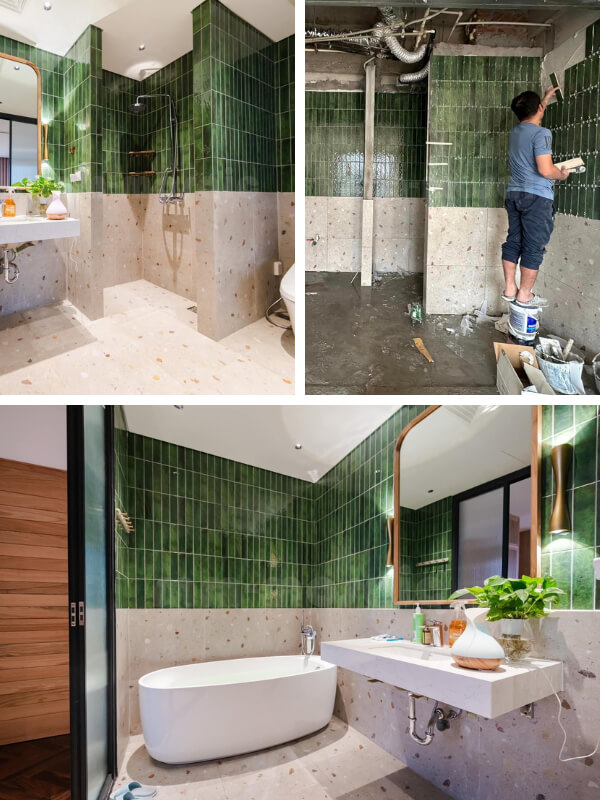 Featured Product: 60x240mm Green Subway Tile
#3 Farm Square Backsplash
Spanish tile backsplashes are fully modern and simple, and this kitchen backsplash checks both of those boxes! Pairing square tiles with a subtle pearl-white glaze creates depth and a gorgeous look that everyone will love. I mean, this understated pearl-white color is a fan favorite for a reason! If you're looking for a more farm look, then a square-stacked backsplash would fit into the Spanish-style tile category. This type of backsplash can work in any home, whether you have a farm-style space.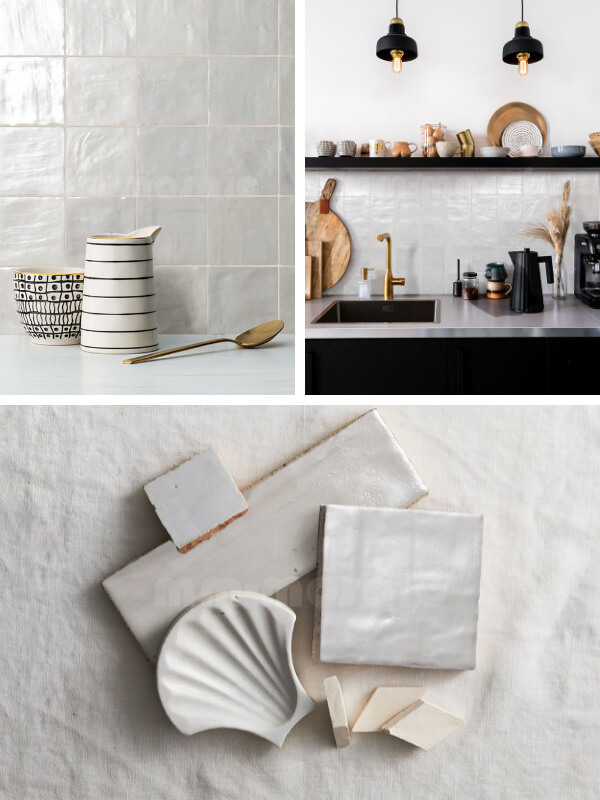 Featured Product: 4"x4" Square Glazed Ceramic Wall Tile White TGF3201
#4 Black and White Floral
When it comes to Spanish tile design, floral patterns are one of the most popular motifs. These can be achieved through hand-painted flowers on individual tiles or by combining multiple geometric shapes to create a nature-inspired pattern. At MM-Mosaic, we offer a modern take on the classic floral Spanish tile floor pattern with our black and white Small Hexagons. By using a combination of a background color, a main flower color, and an accent color, our floral pattern tiles make a one-of-a-kind statement in any room. You can pair these tiles with matching square wall tiles for a cohesive look or let the floral pattern stand out on its own.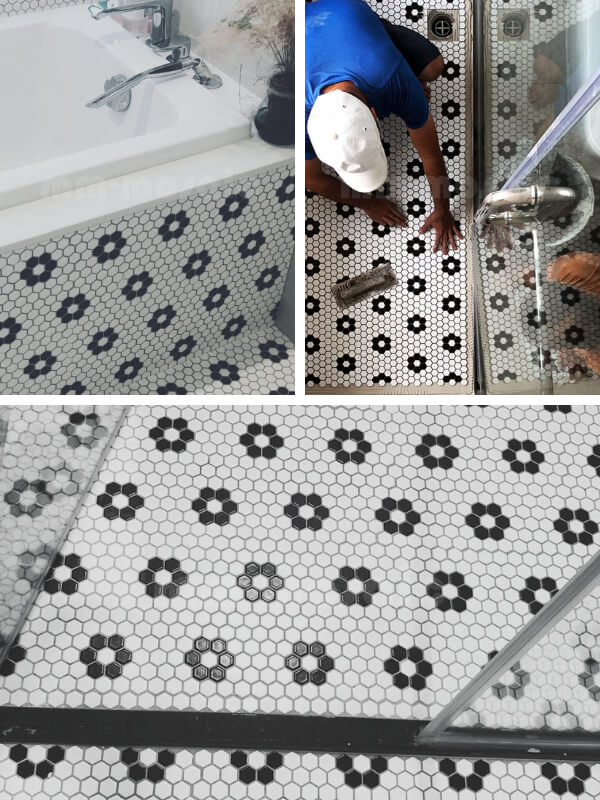 Featured Product: Black and White Floral Hexagon Pattern CZM032Y
#5 Terracotta Leaves as Backsplash
If you're looking to bring the warmth and character of Spanish style into your kitchen, you can't go wrong with this terracotta leaves handmade tile. Our premium glaze is a beautiful example of the rustic, modern, and timeless style that Spanish tiles can bring to your kitchen. This Spanish tile backsplash is the perfect focal point, with its warm, rich energy complemented by earth-toned details and autumn vibes. It's the perfect way to add a touch of Spanish charm to your kitchen backsplash.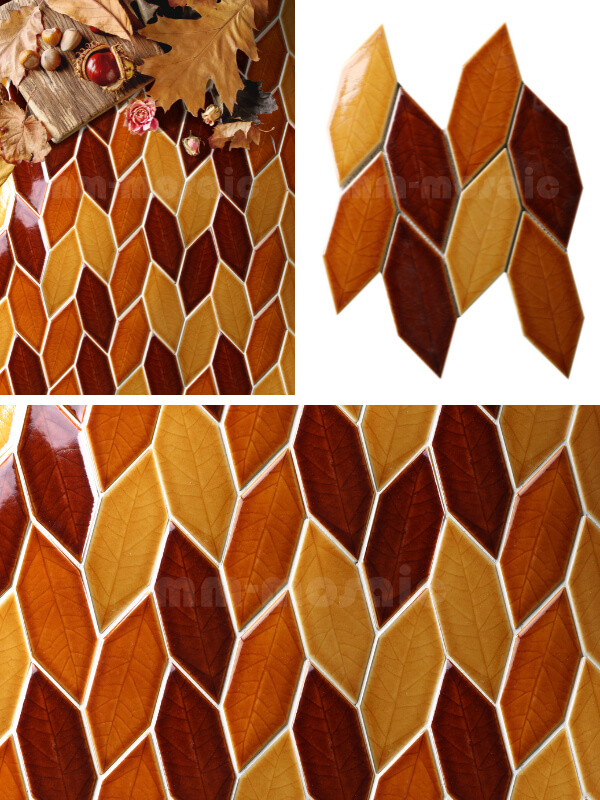 Featured Product: Handmade Leaf Shape Porcelain Mosaic Tile ZOC5001
#6 Personal Patterns
Personal Geometric patterns are another staple in the world of Spanish tile. This geometric bathroom wall decor in particular is a gorgeous display of rustic charm. The 8"x8" square tiles use blend unique patterns which makes the pattern pop. The ink-jet printing in this design is rich and deep, perfect for those looking for a characteristic and calm interior space. Pair this bathroom wall with a black washbasin and black wall paint to create the ultimate cool bathroom.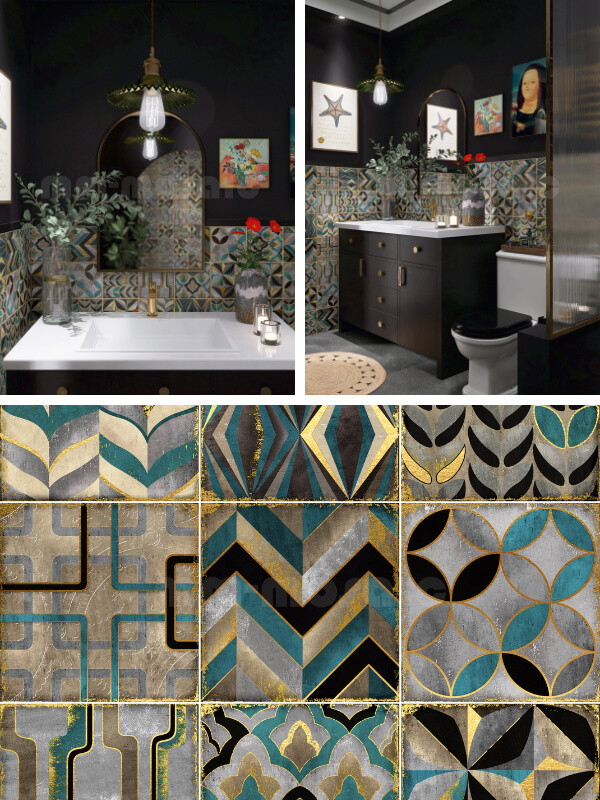 Featured Product: 8"x8" Ink-jet Printing Wall Tile CRO902FJ
#7 Blue mix White Backsplash
Finally, we can't forget about the timeless elegance of the blue and white Spanish-inspired tiles. This classic color combination has always been a top option for both homeowners and designers. The blue and white flower pattern is an iconic feature of Spanish tile design that can be incorporated into any room in the home. Whether you choose a bold and intricate pattern or a more subtle and simple design, the blue and white color will always add a touch of sophistication to your space.
Feeling motivated? Let's fire up the tile
As a professional supplier of Spanish Tiles, MM-Mosaic is dedicated to providing the highest quality products to our clients. We believe that our tiles can transform any space into a work of art, adding warmth, beauty, and sophistication to any room. If you are feeling inspired by the beauty and versatility of Spanish tiles, we invite you to reach out to us and start your tile journey today. Whether you are a homeowner, interior designer, or contractor, we are here to help you find the perfect tiles to bring your vision to life. So don't hesitate, to contact us now to learn more about our products and services. Let's create something beautiful together!