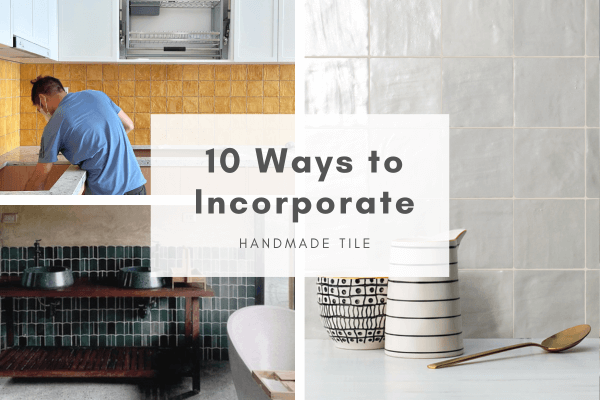 If you're looking to add a personal touch to your interior space, handmade tiles are a fantastic option. They not only provide a unique and individualistic look, but they also add a touch of warmth and personality to any room. With a variety of colors, shapes, and textures available, there are endless ways to incorporate handmade tiles into your design scheme.
In this blog, we'll explore ten creative ways to incorporate handmade tiles into your home, from the kitchen to the bathroom and beyond. So whether you're a DIY enthusiast or simply looking to add some character to your living space, read on for some inspiring ideas.
#1 Honey Backsplash
The honey-colored ceramic handmade tiles are square in shape and have a surface that resembles real honey, with different tiles having different patterns. They are used as a backsplash in the kitchen, complementing the marble-patterned countertop and simple white cabinets and range hood. This highlights the honey-colored backsplash even more.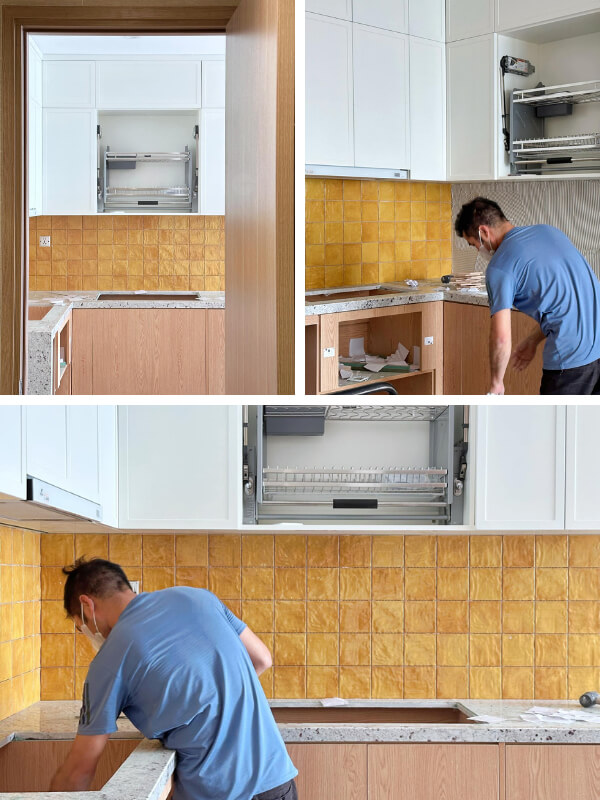 Featured Product: 150x150mm Square Handmade Tile Honey Color
#2 Emerald Green Squares
The emerald-colored square handmade tiles have a deep green color and a surface that resembles real water ripples. They are used on the dry area wall of the bathroom, but only half of the bathroom wall is covered with them, while the other half is left plain white. The space is completed with a marble-patterned sink, a rectangular wooden-framed mirror, and warm lighting. These handmade tiles enhance the natural feel of the entire space.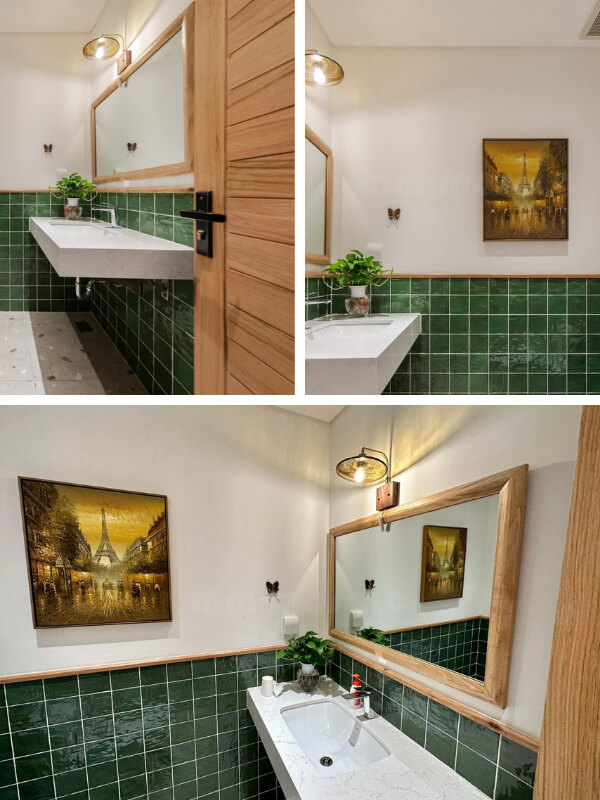 Featured Product: 150x150mm Square Handmade Tile Emerald Green
#3 Simple and Bright Vibes
The white handmade subway tiles are used as a backsplash in an open kitchen with black and white as the main color scheme, along with some wooden accessories. To avoid making the entire backsplash too monotonous, a floating open shelf is designed to hold tableware and green plants, which is also a great feature to have in a kitchen.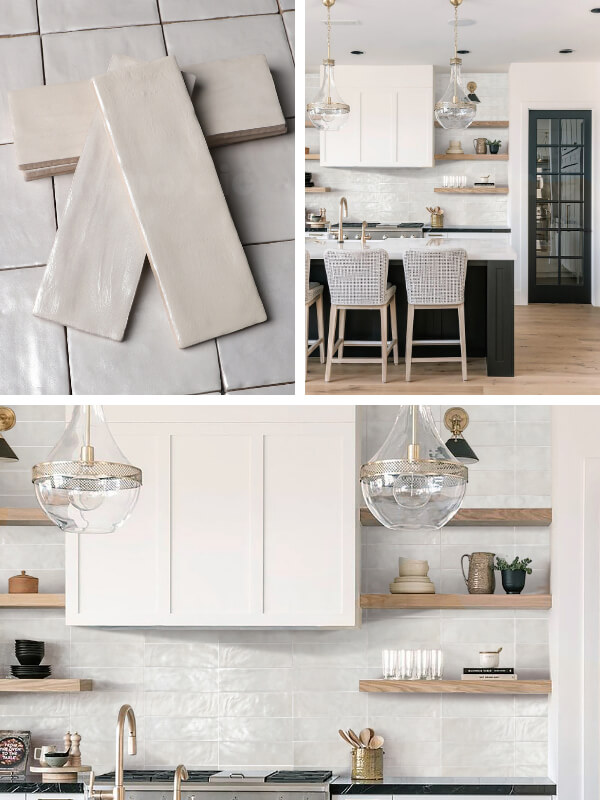 Featured Product: 65x200mm Glazed Subway Tile White ZGF3201
#4 Zellige Tile for Bar Backsplash
The pearl glaze-colored square handmade tiles are used as a backsplash for a coffee bar. The advantage of using handmade tiles is that each tile has subtle differences, which can only be noticed by careful observation of the surface texture and light reflection. If you prefer a simple, rustic style for your coffee shop, these handmade tiles will be perfect for you.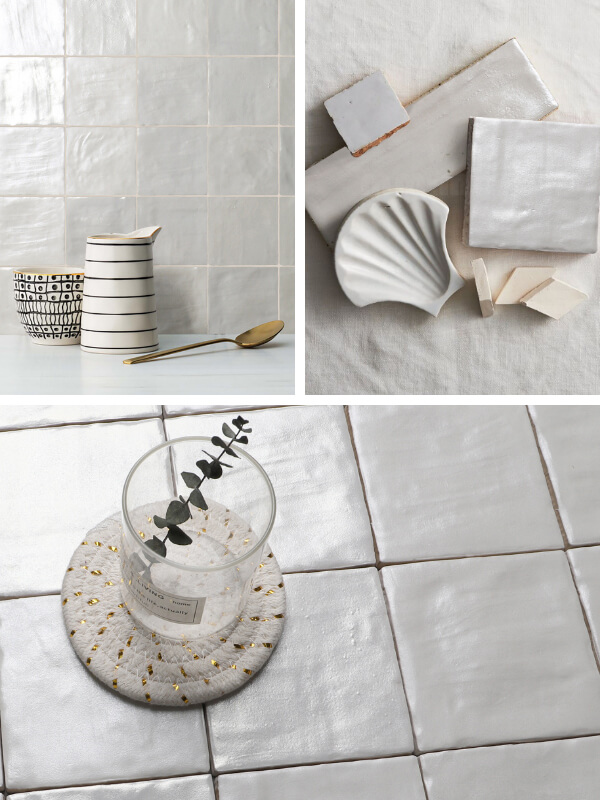 Featured Product: 4x4 Square Glazed Ceramic Wall Tile White TGF3201
#5 Understated Grays
Hexagonal or diamond-shaped? Different people have different definitions, let's take a look at this handmade grey brick. We combine individual brick particles to form a hexagonal shape, which is quite novel! Handmade bricks and kitchen backsplashes are a perfect match, and this kitchen is a perfect example. When designing a backsplash for any size kitchen, the color and shape of handmade bricks can make all the difference. We chose a neutral and understated grey color, which will make any space fashionable without being too ostentatious. This light grey hue looks so understated and simple, and it pairs so well with white cabinets. If you like fashionable but low-key designs, then this kitchen backsplash is designed for you.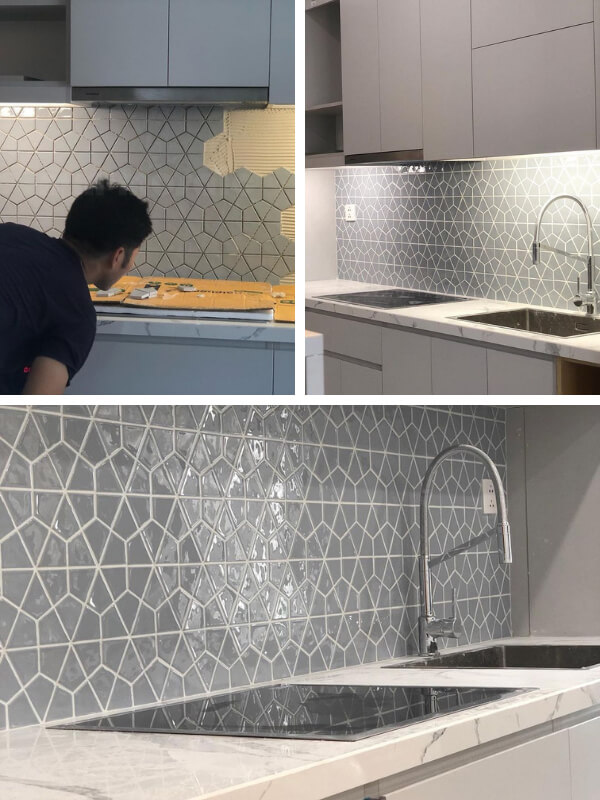 Featured Product: Glazed Ceramic Diamond Tile Gray
#6 Fish Scale Beauties
Dark green glazed fan-shaped handmade tiles. Take a look at this attractive accent wall in the office reception area. It's more charming than a solid blue coating. This special curve accent wall design, paired with our beautiful handmade fan-shaped mosaic, really makes this wall impressive. Do you feel welcomed when you walk into this reception room? We used the simplest handmade tiles as the accent wall, expressing our sincere dedication to making tiles. And take a look at this well-designed reception desk, with a wooden color and a large wave, wow!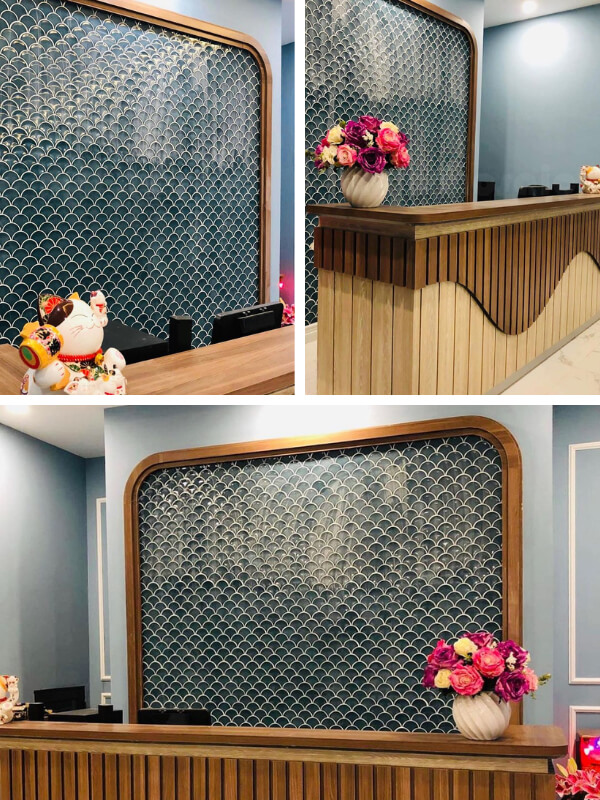 Featured Product: Glazed Ceramic Fish Scale
#7 Refreshing Bathroom
Dark green handmade subway tiles. Take a look at this stunning bathroom design. This deep green hue, paired with terrazzo tiles, is satisfying and unique. In the front half of the bathroom, we chose fresh and natural dark green handmade subway tiles, which didn't overwhelm the entire space. The rest of the space extends to the floor, where we chose terrazzo tiles to showcase a lively yet natural and understated style. This shows that you can create an atmosphere in a design while enhancing your personal style.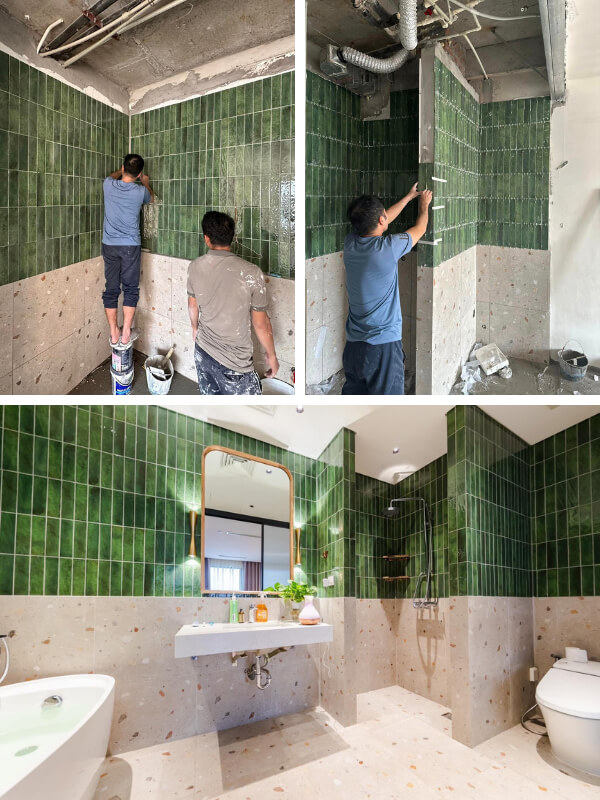 Featured Product: Ink-jet Ceramic Subway Tile Green
#8 Unique and Luxurious Floors
Unique patterned square handmade tiles with gold elements. Each exquisite tile features a distinct pattern design, inspired by the style of many Spanish handmade tiles, but with our own unique twist. If you're looking for a special tile to use in your bathroom, this could be a great option. Not only can it be used on the floor, but it can also be used on shower walls or as an accent wall in your living room, creating a visually stunning effect.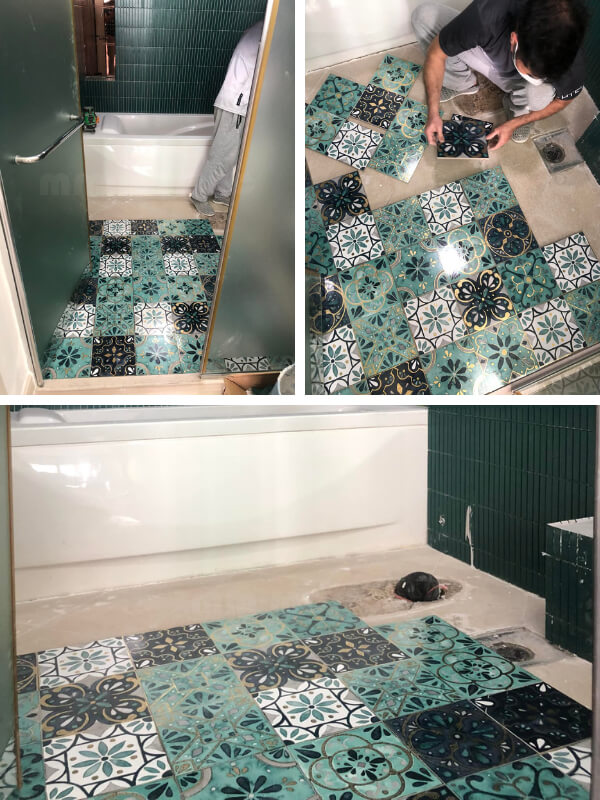 Featured Product: 8x8 Gold Moroccan Tiles ROD1906
#9 Rustic Bathroom
We recently received a special custom order of handmade tiles from a client, and you can try it too! We love the simple and rustic style of this country bathroom. The wooden shelves and vintage-looking walls complement the deep green hue of the handmade tiles, making it the focal point of the entire bathroom. The deep green tone is reminiscent of forest hues, balancing the overall rustic design of the bathroom. The simplicity of handmade tiles is perfectly suited to a rustic style, creating a harmonious and inviting atmosphere.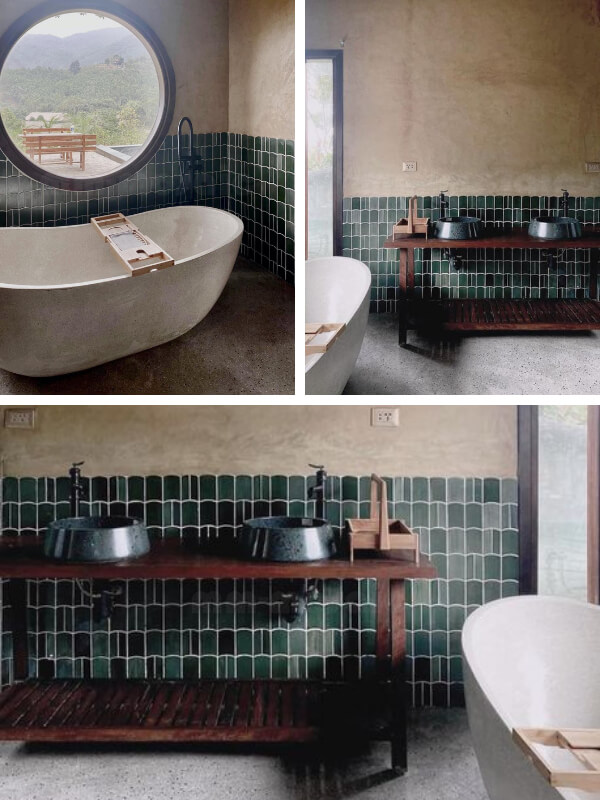 Featured Product: Custom Tunnel Collection Dark Green
#10 Natural Collection
Take a look at our new series of natural-colored subway handmade tiles. The benefits of using natural-colored subway tiles are that they can match various styles. The tiles are versatile and can be used in different design concepts, allowing you to create a unique and personalized look for your space.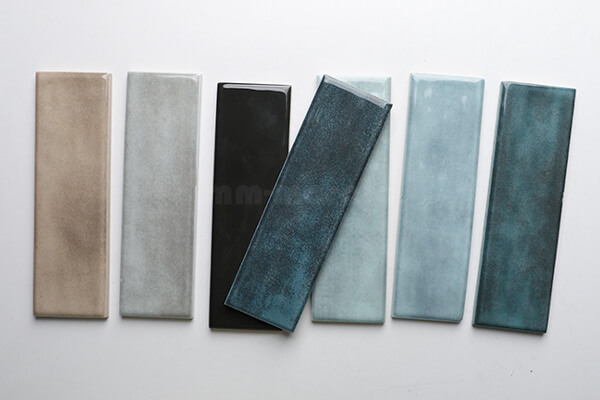 Featured Product: 60x200mm Wavy Subway Tile
There are countless ways to incorporate handmade tiles into your home decor, and we hope these 10 ideas have inspired you. As a handmade tile factory with 17 years of experience, MM-Mosaic prides ourselves on our professional craftsmanship and high-quality products. We also welcome custom designs and would love to hear your ideas and help bring them to life. So if you're looking to add a touch of beauty and uniqueness to your space, consider incorporating handmade tiles from our factory into your design. Order free handmade tile samples to see and touch now!