A well-designed swimming pool requires much energy and effort. It takes long from planning to buildup. What is the shape, depth and style of the pool? There are many details you need to consider. Using what swimming pool tiles for covering is one of the things you are supposed to take care, since it plays an important role in the outward appearance of the pool. In this article, MM-Mosaic is going to introduce 12 cool pool tiles that you may find them very suitable for your pool construction or refinishing project.
1. Heavy Crackle Glaze Light Blue Pool Tile
It is quite often seen that a grand villa has a marvelous swimming pool. The attached swimming pool design is an example. It is located on the left of the house and made into an infinite edge pool where the house owner can enjoy the beautiful scenery while bathing with a drink at dusk. The light blue mosaic pool tiles do a great job in improving the experience of swimming and make the pool perfectly blend in the house design.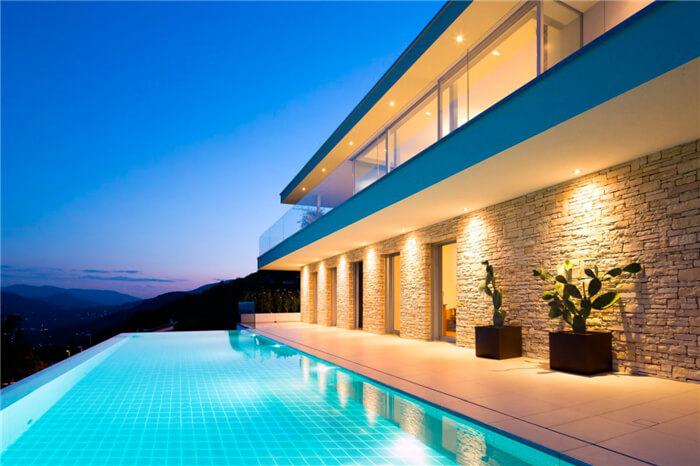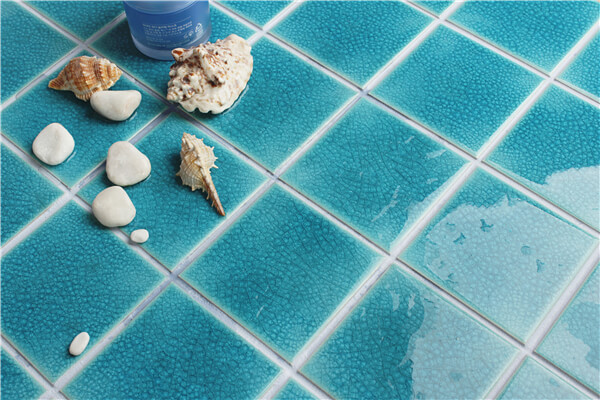 2. Heavy Crackle Glaze Dark Blue Pool Tile
This is an outstanding example to use dark blue mosaic tiles in a wading pool so well. Considering the pool is set beside a luxury restaurant, the color should be decent and noble. Dark blue is a good choice. The restaurant appears more resplendent and magnificent against this wading pool with dark blue pool tiles covered.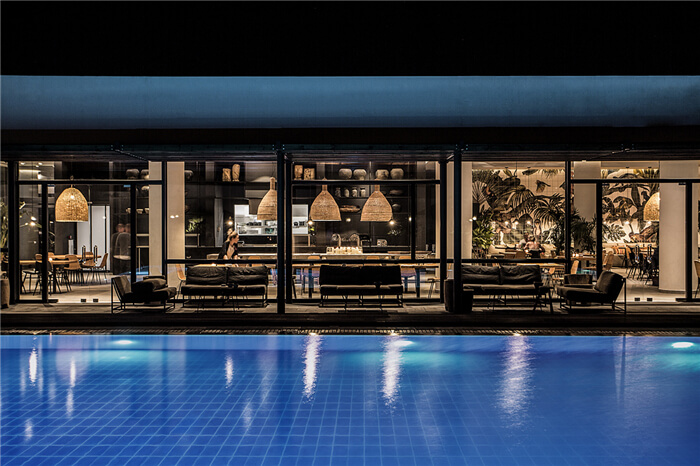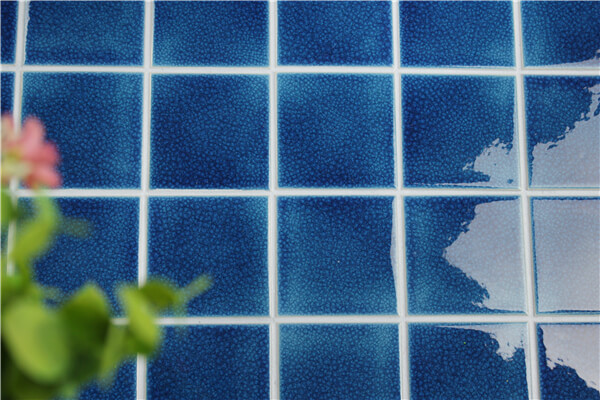 3. Heavy Crackle Glaze Riverine Blue Pool Tile

This tile is consisted of 4 by 4 inch porcelain chips. Big-size chips give the tiled surface a touch of magnificence, which is relatively appropriate for noble design swimming pools, like those in resort, villa, upscale house, etc. Also, the tile can be used for interior decorating. Just as the attached picture shows, installing blue pool tiles on a decorative wall not only brightens the bathroom but also conforms to the condition that tiles applied in wet room should be better at low water absorption and moist resistant.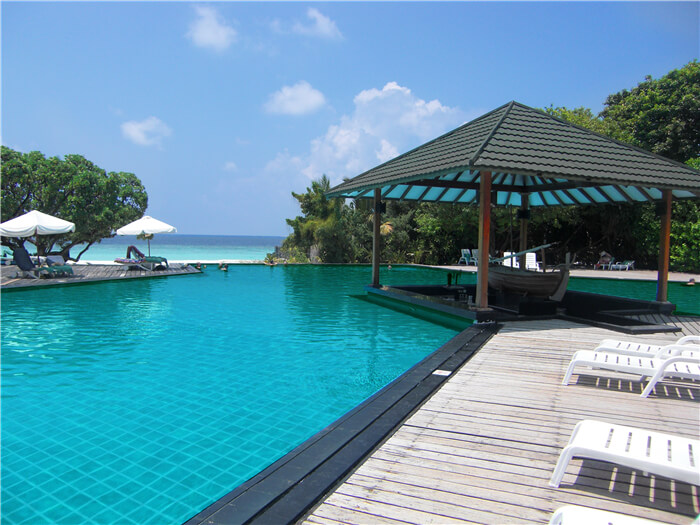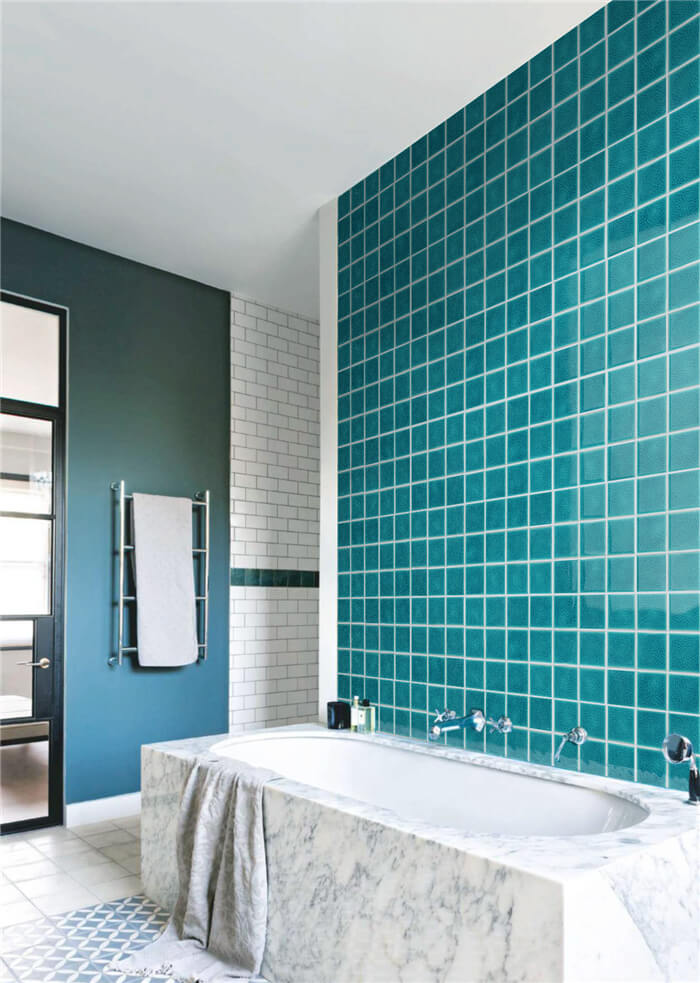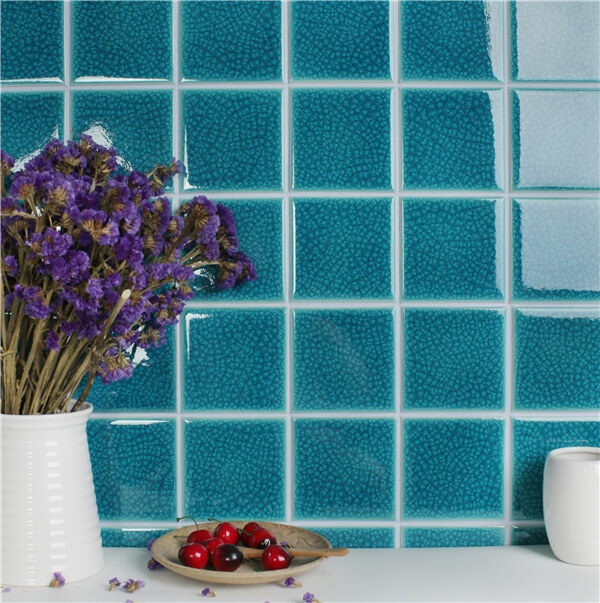 4. Heavy Crackle Glaze Blue Green Pool Tile

This swimming pool tile takes an extraordinary blue-green tone. When installed inside the pool, pool water will appear beautiful color that is fresh and clean. What's more, it could be a wall tile for indoor decorating too. The following picture shows how unique the natural green mosaic screen wall fits in the dinning area and gives a pastoral aura.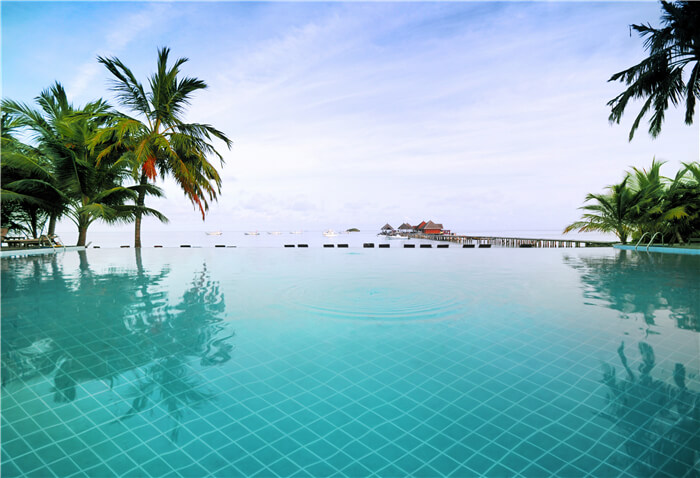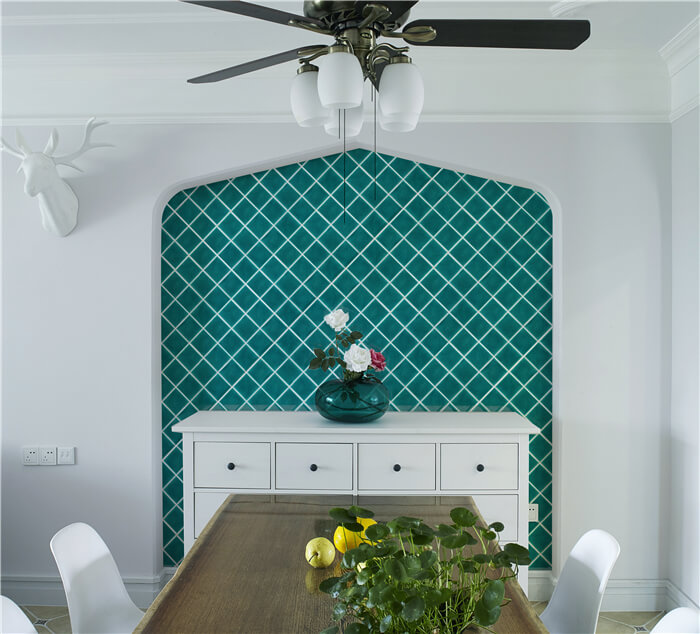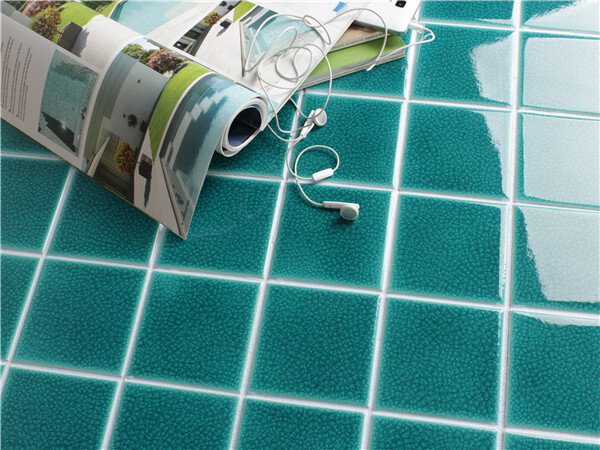 5. Wavy Surface Blended Blue Mosaic Pool Tile
This tile features with a wavy surface. Gradient blue chips are combined in an ingenious way, which are free matching and create a randomized beauty. When installed on the bottom of the pool, the tiles will wave the pool water and make it look deeper visually. Also, because of its wavy texture, it is very suitable to be used as anti slip pool step tile.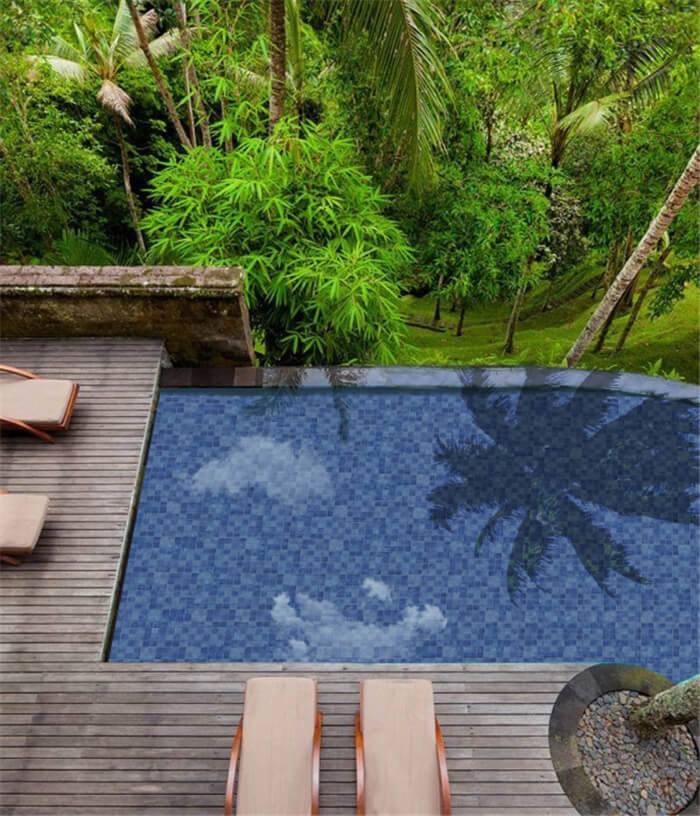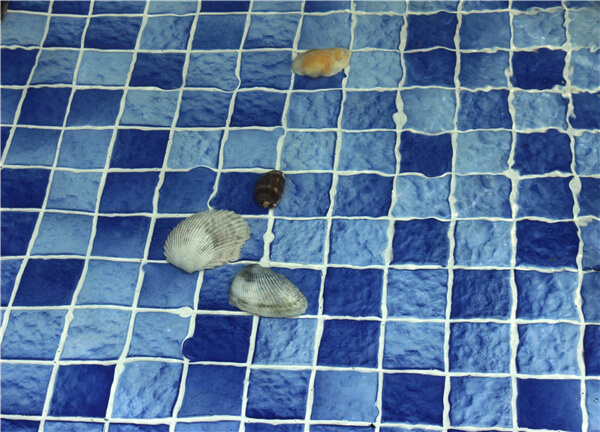 pool tile ideas for steps CKO014Y
6. Wavy Surface Gray Blue Mosaic Ceramic Pool Tile
This tile has an antique texture and is painted in a gray tone. The glossy surface makes dirt and algae hard to pile up, which is easy cleaning and low cost in maintenance. The open resort pool attached below takes this tile as coating, which is tasteful and stylish. It proves that a beautiful tile texture really matters in a trendy pool design.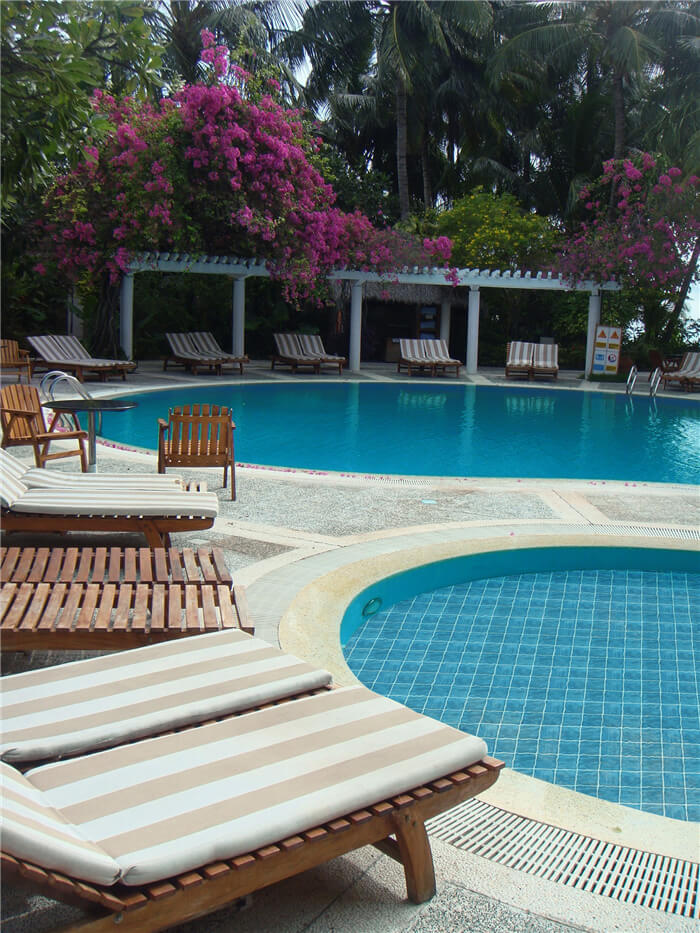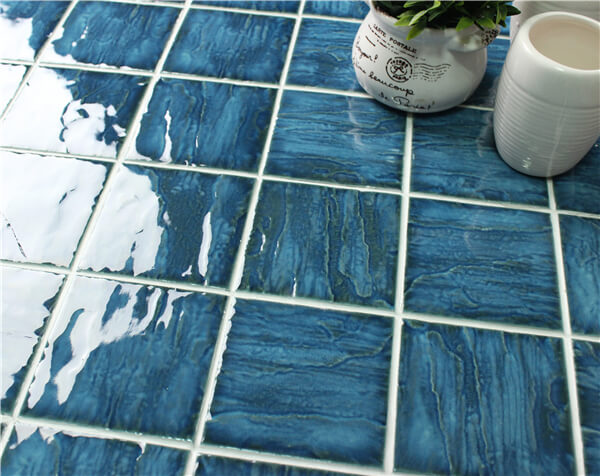 swimming pool tiles texture CPO901Y
7. Wavy Surface Yale Blue Porcelain Mosaic Pool Tile
This is a standard public pool in hotel. Considering the fact that it is a majestic hotel, flighty color is improper for a pool design. Instead, it takes a dark tone, Yale blue mosaic pool tile. The tile makes swimming an exalted thing. Although you might not think it is true, pool finish undoubtedly will influence your mood in a subtle way.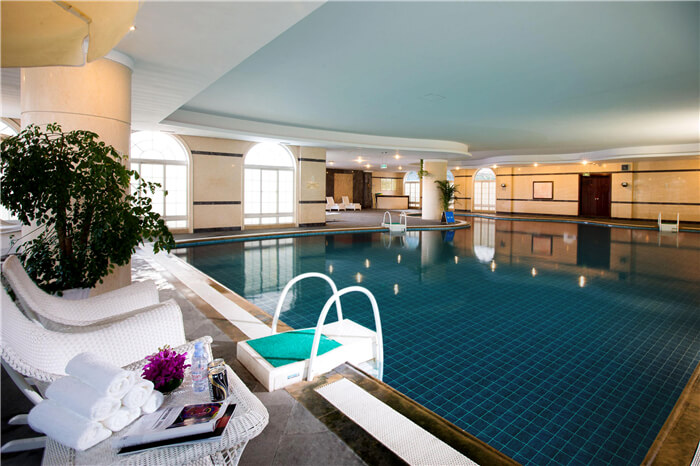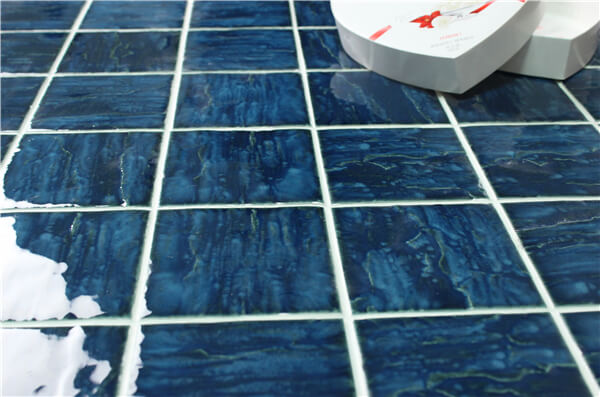 blue pool tiles for sale CPO902Y
8. Wavy Surface Porcelain Cobalt Blue Pool Tile
Using cobalt blue pool mosaic can create a blue oasis easily. As you can see in the attached picture, vintage blue pool tiles match well with the stone coping and the surrounding landscapes. Pool water is like being taken from the deep ocean directly, which is profound and mysterious.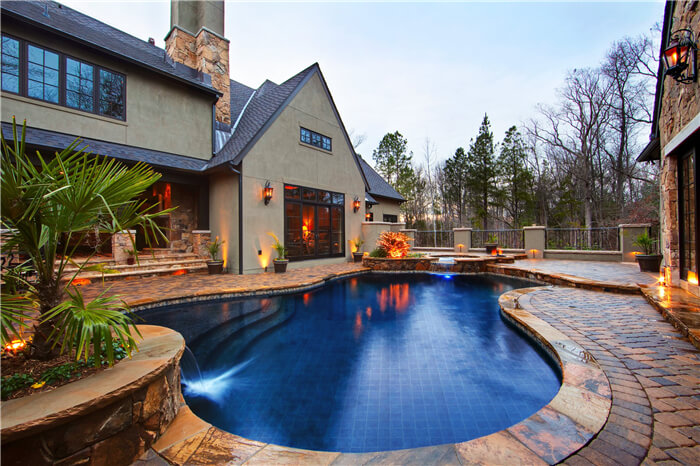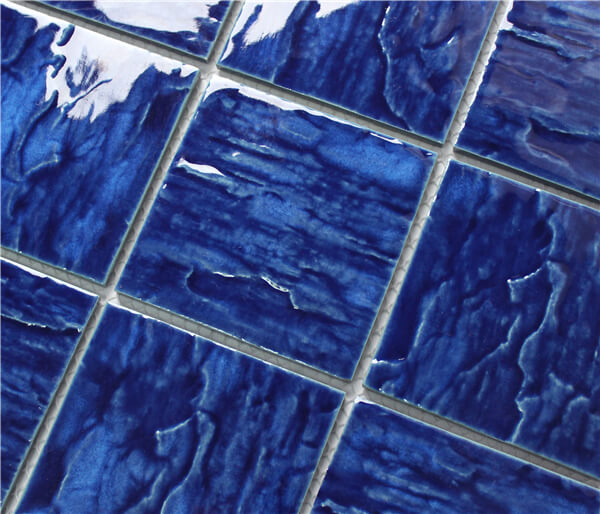 9. Wavy Surface Porcelain Modern Style Pool Tile
A seaside resort decided to install this light blue porcelain mosaic tile on its outdoor pool. Against the blue sky and the tile, pool water come out clean and healthy. It makes people urging to plunge in and have penetrating coolness. If you want to find a decorative yet pragmatic pool tile, then this may meet your appetite.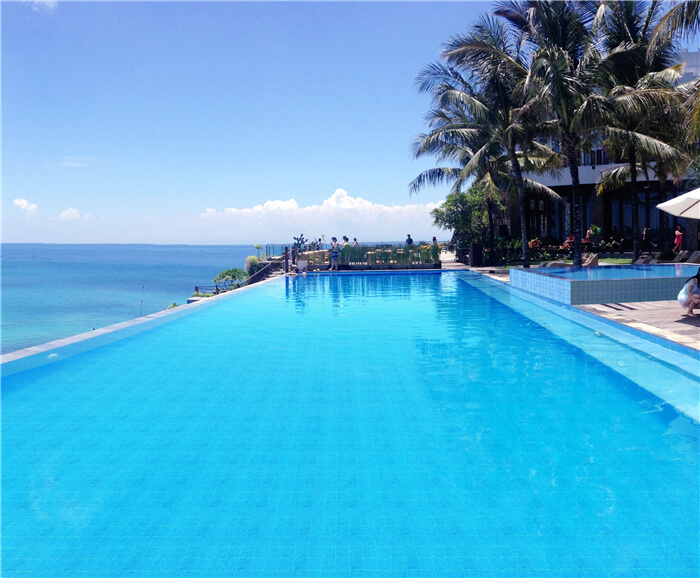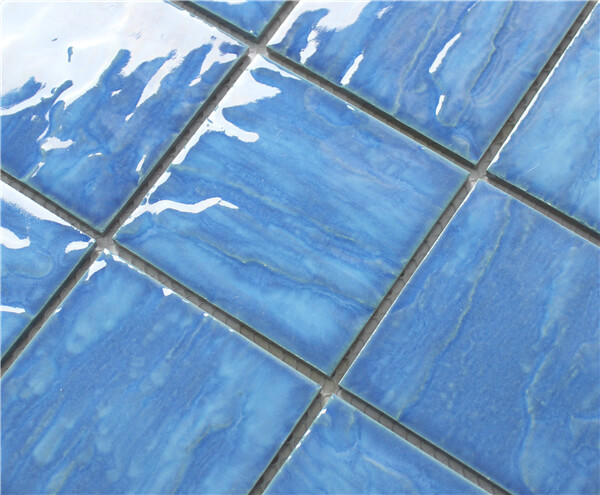 decorative pool tile ideas CPO601Y
10. Wavy Surface Porcelain Pool Mosaic Tiles
Not everyone wants to take a bold choice in the selection of pool tile. They tend to take secure options. If you are one of them, then this standard swimming pool mosaic tile is qualified to rank first on your purchasing list. Both color and texture are classic. This tile ensures you a never-go-out-of-style residential pool.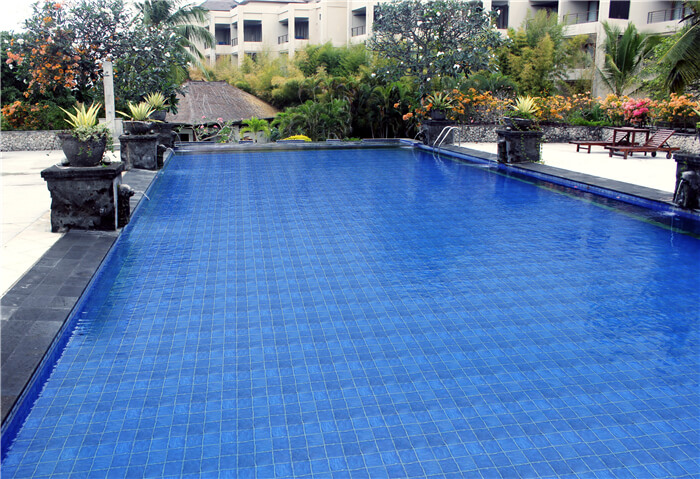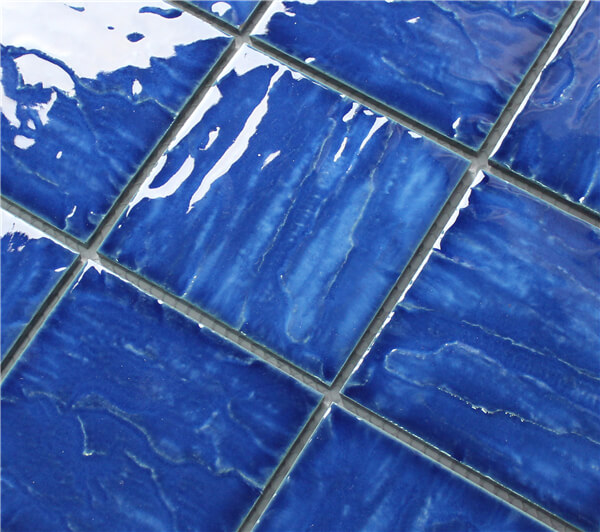 11. Wavy Surface Porcelain Trend Pool Tile
Is there a most popular pool tile in the world? There are a thousand Hamlets in a thousand people's eyes. Classic pool tiles may have gained more popularity, but trend pool tiles may be more dominated for some people. Let the constraint breaks. Who says competition pool must use standard classic tiles? Just as the pool design shows, match pool can be innovatively tiled too.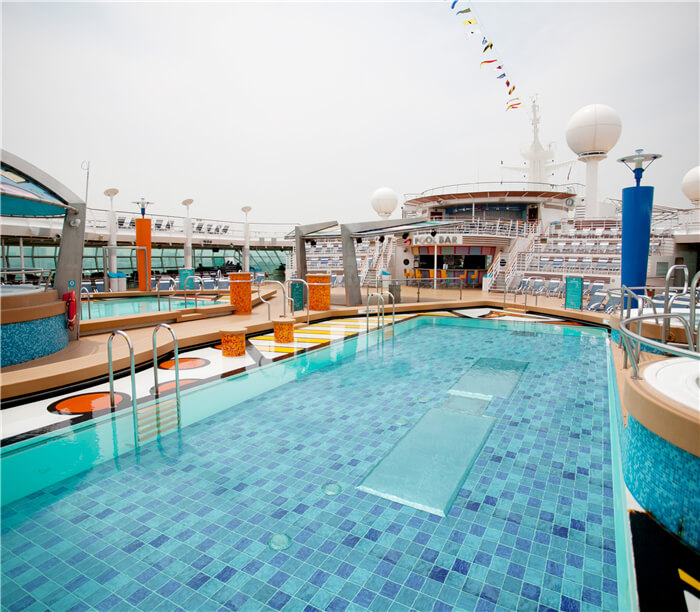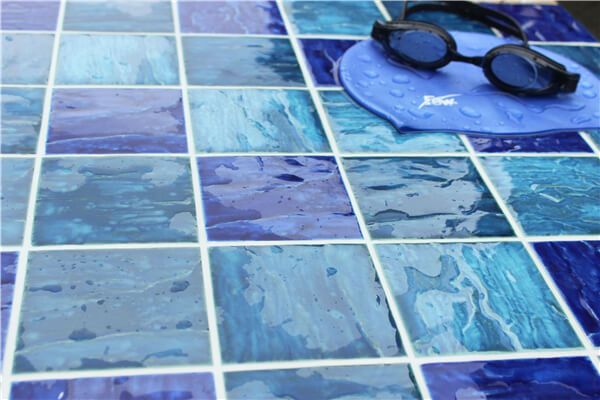 most popular pool tile CPO004Y
12. Wavy Surface Porcelain Mixed Blue Pool Tile
Another blended blue pool mosaic, but this one is more mellow in color. It is a type that is fairly close to Mediterranean style. Buying pool tiles is not limited in a nearby store. Online shopping has a considerate system that can help you select the most fitting one from many others.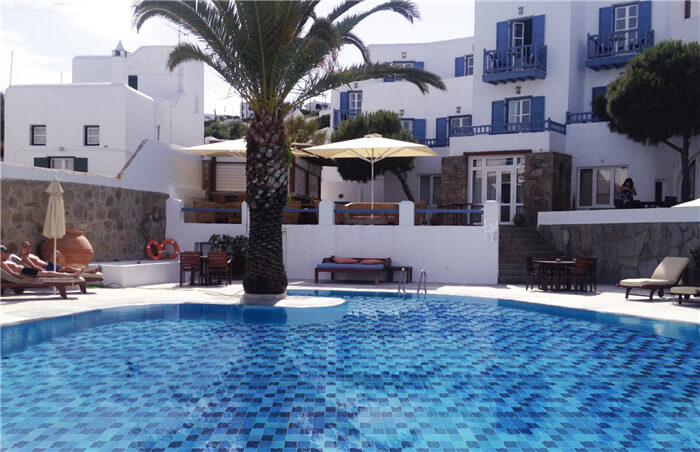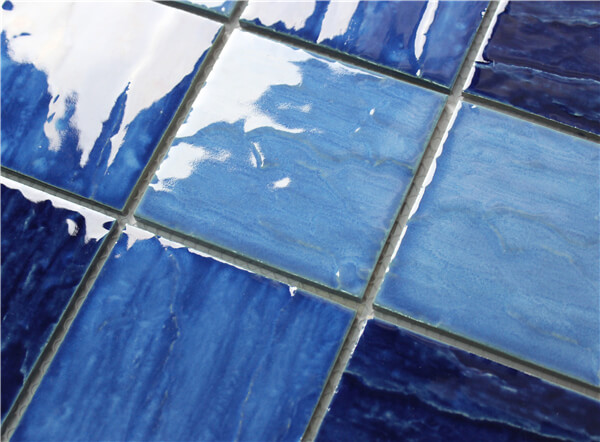 pool tile for sale online CPO001Y
Get more pool tile design ideas from MM-Mosaic, one of a tile manufacturers in mainland China that specializes in supplying ceramic/porcelain mosaic tiles, glass mosaic tiles, wall and floor tiles, mosaic tile art, swimming pool tiles and other related tile products. We would be so happy to hear your sweet home get enhanced with our products. Keep a close eyes on our blog update for home decorating inspirations.