Looking for some home decor ideas to welcome summertime? Here are over 20 types of trendy home design inspirations waiting for you. Maybe you will collect ideas or two for your home design project? Reading on this blog now:
Consider a Pale Monochromatic Backsplash
Creating a feature backsplash is a cinch if you stick to a monochromatic color as shown in this gray kitchen backsplash featured on glossy handmade wall tiles. A few things keep this space from feeling monotonous and cool. Eye-catching greenery can enliven this space as well as chic ceiling light brings warm vibes into these rooms.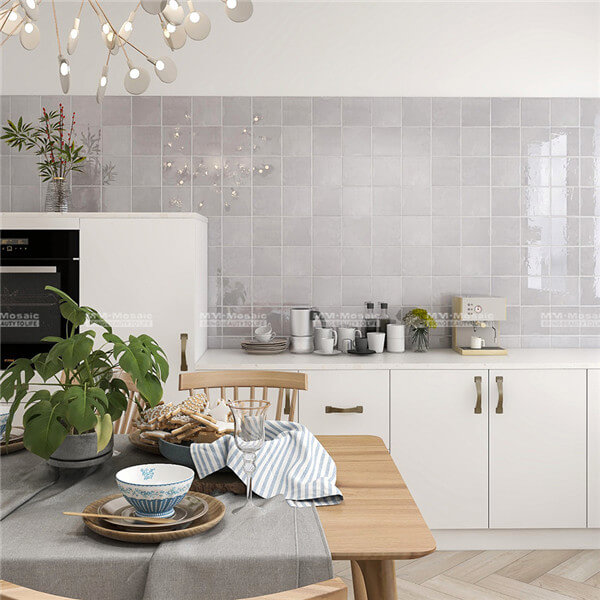 Featured Product: 150mm Square Glossy WGC8201
Patterns Punch Up A Cool Palette Scheme
While square footage is especially tight, make the most of your backsplash space with Moroccan patterns and cool palette as shown in this kitchen by MM-Mosaic designer. Pale simple cabinetry neutralizes the whole hue. Different Moroccan pattern elements like these walls and floors punch up the cool space.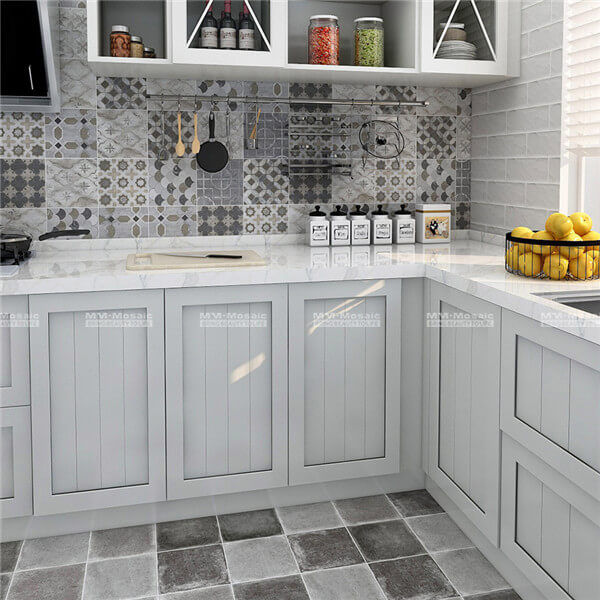 Featured Product: Moroccan Ink-Jet CRO901FJ
Create a Moroccan Style Backsplashes
You don't need a lot of stuff to make an exotic feeling statement. In this unique kitchen space design by our designer, cooking utensils and decorative backsplashes in a mix of rustic materials and unique patterns elevate things. Natural wood dining table and wood-plastic composite flooring shown in this space bring a touch of nature.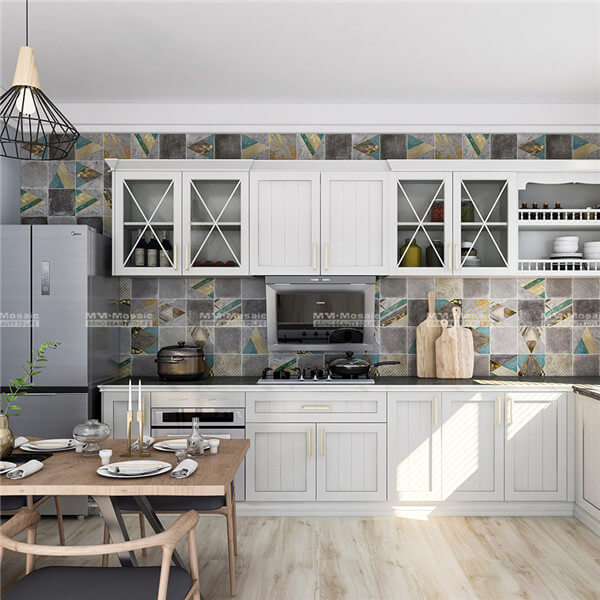 Featured Product: Moroccan Ink-Jet CRO903FJ
Get Tranquil With A Dark Green Glaze
A minimalistic and simple linear kitchen is a great way to maximize the small kitchen space. A featured tranquil backsplash is shown in this kitchen. Not only do they provide placid vibes while cooking but dark green combines well with blue haze cabinetry. Utilizing a comfortable touching glaze to create stylish walls.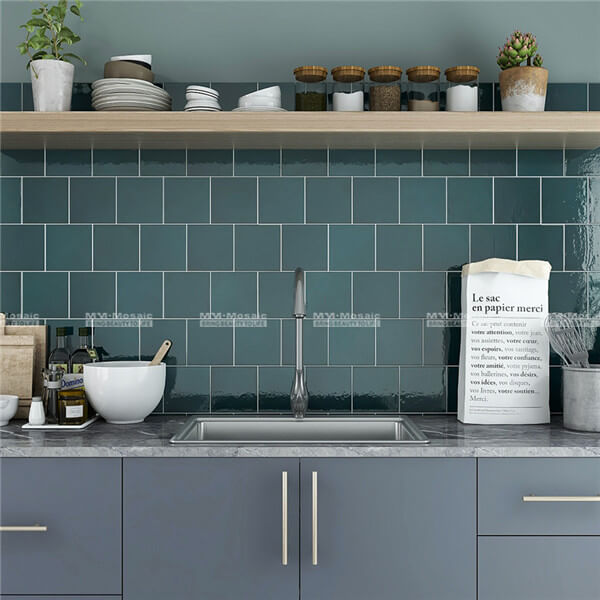 Featured Product: 150mm Square Glossy WGC8201
Mix Palettes Work Well
Mix colors backsplash adds depth to this pale, rustic kitchen space by one of our clients, an amateurish interior design fan. Plenty of natural sunlight keeps the neutral backsplash and white refrigerator from weighing the kitchen down. Two little greenery, as shown on the top of the backsplash, will contrast beauteously with neutral palette walls.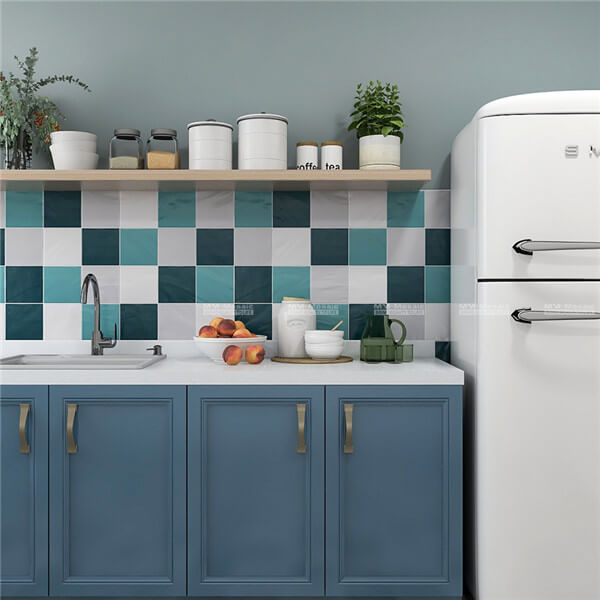 Featured Product: 150mm Square Matte WMC8603
Make A Toneless Kitchen More Energetic
While gray tones cabinetry mix cool hue floor, go for active your kitchen by pink flower pattern backsplash. With Digital print tech and no color fade, this fresh warm palette can balance the whole space style, meanwhile, brings sweet vibes.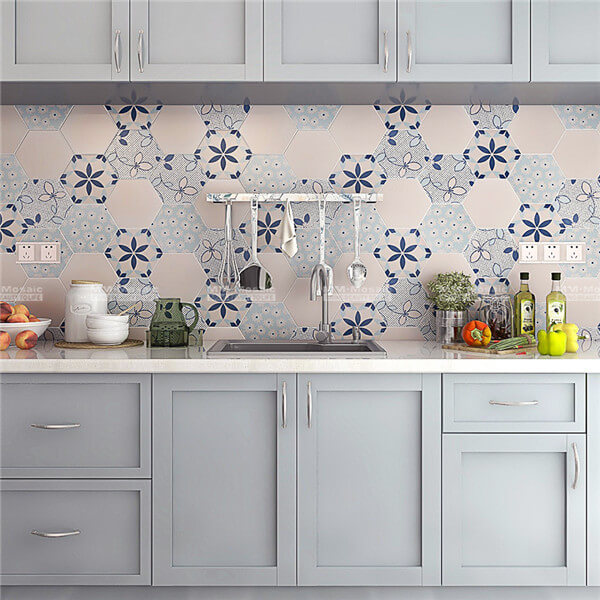 Featured Product: Pink Flower ZOC8003
Tiling Living Room Accent Wall Cherry Red
The smart and trendy way to add interest style and ambient living room space in the house is that tiling your accent wall red and make them 3D cube effect. It's a stimulating and high-spirited palette that appeals to everyone who comes into this space. While a creative heart shape meets a cherry red tone, it will create a super sweet and girlish space!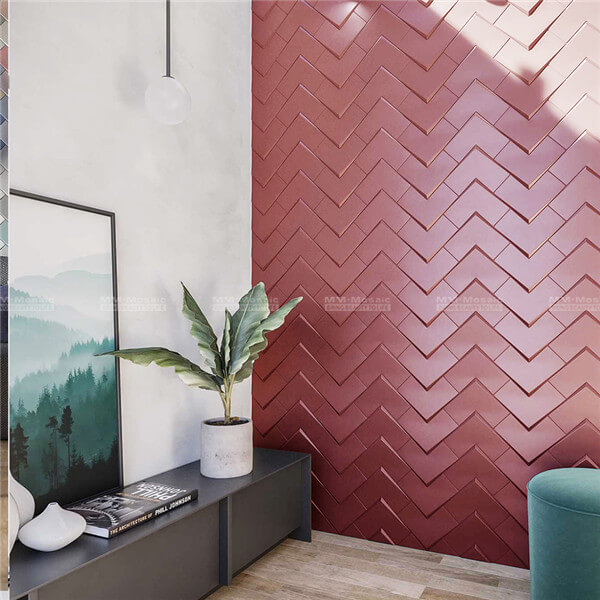 Featured Product: Heart Shape Pink Mix ZMC8403
Colorful Walls Add Beauty To Living Room
Interesting walls add beauty and depth to this small living room by our designer. Plenty of sunlight and the wood cabinet unit in the middle of this space keep this room from feeling crowd. The large round mirror makes things extra inviting. The greenery takes up very little space but brings great comfort.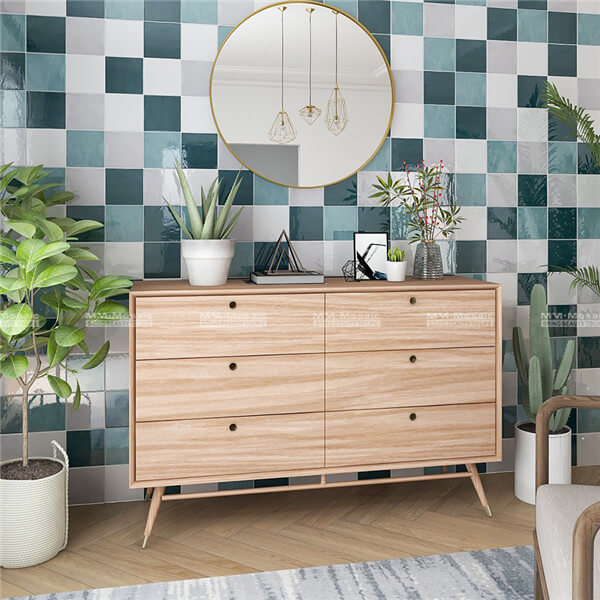 Featured Product: 150mm Square Glossy WGC8201
Balcony With Geometrical Design Flooring
A geometrical floor sets the tone for the rustic feeling balcony by our designer. The anti-slip and matte surface adds a safe touch. Natural wood chair with weather-resistant cushion and simple flower shelf. All these elements complete this cozy balcony.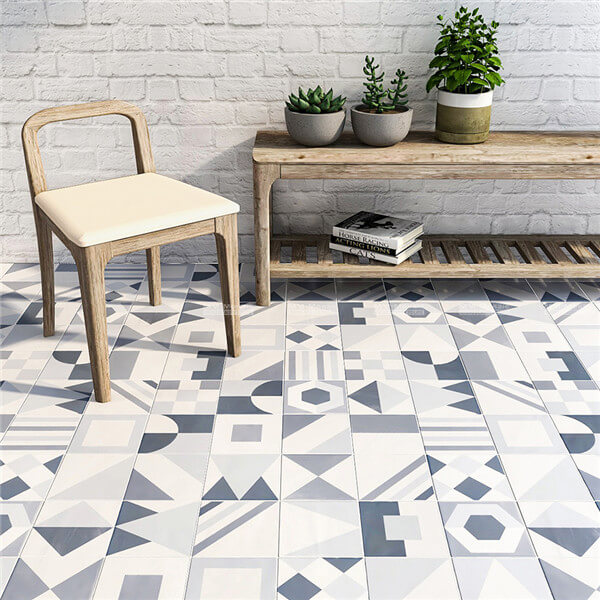 Featured Product: 150mm Geometric WMC8003
Green Walls Add Visual Interest
Here's a stunning example of how playing with green works in a simply designed small balcony. Combing the 3D cube affect surface green wall tiles with emerald greenery gets the unique space. The classic white and black simple floor lend an awesome visual feeling.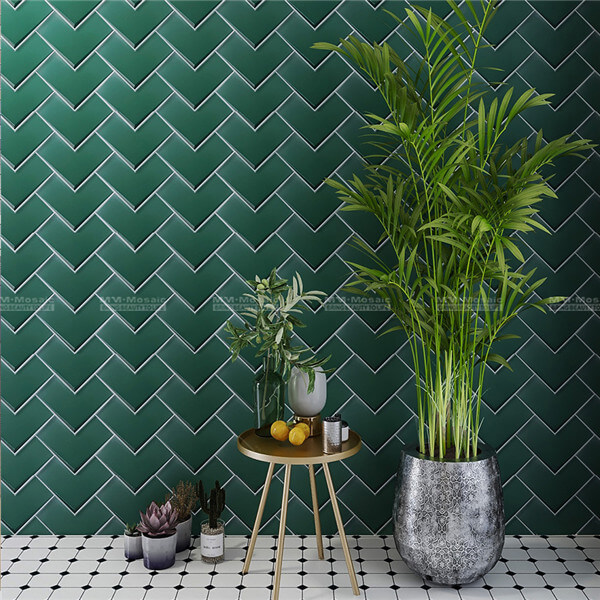 Featured Product: Heart Shape Macaroon ZMC8001
Blues In Cloak Room
Who doesn't want a dream cloakroom? If you're lucky enough to have extra space and abundant daylight in your cloakroom, consider a cozy blue wall like this one shown below. This statement-making accent wall features beautiful glazed color and smooth touch feeling. Moreover, place greenery in your space can bring a natural atmosphere.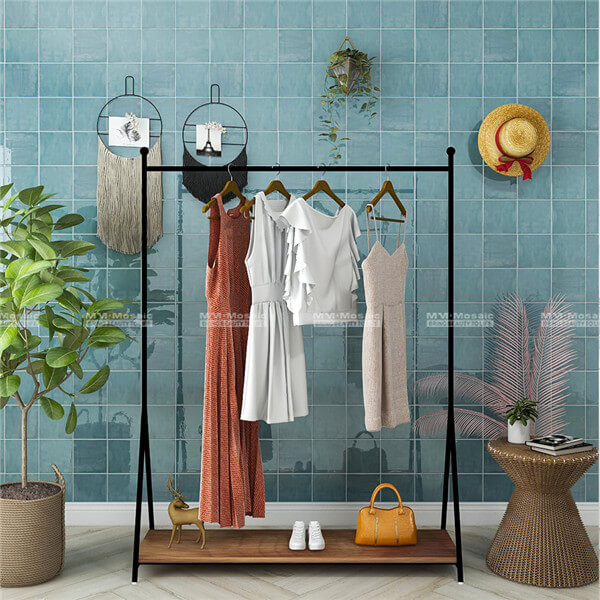 Featured Product: 150mm Square Glossy WGC8201
Rustic Style Bathroom Is Classic Beauties
The recent interior design trend shows that gray tone rustic style has burst into home decor especially in bathroom design. The reasons for choosing gray tones for your bathroom are obvious. Gray is a neutral color and easy to match with pattern wall tiles.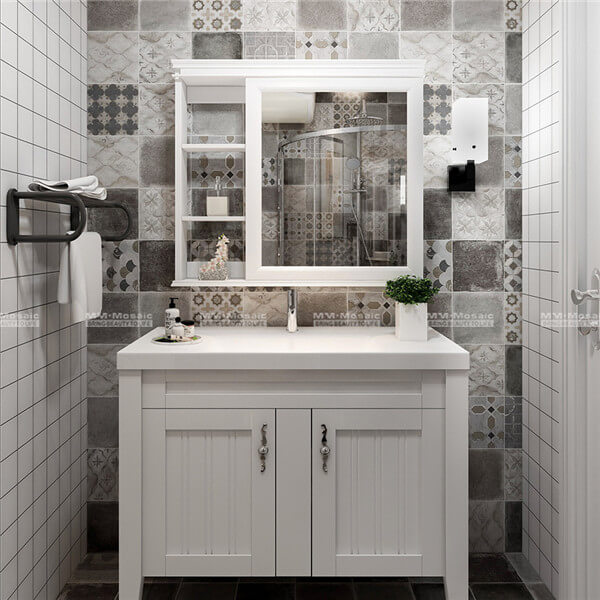 Featured Product: Moroccan Ink-Jet CRO901FJ
Use Green Layer To Carve Out A Refreshing Bathroom
A refreshing and breezy green layer feature wall makes a fresh bathroom in our client single apartment. Simple washstand, open french windows, and elegant white tub bring comfort. The green color awake up your workday!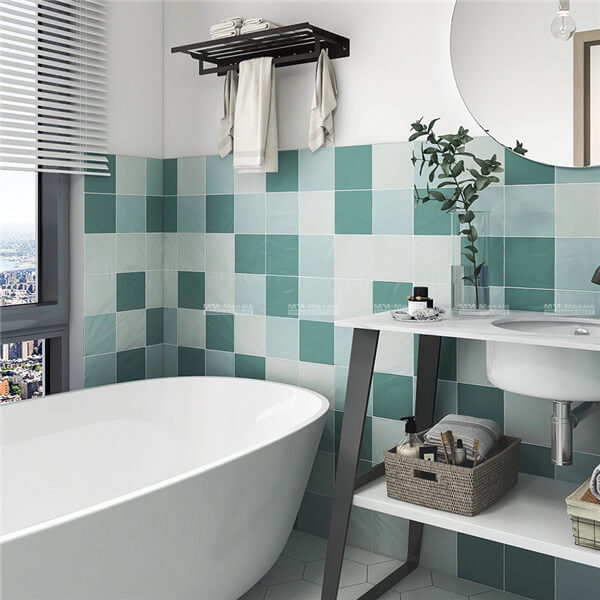 Featured Product: 150mm Square Matte WMC8603
Inspired by Peach Color Scheme
We all love this sweet peach color scheme designed by our professional designer, Jane. Little green plants everywhere and a vintage white cabinet bath give this minimalist bathroom a tremendous wow factor. Lovely peach palette matches well this summer holiday!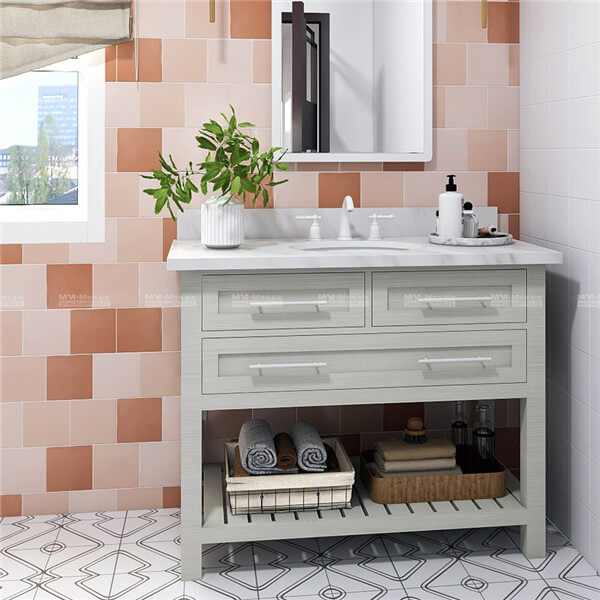 Featured Product: 150mm Square Matte WMC8903
Dreamy Colorful Walls In Shower
When it comes to creating dreamy palette shower walls, you can get mighty imaginative color. To make it this bold idea work, keep your floors and tub white. Just like that space shows, we take this bathroom to the next level with colorful 3D effect surface walls in contrasting fresh and pastel shades.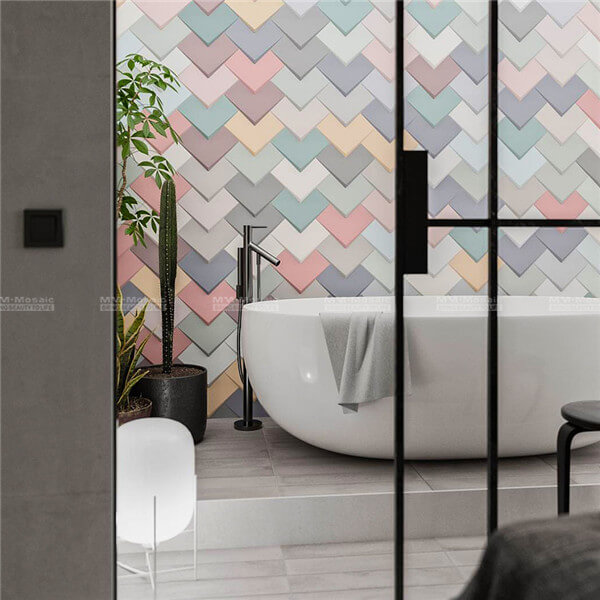 Featured Product: Heart Shape Macaroon ZMC8001
Make The Bathroom Floors The Star
Most trendy bathrooms incorporate outdoor daylight as a design element. For your bathroom day areas makeover, look for ways to bring the natural daylights through the large window. Creative pink flower pattern floor and soft flax white curtain set off space very well.
Featured Product: Pink Flower ZOC8003
Pattern Wall Decor Gives Your Bathroom Unique
This unique bathroom from our English client house shows you that a unique pattern wall decor such as a pink flower pattern mix pure pink palette can completely change your boring bathroom before. Classic hexagon shape, matte glazed surface, and large 200x230mm size are perfect for bathroom walls or floors!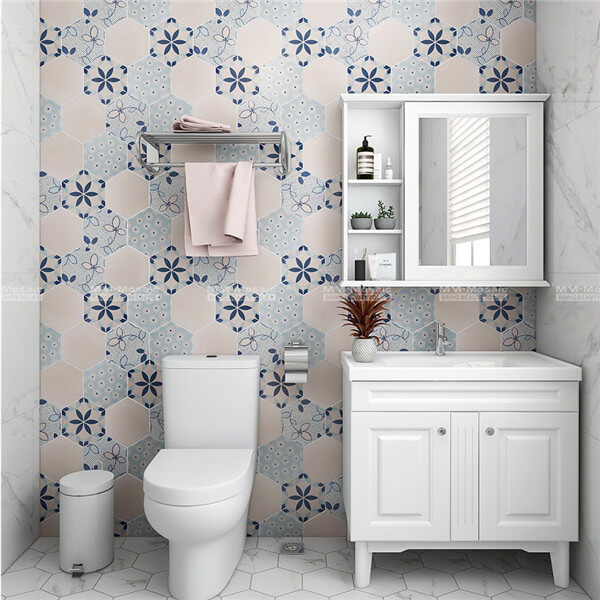 Featured Product: Pink Flower ZOC8003
Minimalist Bathroom, Big Style
If you're taking the bathroom renovation plan into consideration, there are many ways to make your bathroom simple but big style, such as this one bright bathroom for MM-Mosaic interior designer Jane, to utilize the geometric pattern hexagon wall decor to make the space big style!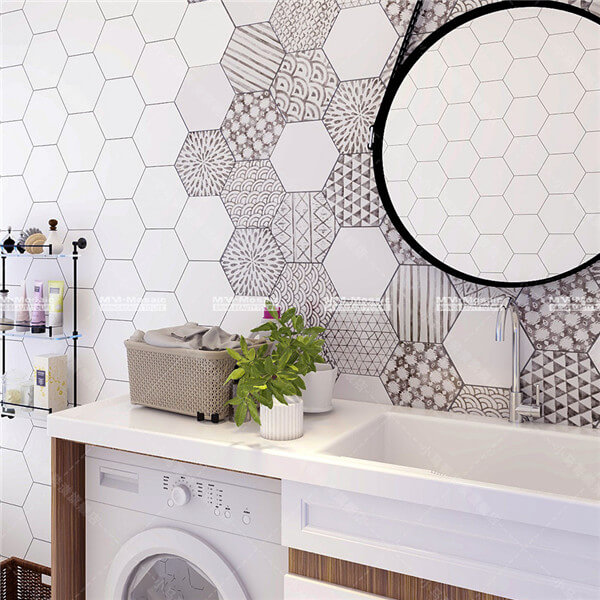 Featured Product: Geometry Pattern ZOC8004
Add Liner Elements
Why not create a more personalized look and lends a bit of visual feeling by using liner elements? For a more interior design-forward approach, install a liner pattern walls, such as the below bathroom dry areas show. By keeping the washstand cabinet elegant white and neutral, the creative liner pattern adds a pop of individuation without making a spinning sensation.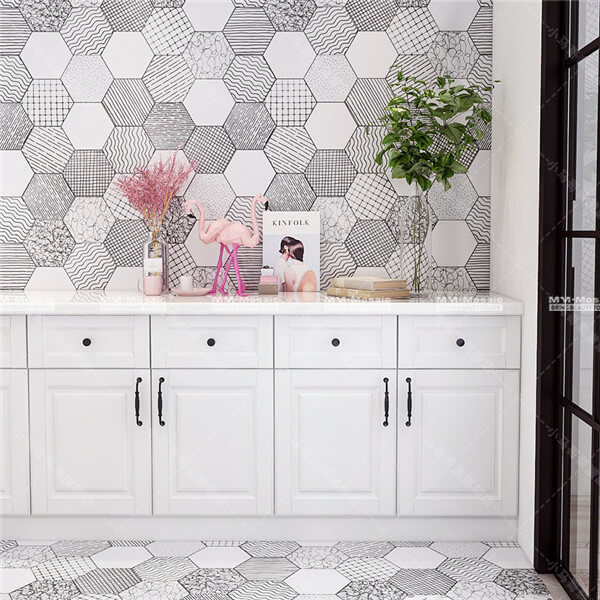 Featured Product: Linear Pattern ZOC8005
Immersed In Hexagon
Create the ideal bathroom dry areas of your dreams with a chic hexagon. Pure white hexagon walls throw focus to the room's floor. Liner pattern hexagon floor adds both beauty and non-slip function.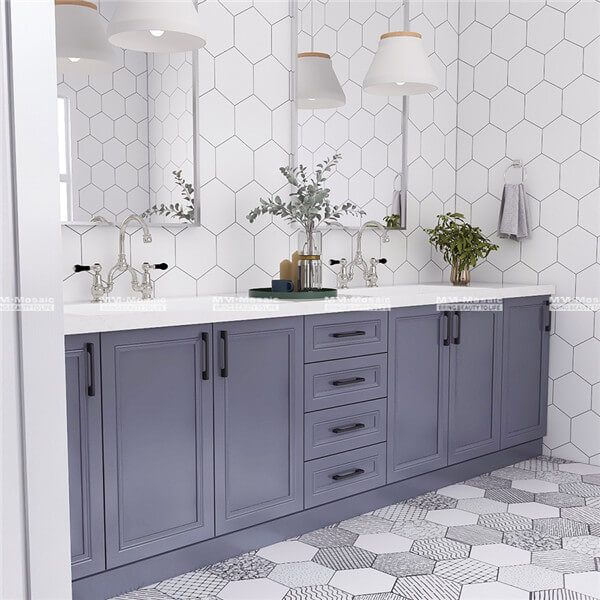 Featured Product: Linear Pattern ZOC8005
Get inspired?
Does the above trendy home decor ideas touch you? Or you have many ideas for your home renovation project? MM-Mosaic would also love to hear what inspires you! Tell us more about your inspirations immediately and get the chic tile samples.