The tech of water jet cutting is getting more and more popular in mosaic tile manufacturing, which is really useful in cutting elaborated mosaic pattern and curves, providing distinct design that other mosaic tiles don't have. MM-Mosaic is keeping exploring more and more interesting design features and bring newest and trendy mesmerizing water jet mosaic tiles for you all. Today we are sharing 5 new playful patterns to make your space stand out!
1. Helenium Flower Design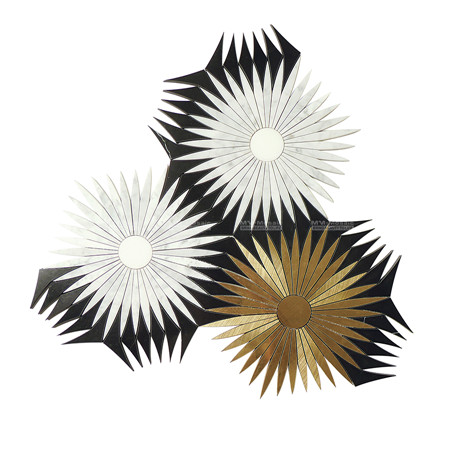 Featured product: water jet cut tile design flower pattern ZOD4007 and ZOD4030
With water jet cutting technology, you can create any special patterns you want, like this helenium flower design, which is perfectly shaped and gives a unique irregular and desirable look. This product comes in two colors to choose from, including black white and black gold, and we would like to recommend you to use the both to create a heavier visual interest to your spaces. It is mesh-mounted on back, and easy to install.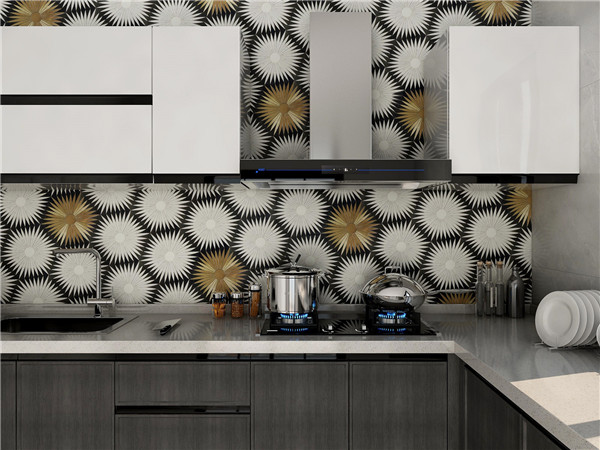 The helenium flower water jet tile pattern works wonderfully to elevate the appearance of kitchen backsplash, bringing a taste of luxury to your space.
2. Star x Cross Design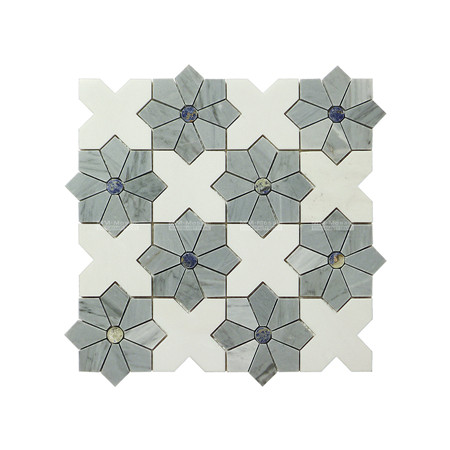 Featured product: star cross water jet marble mosaic backsplash floor ZOD4014
Inspired by Moroccan tiles, this star and cross water jet mosaic tile in Carrara gray and white brings a feel of elegance to your spaces. Made of natural marble stone material, the tile pattern has vivid Carrara texture and durable quality. It is highly resistant to wear and tear, with an anti-slip polished finish, it can be used in both wall and floor projects. Mesh back design makes it easier to be installed.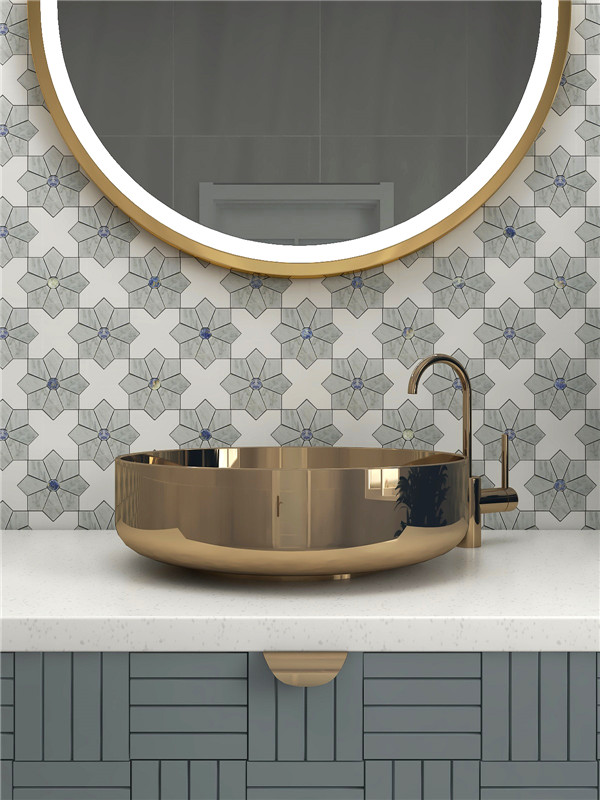 An graceful bathroom space with stunning back splash design , smooth countertop and copper furniture.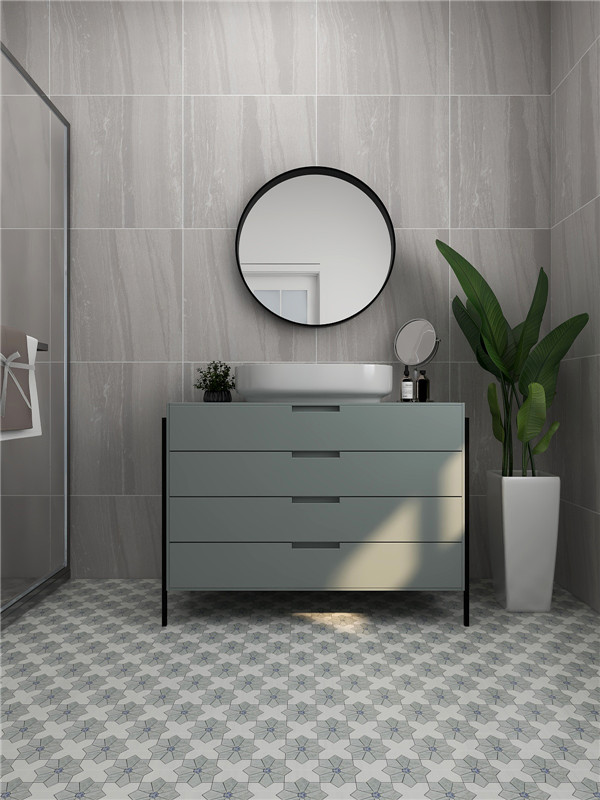 That patterned tiled floor stands out and structures a charming ambiance, it is wear-resistant and anti-skid in traffic area including bathroom and kitchen.
3. Chic Floral Design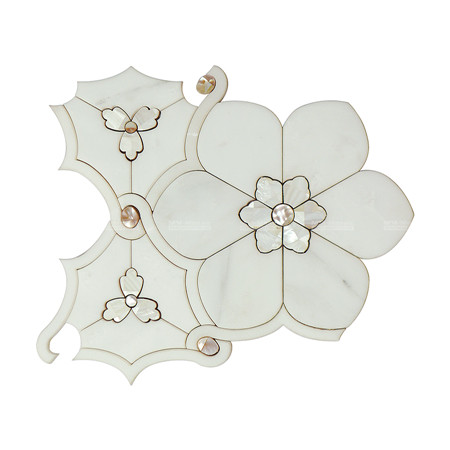 Featured product: water jet cut flower marble mosaic tile ZOD4021
Water jet marble tile in artistic flower pattern always wins high popularity in interior decoration. This beautiful floral pattern features a smooth polished finish and softer lines, it is made of natural stone and versatile in wall and floor covering. The mesh back design makes easy cutting and installing.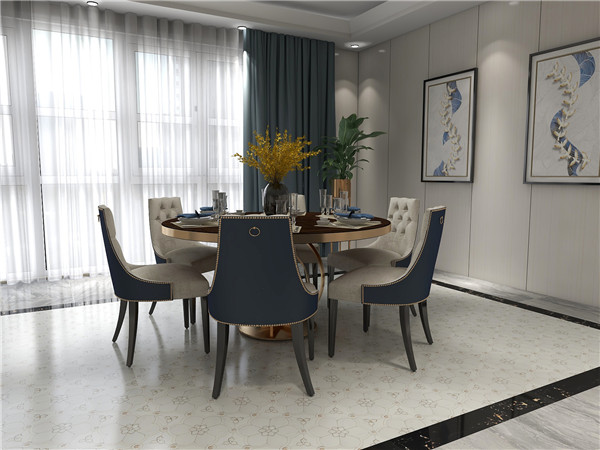 Would you like to have such a fascinating floor for your dining room? The floral pattern mosaic tiles produce an artfully detailed flooring and separate the open dining room from other space in the house. The premium marble floor helps to enhance the interior style and won't go outdated!
4. Playful Wheel Design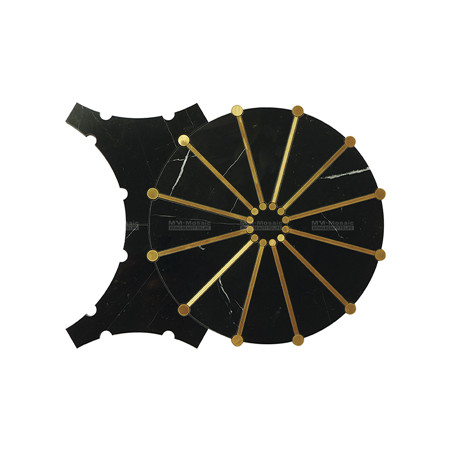 Featured product: black waterjet mosaic tiles with brass inlay design ZOD4022
Water jet marble tile can be designed interesting and high-class, such as this wheel pattern. The water jet tile looks like a wheel pattern, which can add movement to space and draw all eyes after installation. The color combo of cool black and brass inlay gives a taste of luxury, making it widely used in many high-end hotel projects. The black polished finish is wear-resistant and easy to clean. It's mesh-mounted on back, easy to cut and install.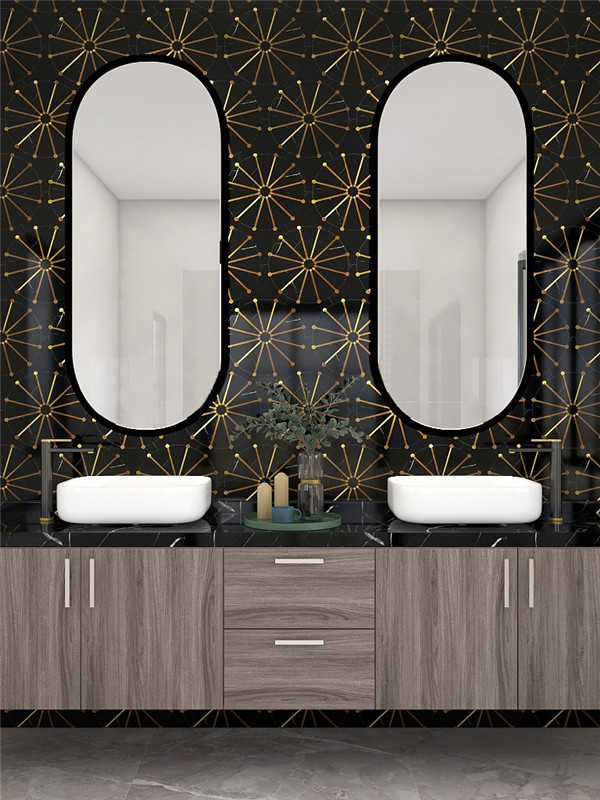 The black-gold wheel pattern installs a breathtaking wall backsplash, adding brilliance to this bathroom. The wall decor is so eye-catching and stylish, and perfectly upgrade the bathroom style.
5. Shield Design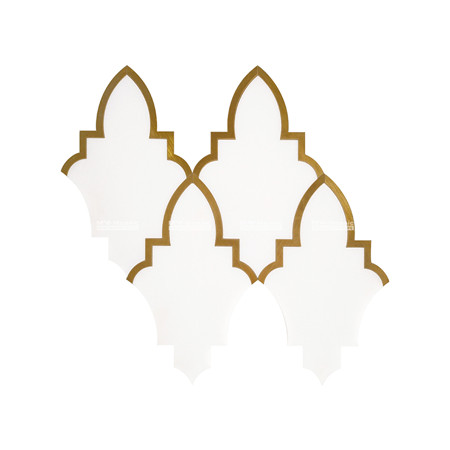 Featured product: shield pattern white gold waterjet mosaic tiles ZOD4024
This white-gold waterjet marble mosaic tile in shield pattern can shape up your space in a subtle way. The shield pattern is so sophisticated and inviting in white thassos with brass inlay. The polished surface process is more resistant to wear and tear, beautiful and functional as a backsplash tile. With mesh-mounted technique, the tile pattern is simple for installation.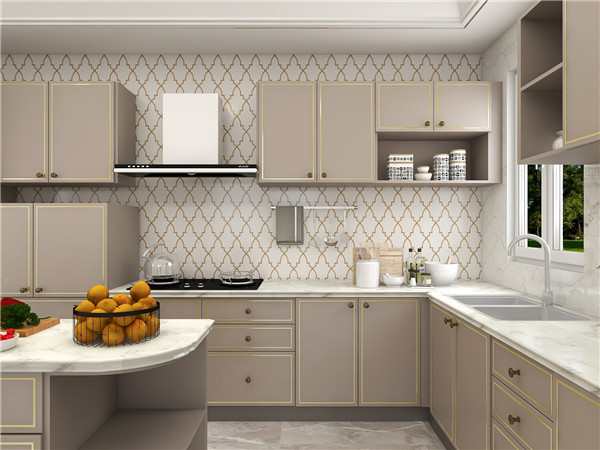 The shield tile pattern creates a clean and eye-catchy back splash for kitchen, it is put here and make the room feel more bright and spacious, building a cozy cooking area for you.

Does These Water jet Pattern Interest You? Get Best Quote Here >>

Waterjet mosaic tile provides endless possibilities in shapes and forms design to fit different interior styles. They are versatile in walls and floors in both residential and commercial bathroom, kitchen, shower, living room projects. You can use it to cover the whole wall, or take it in a small place, it can still make great difference in your space. If you have got inspiration from this post, you would also like to read: Style Collection: 5+ New Waterjet Mosaic Tiles For Luxury Decor >>
MM-Mosaic is specialized in premium mosaic manufacturing for over 10 years, if you are in market for our waterjet cutting mosaic tiles or looking for other types of mosaic tile products, contact us now for best quote or more product details. We will get back to you shortly.