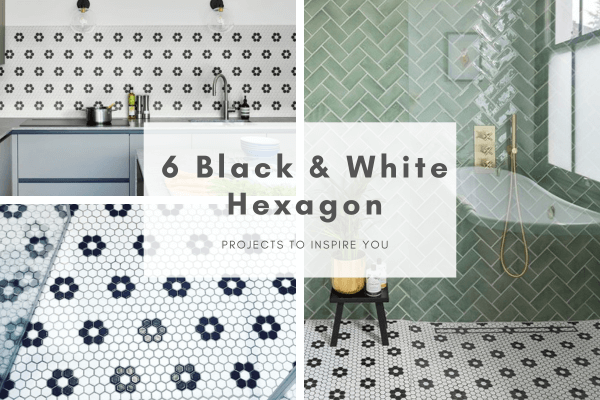 When designing your space, a crucial decision to make is what type of flooring to install. The flooring you choose will determine the atmosphere of your space, so opting for a versatile option is key. Ceramic mosaic tiles are durable, easy to maintain, and look beautiful, making them the perfect choice for kitchen flooring. Black and white or patterned mosaic tiles can create a modern look or focal point in the room. Traditional mosaic tiles such as black and white hexagons or using customized personal patterns are ideal choices to create a timeless space that will remain fashionable for years to come. Keep reading to discover 7 floor mosaic tile ideas that will make your space stand out.
#1 Flower Pattern Floor
First on the list of mosaic tile floor ideas is creating a flower pattern design using small black and white hexagons. If the idea of having mosaic tiles dominate your entire bathroom appeals to you, then choose this classic black and white floral pattern with small hexagonal floor tiles and enjoy the delight of design. This bathroom space showcases how a small black and white hexagon tile can go a long way, especially when it can link the bathroom floor to the bathtub walls. The timeless black and white small hexagons add an intriguing focal point to this small bathroom area.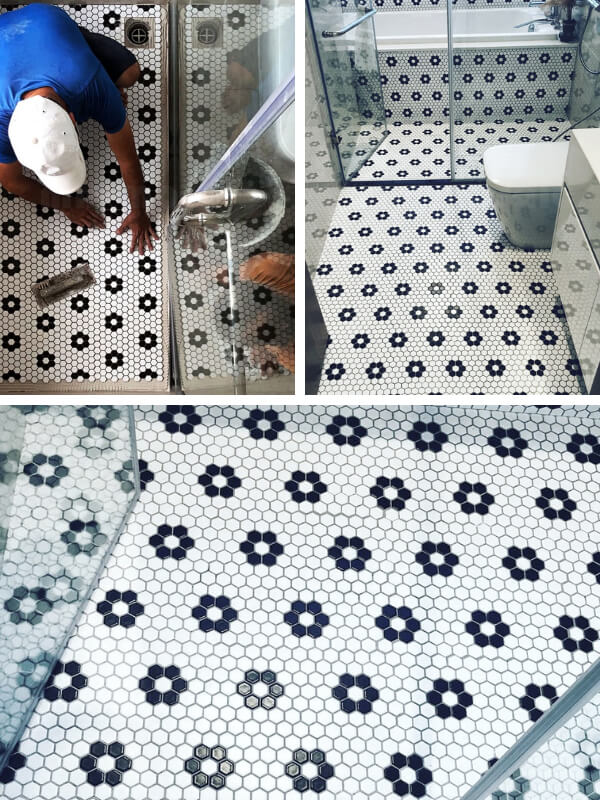 Featured Product: Flower Pattern Black and White Hexagon Mosaic Tile CZM032Y
#2 Add a Retro Touch
Create a captivating space with the design concept of this shower floor tile. The combination of black and white flower pattern hexagons and aqua subway tiles is a match made in heaven, whether it's for cabinet and backsplash combinations or shower room compositions like this. There are plenty of ways to infuse your personality into your shower floor and wall tile design, such as incorporating your favorite colors, opting for unique patterns, and more. The refreshing light green transition with neutral tones exudes a cozy and charming ambiance. Additionally, the black and white small hexagons with flower pattern design add a touch of vintage allure.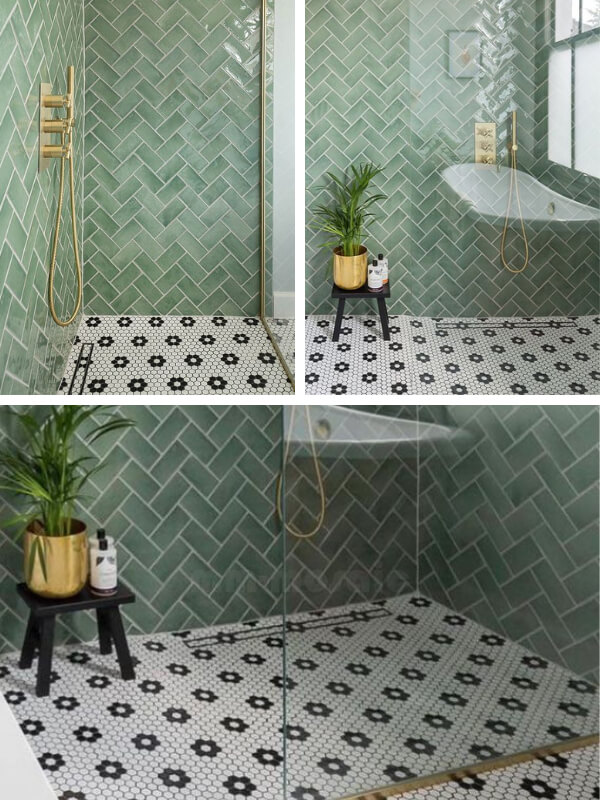 #3 From Backsplash to Floor
Embrace a vintage pattern like our hexagonal flower design, perfect for those with a historically rich kitchen, a love for the retro-modern look, or simply an affinity for all things classic flower patterns! The creative use of our small hexagons and the classic black and white color scheme in this kitchen backsplash and floor tile showcase an eternal and utterly unique pattern. We adore this versatile and charming tile design, particularly because it effortlessly adapts to various interior design styles.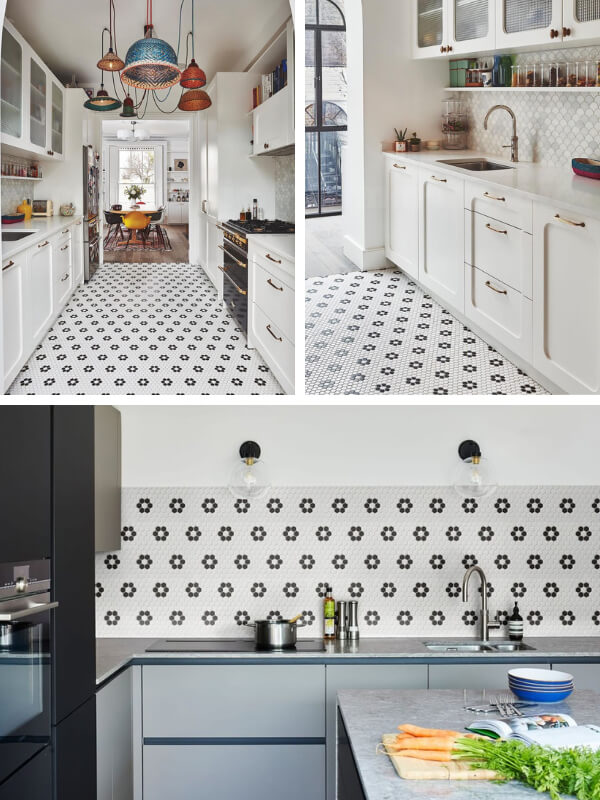 #4 Custom Shower Floor
The flooring in this bathroom predominantly features small white hexagon mosaic tiles but with a twist. We've created a border using black hexagons arranged in a flower pattern, complemented by individual black hexagons as accents within. We love using white tones as the primary color scheme in bathrooms, as it creates a sense of simplicity and brightness. To add a focal point, we opted for a predominantly white design with black accents along the edges, still maintaining a minimalist feel and seamlessly blending with the black and white interior. It makes for a stunning design statement. The unique pattern of each small hexagon mosaic tile under your feet is something that commercial mosaic tiles cannot achieve. Our mosaic tiles are highly durable and easy to clean, making them an excellent choice for any flooring in your home.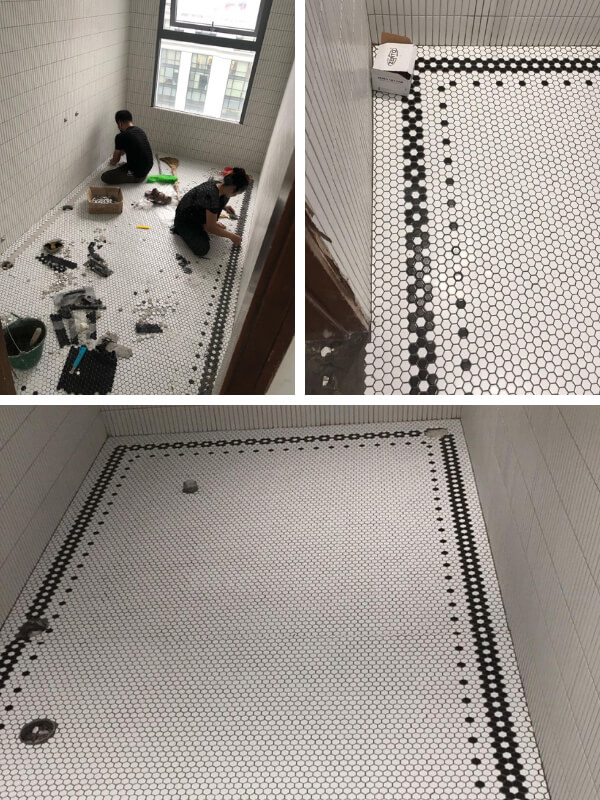 #5 Accent Entryway Floor
Customized hexagon mosaic is all about beautiful details, timeless vintage patterns, and stunning designs. Our black and white hexagon mosaic is the perfect choice for an entryway floor, creating a striking contrast against the adjacent concrete flooring. The black and white tones of our hexagon mosaic tiles boast intricate details and an awe-inspiring appearance. There's nothing more luxurious than stepping onto a custom hexagon pattern at the entrance!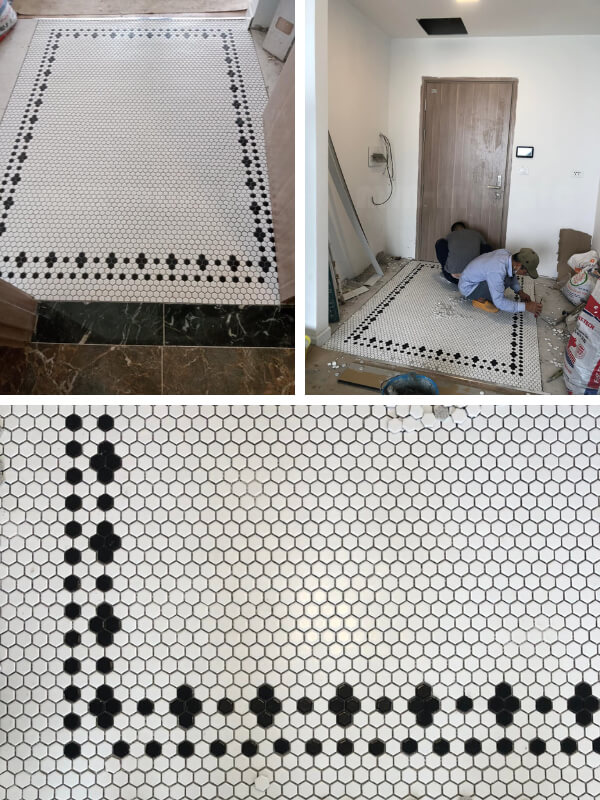 #6 "Girls!" Floor
Hexagonal mosaic tiles gained popularity in the 1940s and have proven to be timeless. People began using these beautiful pieces to create and craft intriguing patterns, like this custom floor design, "Girls!" This vintage-modern tile design utilizes color and placement to create a unique retro pattern. Incorporating the everlasting classic neutral black and white colors, it adds a touch of historical style to your home.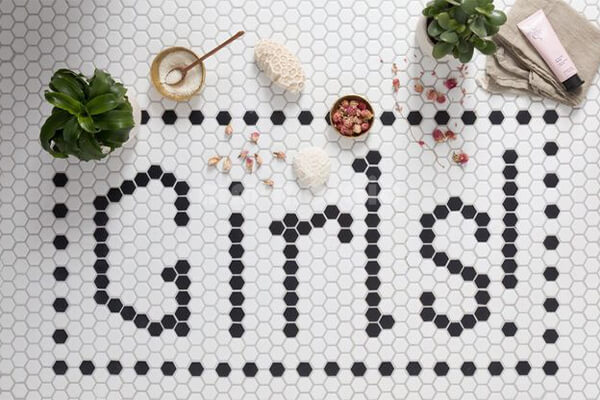 Ordering tile samples is an excellent way to explore the possibilities of our mosaic tiles firsthand. By personally seeing and touching the mosaic tiles, you can better understand their quality, and texture, and fall in love with the unique character of each piece. As a professional tile manufacturer with 17 years of experience, MM-Mosaic always draws inspiration from customers' creative home decor projects, and we would love to hear more to inspire your ideas! Whether it's for a kitchen island or bathroom backsplash, our tiles can add beauty and personality to any space.
If you're seeking inspiration, be sure to check out our blog article, "6 Black and White Hexagon Projects to Inspire You." We're confident you'll find it captivating and it will help inspire your project. So why wait any longer? Let's get started and turn your vision into a reality. Contact us and share more information about your upcoming project, and we'll work together to find the perfect tiles that meet your needs.