Speaking of kitchen and bathroom backsplash, most people usually come up with a simple panel that uses the same material as in the countertop. If a real stone board serves as the countertop, it will be also extended up the wall to form backsplash. It is regarded a whole set that countertop goes with a backsplash that is made of the same material in whatever designs. Either that or the backsplash is left simply plastered or painted.
However, trend changes now. Glass tile has become one of the popular options for backsplash. There are many good reasons for this. One is that glass tile is able to reflect light, brightening up the often dim space beneath the cupboard. Also glass tile comes in a great variety of colors which are hard to go away even in moist and wet atmosphere. Finally glass tile is insusceptible to stains. The smooth surface makes it easy cleaning and a best choice for backsplash areas.
Covering Thoroughly On The Wall
You may have been wondering if glass tile would create any risk of aging your kitchen. Well glass tile does bring a vintage touch if abused or last over the years, but don't you think it is a general character for almost everything? It is common that people feel bored at something that long exists. We hate invariability and always hunt for creation. There are a thousand Hamlets in a thousand people's eyes. You love retro style and meanwhile someone may loathe it. The most latest trend is what very much tailored to your taste. You just follow your heart and make the choice.
Like the kitchen and living room designs attached below, someday it must be considered outdated, at least with wear and tear of the white glass subway tile backsplash. Yet who cares? It has won the heart of those who own this dwelling. For MM-Mosaic, we are not worried too much about current trends (which are called demoded afterwards). We think, once established, style trends usually have great staying power. They stay long and some even can be back in vogue. Like subway tiles, whether in ceramic, porcelain or glass, they are likely to be in style for decades.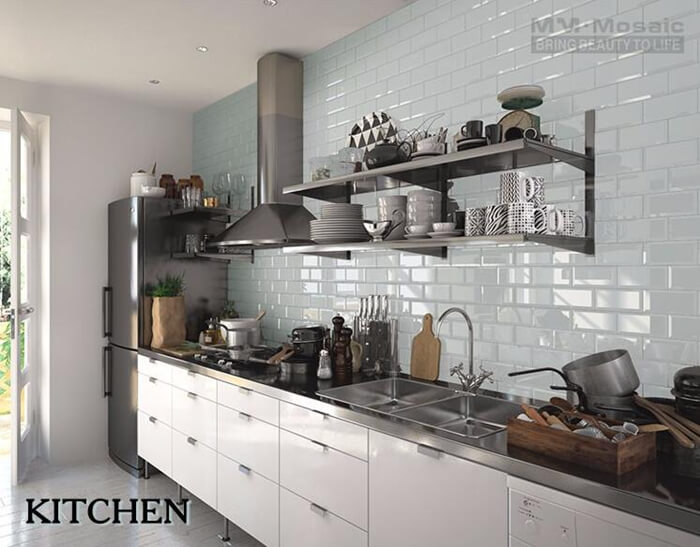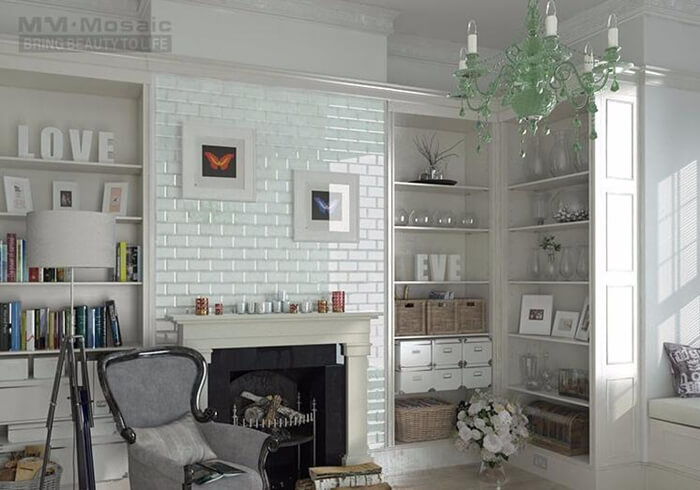 Featured Product: white glass subway tile RZG202MT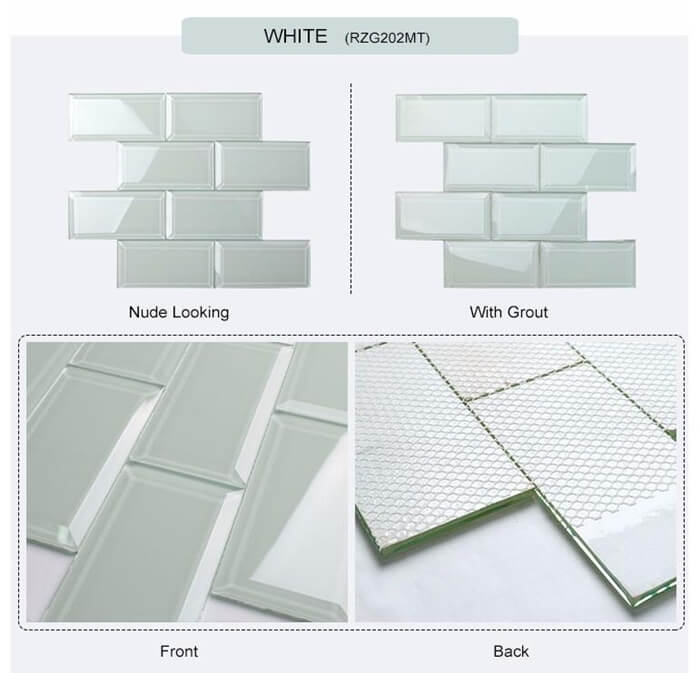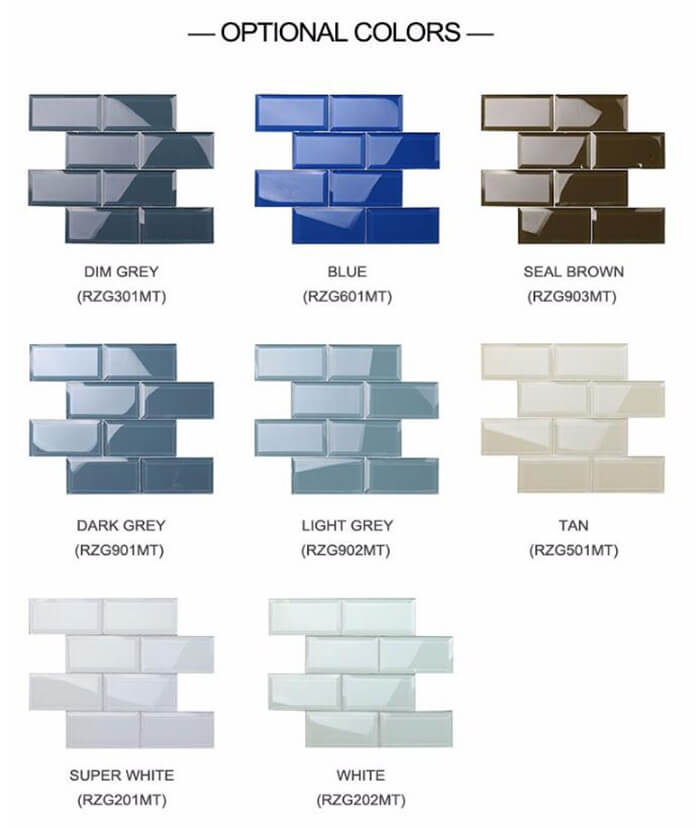 Surrounding Headboard For Accent
Whether in mosaic sheets of tiny 3/4-by-3/4-inch tiles or larger sheets of 2-by-2-inch or 4-by-4-inch tiles, glass tiles mounted on mesh sheets will be easier for DIY lovers to install. Instead of cutting tiles with wet saws, mosaic tile sheets can be cut apart with household scissors to fit available spaces. Tiles attached to mesh sheets are self-spacing, with no need for spacers to establish grout lines.
Glass tiles with inner patterns are particular. They look very different from pure glass tiles, which are often dyed in solid or semitransparent color, and have their own style. According to chip size, smaller-chip mosaic glass tiles tend to show delicacy and the bigger can provide visual interest to mall spaces. Yet it is worth notice that smaller tile chip means higher installation and material cost. Dense grout lines need experienced tilers to handle so as to achieve a decent look. Below are two outstanding bedroom designs using glass mosaic tiles for headboard ornament. Hope it is inspiring and helpful for your next remodel project.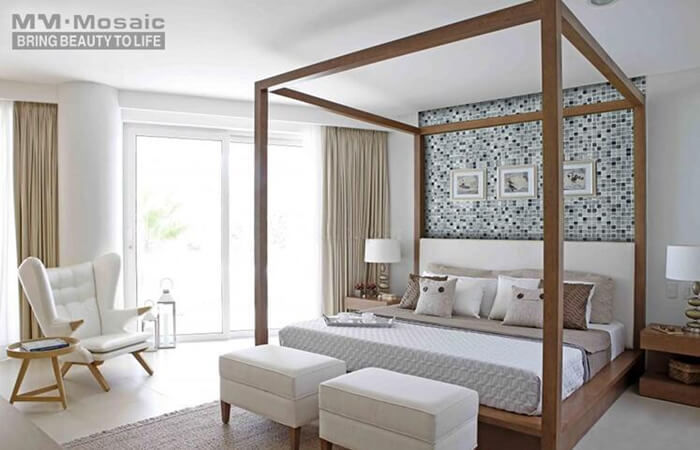 Featured Product: glass bathroom tiles RHG007NY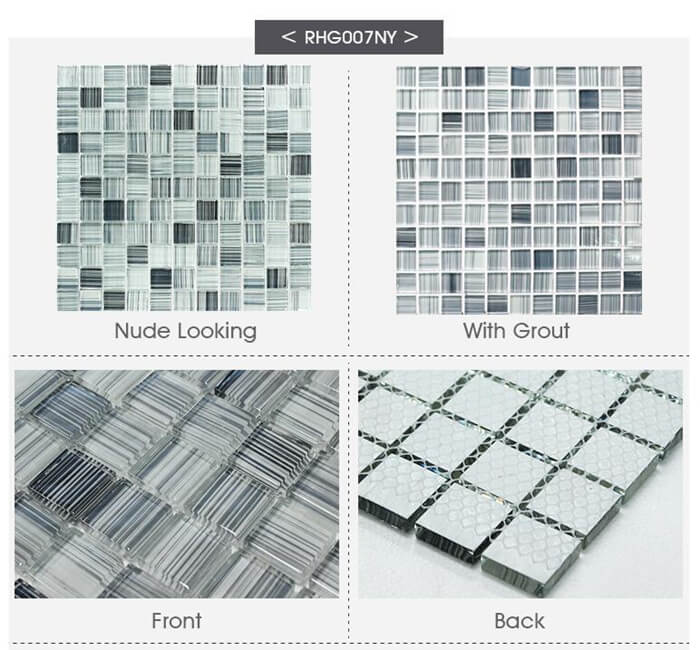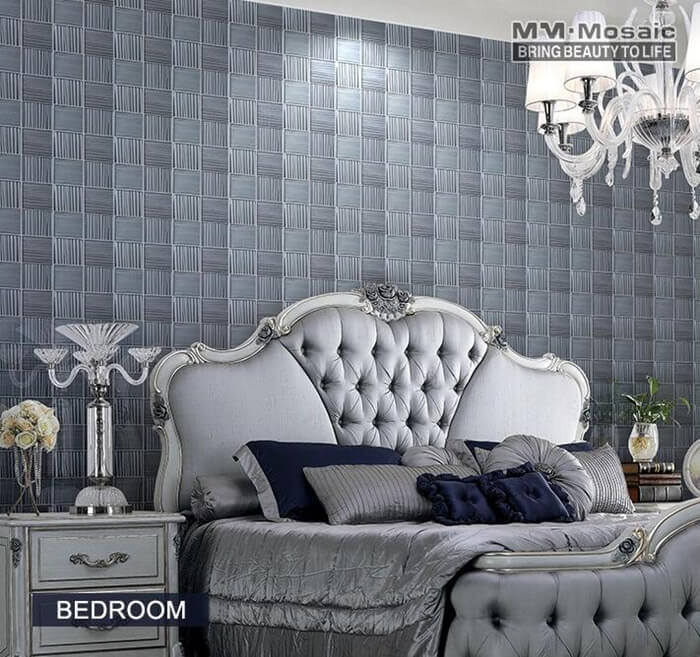 Featured Product: grey glass mosaic tiles RQO301AL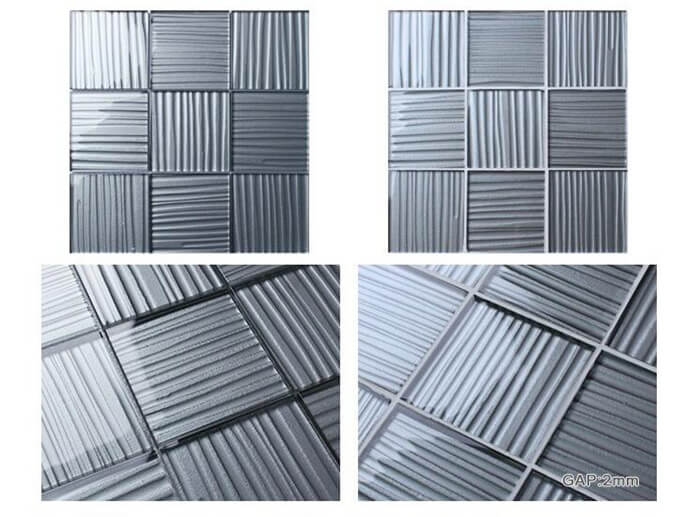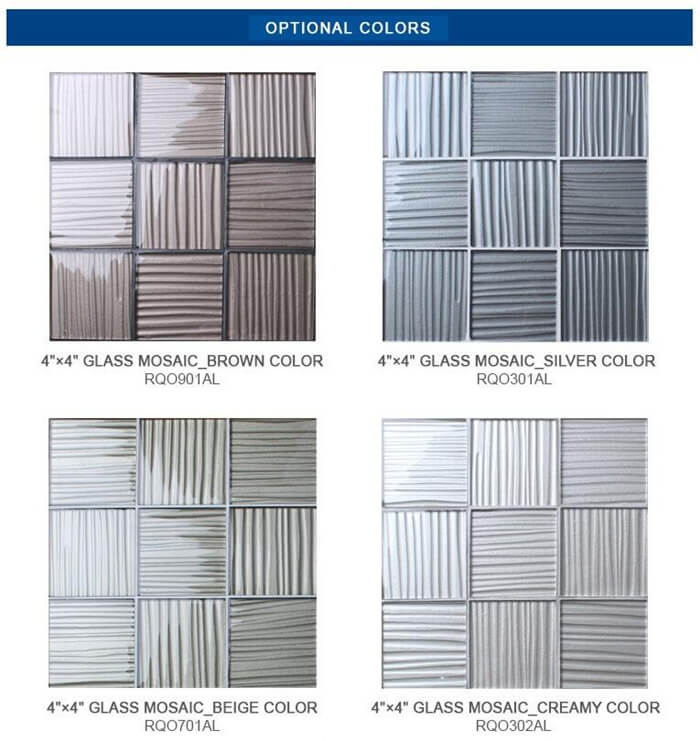 Becoming Part Of The Artwork
You are free to adopt multiple means to use glass tile, and of course, the places are unlimited as well. What we see is that it is commonly used in kitchen and bathroom. Now you grasp a great chance to break that rule. As glass tile has amazing luster because of the material itself, it is a best option to create wow factor. For example, it exerts unparalleled visual effect with artificial light. As seen in the attached design of end of the corridor, magnificence bursts out and you nearly can't believe how well glass tile can expresses luxe. Niveous sculpture looks holy against this irregular glass mosaic tile. It blends well with the artwork and becomes an indispensable part of the fusion.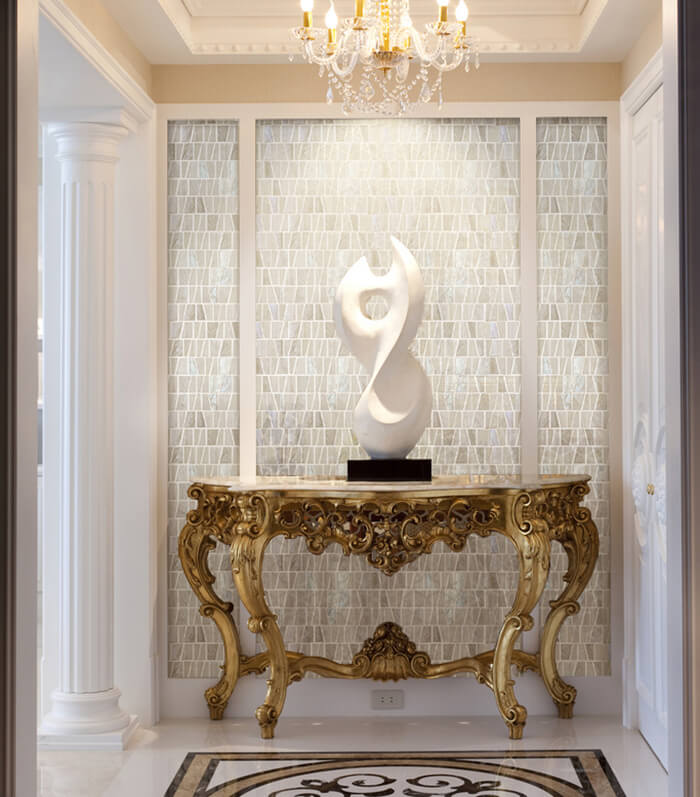 Featured Product: trapezoid glass mosaic tile white GZO035L
Intersperse Around The Archway
Have you ever thought about combining exotic decor and glass tile to achieve magnificent style? If you do, you will have unexpected result just as the attached archway design shows. The arch is partly climbing with luxuriant floral patterns. Bold colors the design use spin our brains. What's most ingenious is the small honeycomb glass mosaic tile. Transparent brown, grey and white form a tasteful mosaic tile sheet, which is just right for the door frame. Everything seems to be integrated. Besides sits a swim spa. Imagine enjoying hydrotherapy meanwhile appreciating the artistic decoration, you would so love to have a body and psychic relief all day there.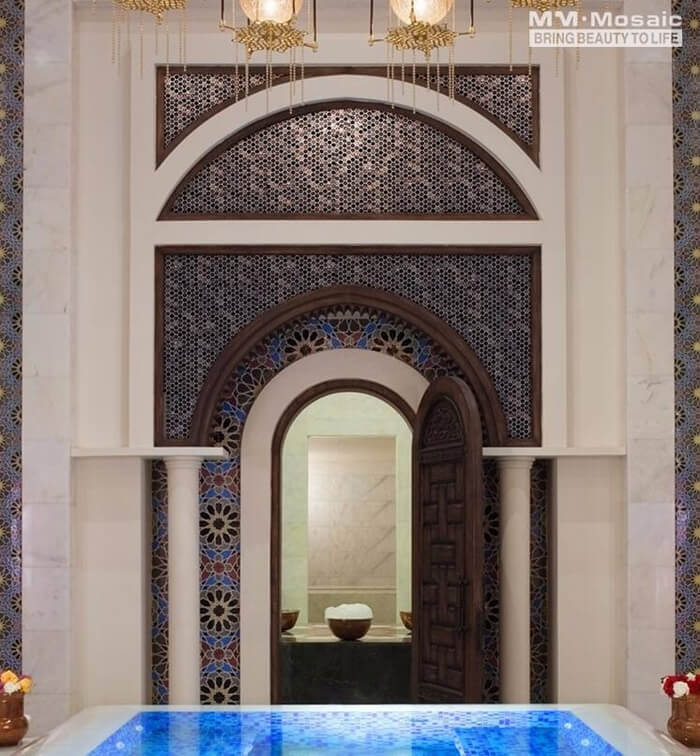 Featured Product: glass mosaic wall tiles GZH035WQ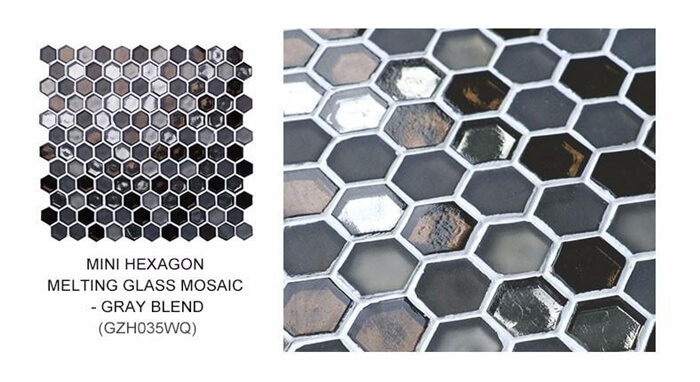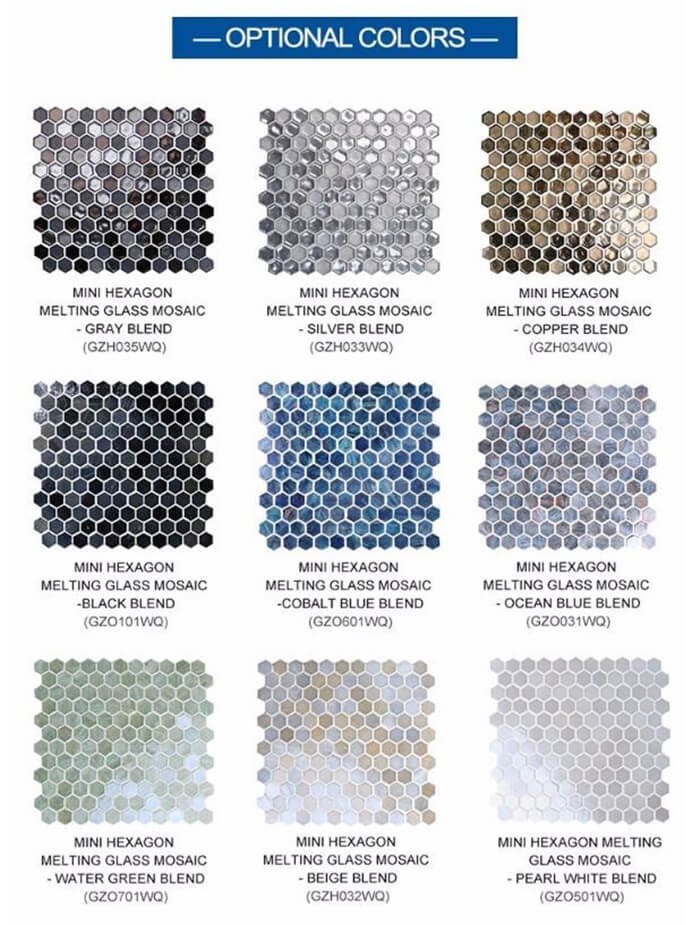 Glass tile has become a trendy option for backsplash, though ceramic/porcelain is dominant in the tile market. However, glass tile provides visual impact that ceramic tile cannot give. Its reflective and luminous surface is the key to bright up any dim space and make it look more spacious. For more glass tiles design, welcome to contact MM-Mosaic, a premium mosaic tile company that specializing in providing all series of tiles and mosaic tiles made from ceramic/porcelain, glass, stone, etc. Free quote and sample available for quality check here.