Mosaic is a creative combo of small chips that come in a wide range of materials, patterns, layouts, colors and textures. It is an art form that has an ancient root. Though it has experienced many changes, it is for now still regarded as a fascinating embellishment that is universally used as ex and interior decoration to add color and style. From architecture use to home furnishing, mosaic art is versatile that can fit in most settings. Ceramic, glass and stone are the main ingredients of this art form. MM-Mosaic is going to show you some inspiring mosaic designs in the next several times of blog update, and today we will take the ceramic type first in details.
Flower pattern is never outdated in wall and floor decoration, and can always gain great popularity once launched out on the market. This mosaic decoration is consisted of many mini square ceramic chips that create various sizes of blossoms, which placed on the front of the paralleled lines in black, grey and brown color. The overall design is like a weaving blanket on which scattered with beautiful flowers. To decorate with mosaics, the room will be highlighted and put in a tranquil atmosphere.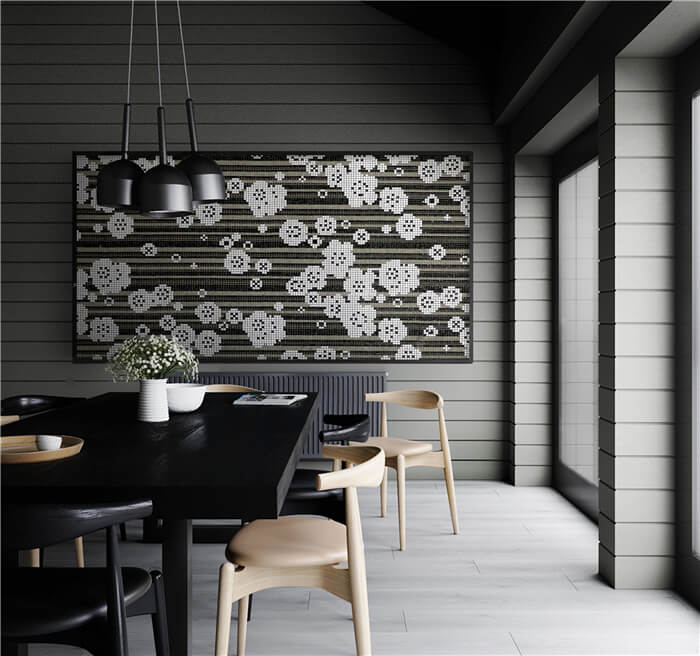 Featured Product: Mosaic Decoration Blooming Flowers KB012ST
Another flower mosaic mural, but it is one in the bright colors such as red, orange and yellow. To balance the layout, some cool tone are added to the mural design as you can see light and dark blue color are partly used. This hanoi ceramic mosaic mural project is an interesting one, especially suitable for the working place of advertisement company or any corporation which is involving design, fashion, architecture, etc.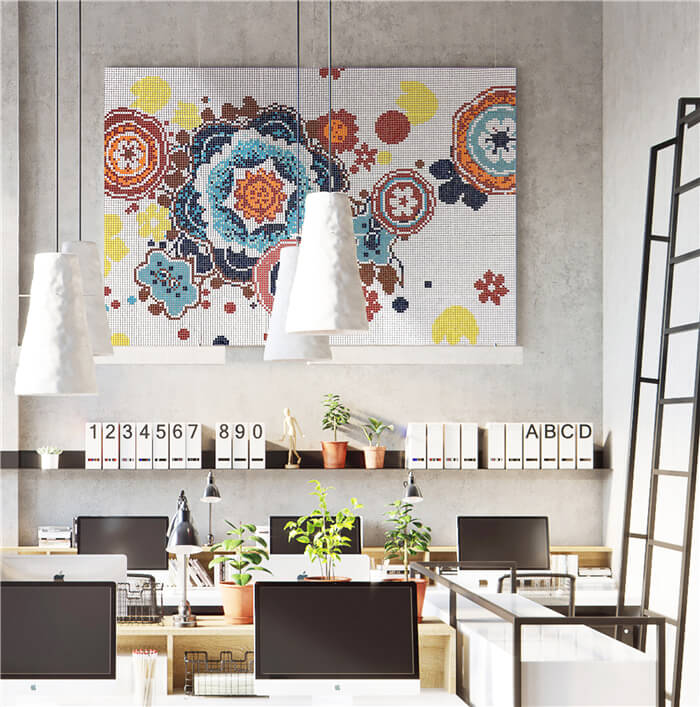 Featured Product: Ceramic Mosaic Mural Kaleidoscope KA010ST
Nature always gives us endless inspirations. We are surprised at the black-and-white beauty of zebra. This mosaic art is inspired by the zebra's charming fur with waving pattern, with which the edges and corners of the space will be softened and moderated. Those graceful curve designs will embellish your interiors in a vivid way. Have a wildest dream with this African taste mosaic style painting.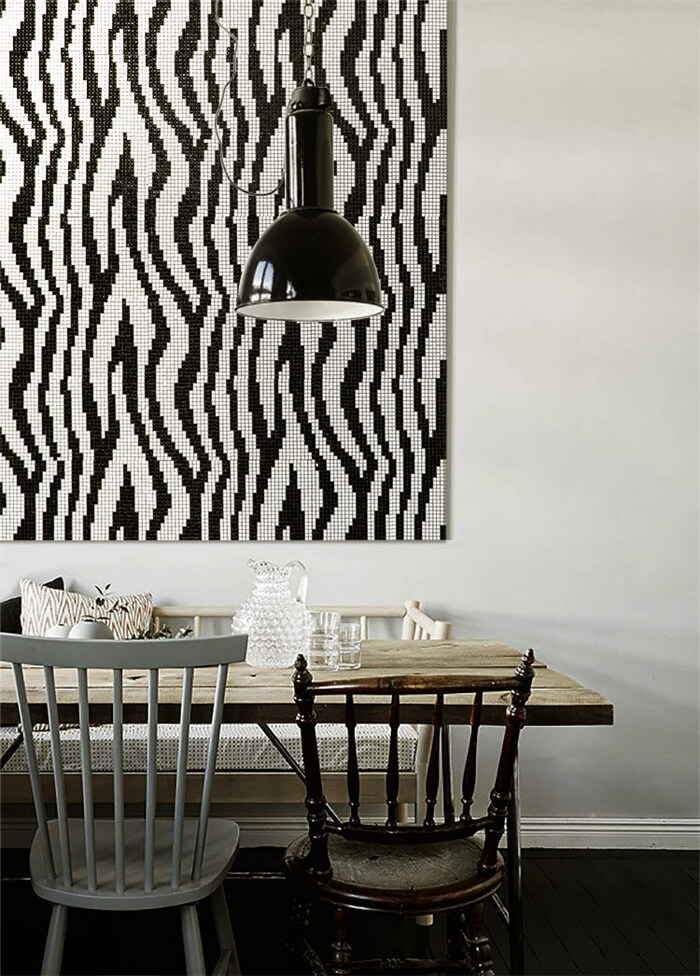 Featured Product: Mosaic Style Painting Zebra Pattern KC008ST
Another simple black-and-white design, but the style is elegant instead. Like flower, star is a popular theme of art making due to its particular combo and position of lines. The glazed ceramic surface really endows the stars with the capability of "twinkling" in the light. Thanks to the spreading black stars, this modern mosaic art does not look sterile but interesting instead. An artistic mosaic sincerely can improve the wonderfulness of your bath time.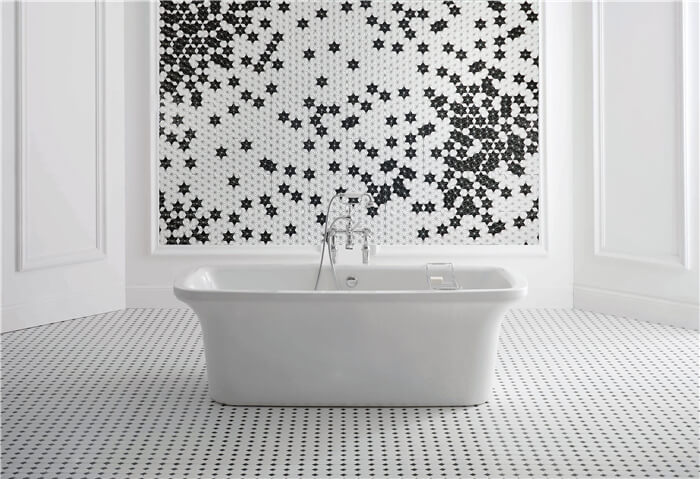 Featured Product: Modern Mosaic Art Hexagram Pattern KZ011ST

It is surprising to see that hexagon element and rhombus design produce a stunning result as the decorative backsplash in this sitting room. Because it is a little bit complicated pattern, you are suggested to apply some plain decor elements to balance the overall design, like the gray flax sofa in the attached picture. The mosaic art wall will not steal the spotlight or dazzle your eyes as it has a matte surface, which looks fine and smooth.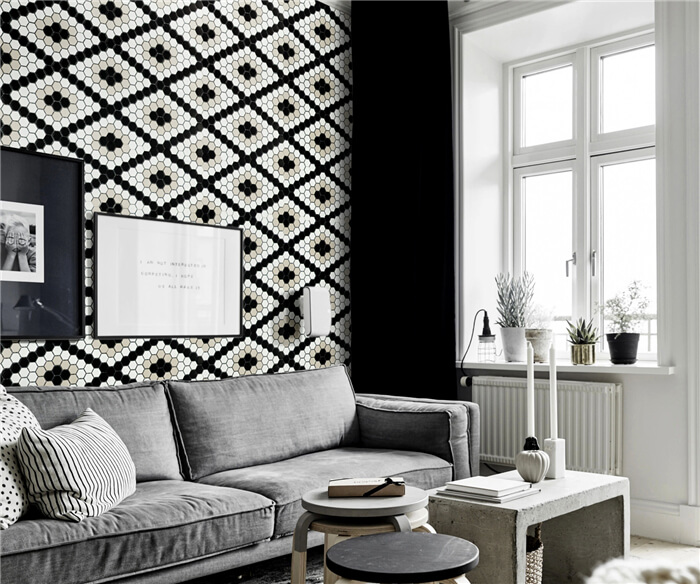 Featured Product: Mosaic Art Wall Rhombus Geometry KZ004CH

Little deer in the forest, it is a splendid mosaic design idea for kid rooms. Colorful layout and vivid images of trees, birds, deer and falling leaves, all contribute to the aesthetics of these small mosaic pieces. The deer turns around her head. I almost could see her bright eyes staring at me. An inspiring artwork is good for the development of kids' imaginative ability. Install one and it won't disappoint you.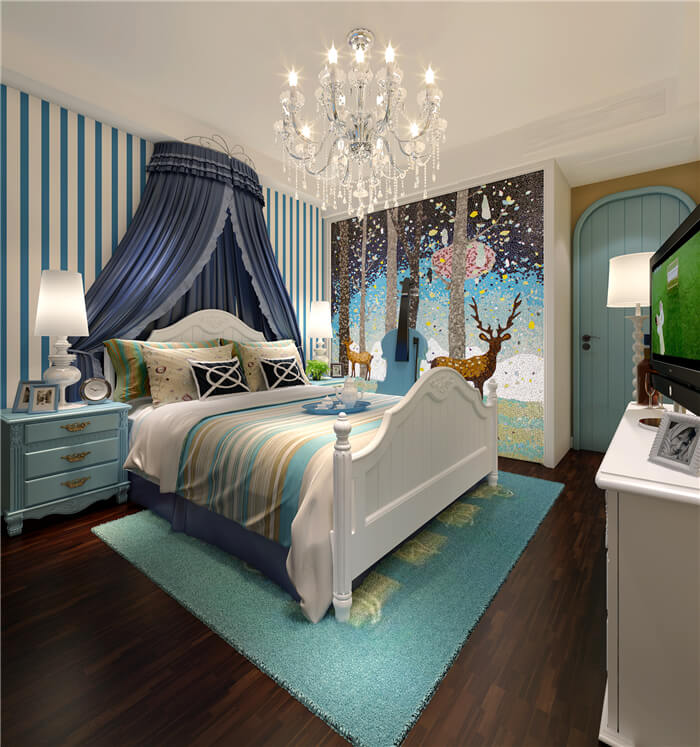 Featured Product: Small Mosaic Tile Pieces Wall Mural Deer & Forest KZ014FY

Mosaic art can be applied on your ceiling too. Look at the mosaic with autumn leave pattern. It extends from the one third of the wall towards the ceiling, and looks so warm because of the orange color and the downy lamplight. Imagine how wonderful to have meals in this cozy dining room where assure you a great dining time with your friends and family members.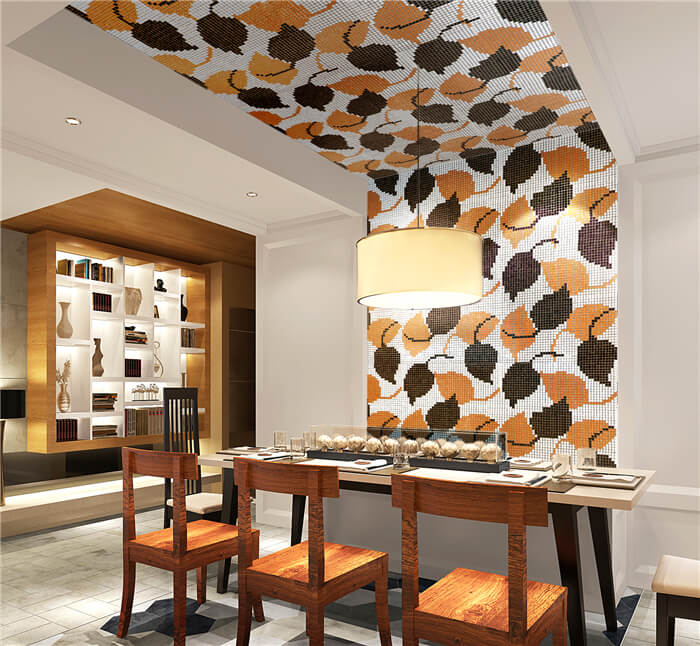 Featured Product: Autumn Leave Pattern Mosaic KB001ST
Have you got any new design ideas for ceramic mosaic art and the applications? Feel free to leave your story on our comment board. For more mosaic art supply, do not hesitate to head for our product section Mosaic Art!