Backsplash could be considered an indispensable focal point of your kitchen's design. It is often set in the middle where draws people's most attention and plays a significant role in brightening up the cooking area. Tile is one of the popular choices for backsplash decoration because of its versatility, availability and durability. It has multiple options in materials, sizes and colors. Tile allows a number of possibilities for people to decorate their kitchen backsplashes in whichever way they want. No matter your backsplash extends up around the upper cabinets or spreads walls from left to right above the worktop, using one of these beautiful tiles can give a distinct look to your kitchen.

Herringbone Tile Backsplash
Cobalt blue gives a royal air so designers often use it to improve ambiance of a room. It is usually seen in hallway, living room and bedroom but seldom in kitchen. Yet it does not mean blue herringbone tile backsplash will look weird in kitchen. Actually it is a bold try to make your kitchen unparalleled. Traditional herringbone pattern and premium glaze blue coat combine well and it proves that kitchen backsplash can be adorned in more European classic ways than you think. Many tiles in herringbone pattern can be purchased on a mesh backing, which mean you do not have to lay down each piece of elongated tile one by one based on a specific layout.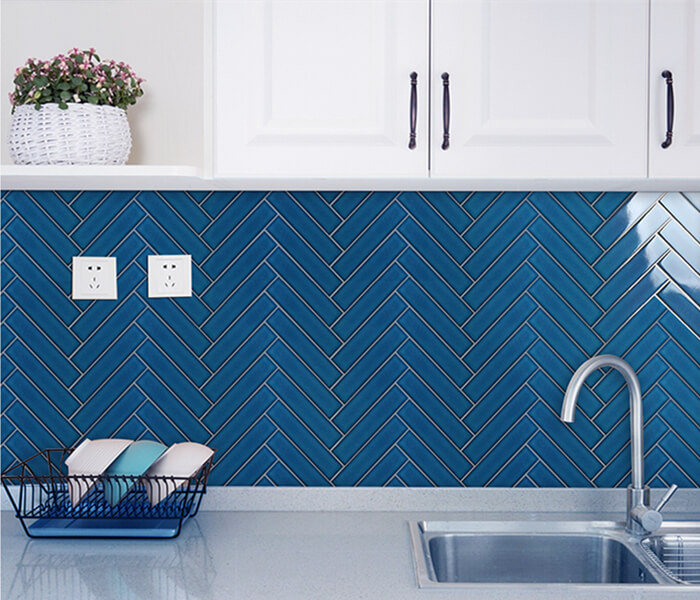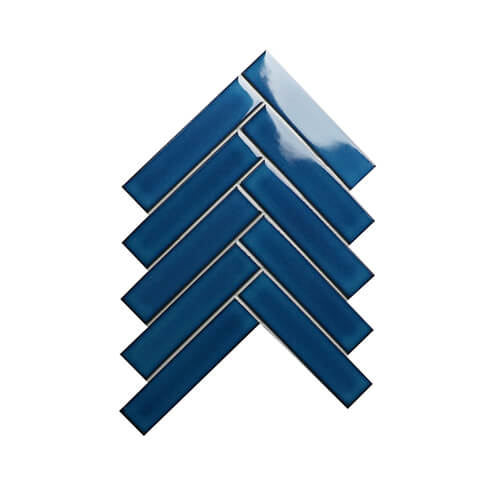 cobalt blue herringbone tile backsplash CZG601B
Fish Scale Tile Backsplash
Another blue mosaic backsplash tile for kitchen. This time is a light one. It is very different from the dark. Light blue has a hue that is as clean as the sky. Kitchen in a light blue touch is refreshing. Amongst, four light blue chairs provide striking key point, which echoes simplicity and purity of Nordic style with the blue fish scale tile. Taking matte finish mosaic tile is less dazzling, for a portion of light is absorbed. Matte surface does not mean the tile is easy to get stained. There are two surface treatment for glaze coat. One is glossy, the other is matte. Two are wear-resistant and can keep liquid and moist into the ceramic.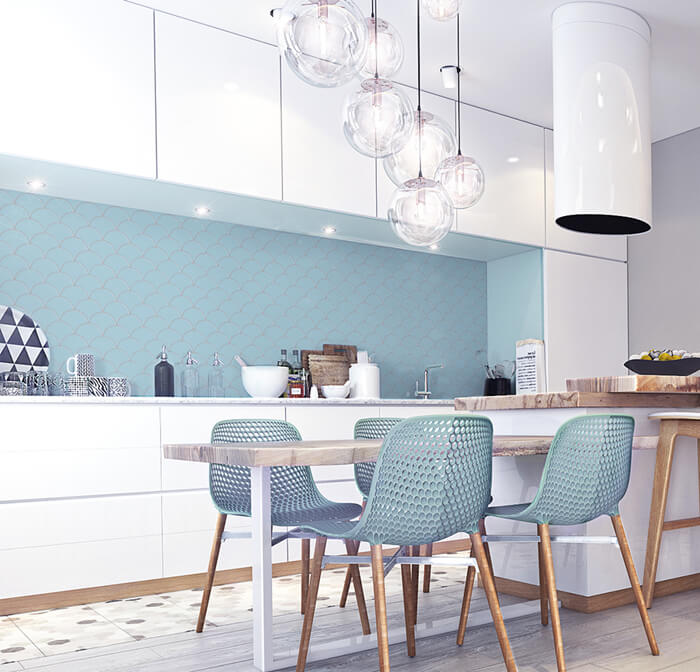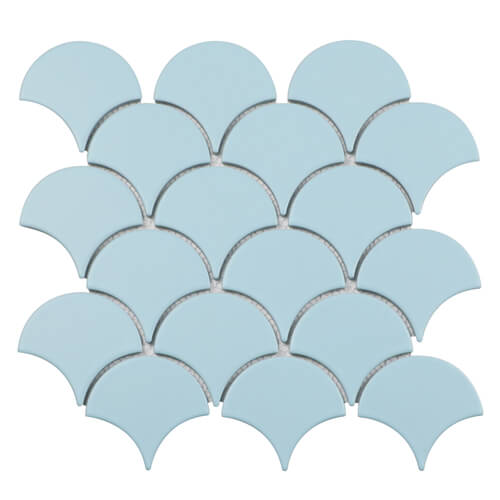 light blue moroccan fish scale tile CZM651X
Heart Shape Mosaic Tile Backsplash
Tile company launch out new product at fixed period. You will find many of them have outstanding features that other existent tiles do no have, and that also illustrates why a new tile can be tagged "new". This glossy white small heart shaped mosaic tile listed below is no exception. Many heart shape chips in a very small size combining together creates an uneven surface and that is also a really unique texture especially when the mosaic tile sheet is put on white grout. It looks plain from a distance but in fact it is delicately designed when you see closely. This tile gives you a mediocre look that is either dazzling or negligible.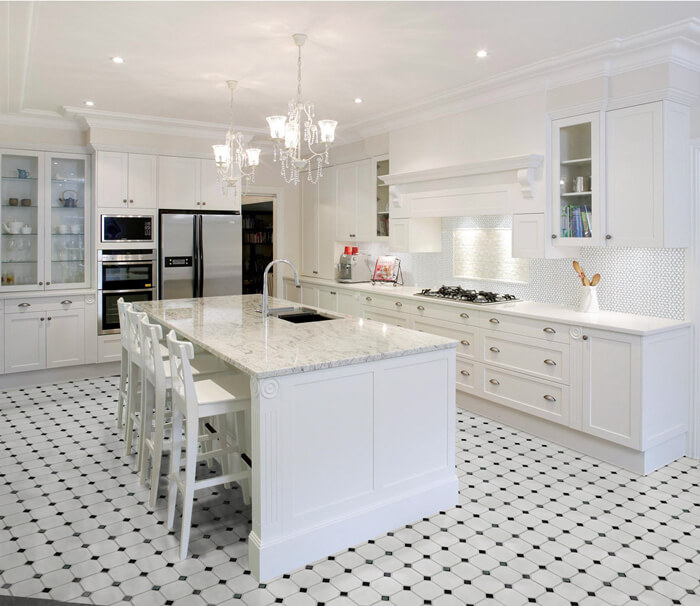 white heart shaped mosaic tile CZG203CD
Mosaic Pool Tile For Kitchen Backsplash
You may think it hard to imagine swimming pool tiles can be used for kitchen backsplash, as they are generally blue and green. These two are cold colors. Even interior designers feel hesitant whether or not they will work the best in kitchen. However, blue green mosaic tile has potential to make your kitchen acquire a completely brand new look if used properly. In the attached picture, blue pool tile with crackle texture work well as a backsplash tile type and unexpectedly, integrates into the existent design elements particular the wooden furniture.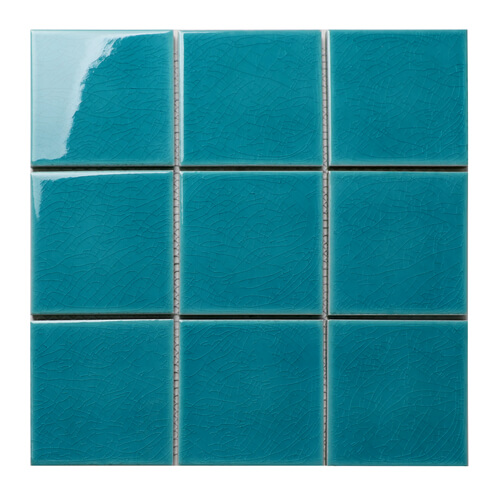 blue green mosaic pool tile for kitchen CTB703X
Concrete Tile Kitchen Backsplash
If you aspire a touch of modern industrial style in kitchen, then installing porcelain tile that looks like concrete is your top option. If you feel bored at using tiles in the same size, it is a new way for you – matching different sizes of tile together. In this way, you will have a one-and-only pattern of your own. Cement look tiles can make the space neat and orderly, so they are popular in commercial construction projects such as restaurant and office. Rationality and moderation are the two values that cement porcelain tiles are born with, and that is tacitly approved be people that they are good to create business atmosphere.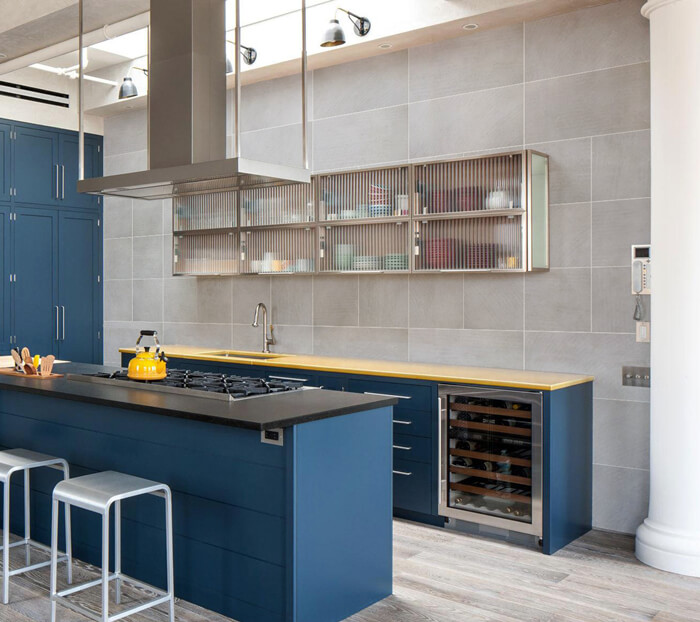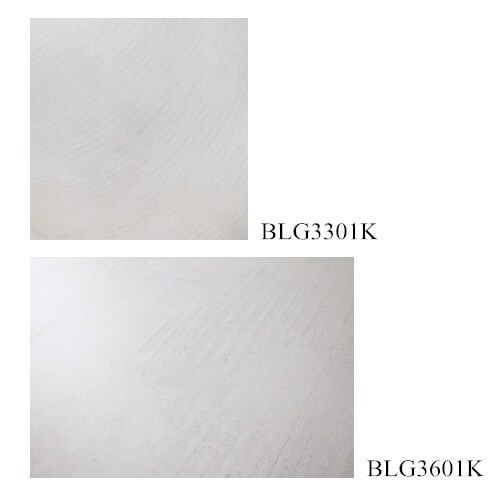 industrial style cement look porcelain tile

Mosaic Brick Tile Backsplash
Brickbond is a common tile paving pattern. It appears that tiles are in a stagger placement. People who choose brickbond mosaic tile for kitchen decoration is more conservative and traditional. They think it is a reliable solution that never goes wrong and ends up with a look that is not bad. If you also want to save effort in tile selection, just pick up a ceramic brick tile you like and remember it is better to choose those in solid color such as white and black. They are simple but decorative enough as a kitchen backsplash particularly when many utensils look a little messy on the worktop.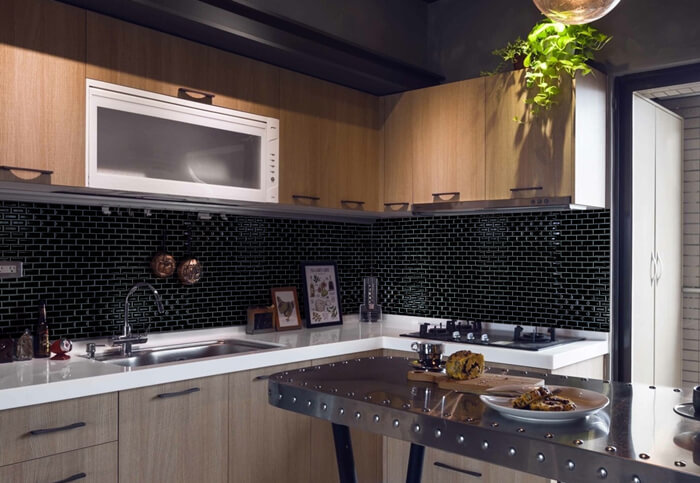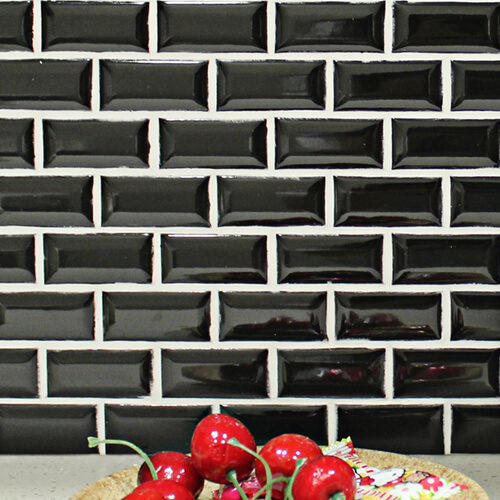 black brick mosaic tile backsplash CZG133Y
Hexagonal Tile Kitchen Backsplash
Most people want their kitchens bright and tidy, then many of them will choose to design their kitchens in white tone. White wall, white cabinets...and of course white mosaic backsplash tile. Before purchasing white furniture and other construction materials, remember it is important to choose those are not easy to get stained and age. Premium quality is the only principle. Take backsplash tile for example. If you like the white, choose those are in glossy or matte glaze surface, which allows a longer service life for the tile and can slow down the speed of aging.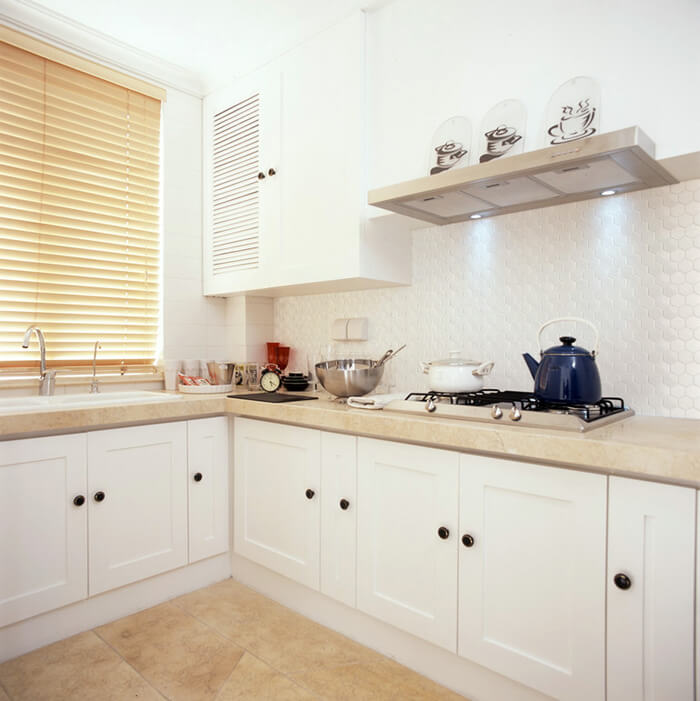 white hexagon mosaic tile CZG224Y
Decorative Tile Strips Backsplash
Last, we recommend you to use mosaic tile strip as kitchen backsplash. It is a growing trend these years. People are using more and more strip patterns in home decoration. For decorative tile strips, they are not limited in surface treatment. They are available in local tile shops. Pure colored, fambe effect, cracked surface…you can always find out a type that is best fitting to your kitchen. Look at the following example. Tile strips are in different lengths and are randomly connected. The way they arrange is great to add dimension to your kitchen. The mosaic tile strip backsplash makes the kitchen look more spacious visually , don't you think? It is the charm of strip mosaic tile.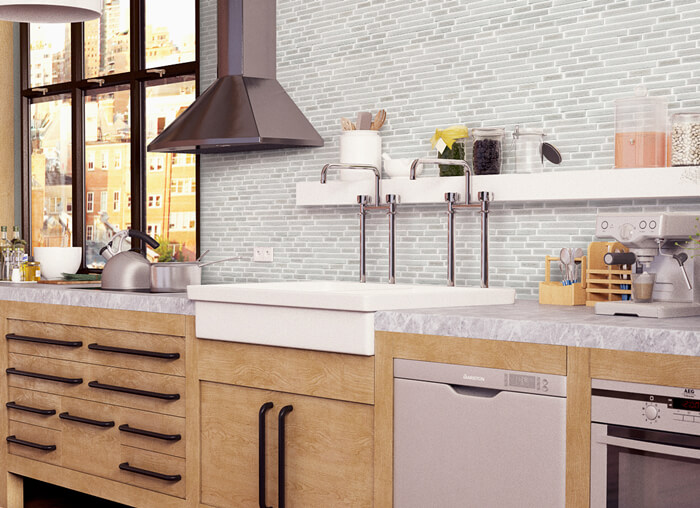 cracked surface decorative tile strips CZG908HA