Bathroom remodeling project is a top priority for many households in their wish lists. No one would doubt the surprising enhancement wall tile replacement could make to a bathroom. Classic solid tiles such as beveled white subway tile are boring to modern people, especially those who would very like to enjoy latest room design trends. Trendy mosaic tiles could bring out the best for the space whether it is a half bath, guest bath or master bath. And our customers certainly also know very well this magical transforming way. MM-Mosaic is so glad to hear one of them celebrating her bathroom remodeling project in Nordic style recently. The beautiful result you see below is greatly achieved by our penny round mosaic tile.
There are nine color options for this collection. 19mm diameter and shiny glaze coat are two features that make this round mosaic tile prominent. When installed on walls, it will appear pearl-like luster and the bath looks like decorating with gemstone that glitter against the bright light. This collection is generally taking gentle colors such as teal blue, beige and pink. They are the colors that work well to create cozy ambiance, which bathing area aspire most. It is common that people want to bath in a soothing atmosphere. For this reason, the basic color scheme is truly important. Also, round shaped tile chip can make the wall mellow and soft. Penny tiles are great for bathroom wall enhancement.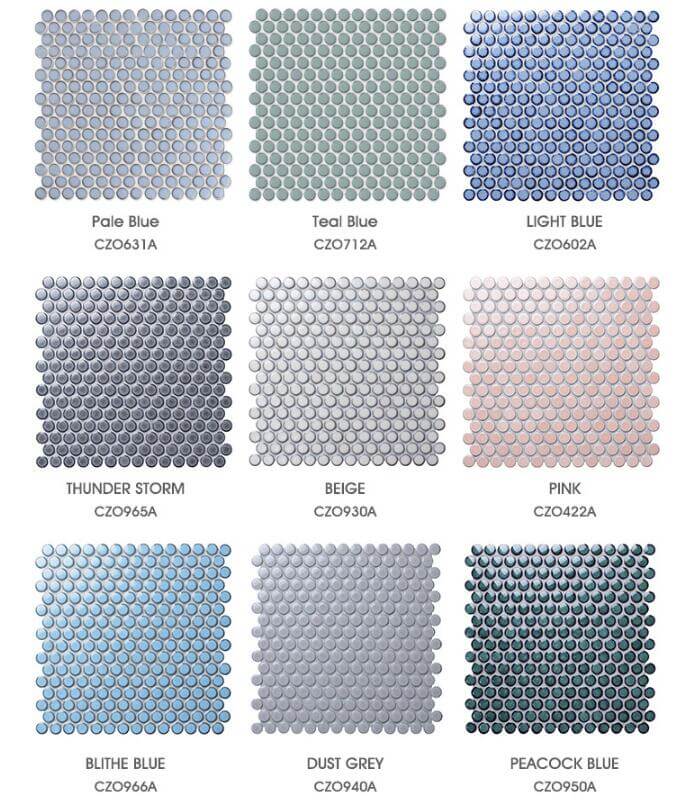 Below are some feedback photos received from our customer Linder. She is excited that installer finished retiling the bathroom wall after being through several busy days. The tiling result is beyond her expectation. First, the bathroom is completely changing from white to a very light blue. It is like you are surrounded by a suspicion of wind feeling refreshing and peaceful. That meets the original purpose of designing this bathroom in Nordic style, which is characterized by simplicity, minimalism and functionality. For a brighter bathing space, Linder adds a large double-window and let the outdoors in. Ambient light is throwing into the space and people can enjoy the scenery as the window is placed right beside your head when you are sitting up in the bathtub. Imagine how nice it is you have a drink in hand too. It is a great possibility to have holiday fun at home without spending much on a five-star hotel. Pleasure is easy to get in such a well-designed bathroom. You can try to transform yours with these multi colored penny round tile too.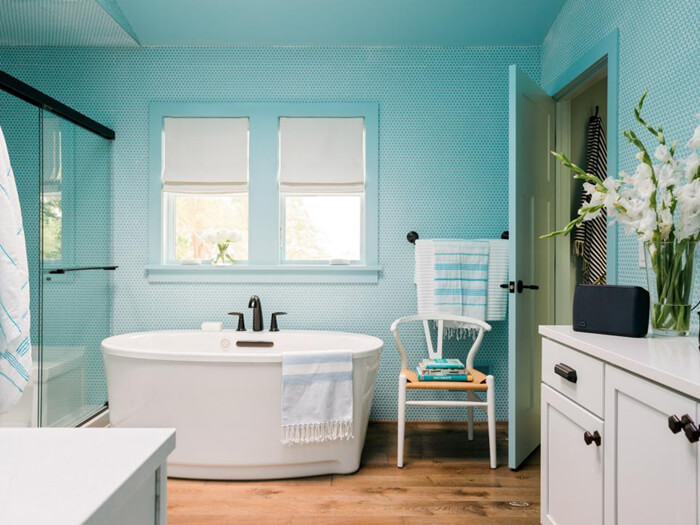 Area that is surrounding mirror and washstand cabinet is great for adding mosaic tiles as well. This area we usually call it bathroom backsplash and it is often suggested installing with some protective coating instead of leaving it in plastered white because bathroom is a wet and moist place that plastered walls are easily stained and get mildew. Linder's bathroom is using a blue penny tile backsplash, the same as the other vertical surfaces do. Have you noticed she is also choosing a white cabinet? White and light blue is a great match and they always remind people of a still lake. A ample-sized cabinet helps shelve your unsightly personal products and cleaning supplies. In this way you can you're your bathroom from mess. What's more, Linder has chosen a simple mirror without any ornament, which is coherent to the simple design theme.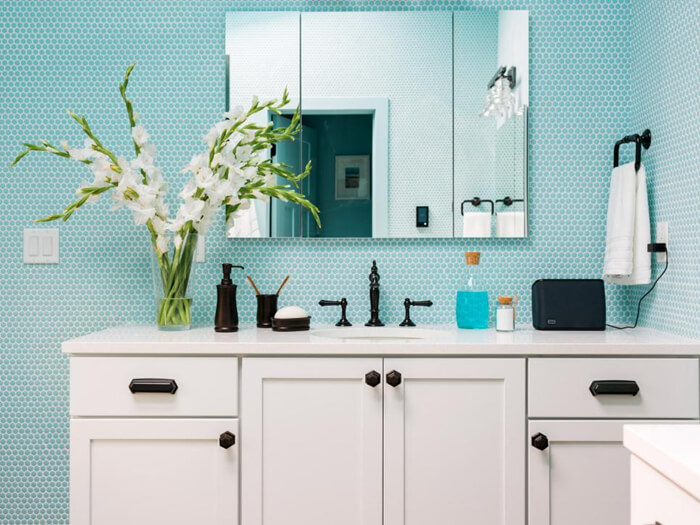 In fact, many interior designers advice bathing area and toilet should be divided and it is much more better to fence them out with a half wall or a separated room. A penny tile wall here is the icing on the cake. What Linder takes is another solution. However, we have found out an example showing you more info in details, though the backsplash wall is in decorative tile strips. They hold true at the same principle. In this way, space is taken rational usage and looks more organized. Also, have you found out Linder is using penny tile all over the bathroom except the ceiling? It is normal because you really do not have to tile the ceiling as well. Just paint it in the same color as the blue penny tile. It is worth reminding that you should take tile grout color into consideration too. Light grout color will result in color dodge of the mosaic tile visually, similarly, the converse to be true to dark grout color. So it is better to paint the ceiling after finishing the mosaic tile project. In this way, you can find out the most similar oil paint.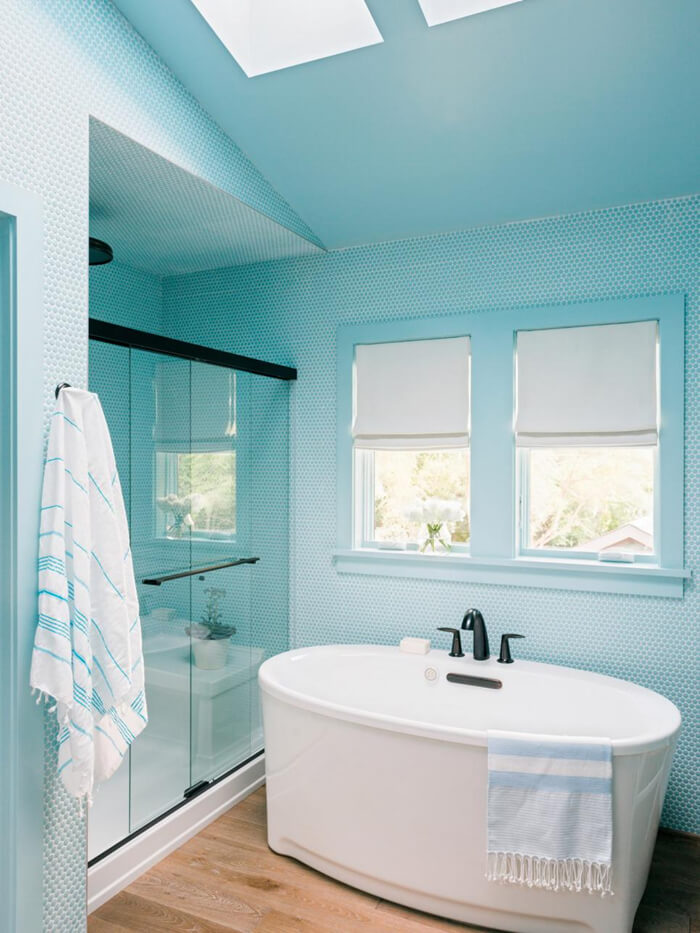 MM-Mosaic is a mosaic tiles suppliers who grasps emerging trends of tile design and keeps creating the most innovative tile products that made of different materials, colors and shapes. Welcome to know more about our tile collections: ceramic/porcelain mosaic tiles, glass mosaic tiles, wall and floor tiles and mosaic tile arts. We will be so thrilling to hear your whim about tile and help you to make it a reality via our professional customized service.