If you're a certain business establishment owner, you surely know the importance of standing out among the other competitors. At least you must be unwilling to see yourself lagged behind in the same business district. Therefore, you have to make every visit count, particularly on festive days, for example, the just past new year holiday, have you succeeded in attracting as many as passing people who are intended to shop? This depends on the overall strength of your stores, as generally known, quality, service, price. But in this article MM-Mosaic wants to tell you a profitable business property is absolutely more than that common sense says. Decorating is crucial as well. You can enhance yours easily with mosaic floor tile. Let's show you the merits and examples in details:
Mosaic tile flooring is one of the most eye appealing decors due to its brightness in color and flexibility in design that you can use it as the focal part in your business establishment. These mosaic floor tiles are usually showing a repeating pattern. they can be paved orderly or randomly, singly or conjointly; or appear as more artistic design called mosaic tile art that broken chips combined to form a figure or scenery in a specific art form, such as stream of consciousness, abstractionism, etc. There is high flexibility and aesthetics in the application of mosaic tiles and most business owners who hire designers to decorate the inside choose to add them for dramatic look. You can DIY the flooring with tile pieces or you can buy online finished mosaic tiles with mesh on back that are usually divided into sheets.
Ceramic/Porcelain Floor Mosaic Tiles
Ceramic and porcelain are the two popular materials used on flooring. They are manufactured in high pressure and temperature so that they have a great density, which makes them hard and durable. They are fictile and can be easily formed into different sizes and shapes. Also, they often are covered with a layer of glaze, which makes the surface is scratch resistant and moist proof. What's more, they can be made extremely vivid as other materials show like stone, wood, brick so many designers love using them in the decorating of any space, as they are versatile and adaptable. Like residential use, it is common in commercial use as well because of its artistry. There are many selections: glossy or matte surface, satin or glazed finish, and other pattern features you want to custom to fit in your shop. Any design ideas come up in your mind, ceramic and porcelain can help you to achieve.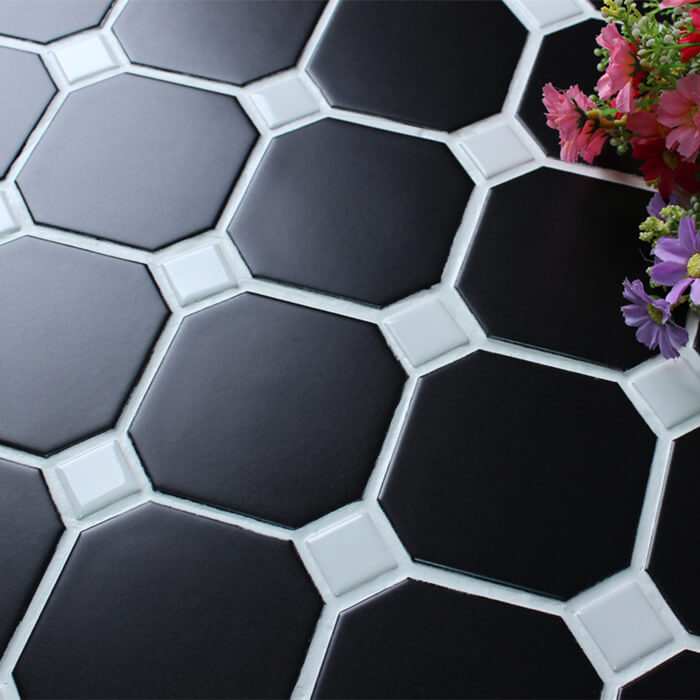 Floor Design Octagon Mosaic Tile CZH019B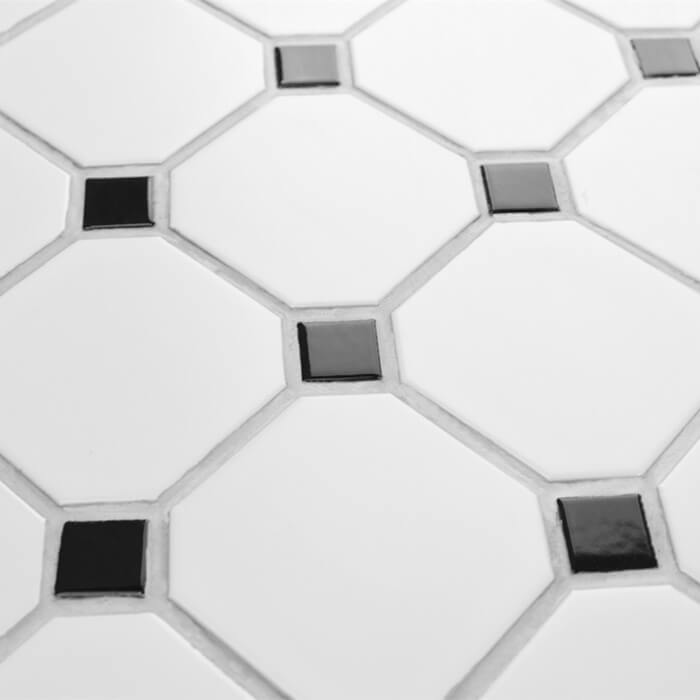 Glass Floor Mosaic Tiles
Glass mosaic tile is another decorative alternative for business owners, who have many choices in selecting, crystal, see-through, semitransparent. They are universal in the market with so many colors and patterns. They can be simple look to add a plain aura and it is especially great for western food restaurants, as they pay particular care to dinning atmosphere; those in brilliant colors are great for spicy food or exotic food restaurant, as they advocate passionate catering culture. And repeating pattern may be a little dull for a luxurious restaurant. An attractive mosaic floor art is more suitable, that will bring a sophisticated look to the space.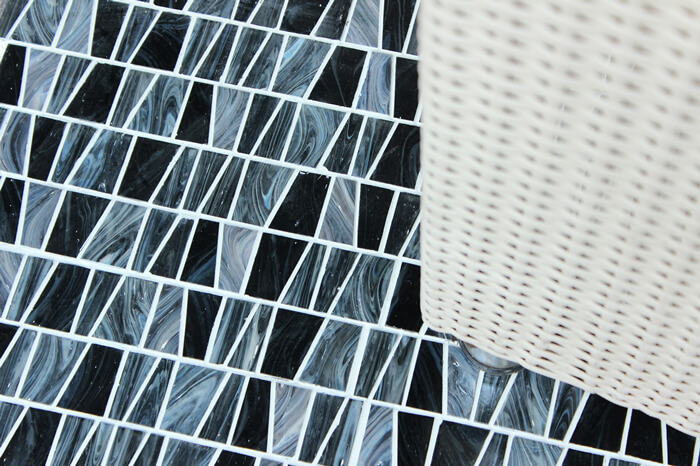 Blue Mosaic Floor Tile GZO035L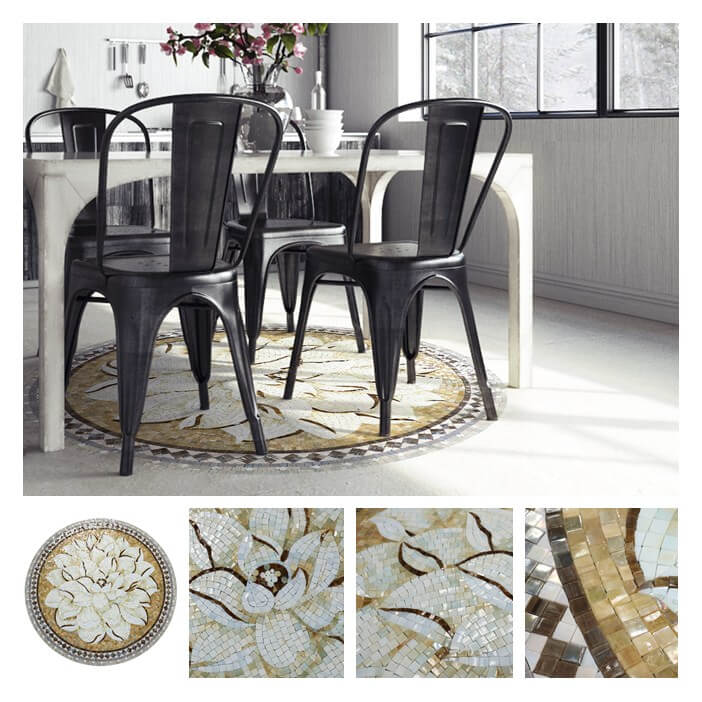 Mixed-material Floor Mosaic Tiles
If you feel bored at the mosaic floor tiles of single material, then blended-material ones are your best options. Relying on the different luster and textures of the combing chips, the floor will look adding some graduated layers. Different materials lend themselves to different shades, adding dimension and vitality to any inch of the space. There are usually glass, stone, ceramic, shell for the mixing materials. You can take two or more to achieve a stunning look in your business establishment as you want.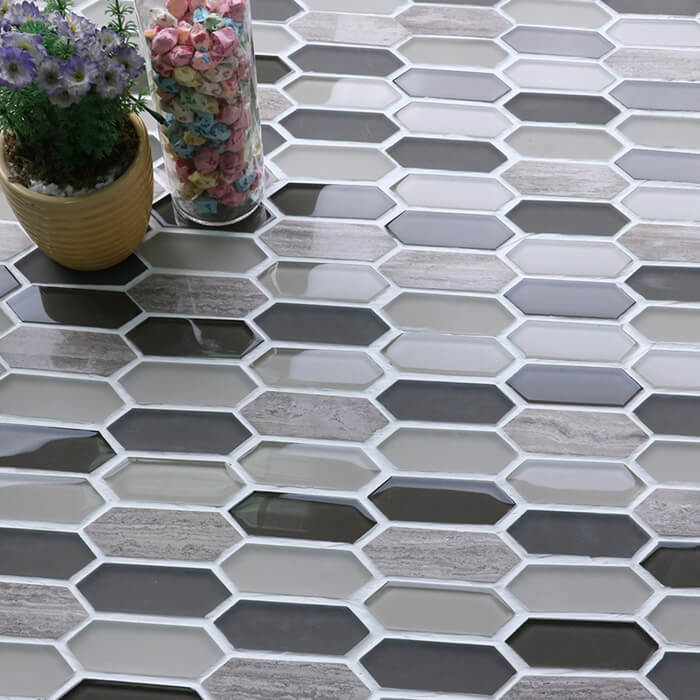 Glass And Stone Mosaic Tile HZH016NY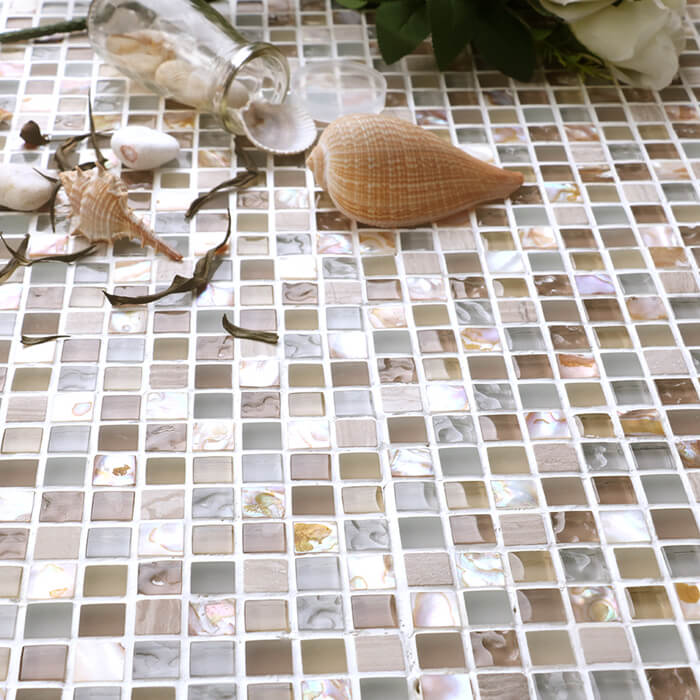 Glass, Stone, Mother Of Pearl Mosaic Tile HCH003NY
Considering mosaic flooring will undoubtedly enhance the overall look of your store. Set a color theme first and find a right mosaic tile that will give your customers a comfortable shopping ambiance and at the same time make your establishment more beautiful to attract returning and potential visits. Welcome to contact MM-Mosaic, a mosaic tile manufacturers that can help you achieve an improved commercial decorating project.