Someone says the one section of the bathroom that is most important is the tub, as it has a direct impact on the enjoyment of shower time. So when people plan to construct or remodel a bathroom, most of them opt to give it a chic upgrade with a more tech-developed bathtub. It can't be wrong though, but to achieve a splendid bathroom you assuredly need to do far more than that. One budget-effective way is to add artistic tile mosaics decoration. The pleasure of having a wonderful bathing time will be enhanced, as it helps to create a soothing atmosphere. No matter you want to use it in a small surface or large, both need your delicate arrangement. MM-Mosaic here is excited to show you some appealing and well-designed bathrooms that use decoration theory of artistic tile so well.
The first thing you should consider is to choose a right hue as the base of your overall bathroom design. The final look is relied on the effect you want to have in the very begin of drafting. Whether you choose light or dark hue, they both carry some merits and demerits. Light hues, such as white and beige, are preponderant in creating warm and relaxing space.
This bathroom takes beige hue as its basic color scheme, using porcelain mosaic floor tile and feature wall tiles of different materials – marble and porcelain that go well with the washstand and bathtub, which looks integral and harmonious. Also, the reason why this bathroom is applying light hue is that the homeowner wants to make it look spacious. It is a widely used theory in many interior designs. Though light-hue mosaic tiles are easier than others to be stained and blurred, it's truly worth a try. You should not hate doing frequent cleaning if you just regard it as a healthy workout, right?
Featured Product: Beige Hexagon Tile CZO224B
The second thing you should know is that it always works for a stunning result when using contrasting theory. That is to say, you can highlight the part that you think focal by bold matching of decorative mosaic tiles that are in different colors, textures and materials. The following three designs are the good example of black-and-white fashion. Black little flower pattern board beside a plain white wall, snow white hexagon mosaic mirror backsplash and a black wardrobe on the right, glazed white bathtub placed in front of a matte black fish scale mosaic wall… You would be surprised that all the design elements look integrated even contrasting color blocks being used in the same space.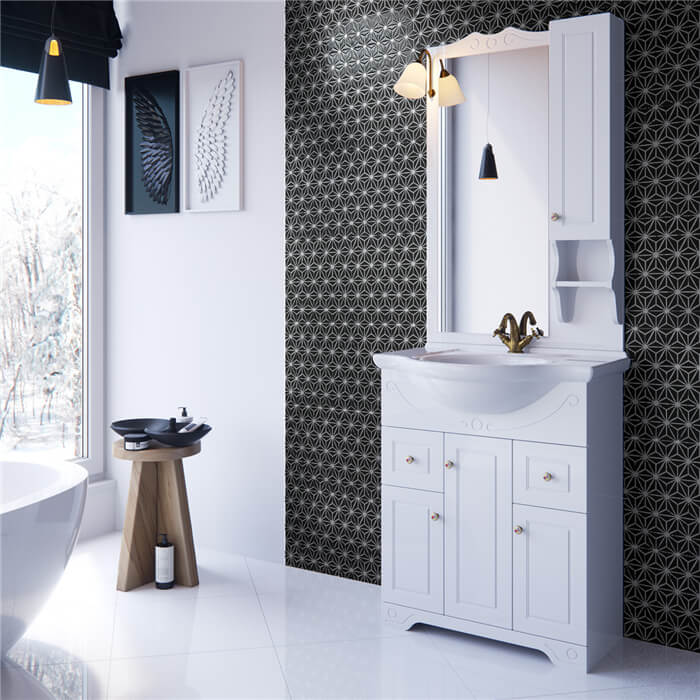 Featured Product: Flower Mosaic Tile CZG103C
Featured Product: White Hexagon Tile CZG224Y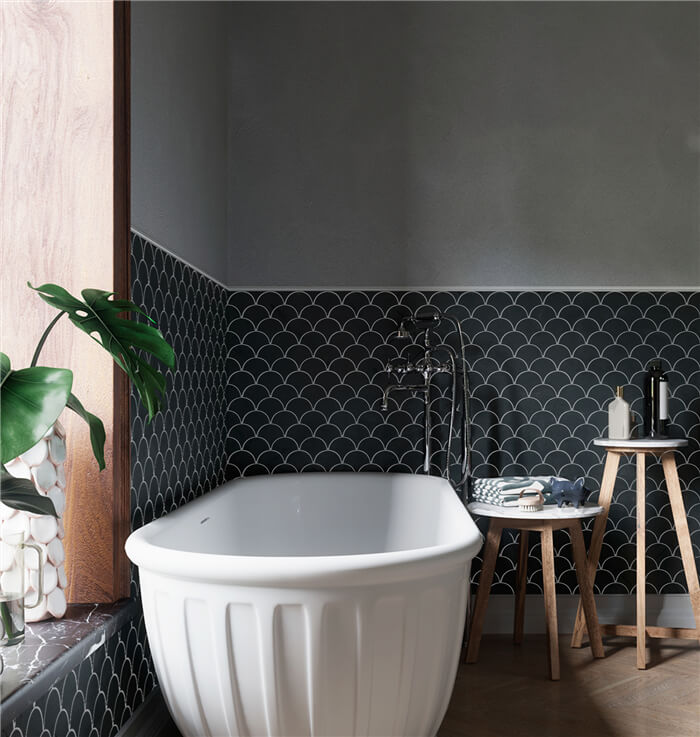 Featured Product: Fish Scale Mosaic Tile CZM151X
The last theory that you can master easily is to use mosaic tile sheets to form beautiful patterns. It can be a wall, floor and wherever you want to use it on to make a strong visual impact. And the way is utterly not limited in adding border tiles. You may find many more in the following bathroom designs. Little black and white hexagon chips combine orderly to create a snowflake-like pattern on the flooring, which brings a sharp contrast with the pure white ceiling. Also, you can see in the second picture, all design elements are based on light hue. The space is highlighted by a blended mosaic flooring, which is a gorgeous repeating patterns of fan-shape mosaic tiles made of ceramic, glass and stone. The similar design also can be used as a backsplash that vitalizes the bathroom vanity. In the last design you can see one uncommon bathroom wall that is applied this theory well. Plain cement-look porcelain tiles and geometry-pattern tiles balance simple and complicated elements well and create a distinctive accent wall design.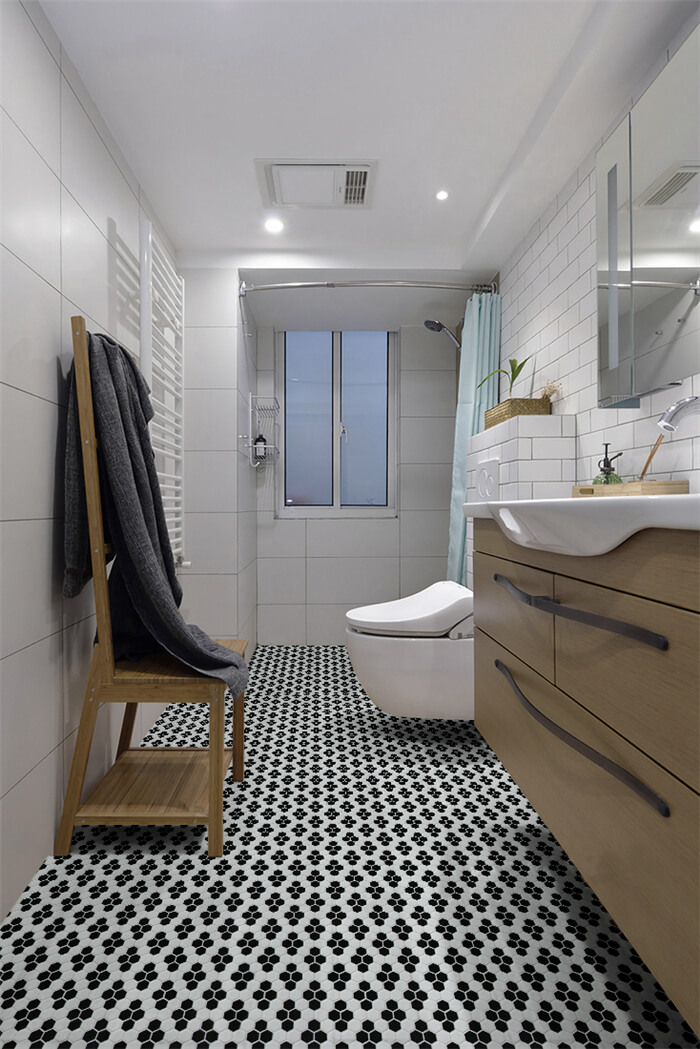 Featured Product: Patterned Floor Tiles CZM059Y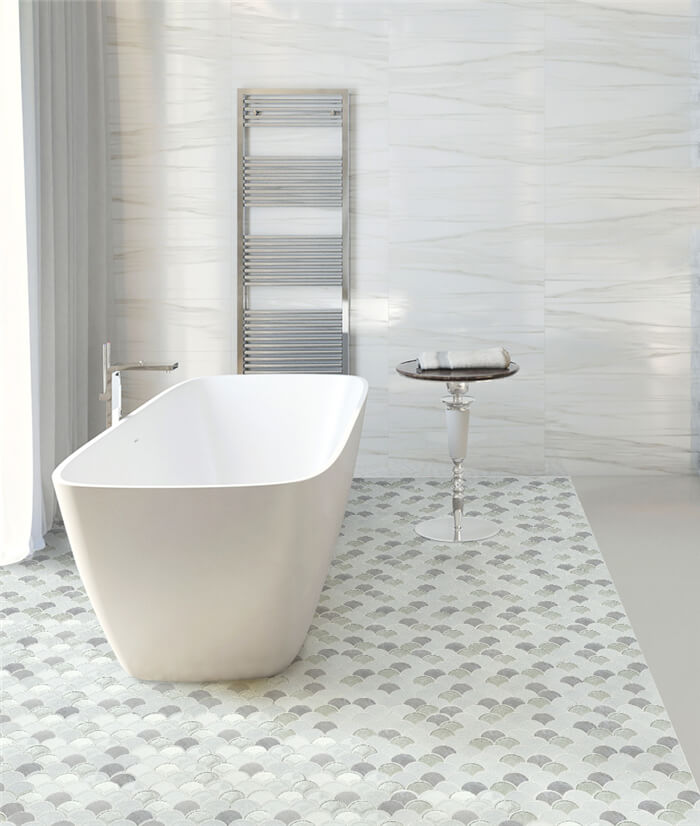 Featured Product: Fish Scale Floor Tile HZH046OYG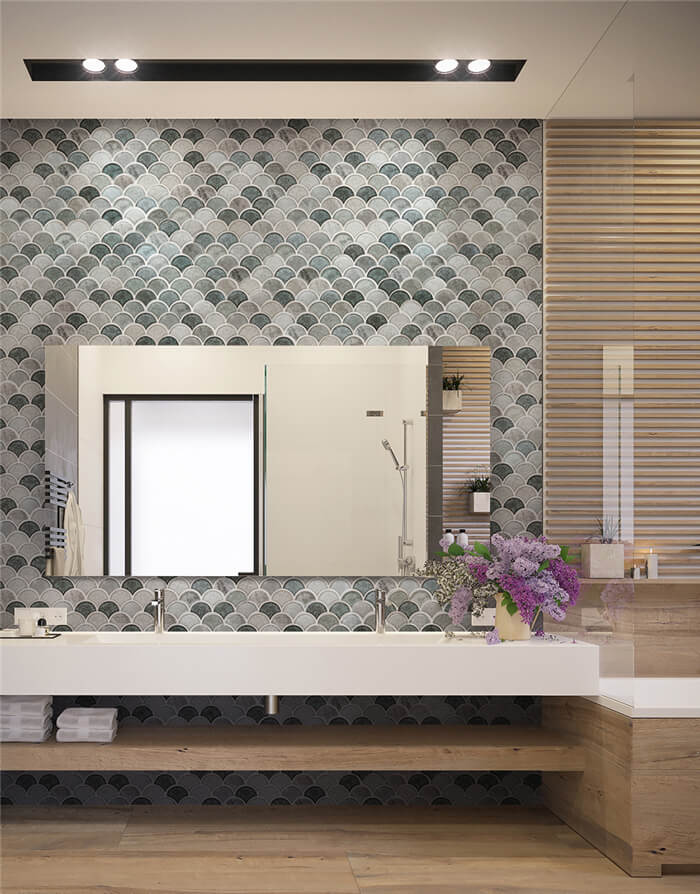 Featured Product: Fish Scale Tile Backsplash HZH049OYG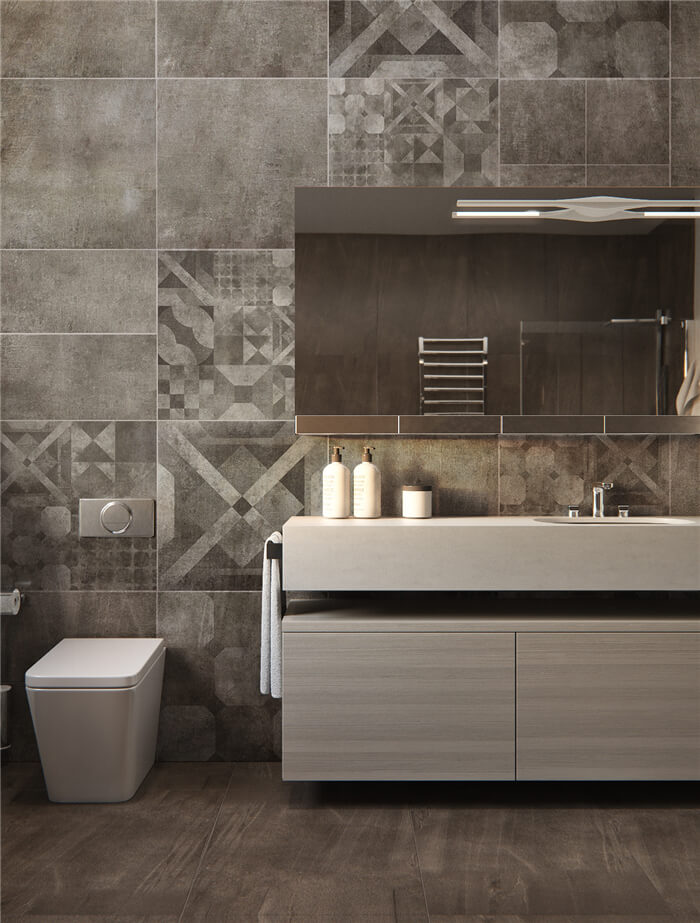 Featured Product: Concrete Look Wall Tiles FDG6602K
Do you also have any bathroom tile ideas? Just feel free to leave a comment and share your story with us. We will be so excited to hear from you!