If you have been tired of your lifeless kitchen decoration, and want to get something stunning to bring new life to your kitchen, mosaic art tiles will take you to the right place! Today we are showing you a series of our favourite mosaic pictures transforming your old kitchen into a bright one!
It is known to all that mosaic art can add beauty and characters to kitchen wall, backasplash and floors in subtle way. People love to use it for mosaic art product supplies countless designs for option. It also can be customized and need less maintenance. However, it is also a hard task for people to pick a design out among hundreds of mosaic artworks. Try to make sure your kitchen style at first, that's the best way to choose the right design fitting the color schemes and whole design of your kitchen in proper way.

Keep reading on to get ideas to narrow down your options.
Flower Glass Mosaic Art Kitchen Wall
This handcut glass mosaic art designed in summer flower pattern is a perfect addition to your kitchen wall. It is glossy and reflective to light, looks sparkling and elegant under the warm lighting. Picking the right color can improve your kitchen style and make it more attractive, vibrant design.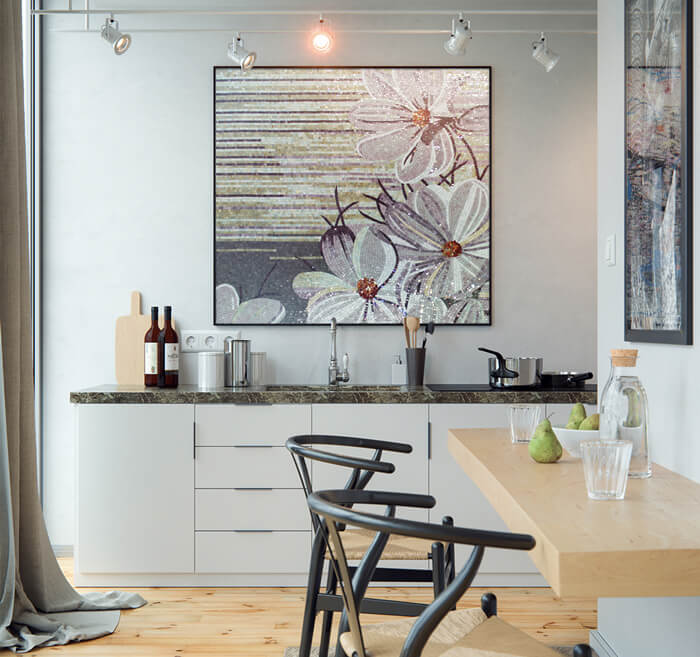 Featured product: Summer Flower Glass Mosaic Art KZ017MY
Imitate A Balcony Scenery
Scenery mosaic picture is always a popular selection in many space decoration. Balcony is a good place to relax yourself with beautiful views. We get inspiration and create this pattern, so glad to see it used on the kithen wall and obviously it make an unique style and build country vibe to the kitchen space. This artwork is made of stone mosaic chips in irregular shape, natural and high quality.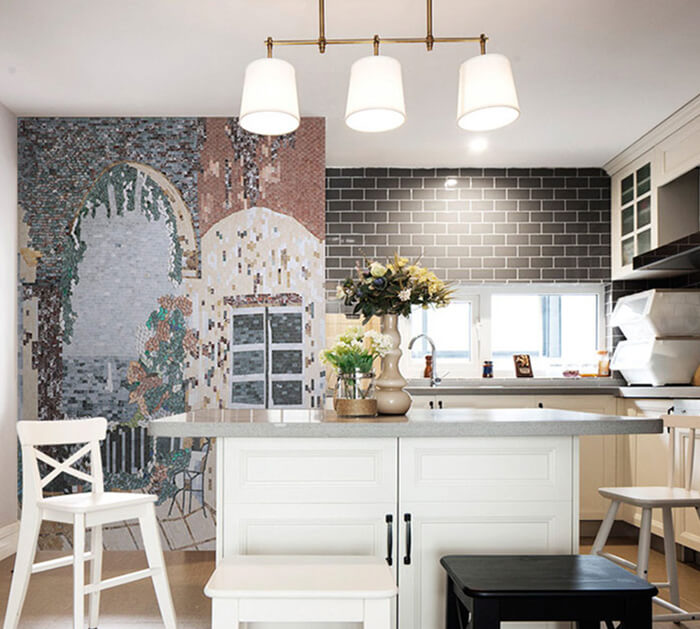 Featured product: Balcony Pattern Stone Mosaic Murals KZO024SKS
Choose A Neutral Hue
Less is more. If you want to make a classic look and can stand the test of time, choosing a neutral hue will never go wrong. This stone mosaic art design in a wine cellar picture has been installed seamlessly in the white wall, working wonderfully with the white painting wall, white countertop and cabinet, stainless steel sink as well as lights and other knick-knacks. It is rural and industrial style, making your kitchen standing-out!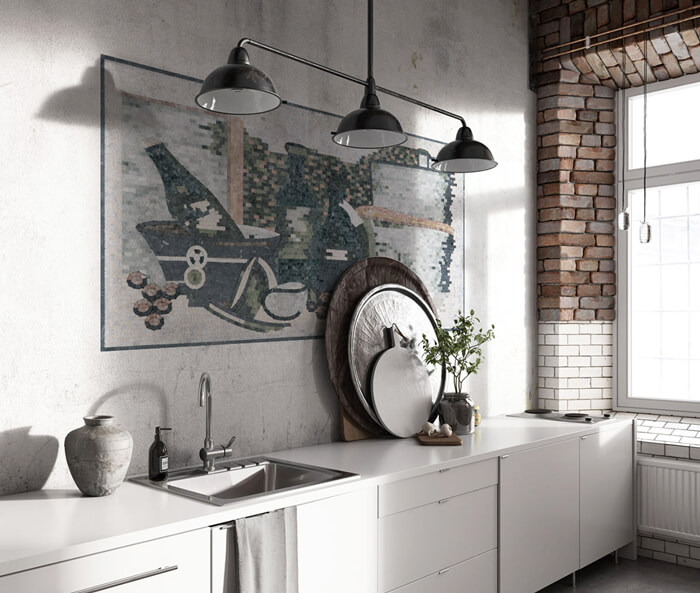 Featured product: Cellar Pattern Stone Mosaic Art KZO026SKS
Geometric Kitchen Backsplash
Some people do not like a complicated motif and too many colors, for that always make them dazzling! Then I would recommend our Space Time handmade glass mosaic picture in a geometric pattern. It is a blend of gold and white color, with simple lines to complete this design. This glass mosaic picture is perfect for installing a clean and modern backsplash, looking shimmer and bright by the tricks of lights and shades. If you prefer a simple design, that is a good choice.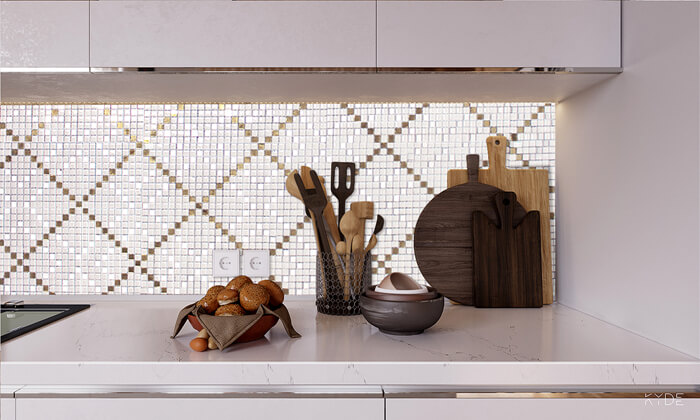 Featured product: Space Time Handmade Glass Mosaic Art KAO032MY
I Have This Thing With Floors
Floor is often overlooked in kitchen decoration. People gets used to look up and seldom look down at their feet. The tag of #ihavethisthingwithfloors is a super heat topic that more and more people pay focus on their floor design when decorating a space. Mosaic art in a gorgeous pattern will make an eye-catching floor to you. Look at our Flower medallion handcut glass mosaic, it is not only for wall design, but also good-looking for flooring. There is no doubt that the design is the bright spot in the kitchen.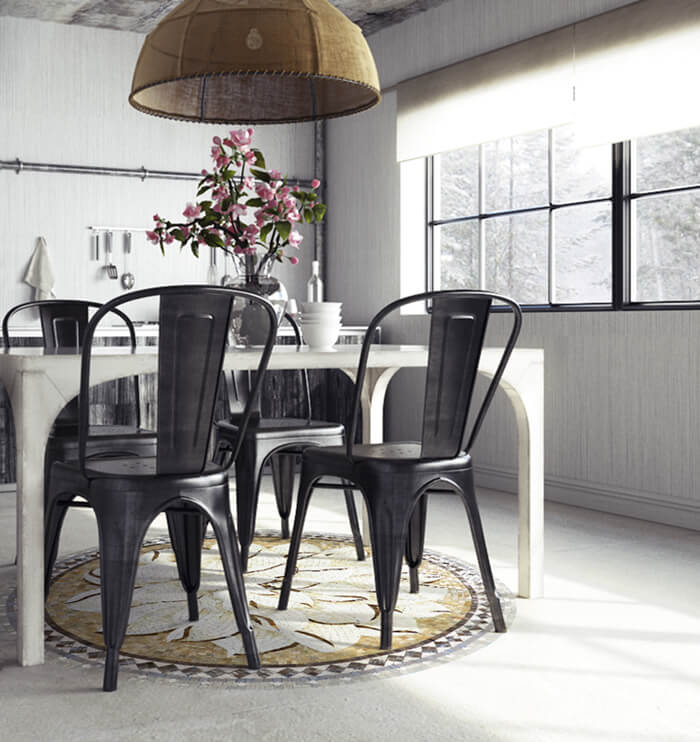 Featured product: Flower Medallion Glass Mosaic Art KZ016MY
Get inspired from this post? You may also like "7 Fantastic Examples of Ceramic Mosaic Art for Interior Decorating".
Last but not least, before you make a decision on a mosaic design, look around your kitchen space and make sure its style. And you can customize one if you do not find what you want from the mosaic art supplier, that can add much more personalities to your kitchen. MM-Mosaic as a professional mosaic tile manufacturer of over-10-years experience, can supplies and customize high quality ceramic mosaic art, handcut glass mosaic picture, stone mosaic art at affordable price. Welcome to contact us for more details now.