Embellishing the interiors of your property with a right style can be difficult, because there always appears something trendier when you have decided to use the newest thing you knew before. In recent years to create a particular living space has become the ambition of homeowners. For this reason, designers are doing their utmost to meet the market demand and fanning the flame of bold design. Green, red, yellow and of course metallic colors. Frankly, some are good while most are unacceptable. Few people understand the aesthetic value. Also, you seem to be forever led by the nose of capricious trend once you get to go with it. Although you are likely to get a good result, sometimes that could be exhausting. So, why not stick with something that will never look outdated? MM-Mosaic believes white tiles for this purpose is competent, and it will be fully proved by the examples shown below.
When it comes to kitchen decoration, white subway tile is often a common sense solution. However that does not mean being sterile with the surrounding design elements. Instead, a simple white tile backsplash could be the focal part of your kitchen design, whether it has a matte or glossy glazed surface. Models and dimensions also play an important role in the formation of the final look. Beveled edge subway tile board looks mild while the shape-edge is a little bit aggressive; lathy shape white tiles combining together is better than shorter tiles in broadening the space visually. Think twice about what result you want to have before tiling, as planning does mean a lot to your interior decorating.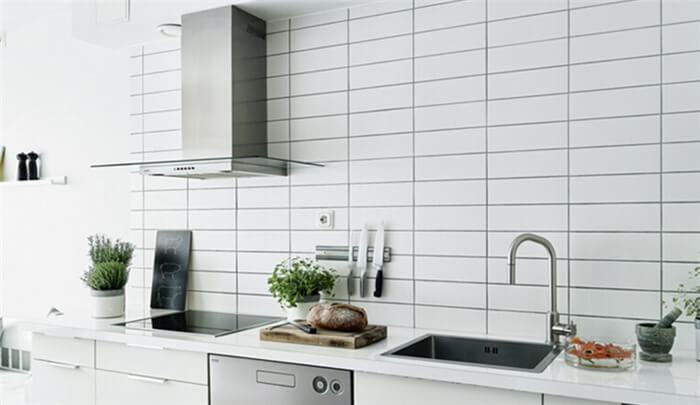 Featured Product: White Tile Backsplash WZM201JH, WZG201J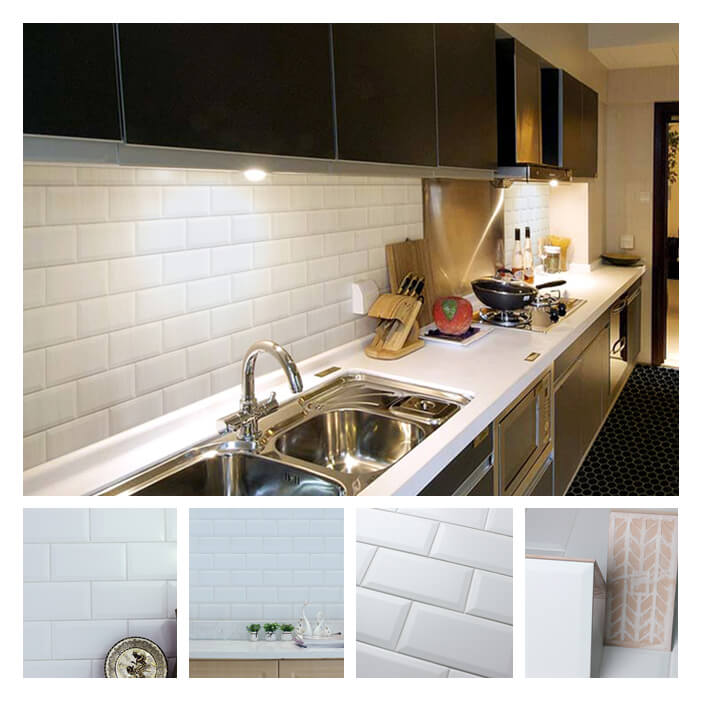 Featured Product: White Beveled Subway Tile CZM202MDQ
White is a soothing color. People often use it to symbolize purity and sincerity. It also makes sense in interior design. White walls, white floors and any other white surfaces can give your room a neat touch. You may say a pure white surface will be dull. What you are looking for is something that brings delicacy and elegance. Then white lantern tile is the thing, which can endow you a clean surface of graceful pattern. If you think white arabesque tile backsplash is too ordinary, then white tiles that have a protruding center can help you create a vivid 3D surface. Classic but unique, this is what you get from using the enhancing version of white tile.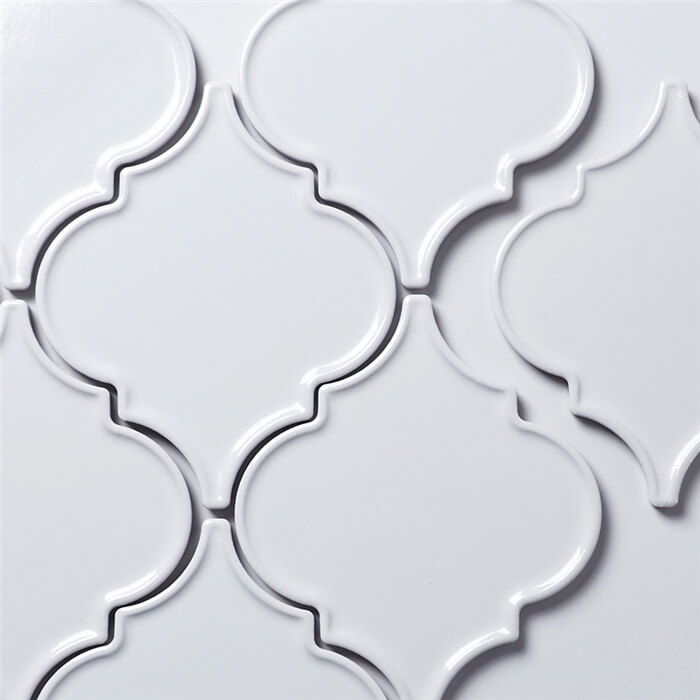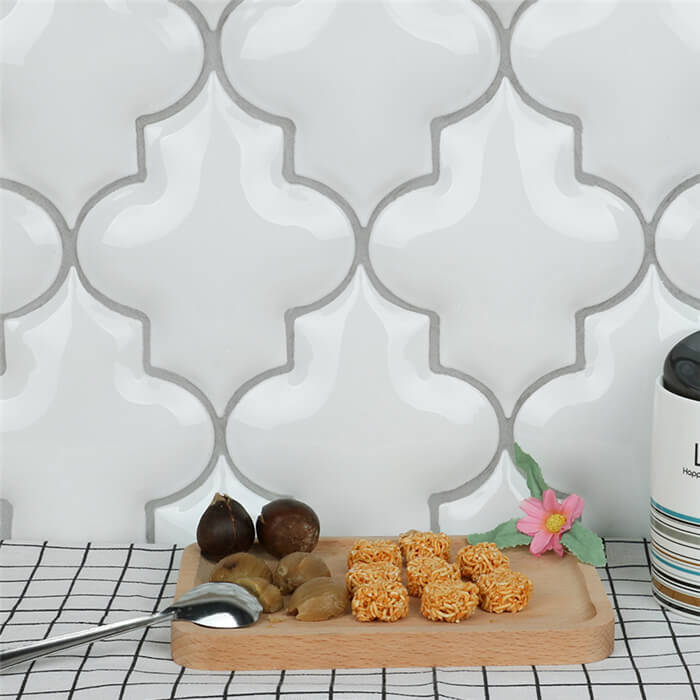 Speaking of 3D wall tiles, there are other models that you may think a bit wired but stunning when many of them combined. Look at the following first tile, dose it look unexpectedly pretty like ripples dancing on the water surface? And the second subway tile, the bulging stripes lay tight to form an eye-pleasing pattern, which is also great for an anti-slip floor.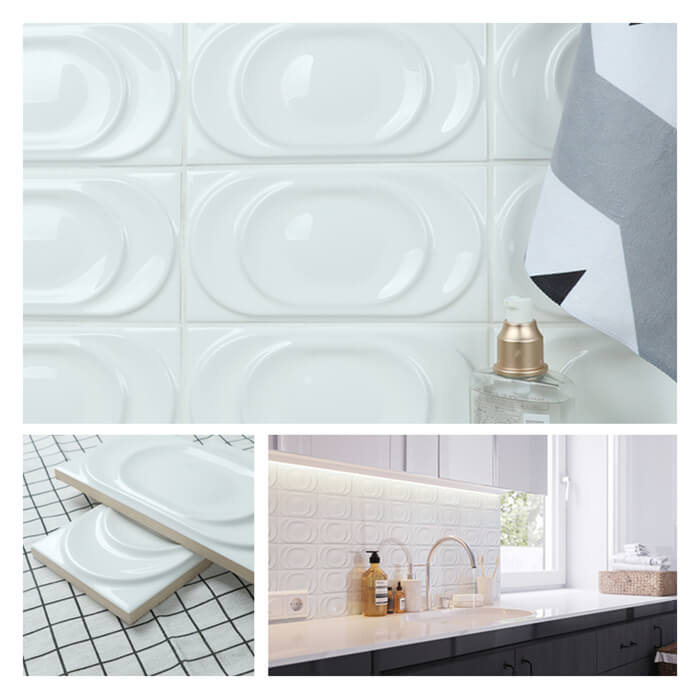 Featured Product: 3d Bathroom Tiles CZG205JM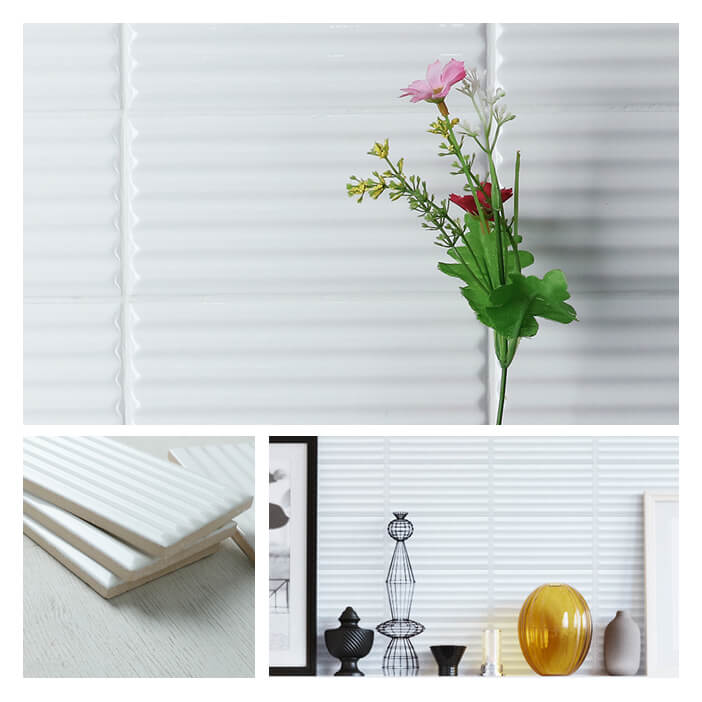 Most people may miss the possibility of using white tiles as floor paving because they think it is an improper application. If used on the floor, they think, the place that receives the highest traffic among other surfaces, white tiles are easy to leave obvious trace when stains and scratches accumulate overtime. There are two solutions. One is to use the glazed type as it can be cleaned out easily and will not get dyed. If you worry glazed surface is slippery, then choose those that have protruding slip-resistant pattern. The model that MM-Mosaic mentioned in the previous paragraph is one of the right choices. The other solution is to match tiles of different colors. Just as the following shows, you can freely match white hexagon tile in three tones to pave your floor.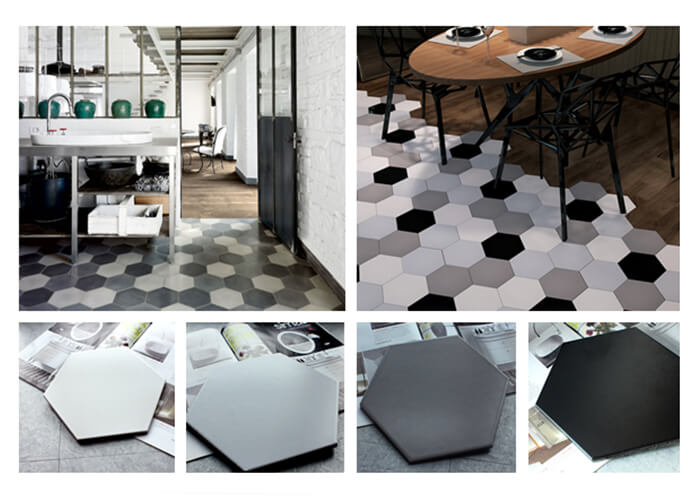 Featured Product: White Hexagon Tile PZM101OD

Adding white glossy tile a wavy surface is a good enhancement too. What we have gotten is glittering effect. That means the tile surface reflects light at a different angle and shows a waving pattern which is unobvious but marvelous once you notice it.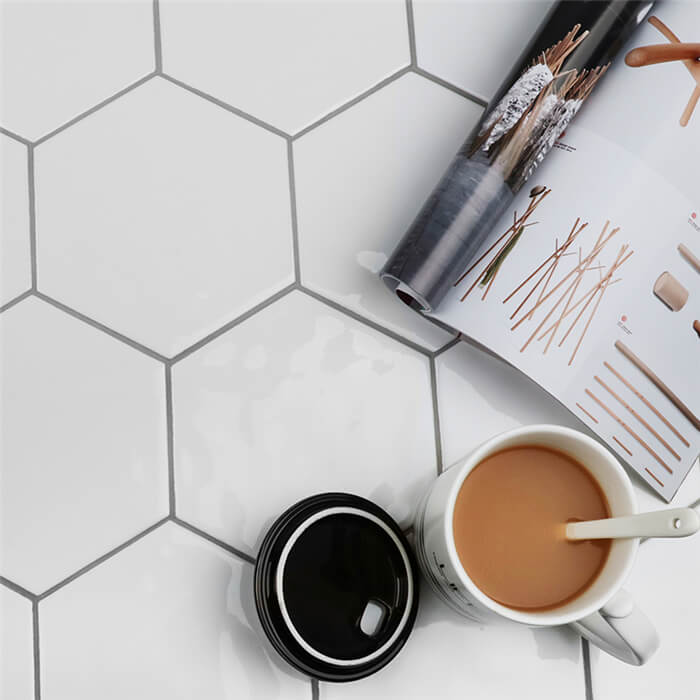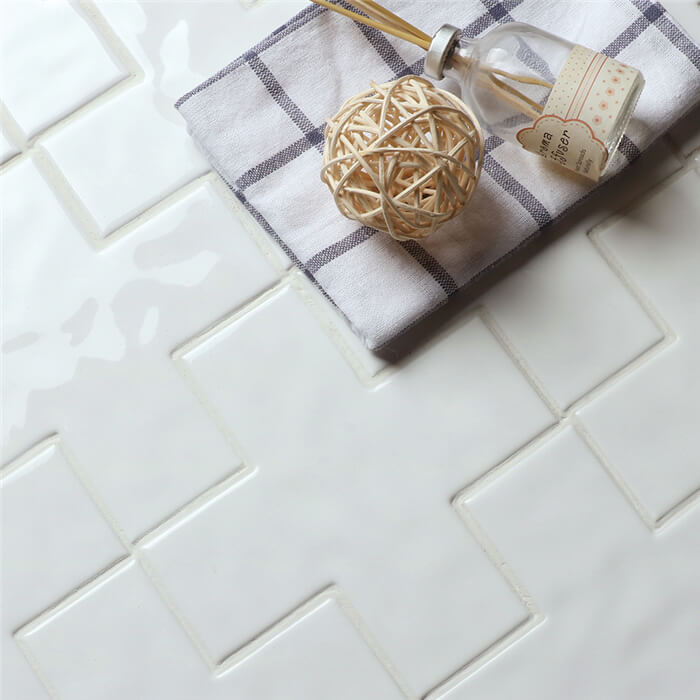 There are many more white tile models for your classic but distinctive tiling projects. Particularly, Carrara white tile are trendy these years. You can have more info on our published articles Go Neat With Carrara Porcelain Tile and 4 Ways To Use Carrara Porcelain Tiles In Your Home.
Are you also tired of chasing for the changeable trends of home decorating? Choose white tiles that have stood the test of time on MM-Mosaic, one of a tile suppliers that is experienced in offering ceramic/porcelain mosaic tiles, glass mosaic tiles, wall and floor tiles and swimming pool tiles. Welcome to share your story about designing interiors with tiles on our comment board and get a free quote.