Visiting around the ruins of some ancient cities, you may find the old people had long before applied mosaic tiles to decorate their bathrooms or showers. This shows bathroom mosaic tiles have long history being used as the most economical, durable and versatile ornament for wet room design. Wet rooms have stricter requirements on mosaic tiles. They should be made of premium materials and feature important qualities like wear resistance and low water absorption. Besides, artistry should be taken into account as well before you make a decision.
Mosaic shower tiles have a great variety of patterns and they are those that can be applicable for both residential and commercial property. Professional designers and amateurish design enthusiasts love blending different kinds of mosaic tiles to create the most suitable style for their bathrooms and make them exert particular aura and coziness.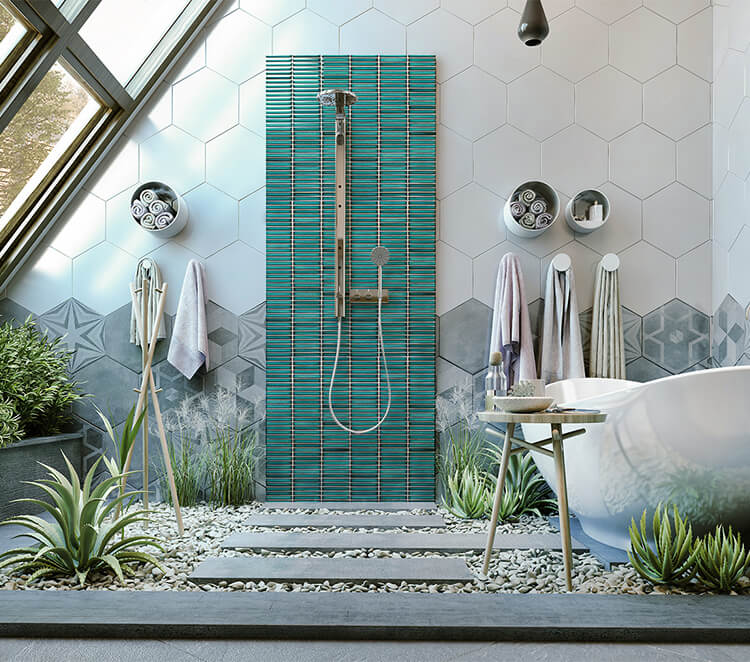 Below are some principal items about what you can get from using mosaic tiles to decorate your shower rooms. This will let you know it is absolutely a good idea to remodel your bathroom by adding lively decorative wall tiles.
1. It is faster to put mosaic tiles on wall or floor than those of the other tiles, which are bigger, heavier and fragile. Mosaic tiles are usually connected with mesh or dot glue on back so they are convenient to tilers and help reduce time of installation significantly. What's more, they always serve as a feature in most people's eyes in the bathroom, which give it richness and delicacy in color and design. Below attached accent wall of blue-white star cross pattern, which make a corner characteristic.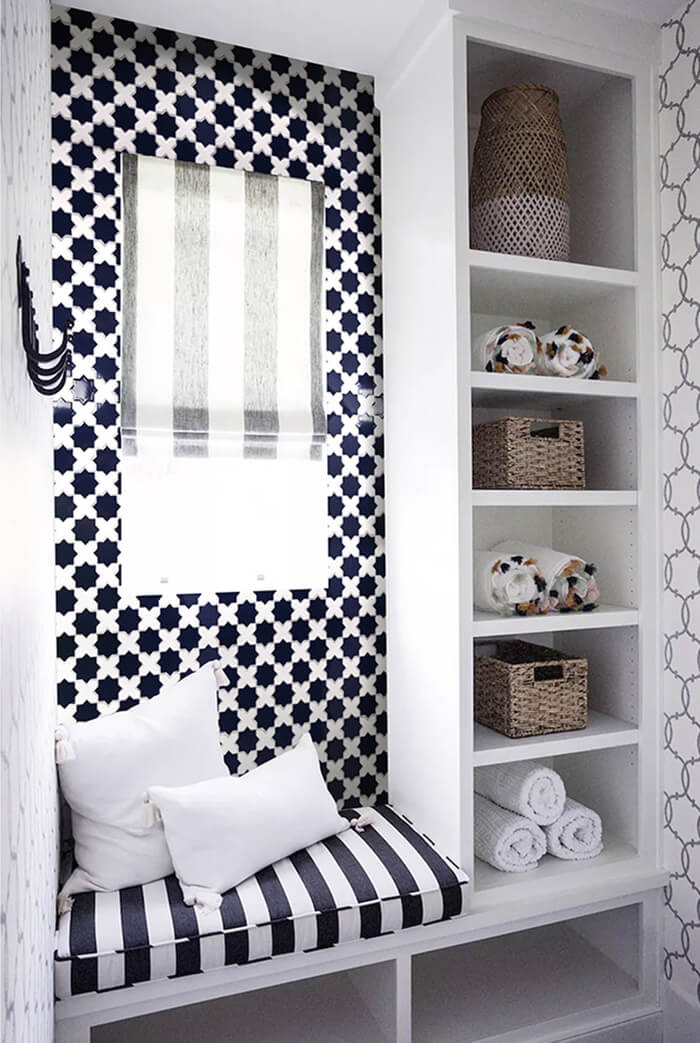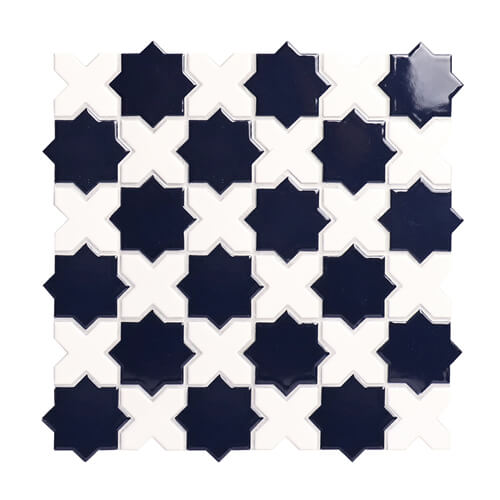 blue white star cross porcelain mosaic CZG080A
2. Mosaic bathroom tiles are truly your affordable luxury. They have the basic function as other kinds of shower tiles, both lasting and versatile. What's better, they are worth the cost and outperform the value and craftsmanship. Mosaic tiles have many surface treatments, which are the keys making these identified from those. Below is a fambe effect finger shape mosaic tile. It has vintage pattern on the glaze coat, which makes this light blue tile exceed some plain original items.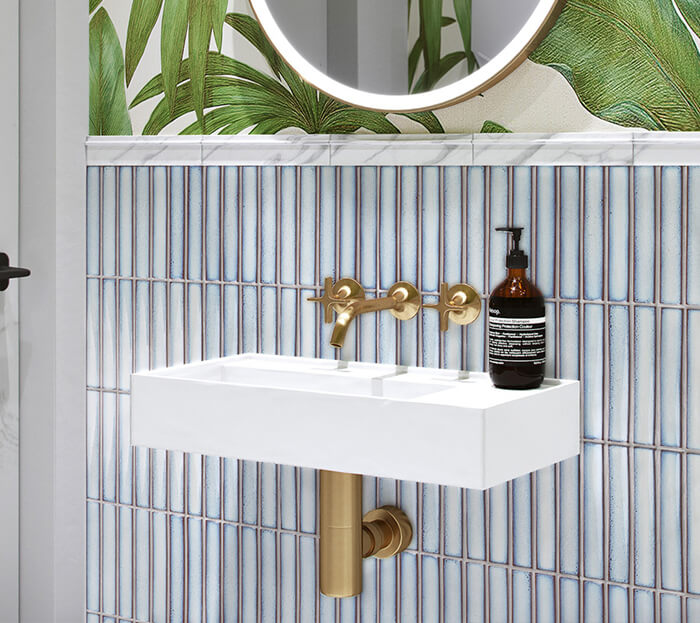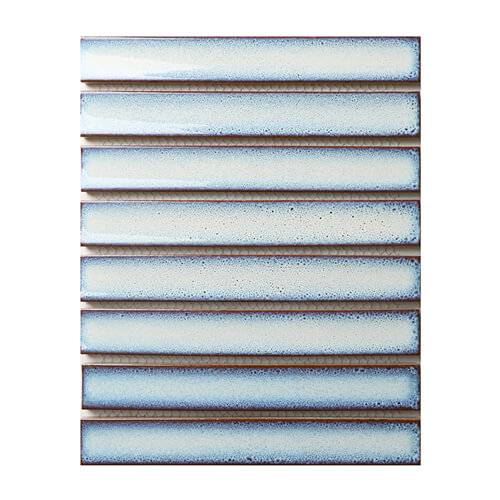 finger shape porcelain wall mosaic CZO902DX
3. Mosaic tiles can satisfy your thirst for a tailored bathroom. Just a little guidance, everyone can easily lay them no matter on the floor or wall to form an unparalleled style. Without doubt, mosaic tiles can really upgrade your shower room and present to be what you want it to be based on your imagination. For example, if you want to brighten and make your bathroom look larger, you may refer to the attached design – using mosaic tile of round shape and light color. This tile will make utmost use of light and create a unbelievable space for you.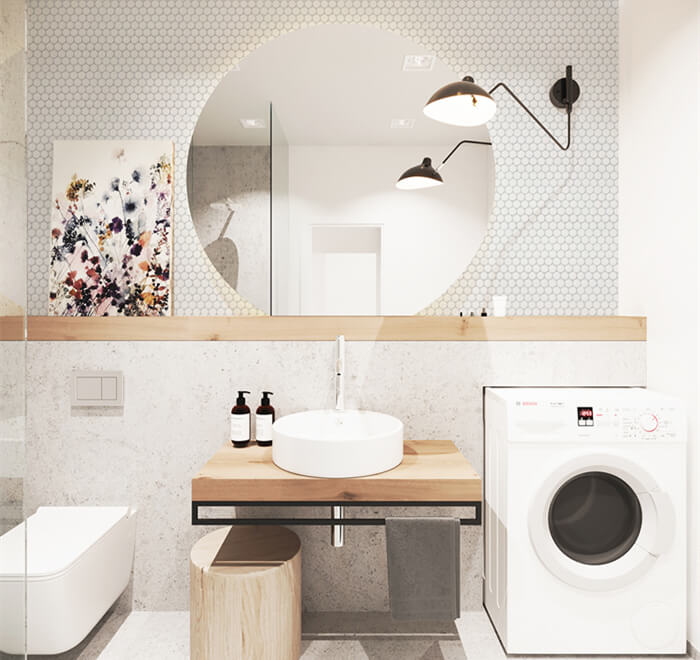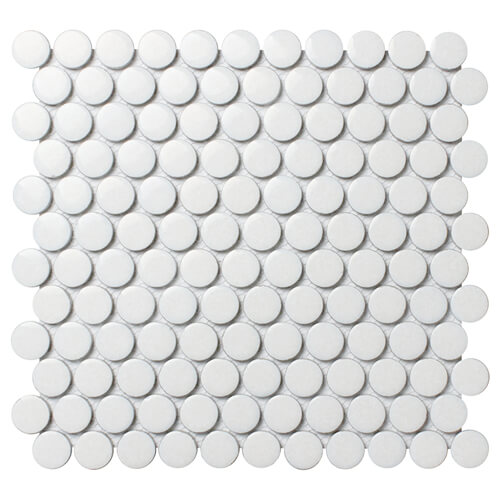 round mosaic tiles white CZO960A

4. What's worth mentioning, this kind of tile are slip-resistant due to the arrangement of smaller chips. Therefore, the risk of slipping down on the floor are minimized. Surely, no one would want any part of their houses, especially wet spaces, to become a potential time bomb that will explode someday and hurt their family. For this reason, mosaic tiles is highly recommended by professional tilers and other construction experts. Full body mosaic tile is such a decoration that can both be applied on wall and floor. The anti slip surface and small size make it specially adaptable for bathroom. No matter tiled on wall or floor, mosaic tile will present your living space in an utter different way.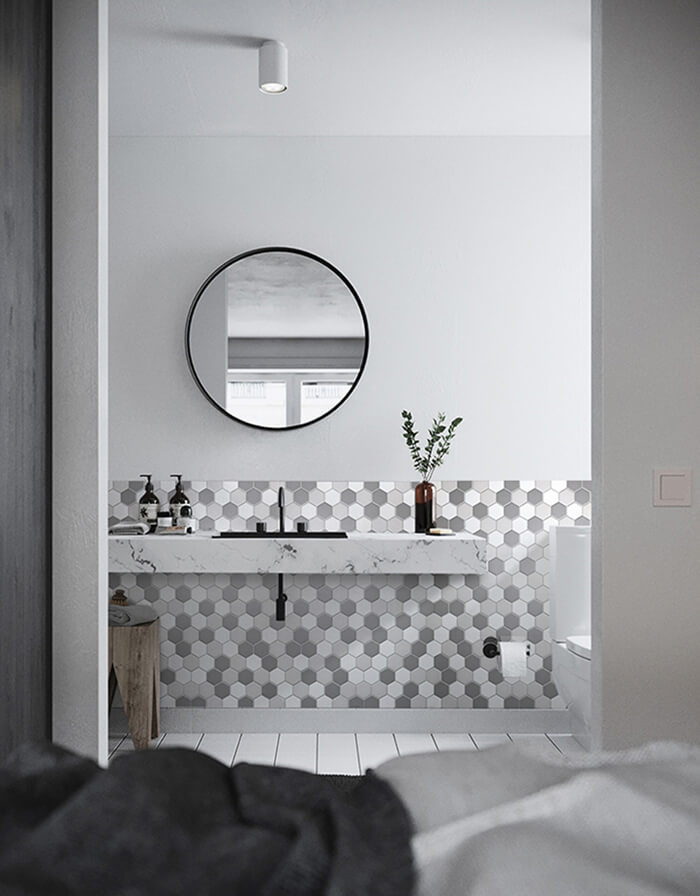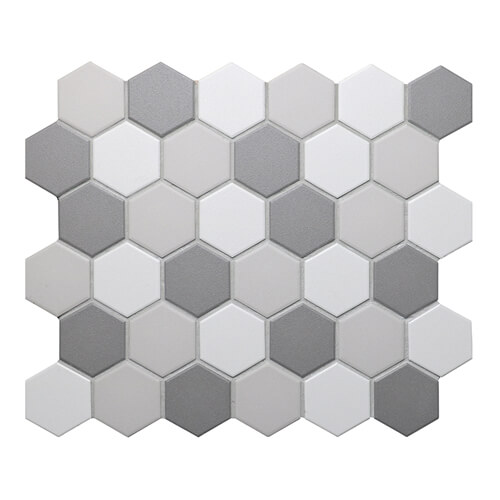 fullbody hex mosaic tile ceramic CZO037B

By the way, it is vital to ask specialists or your friends who have experience in self-tiling for advice before deciding which mosaic tile is best for your bathroom remodeling. They are in the best position to answer your questions and can give practical suggestions in the purchasing and installing progress of mosaic bathroom tiles.
MM-Mosaic is one of the known mosaic tile company in mainland China, who has over 10-year experience in premium mosaic tile for any inner or outer spaces. MM-Mosaic is aimed to improve your living space by giving you great variety of mosaic tile design ideas and home decoration solutions. Visit us TODAY at https://www.mm-mosaic.com/.