Speaking of the shape of a tile, you might come up with square, rectangle and other common geometries. People are used to take the simplest tile shapes for their house decoration in any surface, wall and floor, which is indeed an ingenious way to achieve decent look but somewhat tedious. Compared with floor, wall is a better place to apply innovative tile designs. As technology develops, wall tiles are added with many stunning features like 3d concave convex design, gradient shades of color and wonderful surface treatment effect. Read the following passages you will find those features produce the best possible results with tiles in triangle shape.
Gray Colored Concave Convex Triangle Tile
Flat, concave and convex…these three different surfaces combine freely and create an artistic feature wall backsplash in a Nordic kitchen design. The matte glazed surface of those triangle tiles reflect light mildly at a different angle, which is the key to make the space cozy and warm even beads on gray hue. Three shades of gray color lumps decorate lower part of the painted white wall, which is not only protecting the wall from stains and moist because of the high-fired porcelain triangle tiles, but appear harmonious with the gray cupboard.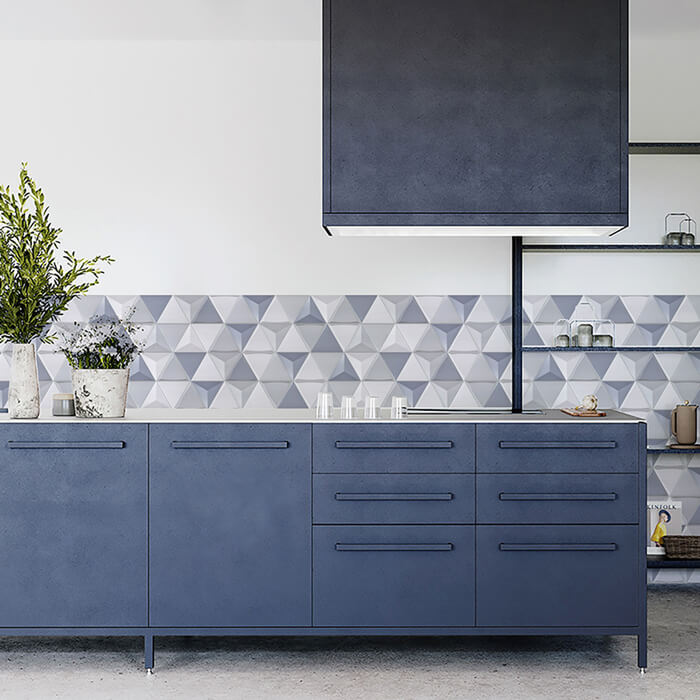 The triangle patterned feature wall is adopting three shades of flat gray tile. The reason why designer prefers using all flat tiles rather than matching some 3d design tiles into this decorative wall is that she wants everything in an extremely simple order. In this way, the bizarre couch sat before is highlighted and becomes the focal point of this corner. Imagine you are sitting there looking into the distance through the French windows. What a nice scenery you and the landscape!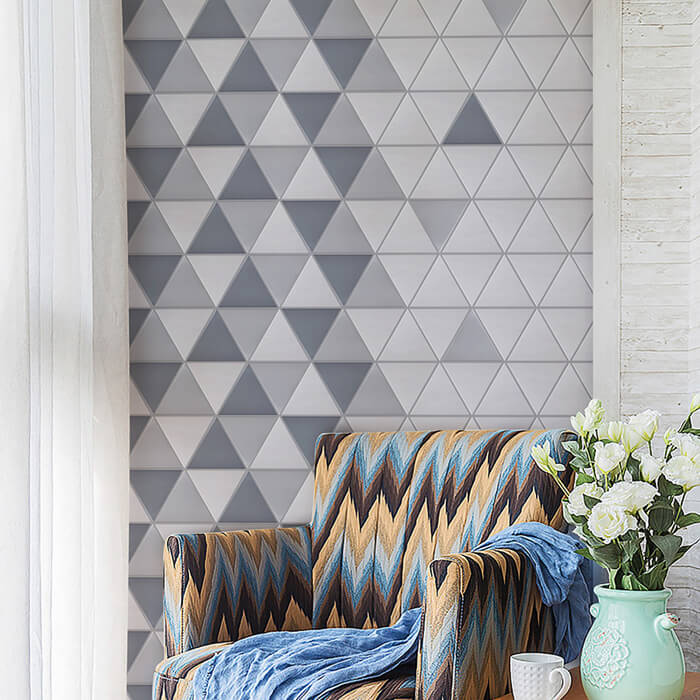 Let's get zoom-in details of these 3d design triangle tiles. They all have a soft edging. Curves are dancing on the tile and make the sharp triangle shape alive. With these tiles, you easily achieve a splendid ceramic tile wall with free matching. Free matching of three shades of grays and three different surface – flat, concave and convex.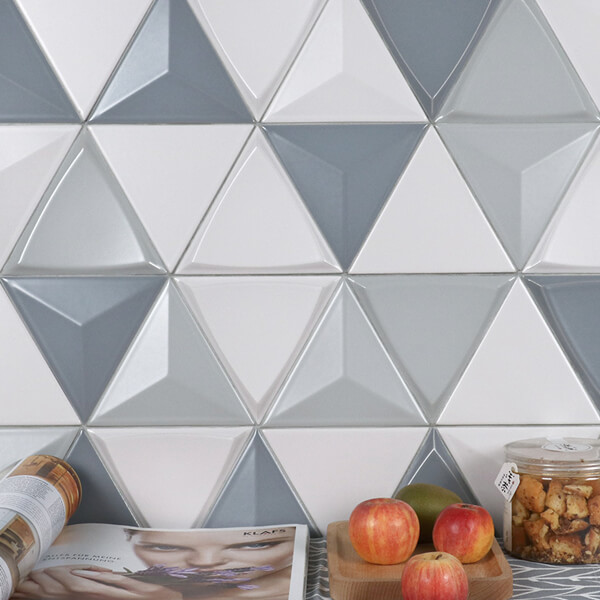 matte gray triangle shaped tiles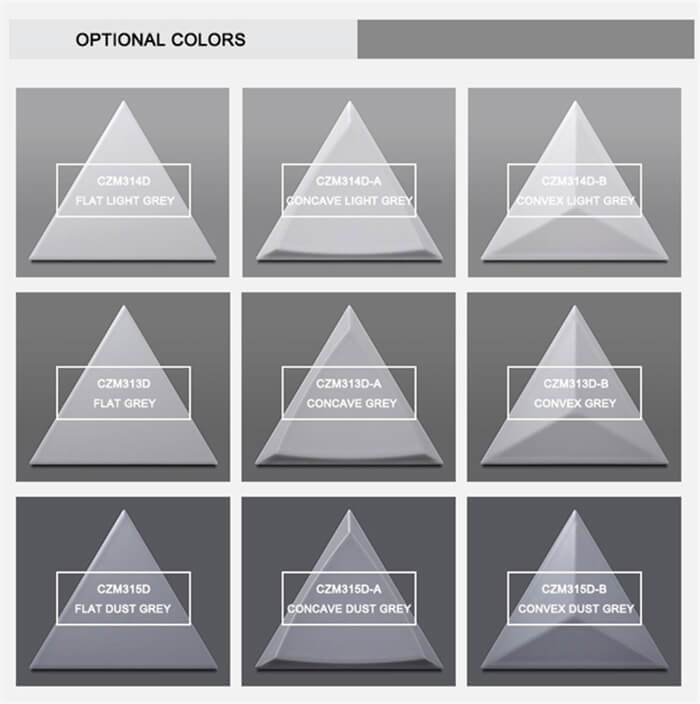 Candy Colored Concave Convex Triangle Tile
Look at the attached restaurant design, are you addicted to the dreamy mint green triangle tile wall? Peaceful dinning place is easily achieved with using this cute tile largely on the main wall. The ambience is quite and tranquil, which is the owner of this restaurant aspires. He wants to create a fairytale atmosphere where customers can chat leisurely. Whether it is a formal or informal talk here can be the best comfortable place to hold. Also, the color of the tile reminds people of a French dessert called macaroons. Delicate and naive is the best two adjectives to describe this mint green tile.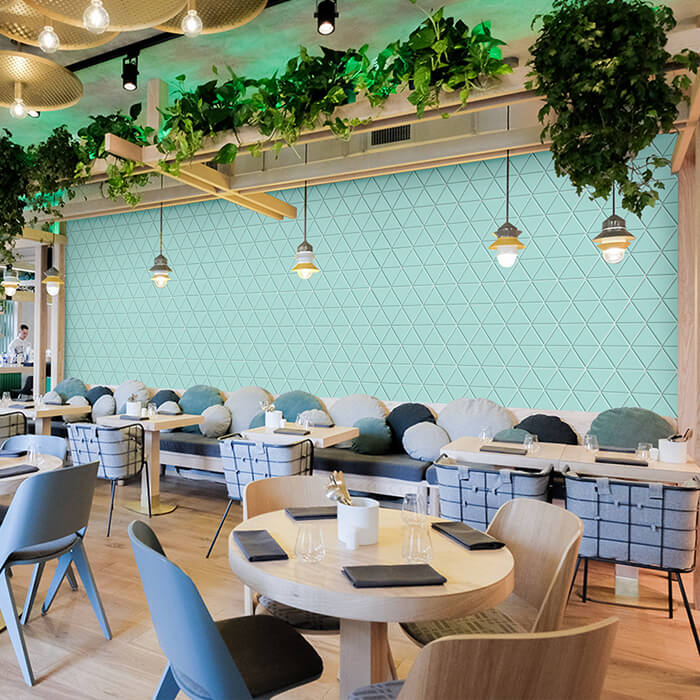 Another wonderful feature wall achieved with triangle design tile. This time designer is taking two – flat and convex. The convex tiles are interspersed with the flat, which is unobvious but once you see closely, it will give you a surprise. Mint green color is matching well with light colors such as white, pink and gray. Use them properly, you will get a better layout and make a more balanced design. The attached corner is an outstanding example for your reference.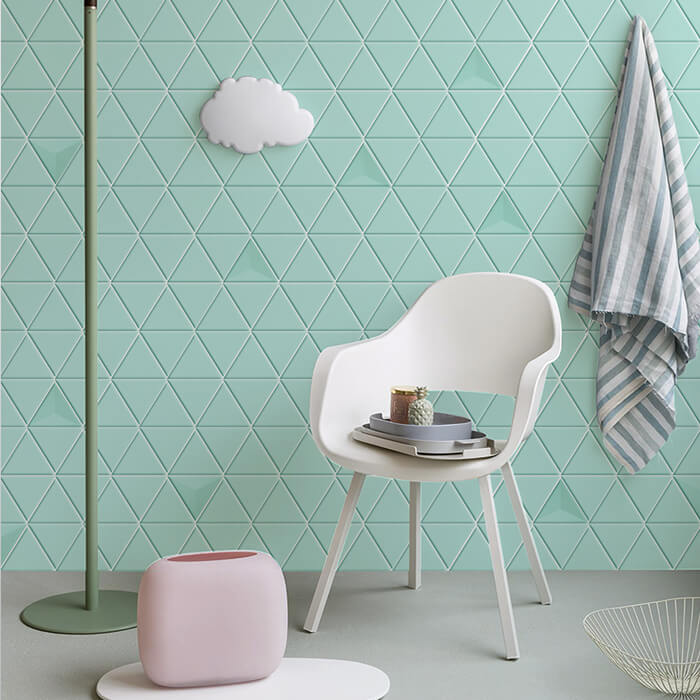 Similar to the gray triangle tiles mentioned above, this tile also has three different surface – flat, concave, convex, and three optional colors – mint green, tender pink, sky blue. They are all considered as candy colors, which means they are able to give a fresh feeling and create sweet aura. For those who prefer Scandinavian style, this tile is a great choice. You are recommended to use it for your kitchen and bathroom backsplash, as well as bedroom headboard, living room TV background, etc.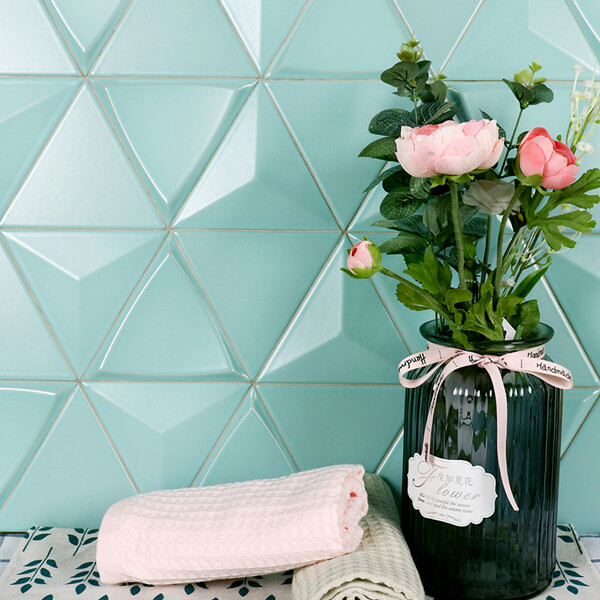 mint green triangle wall tiles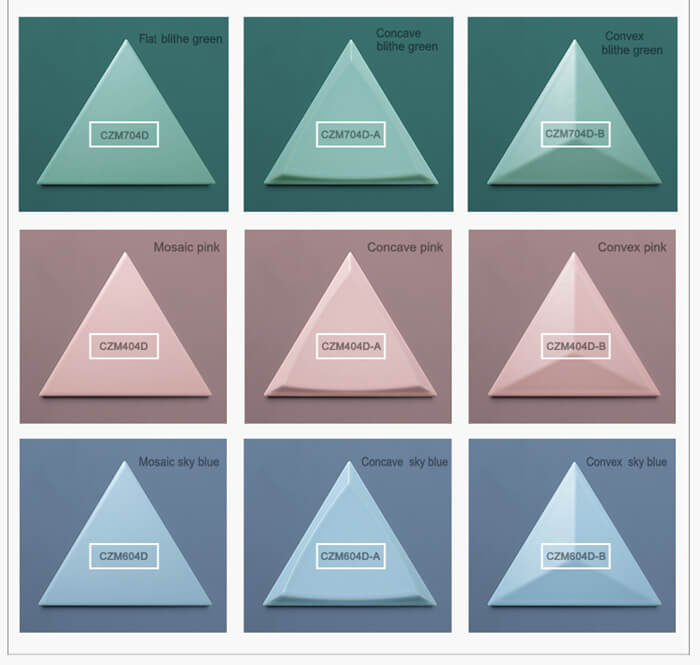 2 Inch Fambe Effect Triangle Mosaic Tile
How comes if transforming big triangle to small triangle and making it a mosaic tile? 2 inch size of triangle shape tile chip is the best option. Look at the attached kitchen backsplash. Cobalt blue and triangle pattern is the two main elements. Fambe effect surface treatment adds exquisite details to the tile. With high gloss glaze coat, it reflects most light. Dancing luster is fascinating. If your kitchen is small and has insufficient ambient light plunging in, use glittering tile like this is your top selection. It would help to create a unique porcelain tiled wall that is stain resistant and easy cleaning.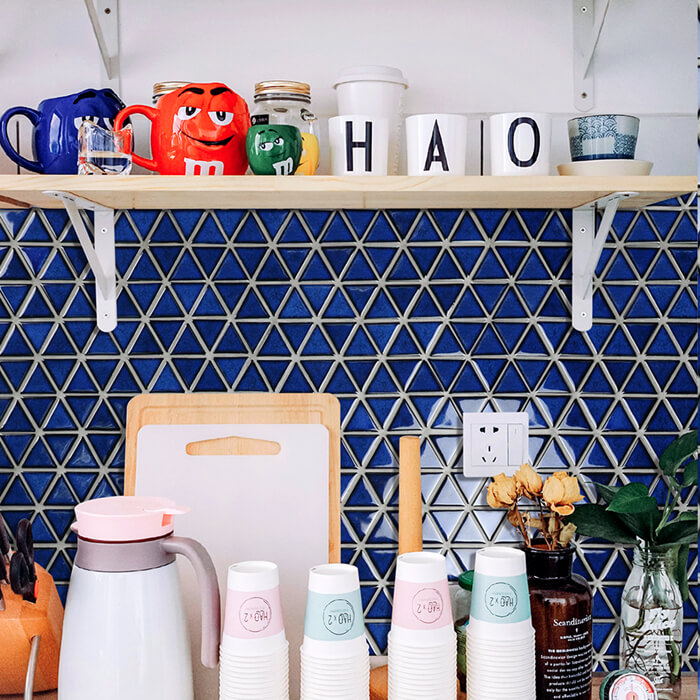 The gradient blue shades you see on the tile is the result of fambe effect surface treatment. It makes the tile extraordinary beyond your imagination. Cobalt blue is a royal color. It is very great for the decoration of villa, resort, hotel and any other places that are supposed to be magnificent and luxurious. Of course, there are far more options for various demands – pale blue, dark green, light green, blithe blue, khaki, thunder storm and grey. Those color options have one thing in common, which is they all appear antique. No matter what color they are in, fambe effect surface treatment gives them a vintage touch. For more info about this tile, you may like to read Introducing Our 2" Crystal Glazed Regular Triangle Mosaic Tiles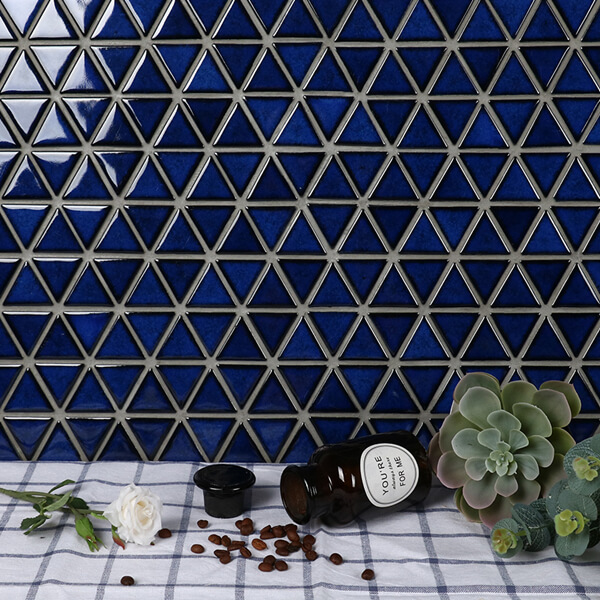 cobalt blue triangle tile backsplash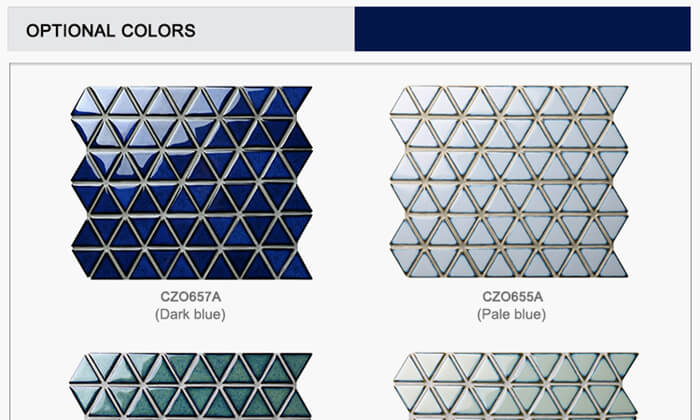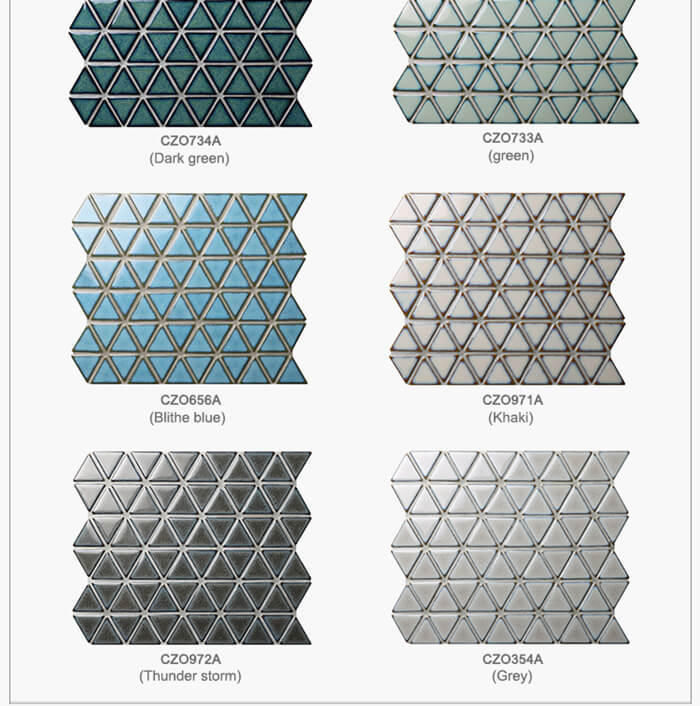 Snowflake Design Mini Triangle Mosaic Tile
Here we introduce a special triangle mosaic tile. Compared with the above three triangle tiles, it might be hard to find the difference. It is believed that most people have illusion of the pattern of this tile. It seems like floral pattern instead of triangle pattern. However if you observe carefully, the floral pattern is made up with triangle tile chips, though they are not equilateral triangles. And this might be the reason why you don't think it a triangle mosaic tile. Look at the attached backsplash design. It uses totally two triangle mosaic respectively in black and white color. With them, the kitchen achieves a romantic modern look. This snow white triangle mosaic tile is perfect for your bedroom headboard decoration as well. Once installed, it is like snowflake falling down on the wall.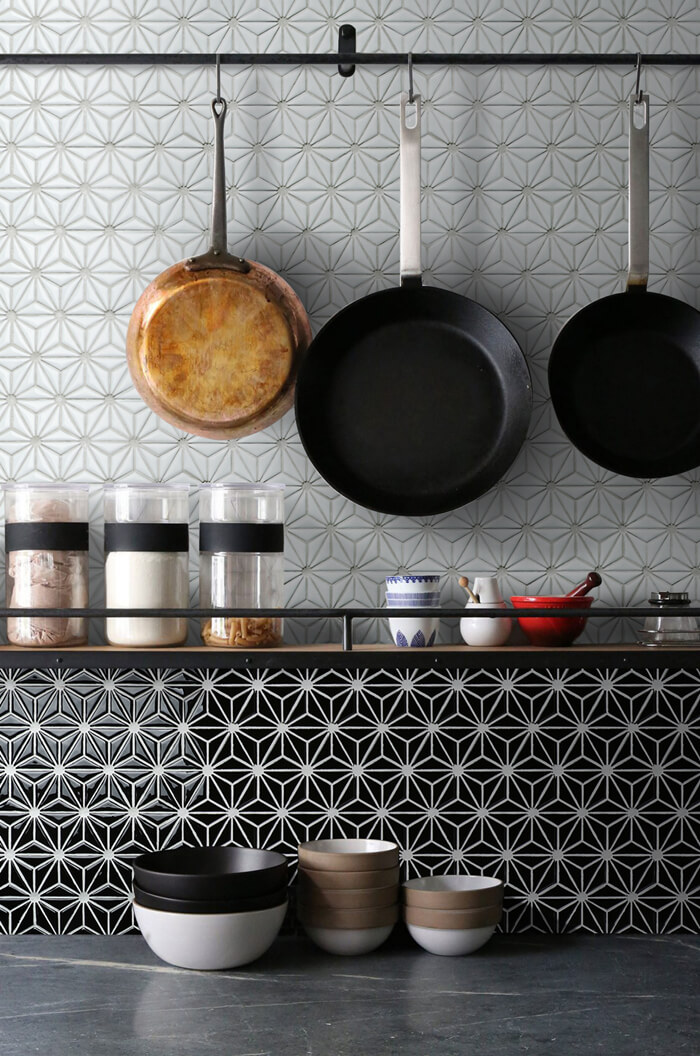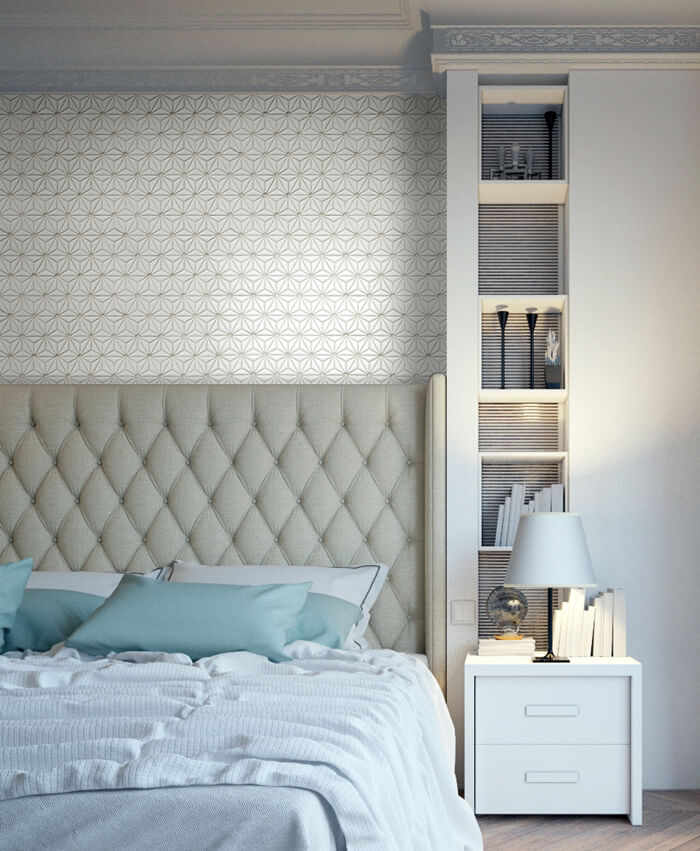 There are totally six color options for this triangle mosaic tile – black, smoke grey, white, dark grey, cobalt blue and light blue. Made of premium ceramic, they are great for any wall design. Even wet rooms like kitchen and bathroom is not a problem. The cute snowflake pattern allows it to be applied in kid room too. Surely your kids will love it so much.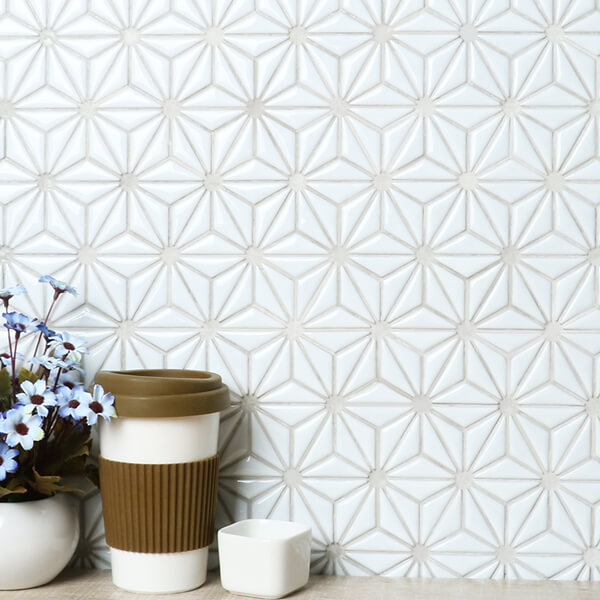 snow white triangle bathroom tiles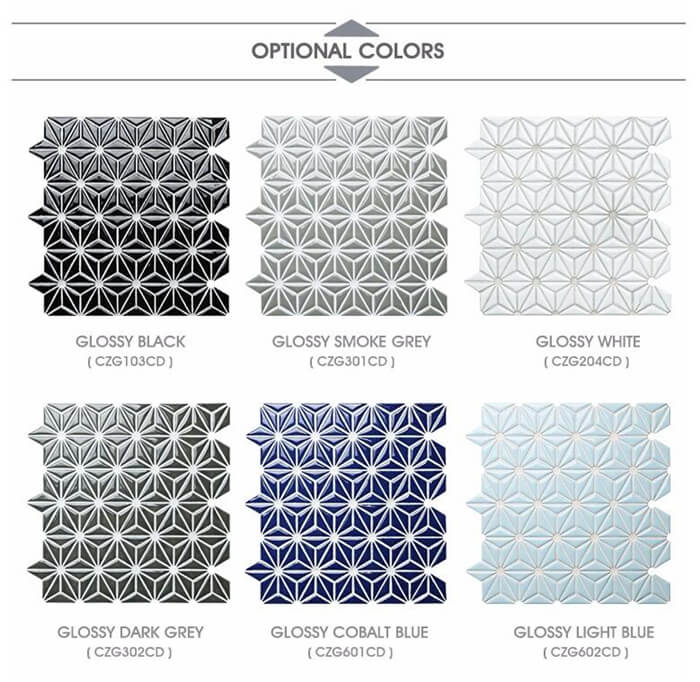 For More Triangle Mosaic Tile Designs>>>
There are many other designs of triangle tile and far more ways to use them in kitchens, bathrooms, etc. Using them as a decorative backsplash is one of the best, and feature wall is wonderful as well. You are welcomed to find more triangle tile designs on MM-Mosaic. We also have many other categories of mosaic tile on sale, made of ceramic, porcelain, glass, stone, respectively.