Few mosaic tile patterns can compare with the charming herringbone. The name is a lifelike description to the bones of a fish called herring. It may sound strange, but the interlaced fish skeleton turn out an aesthetic pattern for tiles design. Contemporary people want eye-catching things, herringbone pattern is one of them. In the following paragraphs, MM-Mosaic is sharing 6 herringbone tile designs in which you can see how the chemistry has developed when different materials, colors and surface treatments act.
Interiors with herringbone design on walls or floors, whether in ceramic, porcelain, glass or stone, would be freshened up and featured unparalleled uniqueness. A proper angle between two mosaic strips is the key that herringbone pattern has the magic to enhance your house. It is highly depending on and harmonious with material, color and size of the tile. In terms of color, herringbone mosaic patterns combine them to create meaningful scenes, light or dark, according to your preferences.
The elegant herringbone tile design is achieved by glass and stone strips. People today are tired of complicate patterns and bright colors. Pure shades like white, black, gray are prone to gain more popularity. Home decoration particularly needs tranquil environment and cozy atmosphere. Your kitchen, bathroom and bedroom will be harbored a great spirit with the decoration of this peaceful herringbone glass stone mosaic. Perfect combination of the two materials ensures a highlighted part of the tile, giving it distinctive appeal and incomparable elegance.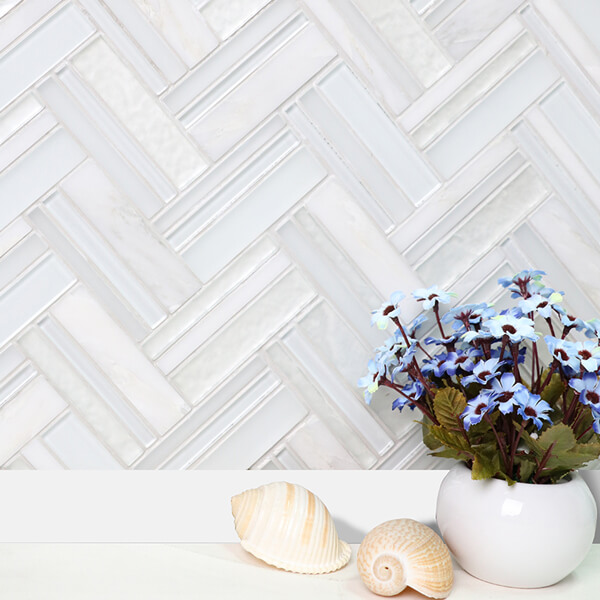 herringbone glass stone tile HZH001AL
We love how this client created a neat kitchen backsplash using black herringbone tile. The orderly small rectangles form an esthetic woven pattern, adding dimension to the room visually. This is a classic type. If classic thing also is what you adore, then the tile may suit your taste. Look at the glazed surface, it ensures you a pragmatic wall that is easy cleaning and at low maintaining cost. Black color also means it doesn't show the dirt over a period of time, which is a good news for those who don't like daily cleaning very much.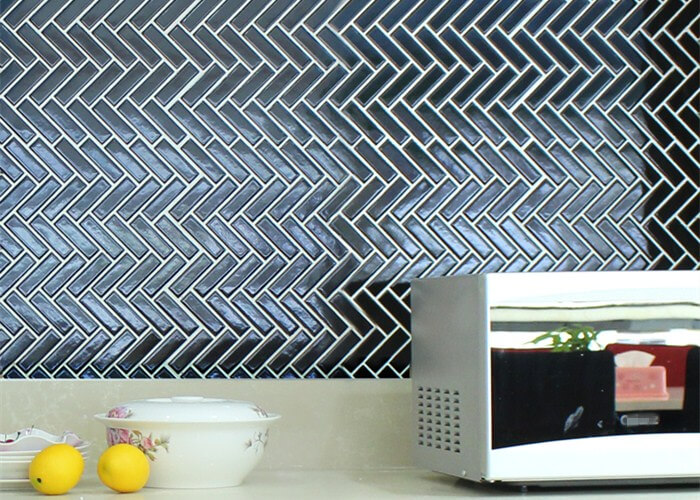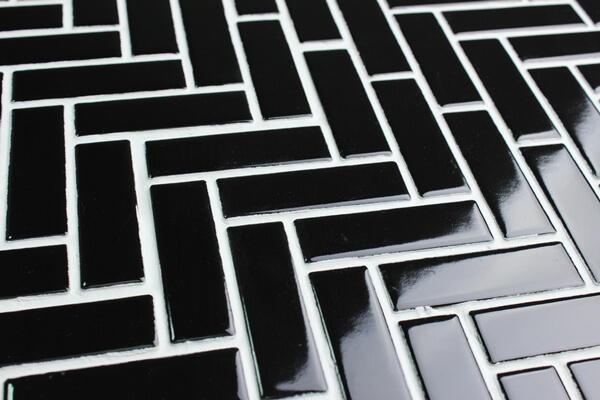 herringbone black tile CZG108B-D
White herringbone tile backsplash has been trending for many years. There are different shades of white as to the categorization of color. Super white, stark white, off white…the color is classified by adding more or less warm tone. Attached below is a great example of bright white herringbone mosaic. Made of ceramic and covered with quality glaze, it possesses a particular hand touch – smooth, mellow and refreshing. Many households love using it to create simple but stylish space. If you want it to be more special, then try to use dark grout colors like black, charcoal gray and chocolate brown. You will love the way that white tile and dark grout combine perfectly on the walls or floors of your home.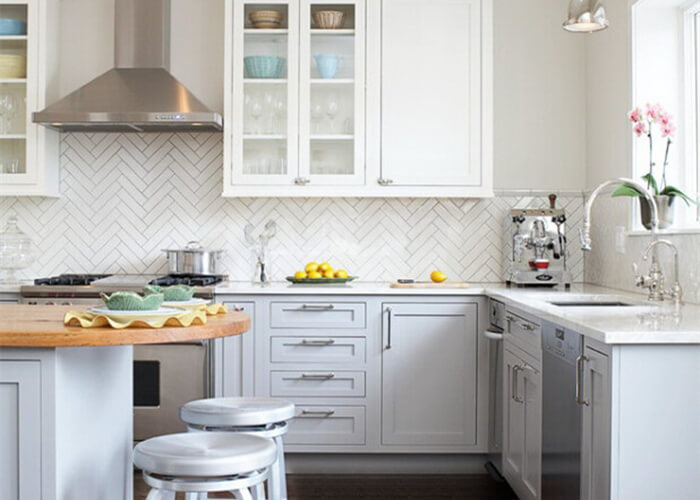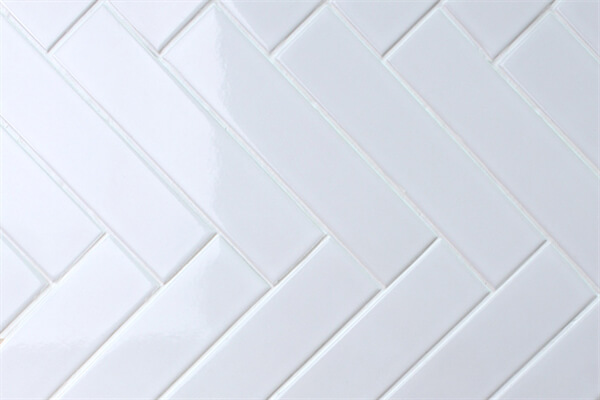 herringbone tile backsplash white CZG201B-C
As white herringbone mosaic tile is such a popular tiling option, there are many variations in the market. Some have bigger size of chips, some have more centralized paving and some feature a particular surface treatment. The herringbone decorative tile strips attached below is a prominent example. It is not in pure white but a little blurry just like adding mud or sand into the white pigment and paint it on the tile carelessly. In fact, it is a surface technology called fambe effect, which can make tile old and antique. If you are a little less modern and a little bit more traditional, then you will love this newly launched tile product.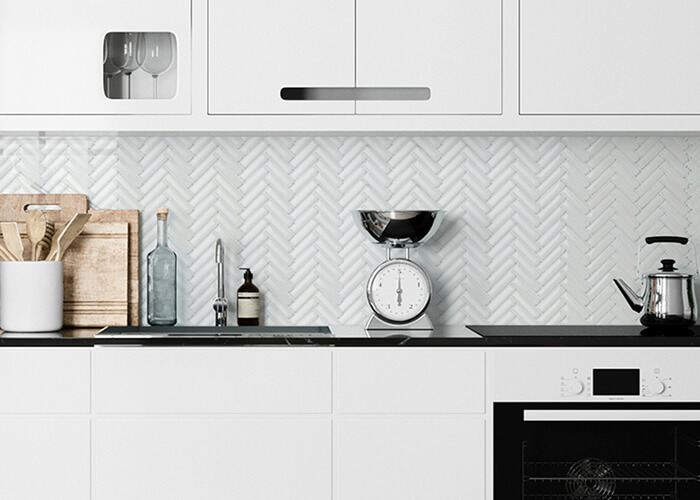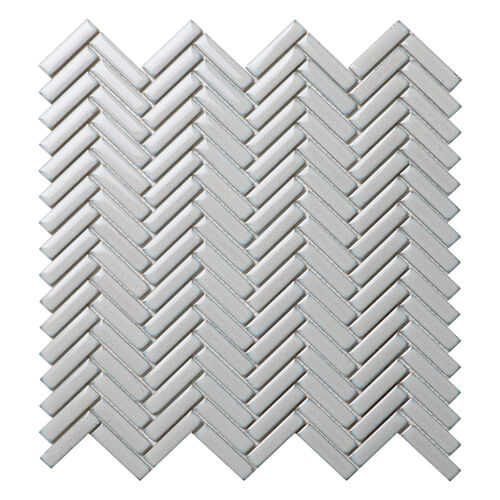 fambe effect white herringbone mosaic tile CZO352A
From ceramic, glass, metal to stone like marble, herringbone pattern offers amazing tile collections. As to marble, if you don't feel you want to choose the real, marble look porcelain tile is another option. It is durable as the natural and long lasting even installed in high traffic places like business floors. Also, unlike marble floorings that need regular sealing care, imitation marble tile can be used in wet areas like bathroom and kitchen. You don't worry it will get moist and deform. When herringbone meets with Carrara marble style, a sense of Italian artistry overwhelms. As the attached decorative wall shows, herringbone is also a superb pattern for wall design.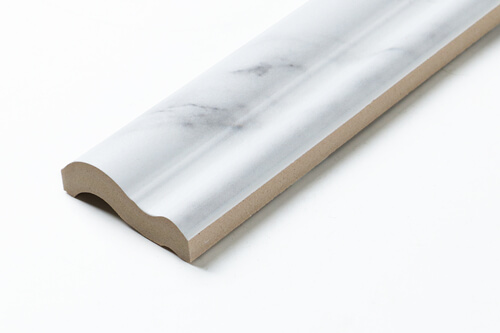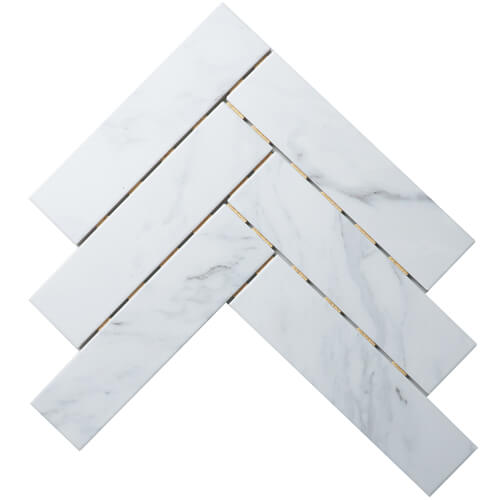 imitation marble herringbone mosaic tile CZM901B
Calacatta marble style is similar to Carrara. If you look closely, you will find there is large difference. Carrara has gray texture while Calacatta is brown. Long and thin textures are equally distributed on Carrara style tile while Calacatta is just some irregular brown brocks scattering. Similarly, herringbone works well with Calacatta style, especially for a floor tile. Herringbone Calacatta tiles have capability of calming down dazzling design elements and make the space peaceful and harmonious, just as the living room design shown below.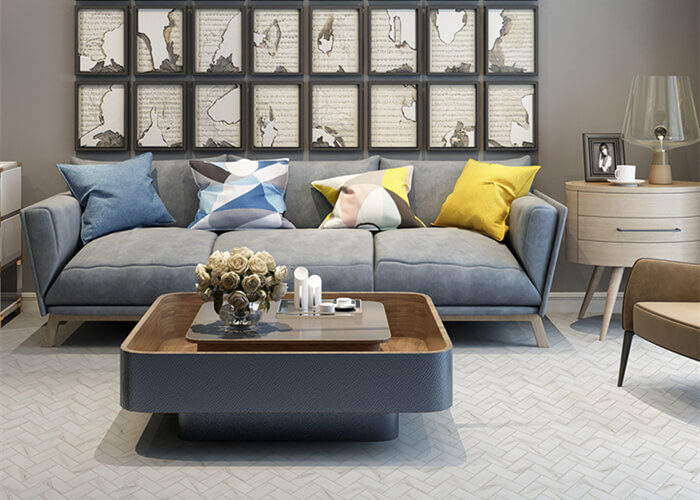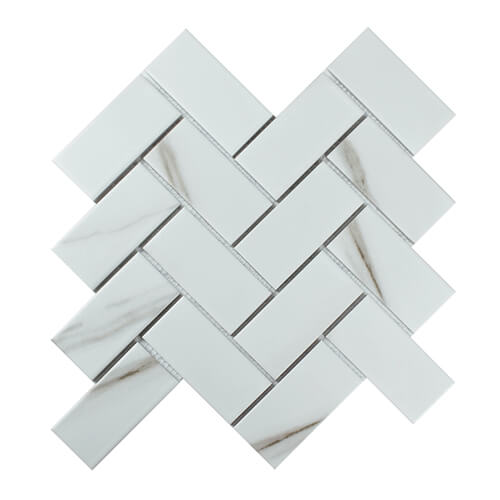 Calacatta marble style herringbone floor tile CZM934Y
Herringbone design is a resistless beauty you can have in your house. Get more herringbone tile ideas from MM-Mosaic, who is dealing in mosaic tile supplies for over 10 years. We would be so honored to see your sweet home achieves a splendid look by out tile products.