Now, many young people don't need a magnificent bathroom with superb fittings and ornate marble all things to have a wonderful and functional space. As a matter of fact, sometimes, the perfect ideas are the minimalist: a simple washstand, a plain mirror, unsophisticated wall-mounted fittings and so on. Every detail is apparently uncomplicated in style and execution but the impetus to completely change a space. However, bathroom tiles are a real focus that you need to pay attention to taking more time to consider tile.
Are you preparing a small bathroom redecorating or just simply looking to raise the appearance of it with simplistic decor? At times, a little creative idea goes a long way, which is where we come in. If you decide to renovate it, you might consider many things. What about paving with bold color tiles? Do I really need a bathtub? Large tiles or small size tiles? We gathered thirteen of our favorite bathroom designs that can bring your space a fantastic feeling.
1. White Tile
As everyone knows that white finishes make a space larger and brighter, and nowhere can embody this truth except in bathroom with wall and flooring tile. In this peaceful space, white subway tiles with characteristic textile patterns, which laid in a traditional stretch-bond way. Pairing with Moroccan style pattern flooring tiles, white mosaic brings an astonishingly commodious feeling, which keeps it distinct from the flooring.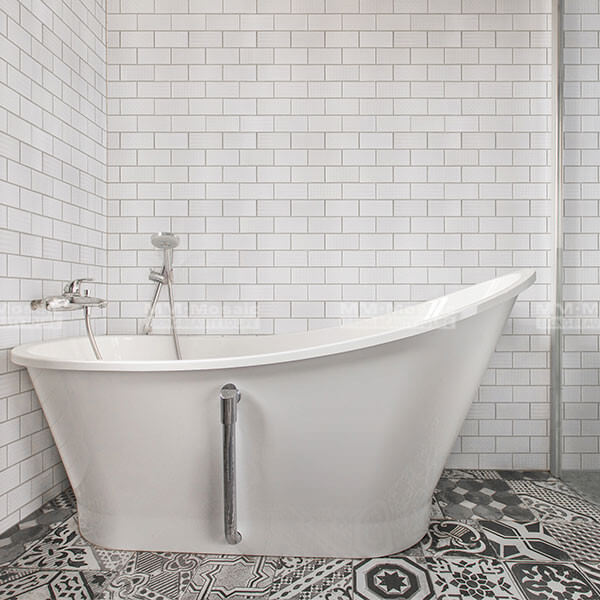 Featured Product: Textile Pattern Porcelain Mosaic White ZOC3202
2. Large Hexagon
Traditional views that small spaces must be installed small size tiles. Nevertheless, large tiles might perform well than you think due to it can effectively trick people's brains into conceiving the space is larger than it actually is. Taking a look at this comfortable bathroom, the white accessories provide a visual sense of stillness, then the large hexagon wall tiles form a uniform positioning for the wall elements.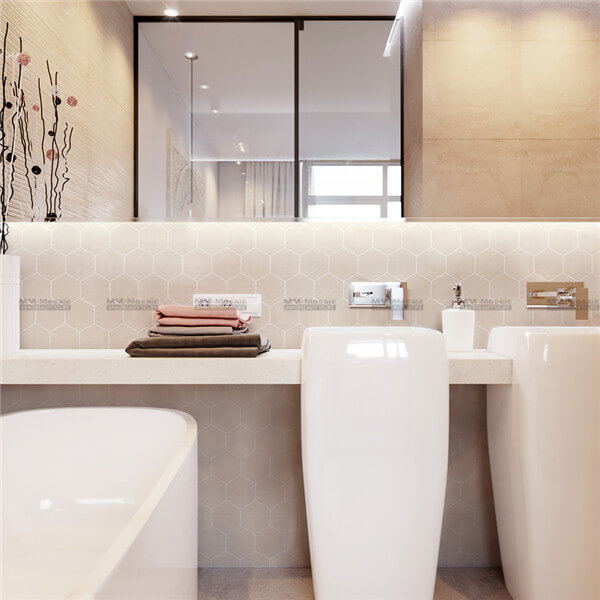 Featured Product: Full Body 4" Hexagon Mosaic White Color CZO224B
3. Herringbone's Diagonal Setting
Not only does this contemporary bathroom for our designer feature a large round mirror that helps to extend the small space, but the subtle. Pure white herringbone tiles are paved in a wave pattern, attracting your eyes to the longest part of the bathroom. It also offers an element of refreshing surprise, since a diagonal way with herringbone tile is amazing!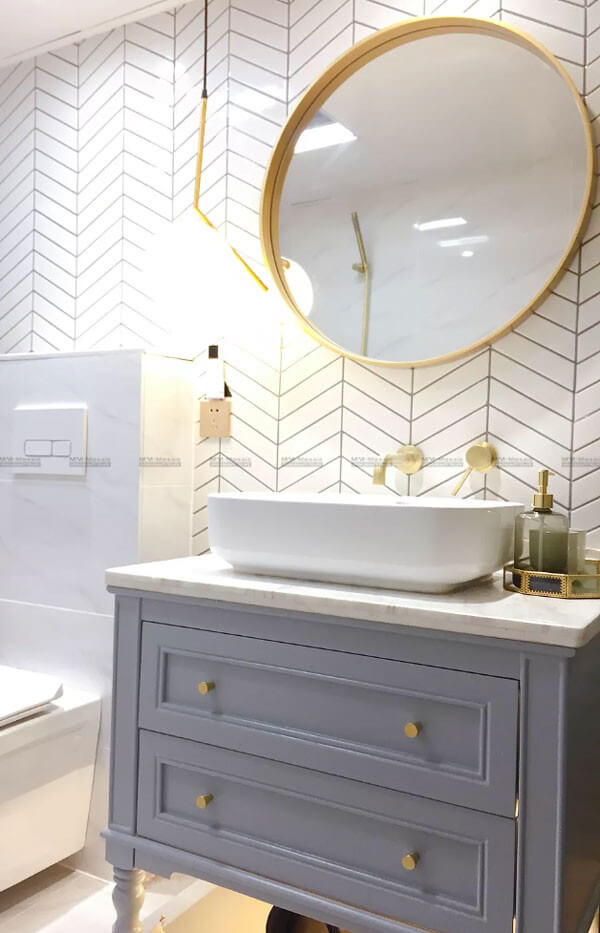 Featured Product: Glazed Parallelogram Herringbone White CZM242B
Just like this bold pink herringbone mosaic can work wonder, don't be afraid to experiment with different colors.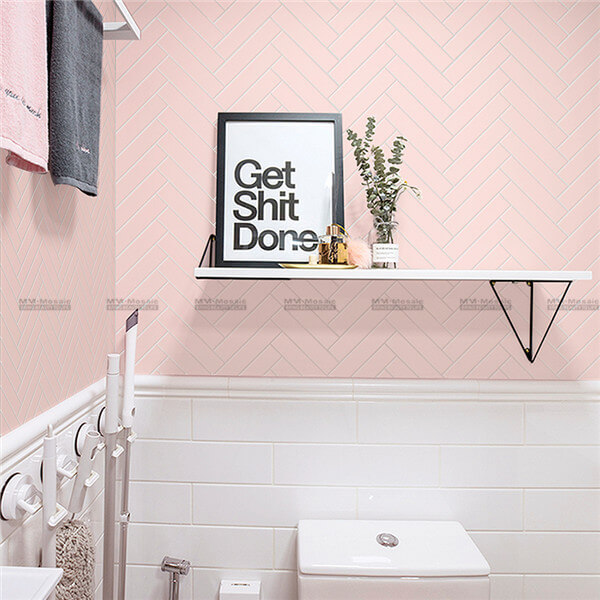 Featured Product: 32.5*145MM Stripe Herringbone Porcelain Mosaic Matt Pink CZM904B
4. Interesting Wave Rectangle
This striking little rectangle imitates the effect of basket weaving, which gives the wall new life and adds flexibility to the walls. The minimalist black steel frame vanity and white washtub help to give the small space a more strong feel and add depth. Moreover, the black grout combines well with the whole style and makes you won't divert attention from the focal spot. More unexceptionable bathroom inspirations in this post: Decorating Bathroom With Trendy Finish Porcelain Mosaic Tiles >>>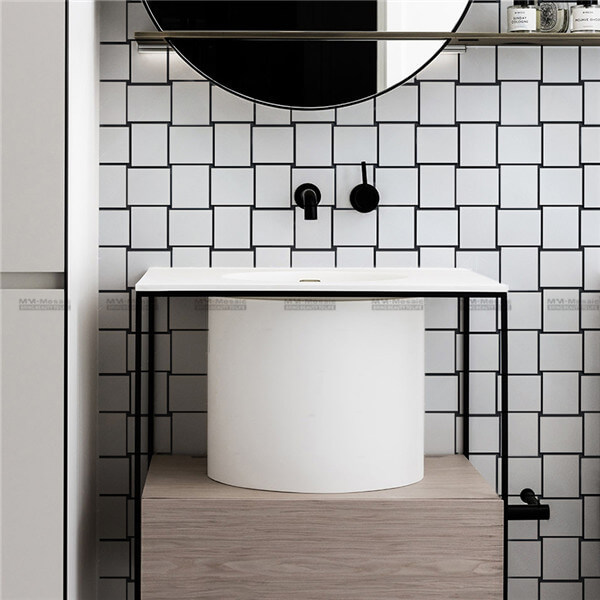 Featured Product: 4"x3.5" Rectangle Porcelain Mosaic White CZM287BT
5. Black Hexagon
Not suitable for the faint of heart, the ideal anchor for an elegant and complicated space with white subway tile laying the lower walls. We all love this strong sense of contrast, particularly in small spaces. Floor-to-wall tile with too strong a contrasting color might make a small space a claustrophobic feeling, hence we choose to tile it only partway up the wall. Wanna learning more color combination knowledge? This article might help you: How to Combine Warm Hues With Cool Tones in Mosaic Interior Design >>>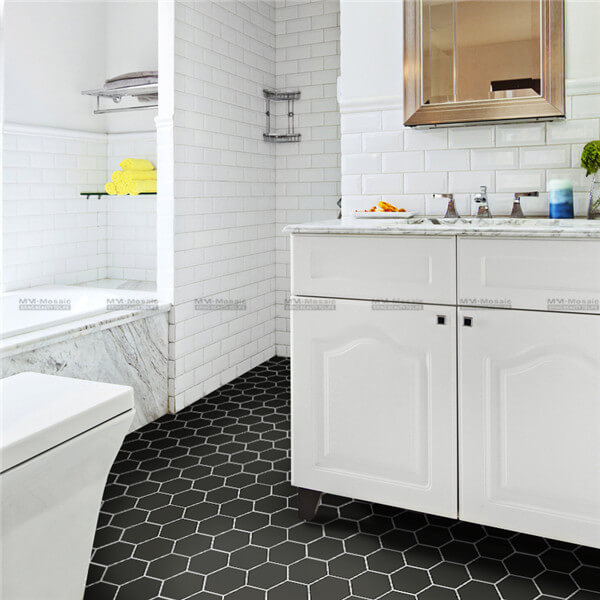 Featured Product: 4" Matte Black Hex Porcelain Mosaic CZM128B
6. Herringbone Flooring
Neat and orderly herringbone flooring, showing up a timeless feeling and creating a continuous focal point throughout this space, which appeals to your attention at the first moment. Just like the diagonal paving way mentioned above, this tile has the ability to extend the space visually. You can hold the rest of the bathroom mostly the same tones, space appears spacious and extensive in spite of its small size.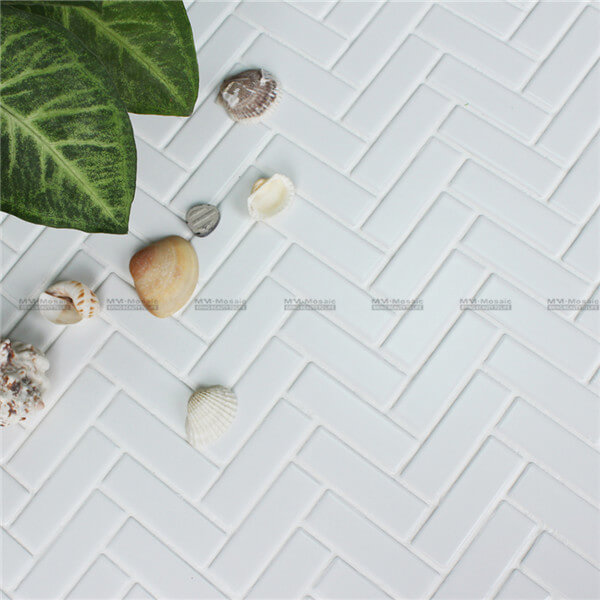 Featured Product: 21.5x71.5mm Glazed glossy ceramic tile CZM209B-D
7. Grout Tile
Don't forget that the color of the grout line has a great effect on the whole design. Super metallic print hexagon tile also exerts stunning effectiveness due to they reduce the number of grout lines than the smaller hexagon, which means reduce the visual confusion. By keeping the white grout lines paired with the other light-toned accessories, it draws up your attention towards the ceiling.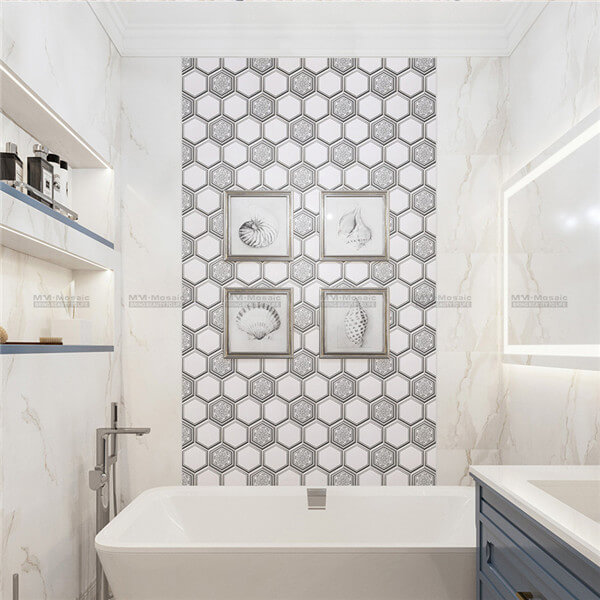 Featured Product: Matt Metallic Print Porcelain Mosaic Super Hexagon White CZO931D
8. Floor-to-Wall
Although we have shared many large size tiles that can create the hallucination of more space, it doesn't mean you have to give up smaller size mosaic. This astonishing bathroom utilizes the lovely penny round tiles work to catch your eyes upward toward from the floor to the windows and open up space. Here are more secret tips will benefit you: Secrets About How To Enhance Shower With Mosaic Tiles >>>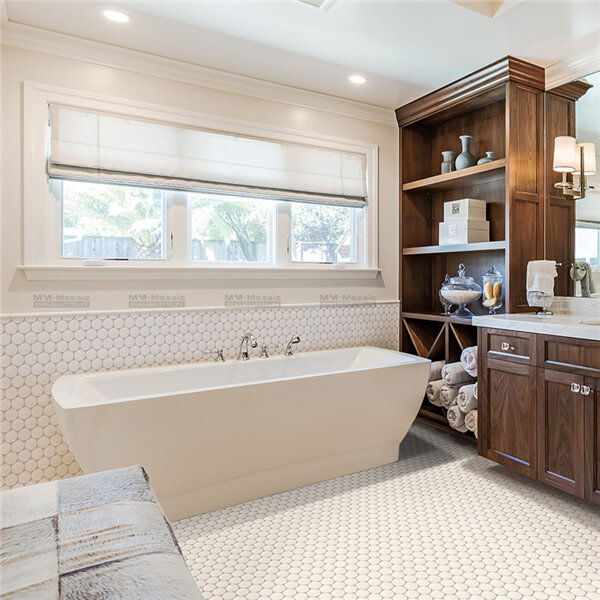 Featured Product: Cookie Circle Ceramic Mosaic Matt White CZM241D
9. Glossy Wall
Nevertheless, the glossy finish might not suitable for bathroom flooring, we can put them on the wall that reflects more light and brighten a small space feel capacious. As this ice-crackle glossy fish scale tile extends its wave pattern to attract your eyes from the bottom to the top, which enough to create the illusion of a larger bathroom with looking endless.
Featured Product: Crackle Fish Scale Porcelain Mosaic in Wave Pattern Dark Blue CZB618X
10. Vertically Strip Tile
Who wouldn't want to start each morning in this refresh small bathroom? With newfangled vertically strip mosaic, there's something considerably brisk and fresh. Not only does it make a small space feel deeper and larger, but the mild reflection in this light blue tile brings more interest and provide a creative laying way update to traditional strip mosiac.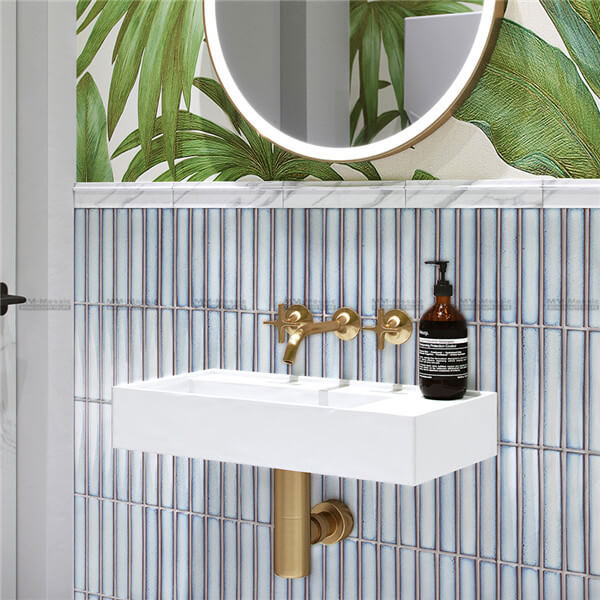 Featured Product: 30*220MM Super Stripe Porcelain Mosaic Powder Blue CZO902DX
11. Extend to Shower
Instead of changing up the flooring tiles in the shower area, our designer prefers to extending the same tiles through the whole space. What she did has created a seamless and corresponding bathroom and enlarges the visual feeling of this space. It adds an unexpected twist to the otherwise subway wall tiles and helps lend a strong industrial atmosphere or Moroccan amorous feelings to this space.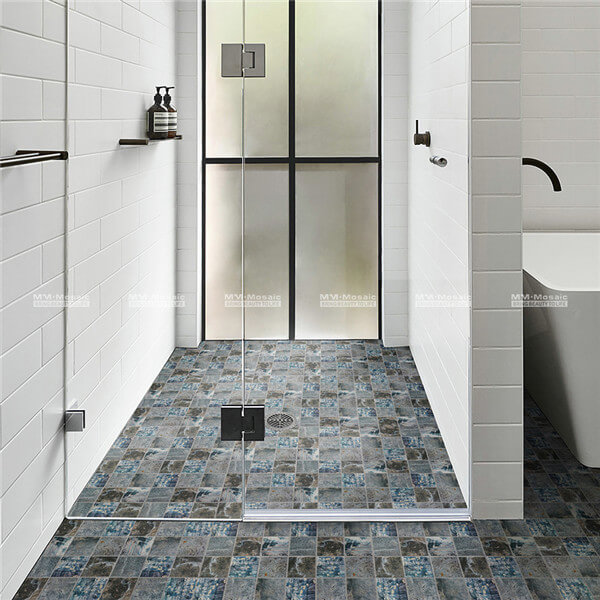 Featured Product: Digital Print Vintage Industrial Style Porcelain Mosaic CMO005JN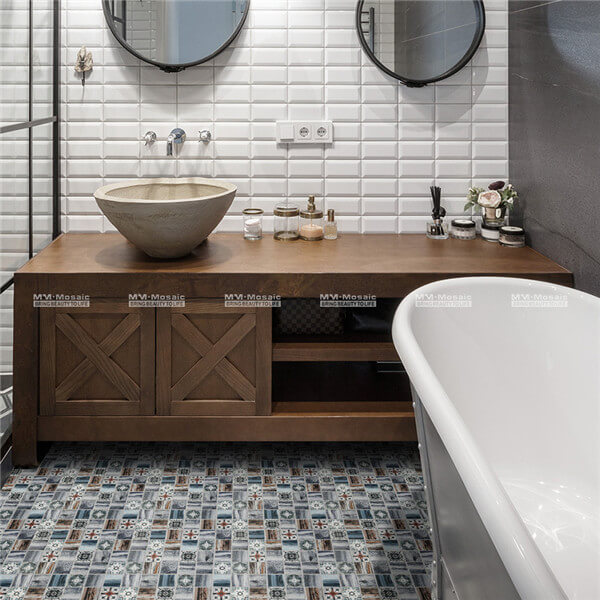 Featured Product: 48MM Digital Print Ancient Wood mixed Moroccan Style Porcelain Mosaic CKO003JN
12. Triangle Flooring
How to make the tiles being your centerpiece? Why not consider this entertaining triangle flooring mosaic? When you pick a geometrical and interesting triangle mosaic, your monotonous flooring does the work for you. More space with triangle ideas are waiting for you: Is Triangle Porcelain Mosaic Tiles Suitable for Bedroom Wall >>>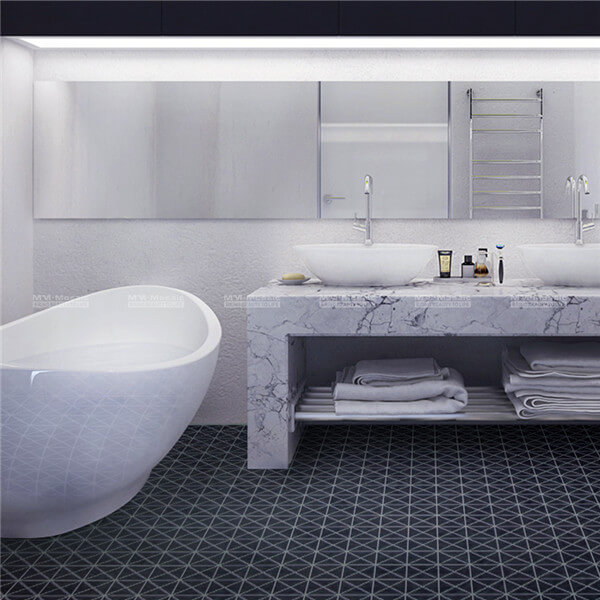 Featured Product: 2" glazed triangle CZM126B
13. Star Cross Charming
Lacking bathroom square footage can not be the reason that you have to abandon a tub! Just like this design, the tub is strategically put to fit just faultlessly inside a suitable place. And when it comes to small spaces, "prominence" is everything right now. This start cross pattern wall becomes the focus of the room. Mixing succinct and the fashion idea, this bathroom is absolutely the perfect choice for your renovation plan. Star cross mosaic are multicolored and multifunctional, this post will tell you: Interesting Gradient Grey Star Cross Porcelain Mosaic >>>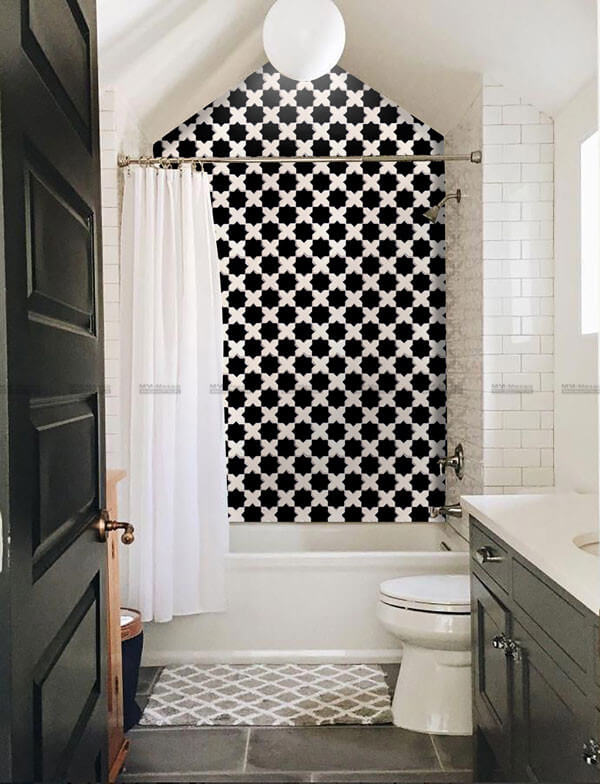 Featured Product: Star & Cross Porcelain Mosaic White and Blue Blend CZG080A
Get any ideas for your renovation project? Contacting us and sharing your creative inspiration with us! MM-Mosaic not only provides premium mosaic but also work with global architects, designers and etc so that keep designing more timeless products.