There's nothing better than taking a cozy shower after a long hot summer day! That's actually a truth! A perfect shower after the scorching sun under a wide sky. However, before this you usually go write off outdoor showers as an experience you'll only ever foregather on holiday, these mesmerizing outdoor scenery will change your universal outlook. We have formally fallen for these sophisticated outdoor shower inspirations and can't wait to share the way that how to bring this stunning design into your own space before the end of summer.
Idea No.1 Columbia Blue Reverie
Haphazardly combining into its surroundings, this shower equipped with a delivers on both ornamental and practicality. To complete this look in your space, you not only need to pick up rustic farm-style fittings but select the same tones tiles in favor of the whole setting. For more secrets of showers, you might have great interested in this: Secrets About How To Enhance Shower With Mosaic Tiles >>>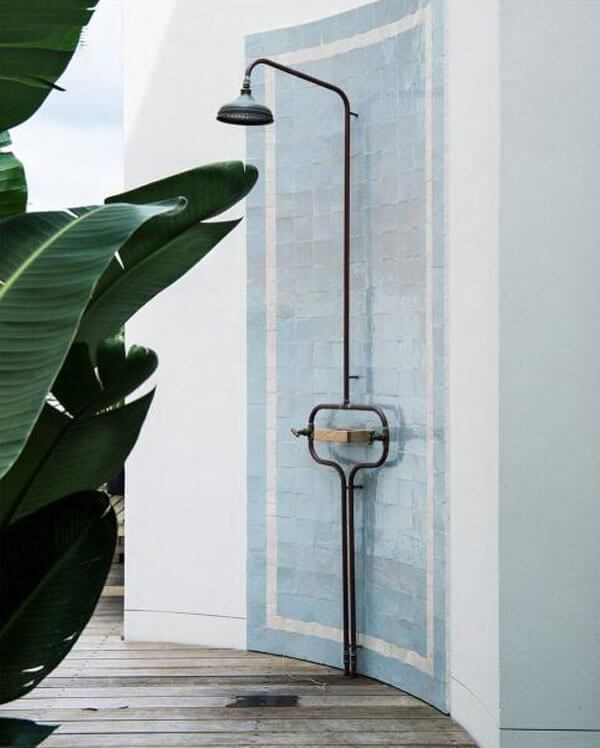 The Same Product Recommend: 75x150x8MM Antique Style Brick Tile Columbia Blue CZO612Y (Picture from Instagram)
Idea No.2 Austere Thought
Porcelain tiles and wood elements are a match made in shower heaven, and this outdoor-bathroom space is no exception. Taking a warm hues approach to the walls and floors, using uncomplicated complementary wooden textures to avoid changing towards monotonous space. What appeals to your eyes is the linear glass mosaic tile wall, which enhances the whole shower atmosphere. Here are more details of glass mosaic combine with high-temperature tech: Style Collection: 300X310MM Linear Glass Mix Stainless Steel Mosaic Tile >>>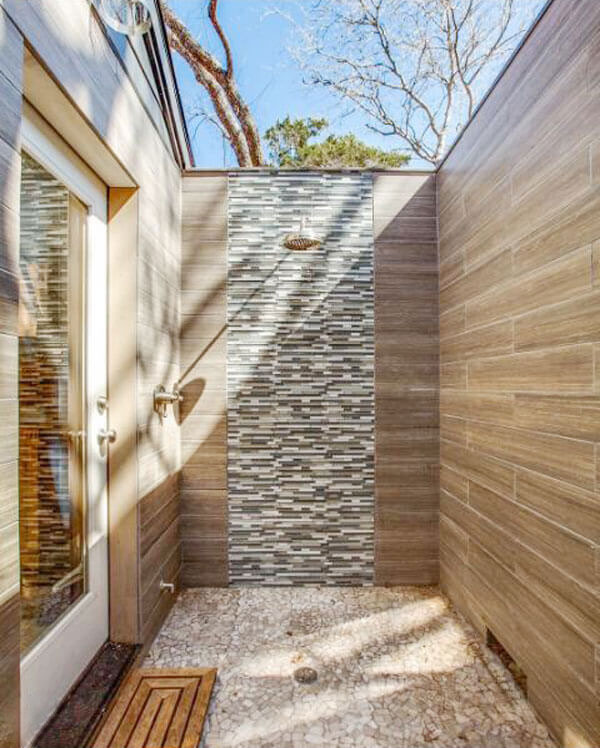 The Same Product Recommend: 300X310MM Linear Glass Mix Stainless Steel Mosaic Tile HZO002M1 (Picture from Instagram)
Idea No.3 Natural Stone Environment
The natural stone also gives you a feeling of being in nature. As the most impressive outdoor showers, they often make you feel like taking a bath in the organic environment. Touching the rough surface and imaging enjoying your vacation, you can bring this natural shower into your home. Combine pristine stone materials with the verdant setting of green plants to achieve your ideal home. If you have fallen in love with natural design, here are more tips: Get Inspiration From Nature When Choosing Mosaic Tiles >>>
The Same Product Recommend: (100~400)x(30~250)MM Cottage Mixing Stone OZO036YM (Picture from Instagram)
Idea No.4 Surfing-Style Areas
Creating a touch of character to your decoration is always a perfect thought. Connecting with your interest gear is a frolicsome way to breathe life into your design projects, not to mention an intelligent method to store otherwise cumbersome things. Paying more attention to how this common surfboard was renovated into a part of the outdoor shower.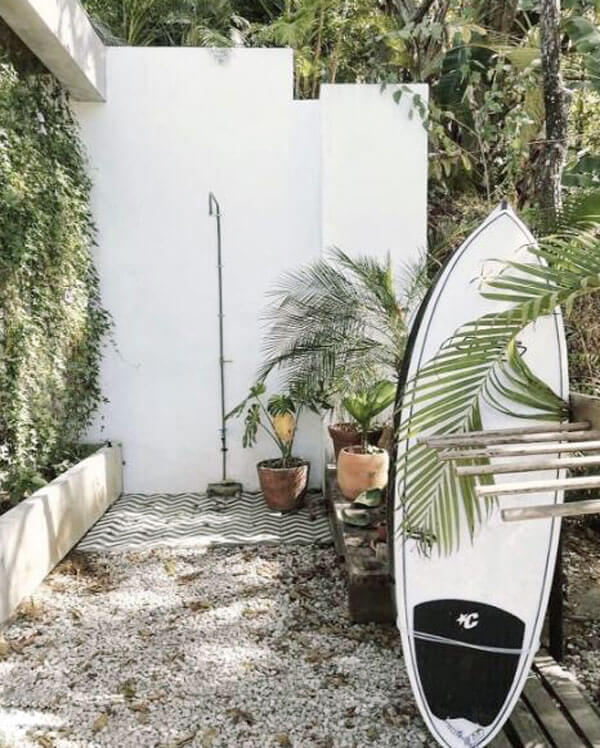 The Same Product Recommend: 318.5x224MM Fishbone White CZM242B (Picture from Instagram)
Idea No.5 Ecological Space
How to design your dream washing area when a tree is blocking the space? Incorporating it into your design might be the solution way. This ecological layout proves natural is better when it comes to building outdoor showers. Even though there are no natural rock ledges and tree branches, you can utilize the stacked stone materials as your backsplash in a simplified way to get this spectacular look.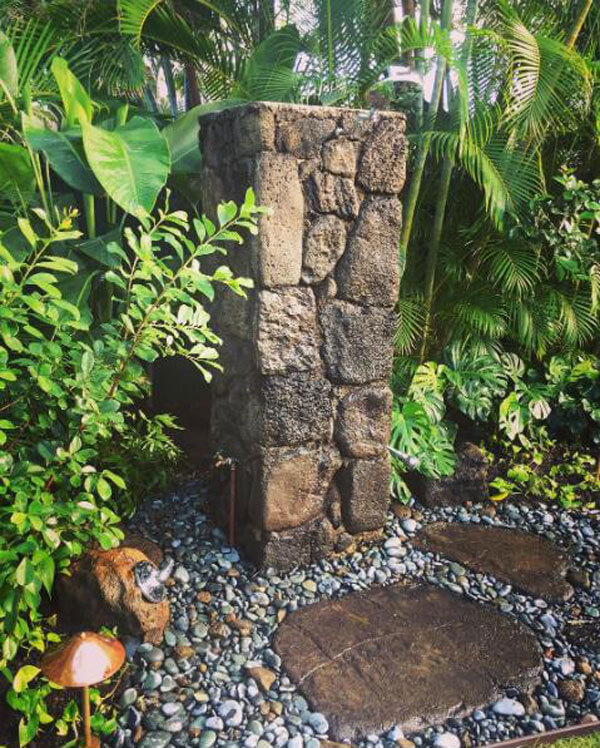 The Same Product Recommend: (100~400)x(80~400)MM Glossy Cobble OZO029YM (Picture from Instagram)
Idea No.6 Black&White
What is the chicest color combinations? Affirmatively, black and white! But if it makes an improper combination, it could bring the feel of dizzying. Instead, opt for a more natural off-white like this square exquisite tiles and choosing the black palette for the wall. The emerald green plants also play a role in the pop color.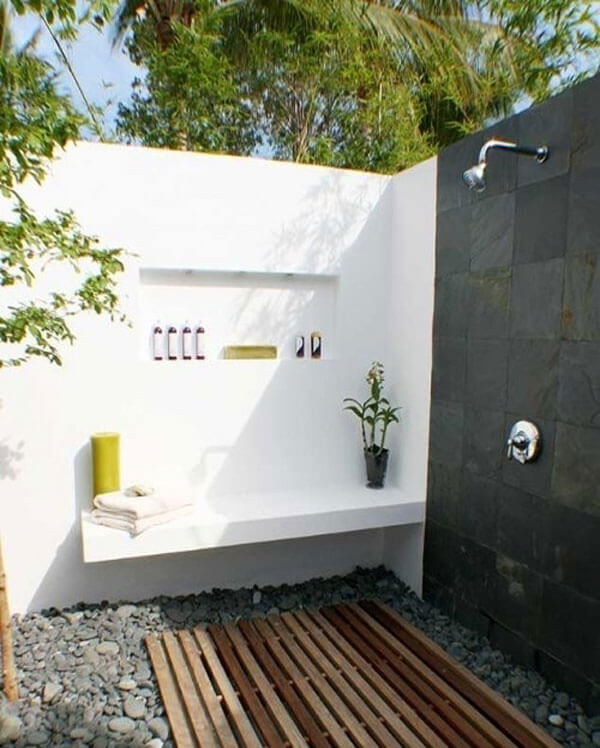 The Same Product Recommend: Cement Look Porcelain Tile WSD6603K (Picture from Instagram)
Idea No.7 Indoor or Outdoor?
More properly, this picturesque shower may not technically be all outdoors. Lush greenery resoundingly brings the feeling of being under the heat sun without direct rays. What's more, the dark grey wall and the light brown slatted wood flooring make for the perfect tropical escape. More indoor bathroom decorating info here: Decorating Bathroom With Trendy Finish Porcelain Mosaic Tiles >>>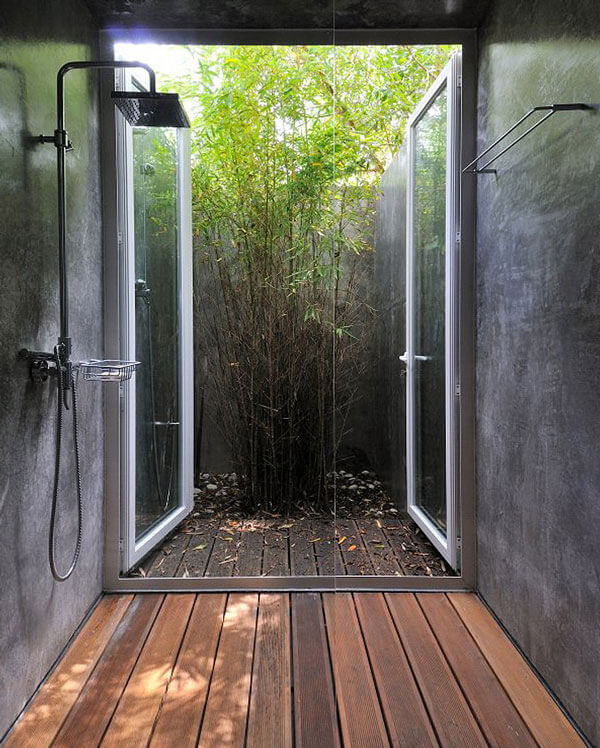 The Same Product Recommend: Modern Industry Porcelain Tile NMD6602K (Picture from Instagram)
Idea No.8 Fresh Breath
This outdoor shower is every efficiency people ideal areas. Instead of simply adding decorative aquamarine plants to this otherwise lost space, the addition of a minimal shower fitting creates the design layout for a new purpose. Moreover, who could have predicted that the blend of fresh breath mosaic tiles, green plants, and simple shower settings can make the eye-catching feeling.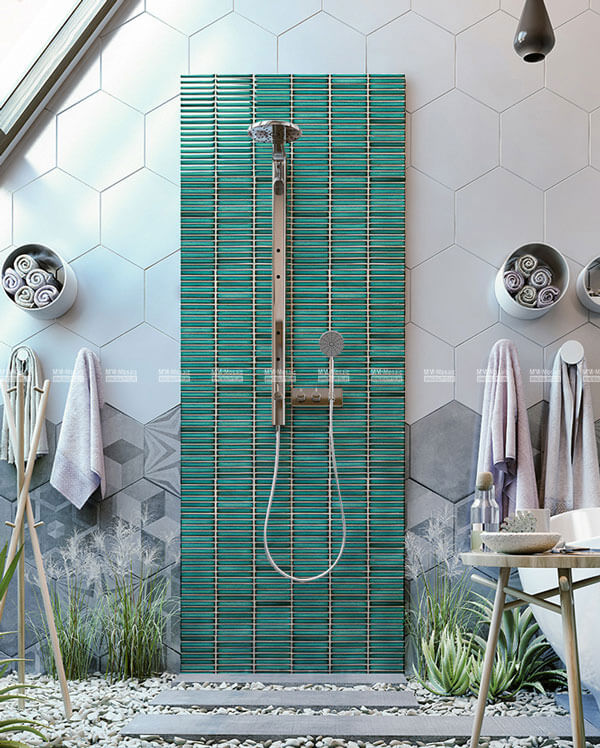 The Same Product Recommend: 284x295MM Turquoise Fambe Stackbond Ceramic Mosaic Tile CZO949A
Idea No.9 Heaven Shower
While taking a shower, can you enjoy the scenery? Of course! This outdoor shower inspired by the simplicity of life and do the interflowing by its surroundings. By putting a simple triangle chair and verdant vegetation, you can transform a stripped-down space into a tranquil area with just a few accessories.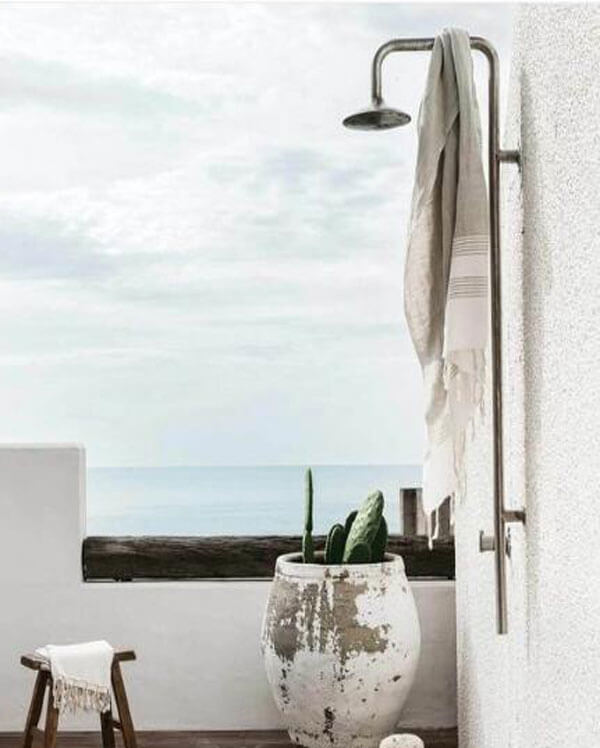 The Same Product Recommend: 80x230MM White Thin Cement Brick Veneer Antique Brick OZO201YM (Picture from Instagram)
Idea No.10 Mixed Materials
We all fall in love with this arrangement for its unpretentious atmosphere. Plain porcelain tiles and wooden splat encase a farm-style shower, nevertheless, it's the vintage feeling fittings that make this set-up fascinating and convenient to replicate at your home. Due to the mix of porcelain mosaic, wood and metal materials, the simplistic shower space become more visually outstanding.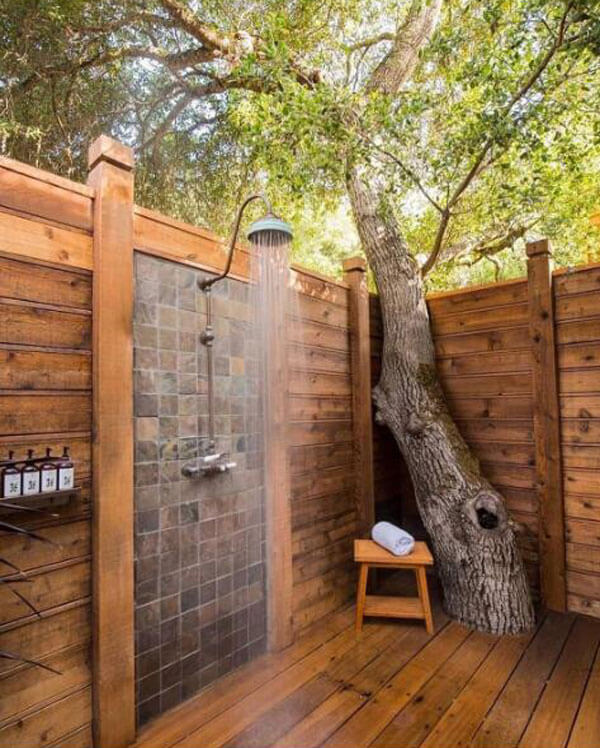 The Same Product Recommend: 2 Inch Wood Effect CKO937B (Picture from Instagram)
Idea No.11 Mystery Oasis
Utilizing plants as a focal point of your outside decoration is an affordable and dramatic way to bring a green-clad feeling to an outdoor shower space. Designing two sides of the space with various greenery and two with natural stone, the creative outdoor shower comes into sight.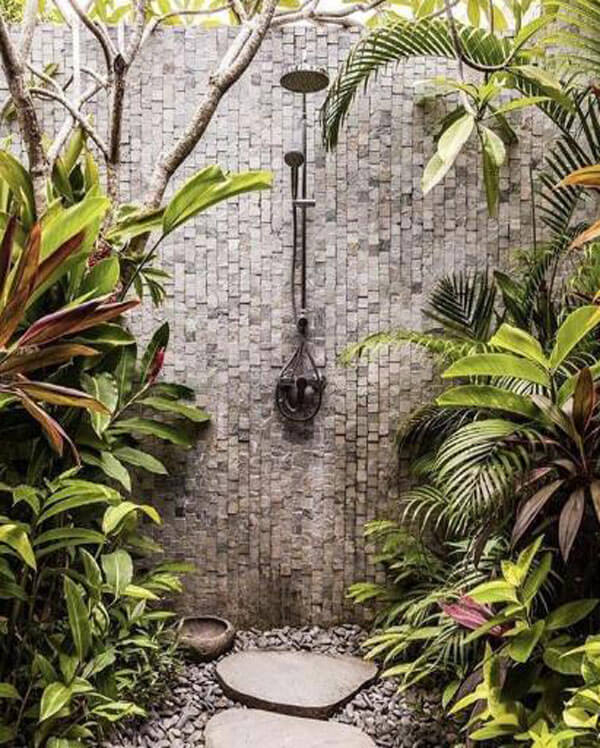 The Same Product Recommend: 1160x305x35MM Thin Ledge Pu Stone PTL6620LM (Picture from Instagram)
Idea No.12 Nymphish Shower
This dreamlike design is made for those who are enthusiastic about appreciating the dreamland. Giving off the wonderful level of this dreamland, the combination of mellifluous square pink tiles and the two side vimineous cactus plants take the outdoor shower to new heights. You can also take this color scheme into your home, meanwhile, keep balance the pink with other colors.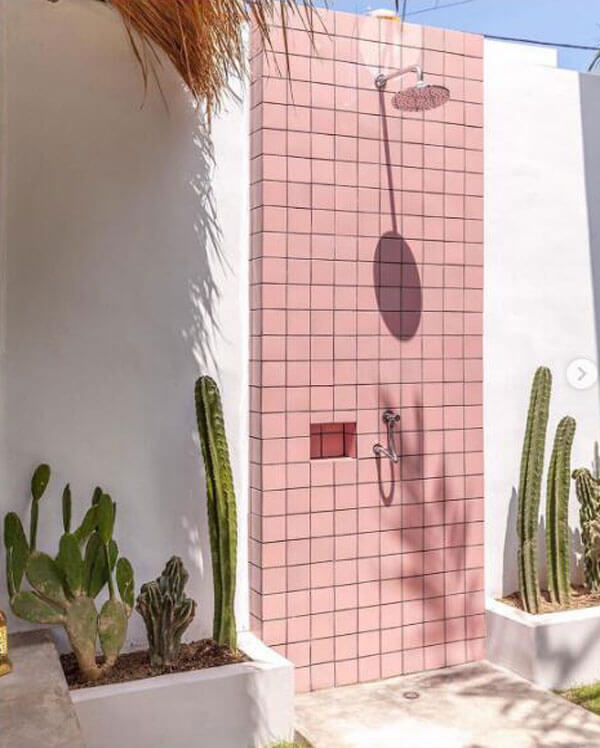 The Same Product Recommend: 4'' Pink Square Porcelain Mosaic CKG410B (Picture from Instagram)
Idea No.13 Tile Fascination
Not only can be used as kitchen backsplash, but subway tiles also have the ability to create a subtle change in the two shades of rendition. A dark brown wooden access lined by large-leaved plants leads to an oversized showerhead. That's thoroughly achievable at your home.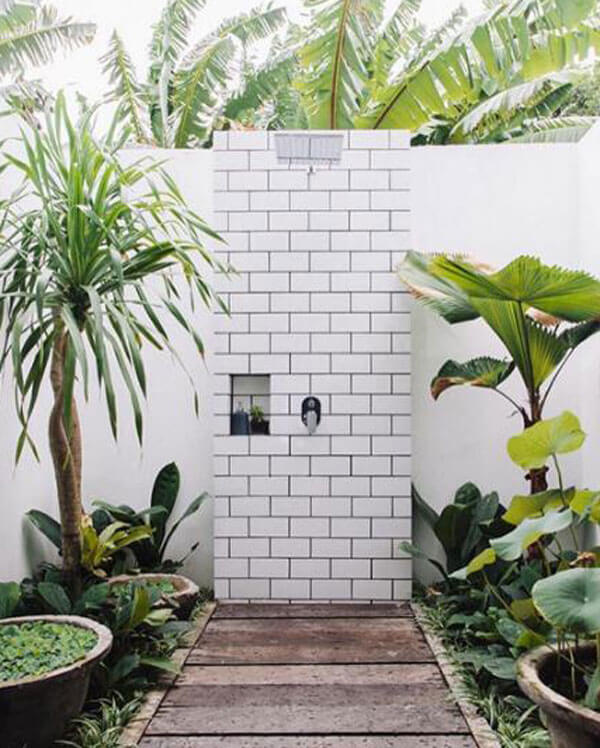 The Same Product Recommend: 100x300x7MM European Style Ceramic Subway Tile WZG201JH (Picture from Instagram)
Idea No.14 Moroccan Dreamland
The stunning pink mix vibrant orange colors wall serve as the immaculate emplacement against the well-arranged emerald heavy crackle tiles as well as the flooring with a wonderful complicated Moroccan pattern. All the elements give the aesthetic to your house, why not have this bold combination instead of the ordinary alternative. To see more Moroccan ideas: The Hottest Trend For Interior Design-Moroccan Arabesque Tile >>>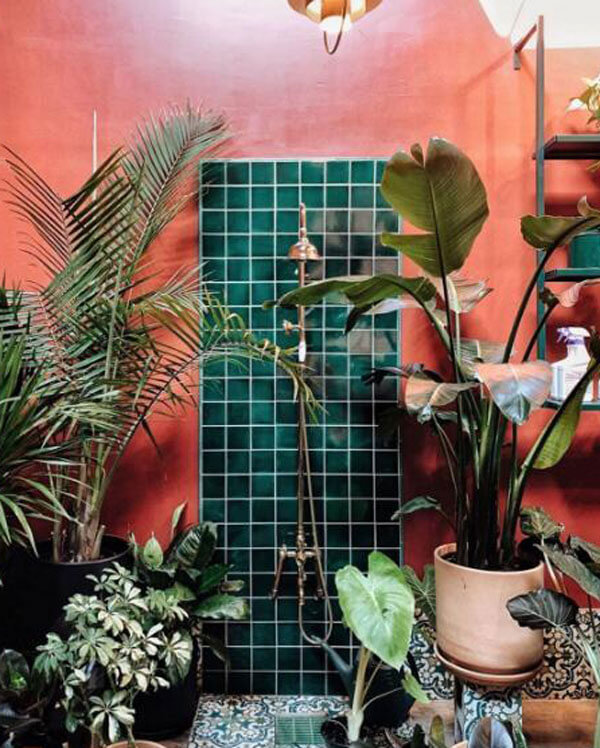 The Same Product Recommend: 309x309MM Crystal Glazed Crackle Texture Porcelain Mosaic Tile CTB704X (Picture from Instagram)
MM-Mosaic is committing to collecting and creating more outdoor shower inspirations. Maybe you do not have one in your home yet, but the above fourteen astonishing outdoor showers are all you need to see to make it materialize. From vintage to contemporary and green-clad to minimalist, these inspirations will leave you a deep impression. Contact us immediately if you have any ideas or wanna premium samples!