Planning a tiled wall or floor can be an exciting process. You get to visit around, decide buy locally or online, compare among various options, and finally designate a tile that is best fit your dwelling. Besides, it is worth choosing the right grout at the same time, for tile and grout combine as a whole to show an integrated look. Either of them is so important that cannot work out the best result without each other. Read the following passages you will get into more detail about the three main grout types and the ideas of what type is perfect for your tile.
Similar To The Tile Color
If the color of the grout is similar to the tile, it will make human vision less focusing on the grout line. In other words, grout lines will become less obvious and more integrated with the tile. Grout and tile in the same similar color bring every elements together and form a bigger integral picture, which is great for being taken as a pure and simple background. For this reason, it is the best option if you want to use color as little as possible in a room for perfect simplicity. The other benefit of using grout that is similar to the tile in color is that it will make the space larger visually. Making space look larger than it should be is the pursuit of most small room owners. If your rooms also have limited space and you truly want to do some tricks to enhance them, this article may help you: Take Full Use Of Tiles To Make Small Rooms Look Larger.
Following are three inspiring examples >>

Below attached a kitchen backsplash design. You can see the mosaic white tile have using white grout so that the lines of the snowflake pattern, which is combined of sharp triangle ceramic tile chips, is instinct and the whole surface looks much soft and gentle.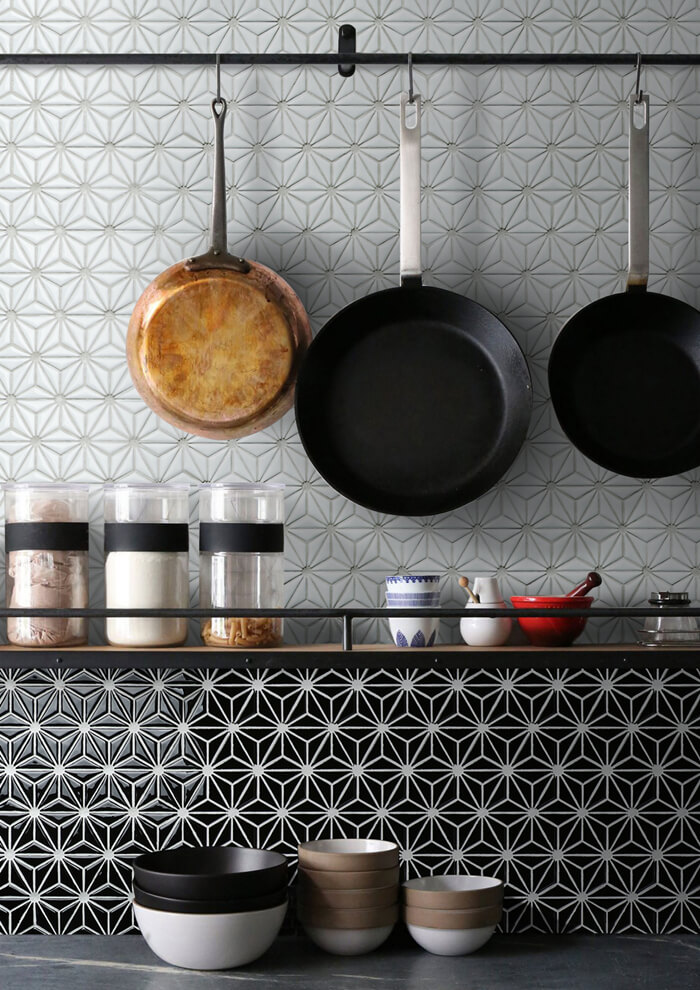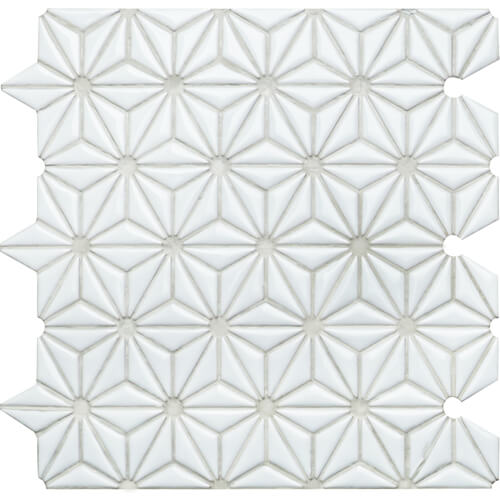 snowflake pattern mosaic white tile CZG204CD
People usually use grey mosaic tiles seldom. Yet, when grey meets elegant fan shape, those tiles can be a tranquil and low-pitched decoration as well. As shown in the attached bathroom backsplash, in case of breaking the harmonious touch of the light grey moroccan tile, the house owner has chosen a grout that is in similar light grey shade. Keeping tile and grout in similar color not only makes every design element balanced but also looks blending into the wall as an inseparable part of the bathroom.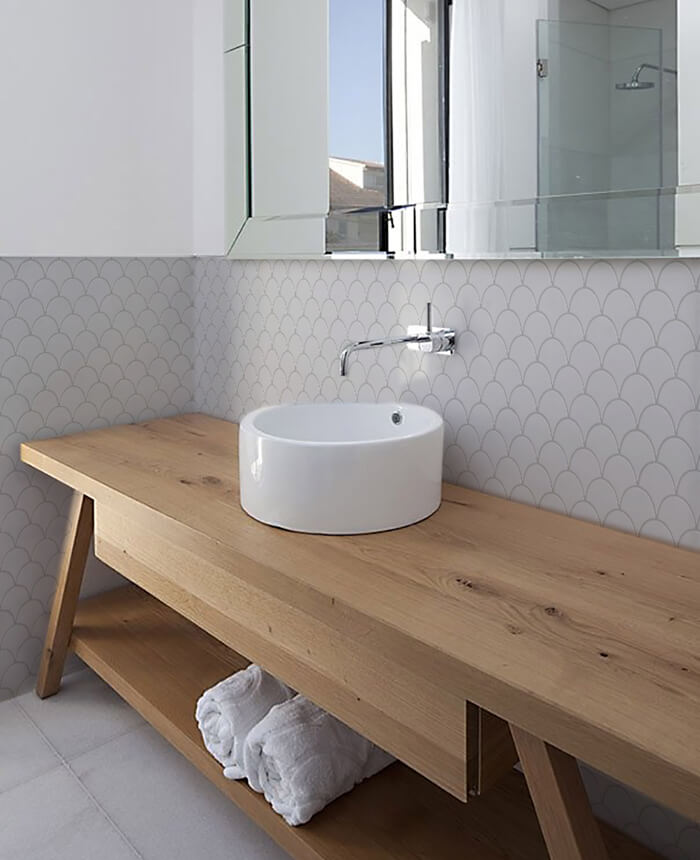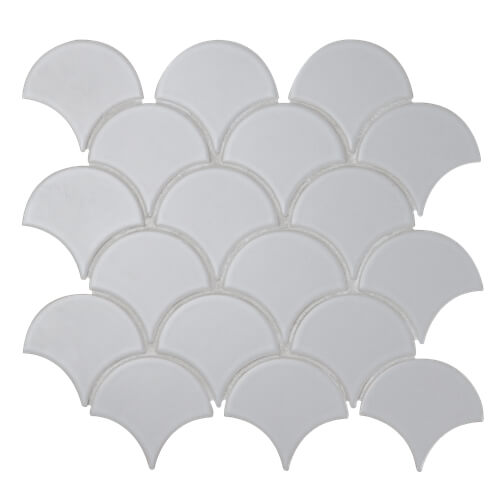 light grey moroccan fish scale tile CZM351X
If you want to add elegance and peace in home decorating, off white hexagon tile is the best bet. Beige is a color between white and khaki. The color is just right. It is not bright as white and formal as khaki. Combined with special surface treatment, beige color even can achieve a particular appearance. As the picture shows below, each beige hexagon mosaic tile chip has a distinct edge, which is becoming vague and melting inwards gradually. Using beige grout is indeed a good choice if you have long before planned to tile the wall in large part. A large area in mild color is friendly to your eyes and you won't be feel exhausted to stare at it.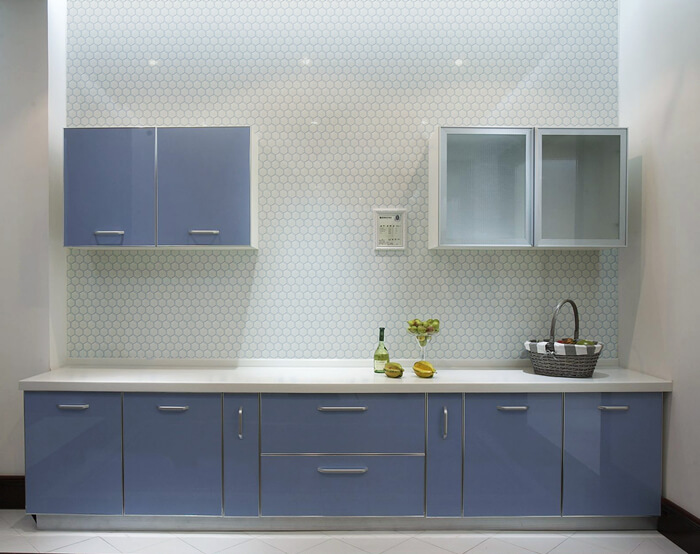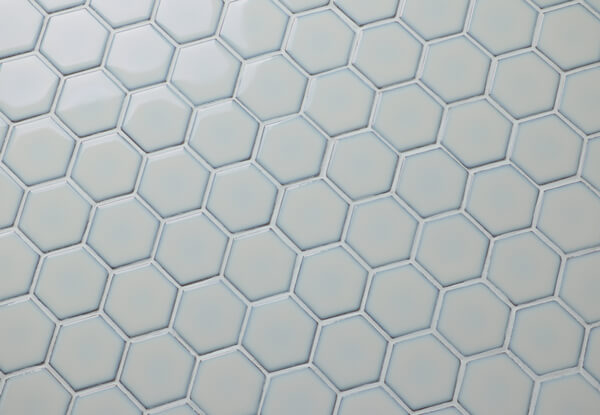 off white hexagon tile for kitchen CZO922Y
Contrasting To The Tile
Showing contrast is a common method in interior design. When people want to highlight some part or make emphasis on the design theme, they are used to take this way. The collocation of tile and grout is also an outstanding example. White tile with black grout or black tile with white grout is getting increasingly popular and they are the two splendid choices for contemporary modern style. Grout in contrasting color really make each tile stand out individually. You might think it would be a little bit awkward to see design elements being far too opposite. Instead, it is a smart way to use contrasting method. Your room will look updated and that also helps you to save much on maintenance because of its long lasting brand new look.

Following are three inspiring examples >>
Dark colored tile is a good experimental unit for using contrasting principle. For example, you can use white grout for a navy blue moroccan tile backsplash. Navy blue is a very dark shade of blue. It is a representative color that royal families and aristocrats often use. It stands for nobility and grace. When white grout meets dark blue tile, the tile is getting prominent and the blue is becoming deeper.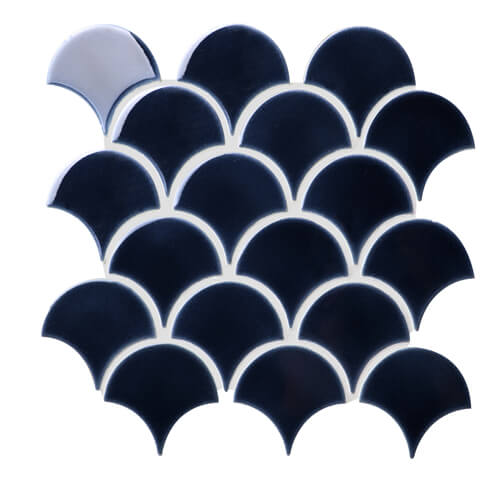 pale blue moroccan fan shaped tile CZB617X
As mentioned above, black and white is a good match that uses contrasting principle the extreme to show modern style. Black and white is a classic combination that never fails to create a distinct and timeless design. It is the safest solution especially for those who are cautious about bold try on other bright and catchy colors. See the attached bathroom using matte black hexagon tile with white grout on wall? Don't you think it is a stylish collocation?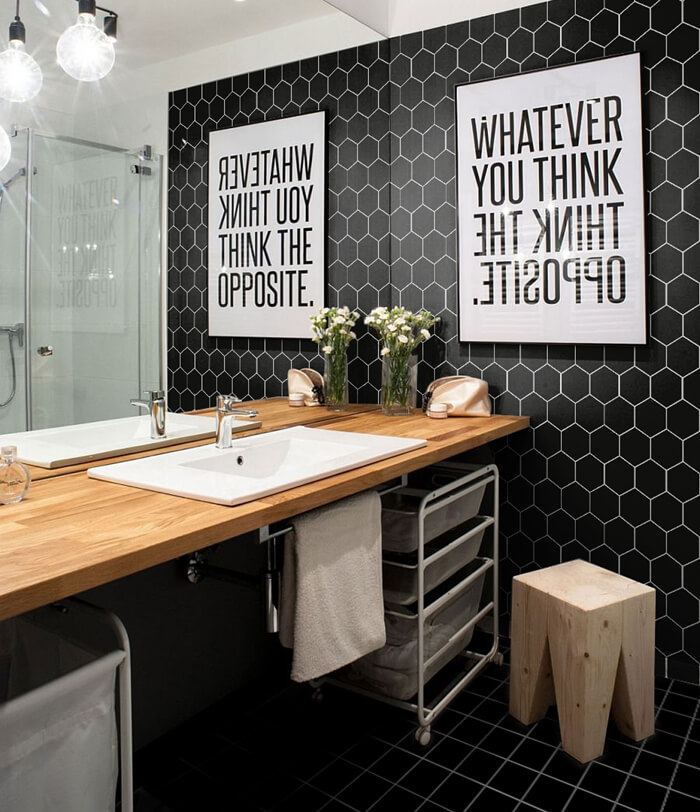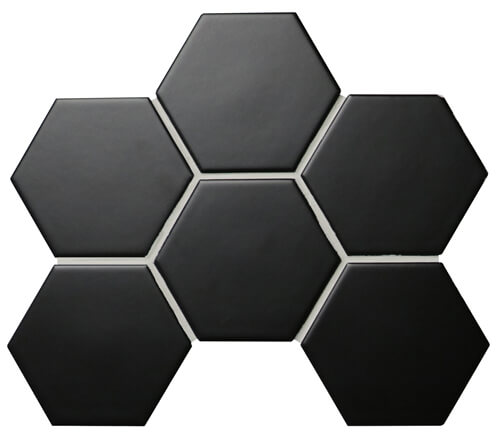 matte black hex tile for wall floor CZM128B
Presume your half-open courtyard is simply decorated and you want it to be full of vitality. Adding pot plants is one of the best way, as shown in the attached design. Yet, it is inadequate and cannot meet your demand. How to make it extraordinary while keeping design style consistently simple on each design element? The attached porcelain flooring design has given you the answer. With the help of grouting white herringbone subway tile black, you can achieve the maximum effect. The basic elements, walls, floor, chairs, cup, desktop are white and the focal part is several green plants.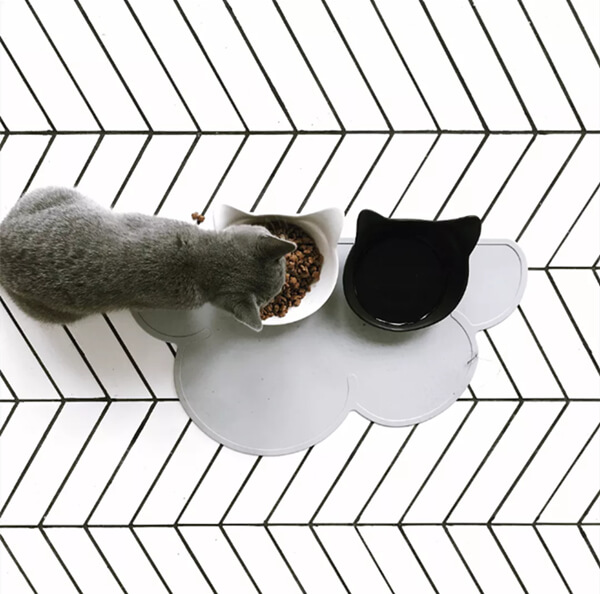 matte white subway tile herringbone CZM242B
Versatile Colors Like Beige & Grey
If you feel you cannot make a decision between the previous two options, going neutral is what you can follow. Choosing neutral colors such as beige and grey is always the safest bet, because they have mass appeal and match with almost any kind of tile. No matter the tile is in lighter or darker shade of color, neutral-colored grouts look harmonious and integrated between the tile gaps, though they may not stand out as much as the previous two choices. What's more, durability is another important factor you should consider. Generally, darker grouts will fade faster than lighter ones, and lighter grouts will be more easier to show dirt and stains. So it depends on what room you are going to use grout in. It is suggested using lighter grouts in tidy rooms such as bedroom while avoiding using them in wet rooms such as kitchen, where oil and sauce stains are inevasible, and bathroom, which is more prone to mildew.

Following are three inspiring examples >>

All the three examples are taking grey grout. It shows syncretic with dark blue, light blue and black tiles. Unlike navy blue, it is in lighter shade of blue. Combined with a specially treated surface, this dark blue mosaic tile shows a touch of grayness. The tile is in grey blue to be precise. No wonder the grey grout is blending into the tile so well. Blue tile often makes people feel it is a swimming pool tile and it is seldom used to interior decorating. Yet, it is partly true. It is an ingenious way and growing trend nowadays to integrate pool mosaic tiles into indoor design.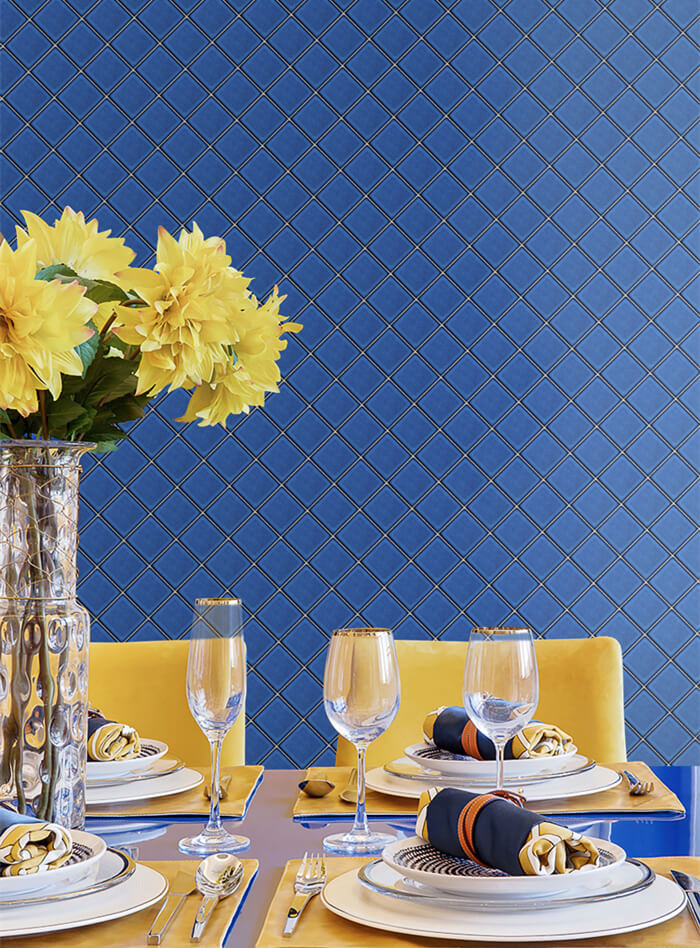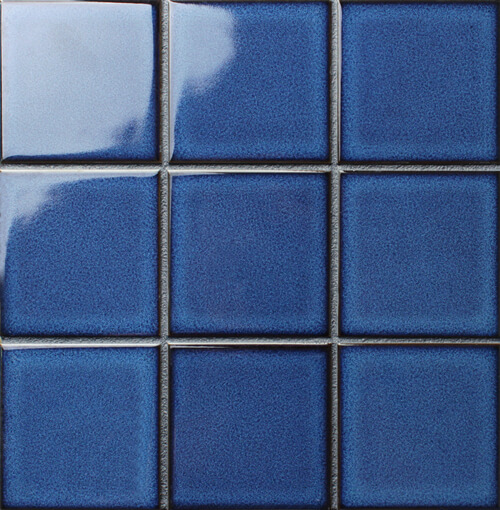 grey touch dark blue mosaic tiles CTO601X
This is a blue mosaic tile as well but in a lighter shade of blue. As you can see, grey grout works well on it too. The attached commercial open kitchen design is showing a creative way to use light blue color on backsplash, and it looks matching to the blue cabinet units.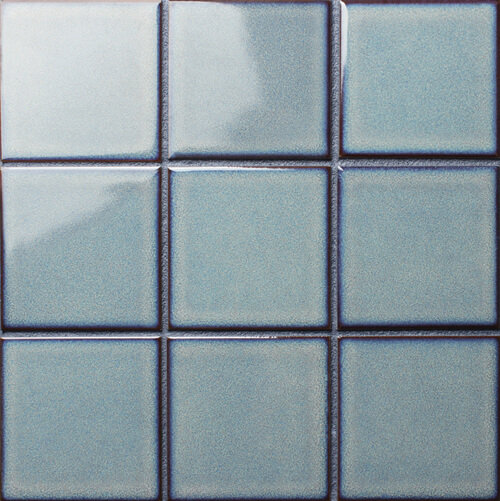 light blue square mosaic tiles CTO901X
Another outstanding example to use unique tiles in commercial design. This time is a flash shaped black 3d tile. See closely you will find it is using grey grout as well. As mentioned previously, black tile and white grout are regarded the best couple to create modern style. Yet, it does not mean grey grout misses the chance. Though the combination of black tile and grey grout shows a less contrasting surface, it does make eyes feel more comfortable.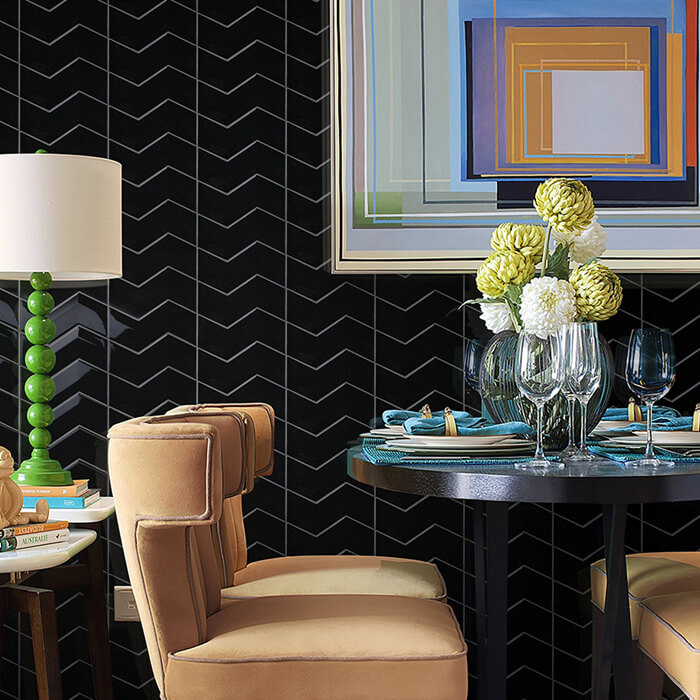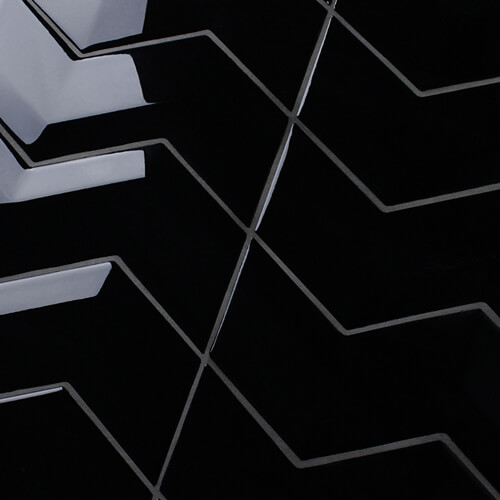 flash shaped black 3d wall tile CZG1104JM
To sum up, the best grout color option will always need to meet your requirement on what the final look of the combination of tile and grout you expect. Write down your needs on our message board now for more detailed tile and grout collocation ideas. You are sure to receive professional advice from MM-Mosaic, a leading floor and wall tile suppliers.