The temperature warming up means the season changing, we are inevitably obsessing with the warm hues. Inversely, while the leaves falling down and the temperature cooing down, we might be attracted to classic cold tones due to the weather changing.
Warm hues are cozy color, which can wake up the feeling of happiness, enthusiasm, and optimism. Compared with warm, as a quiet color, cool tones are known for the feeling of calm. Nevertheless, yellow, pink, red, orange can add an outstanding of color and enthusiasm all the year. Everyone think this particularly true while these warm hues blend with contrasting cool tones.
MM-mosaic provides some blend of colors for your choosing or you can use some furniture with multicolor for a contrasting feeling in your home interior design. No matter what you are working on flooring, cooking behind a backsplash or washing in the bathroom, home space with a cool tones palette can get a bit of warmth from a polychrome mosaic wall. Now we are sharing plenty of combinations of warm hues and cool tones below:
1. Fascinating red demand attention: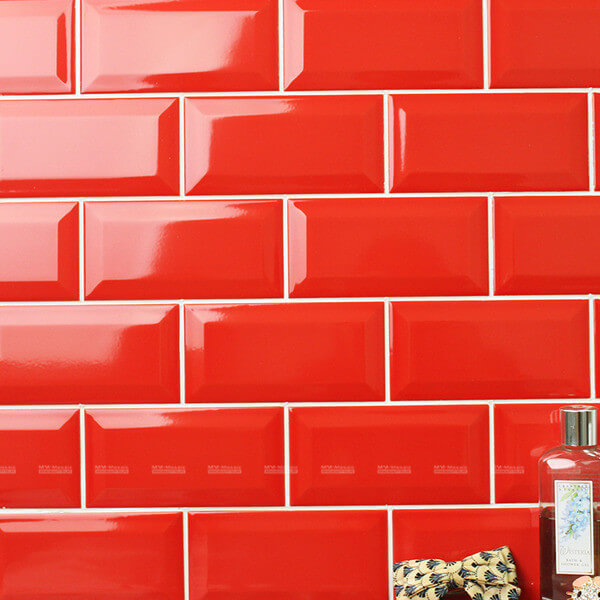 Beveled Glossy Mosaic CZG401MDQ
As a bold and outstanding color, bright red needs to be given more attention, which can bring vitality and inspiration.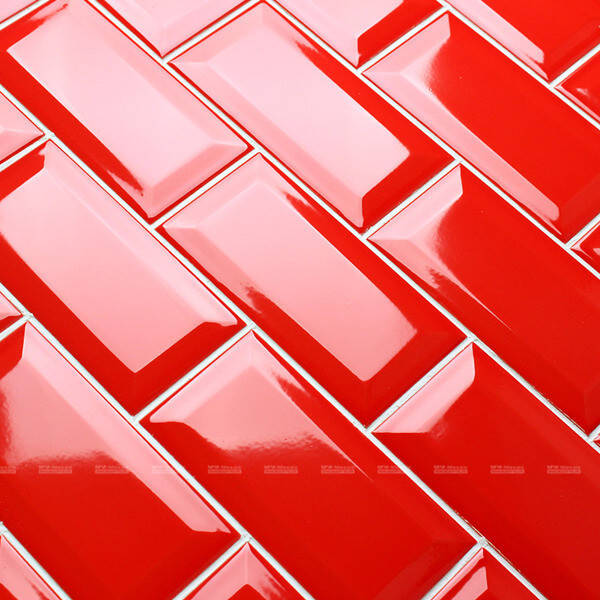 If you are worried red is too eye-catching, pairing it with other cool tones or white material. It keeps making a statement when it softened by cool tones. Many current interior home spaces mix amazing red with natural white to show the finished look a depth that is incomparable. We prefer to show off this bright red palette through a living room mosaic wall, which entering your house in style with subtle variation and rich depth.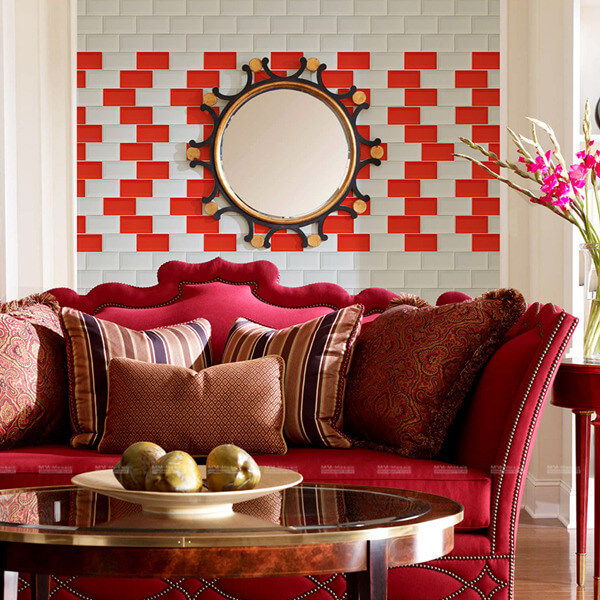 The red may make you feel visiting in Mid-Century room. if you have great interested in this style, here are relevant article: Work Mid-Century-Modern Style Into Your Home>>>
2. Orange make pleasant mood: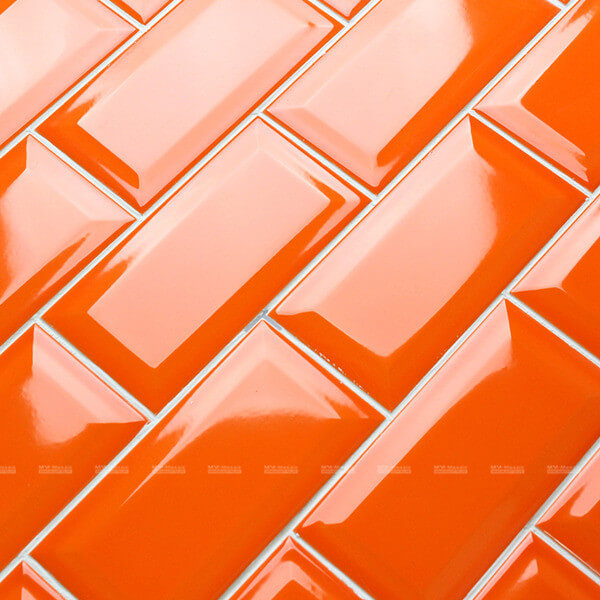 3''x6'' Beveled Glossy Orange Ceramic Wall Tile CZG901MDQ
Filling living room with this orange porcelain subway tile will let Pessimistic mood away from you. Paired with the dark brown wall paint and black bookshelf, orange color can provide the amount of energy without being quiet all the time.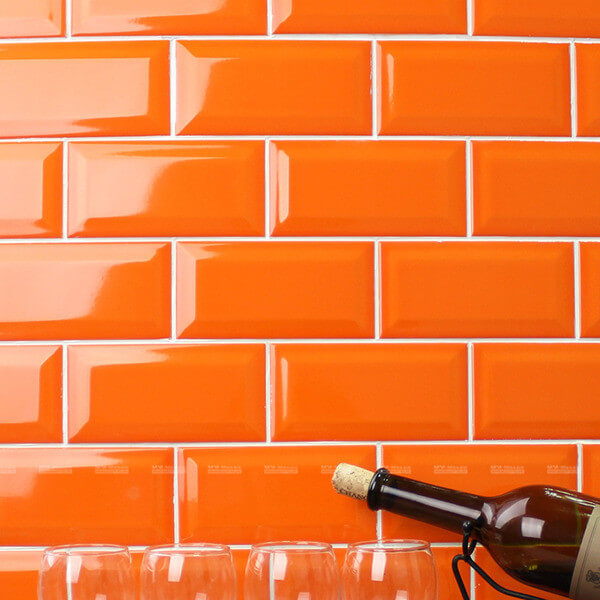 In this design case above adds just the correct about of color without being too much. The dark grey paint wall and black marble, along with the pure white cabinetry all work perfectly together. There is a similar example design to the one above, and you can have a try.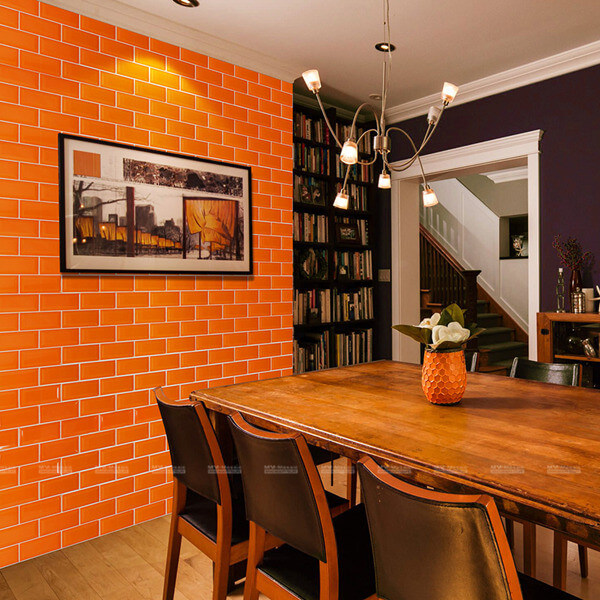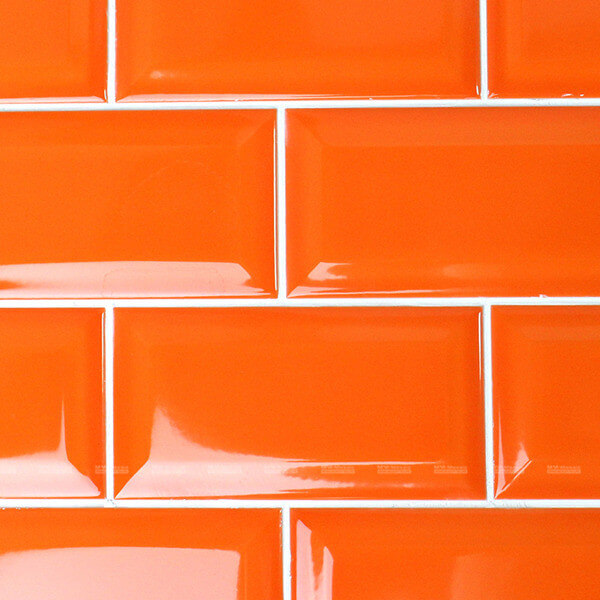 3. Lemon Yellow:
Do you know what color is the most ultimate extrovert color? It's lemon yellow! Lemon yellow is the color of enthusiasm and joyfulness. The idea of this palette is the charming Moroccan style.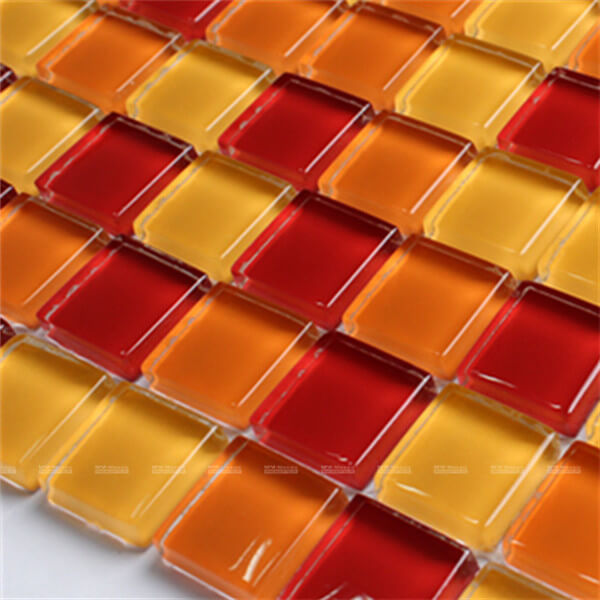 1x1 glass mosaic orange blend RHG005NY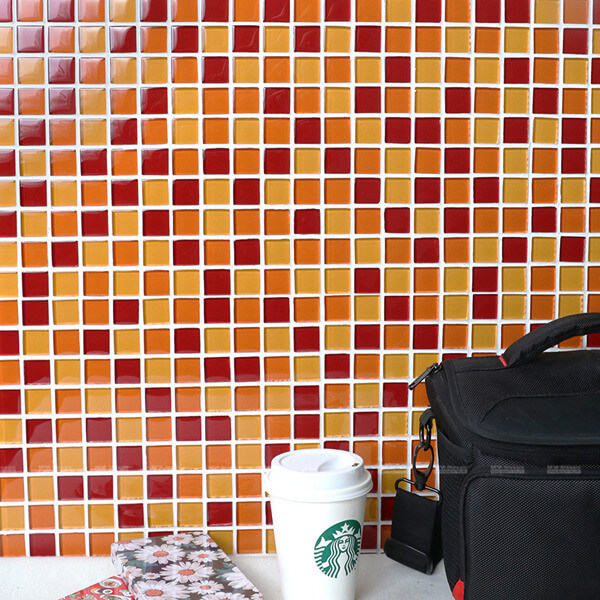 If you are the person who is keen on yellow, the following design may attract you. There is something mixed yellow, orange, red and white natural color together. They have a refreshing and fashion feeling. Our designer loves the randomized color pattern below, the lemon yellow is brought in subtly and combines perfectly with other materials.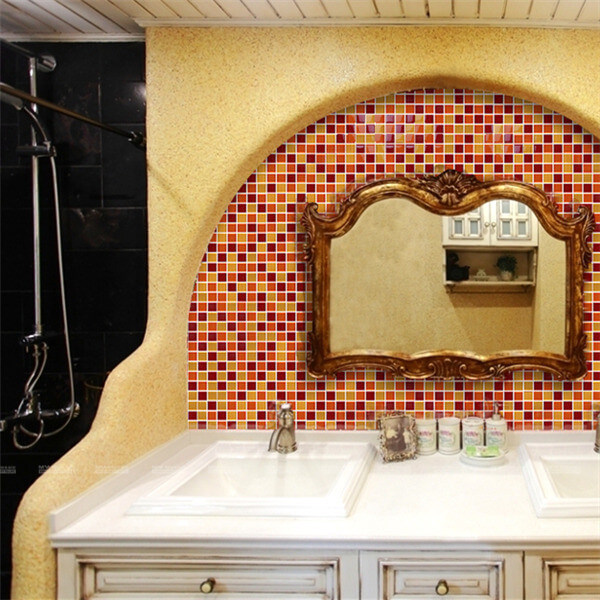 4. Lovable Pink:
Last but certainly not least – the warm hues lovely pink! There is a fact that pink is showing up everywhere in the design community.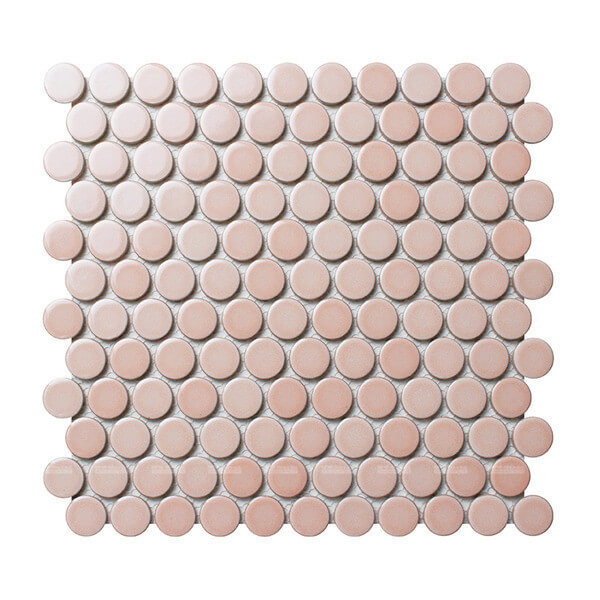 φ28mm Jumbo Penny Round Pink CZO421A
Create a cozy atmosphere with comfortable pink hues like this interior design did with our newest penny mosaic tile. While using a unique warm hues color, for example, pink, you can decorate or rebuild any room of your home. Head for our blog "Style Selection: 28mm Pretty Pink Penny Round Ceramic Tile>>>" to browse different space how to use our pink penny mosaic.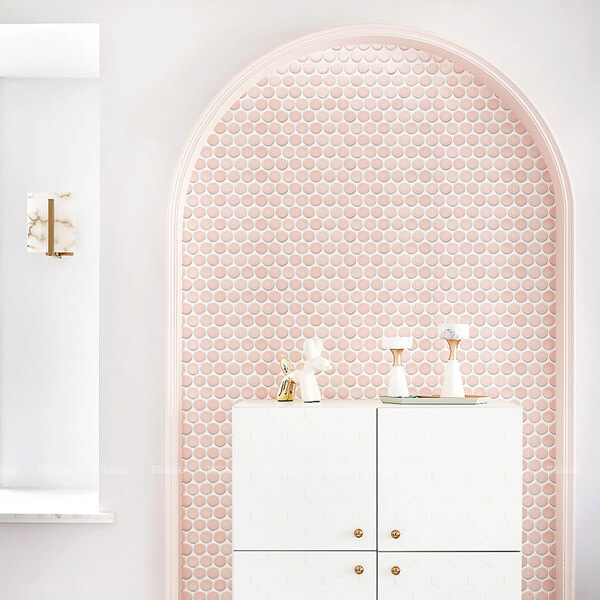 Now, turn your attention to cool tones. What're the cool tones? How to distinguish warm hues and cool tones? Green, Blue, grey, as we know, belong to cool tones. Beautifying home with attractive hues are now on trend. But if you have no idea to put this color to your home space, the following design might give you more inspiration.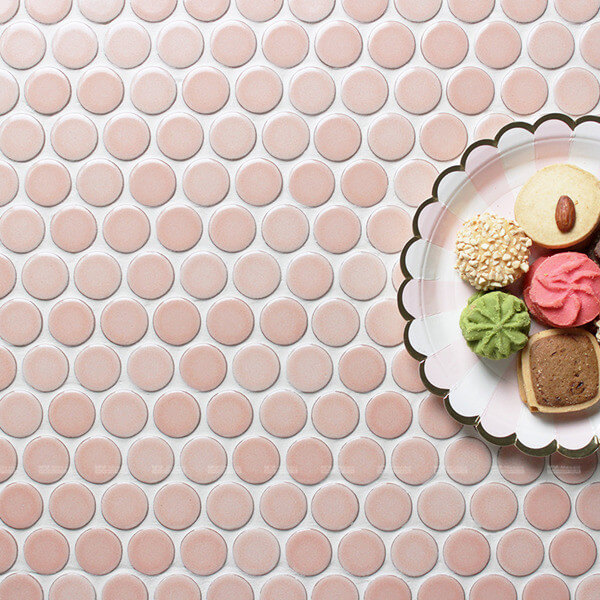 5. Fresh Light Green: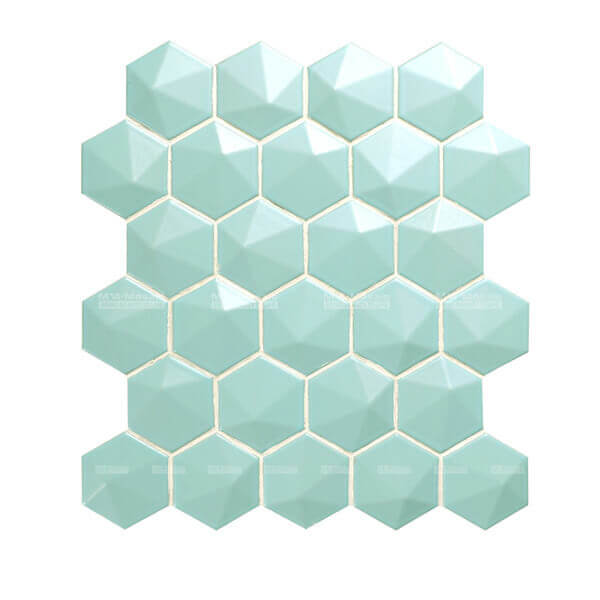 small hexagon porcelain mosaic tile CZM711D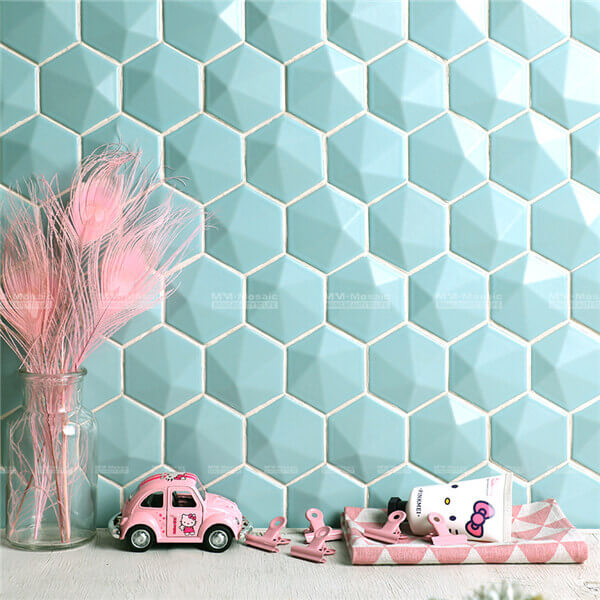 As an amazing color, light green is versatile enough to pair with color palettes that range from cool to warm.
Bailey, one of our customer, wants a fresh look for her new home. Therefore, we use the green hexagon tile incorporates into everywhere of her house.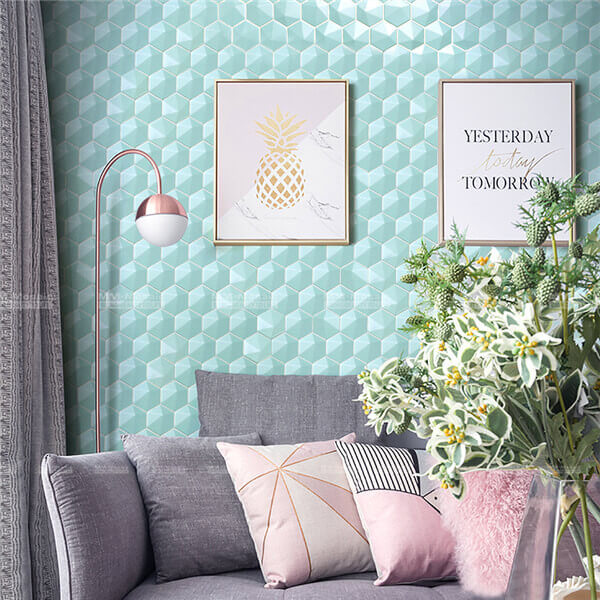 When choosing a mosaic color, you needn't be afraid to make a statement. Just like Bailey's living room: metal floor lamp, grey linen sofa with pink bolster and grey linen curtain, which put you in a boring grey room. But we choose the small 3D hexagon porcelain mosaic tile to fill with her living room back wall, which makes your eyes light up.
We not only use this color in the living room but also put it into the bathroom. The design inspiration of the bathroom going with fresh light green as the below image done: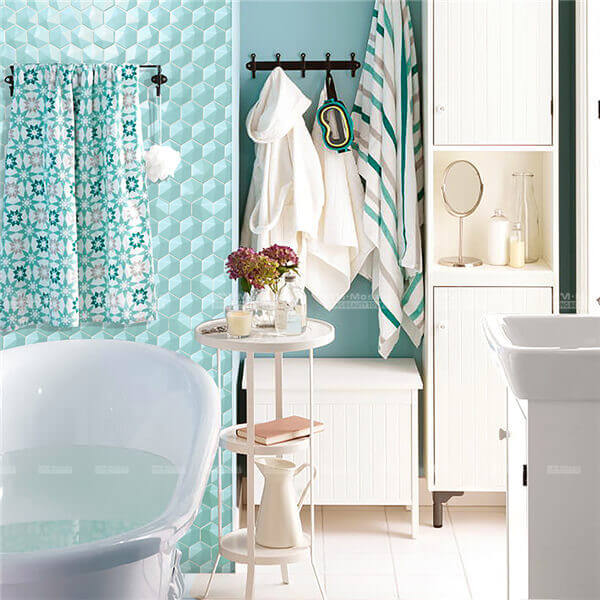 6. Modern Blue Decor Kitchen: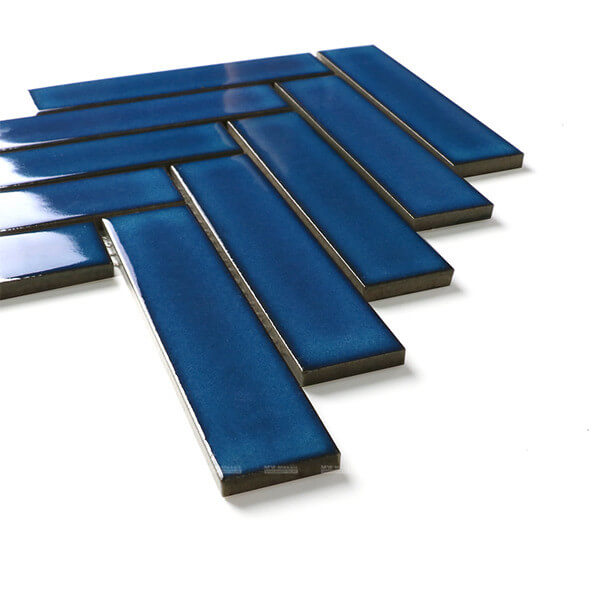 crystal glazed strip herringbone porcelain mosaic CZG601B
There is a favorite decor trend with real staying power. Here is an example for your reference. The blue herringbone mosaic against the natural white cabinetry, which makes your eyes on more wonderful blue cooking spaces.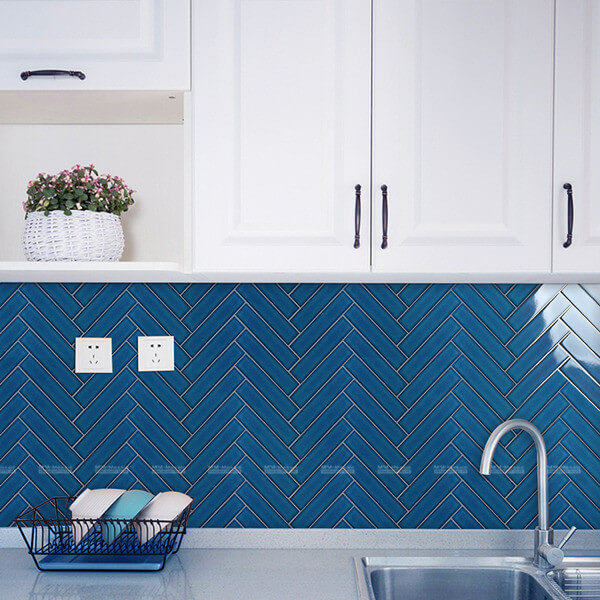 7. Classic Grey:
light grey single crack fish scale porcelain mosaic CZB319X
A cool shade of pale grey fish scale mosaic and lively warm hues of pink paint wall are dominant colors illuminating this living room. The blue ceiling lamp and the brown floor combine with this wall, which adds to the cooling mix of cozy color.
Color is powerful. It's positive, optimistic and funny. Do you like any of the above inspiration? Or you have personal interior home design ideas? Or you want to order some samples? Please contact us immediately!
MM-mosaic, as an experienced wholesale mosaic manufacturer, can provide more interior design ideas and high-end products for everyone who cooperate with us.