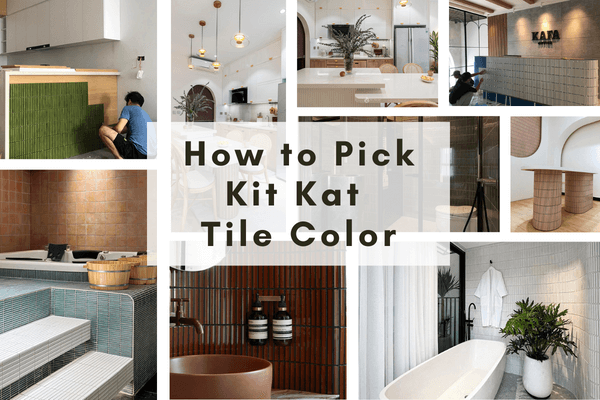 Interior design is all about creating a space that is visually appealing, functional, and comfortable. And one of the essential aspects of interior design is the use of tiles. Tiles not only add texture, color, and depth to a space but also help to define different areas and create a sense of continuity. One of the most popular tiles that have become a favorite among interior designers is the Kit Kat tile. The Kit Kat tile, with its sleek, rectangular shape, is versatile and can be used to create a wide range of designs. In this article, we will explore 10 different styles of Kit Kat Tiles and the spaces they are best suited for.
#1 Pure White Simple Style
White Kit Kat tiles are perfect for creating a clean, minimalist look. They are best suited for spaces that need a bright, airy feel, such as kitchen backsplash, bathroom walls, or shower walls. The white tiles can also be used to create a stunning entrance foyer, which can make a small space feel bigger.
Whether you tile a partial or full wall, pick a color that will make it a statement! White kit kat tile stands on its own, no need to sugarcoat this shape with an elaborate design. Let the wall pop even more by balancing the rest of the interior with light neutrals.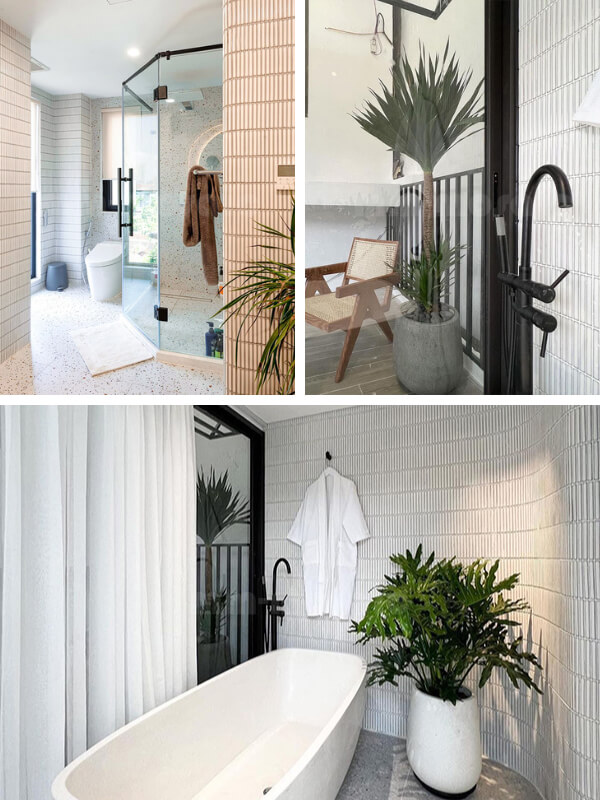 Featured Product: 12x92mm Ceramic Glazed White Kit Kat Tile CZO251A
Using white Kit Kat tiles as a backsplash in your kitchen has several benefits. Firstly, the small size of the tiles means that they can be easily cut to fit around outlets and other obstacles, making installation a breeze. Secondly, the stacked pattern creates a uniform look that is both minimalist and eye-catching. And finally, the glossy finish of the tiles reflects light, making the space feel larger and more open. If you're looking for a stylish and practical backsplash option for your kitchen, consider using white Kit Kat tiles. They are a versatile choice that can work with a range of design styles, from modern to traditional, and are sure to add a touch of sophistication to your space.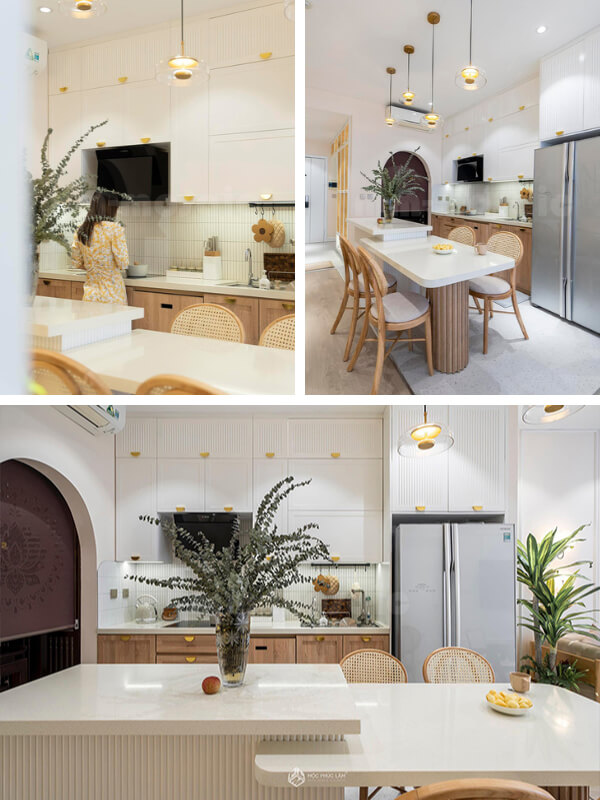 Featured Product: 22x145mm Ceramic Matte White Kit Kat Tile CZM246D
#2 Dot White Add Fun
The difference between the dot white and pure white Kit Kat tiles is in their color tone. The dot white kit kat tile has a slight black dot on the tile finish while the pure white tile has a neutral surface without any added dots. The dot-white Kit Kat tile is a fantastic choice for the company's front desk island and wall project. This kit kat tile boasts a sleek, modern design that is perfect for creating a modern and simple look. The subtle speckles of dot white add texture and depth to the tile, making it an eye-catching feature that will impress anyone who walks through the door. Additionally, the durability of this tile makes it an excellent choice for high-traffic areas like the front desk. Its durable surface ensures that it can withstand the wear and tear of daily use and maintain its beautiful appearance for years to come. Overall, the dot-white Kit Kat tile is a stylish and practical choice for any space looking to create a welcoming and impressive front desk area.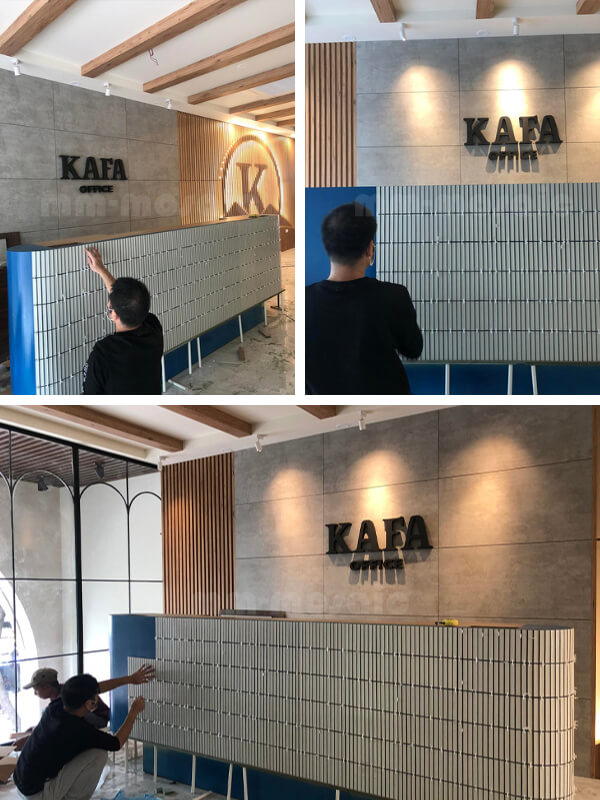 Featured Product: 20x145mm Ceramic White Kit Kat Tile With Subtle Black Dot
#3 Dark Green & Sauna Spa
Dark green Kit Kat tiles are a great choice for a sauna project, as they add a touch of natural elegance to the space. They can be used on both the walls and the stair treads, creating a cohesive look throughout the sauna. The dark green glaze color of the kit kat tiles is a calming and relaxing hue, perfect for creating a spa-like atmosphere in the sauna. The Kit Kat shape of the tiles adds a unique and modern touch to the design, while still maintaining a sense of classic elegance. Using these tiles on the walls of the sauna can create a striking statement, while also providing a practical surface that is easy to clean and maintain in the hot and humid conditions of a sauna.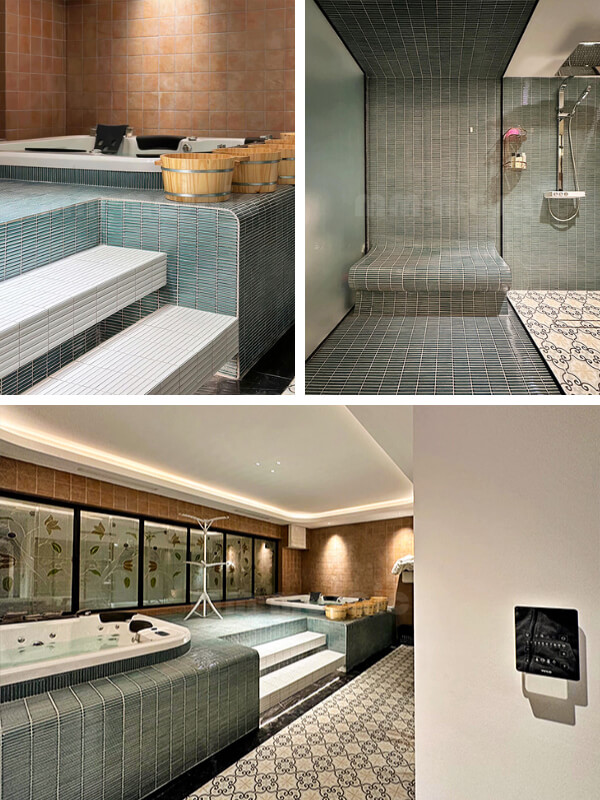 Featured Product: 12x92mm Ceramic Glazed Dark Green Kit Kat Tile CZO949A
#4 Emerald Green Tone Island
The Emerald Green Kit Kat tile is a stunning choice for decorating island walls. Its vibrant green hue creates a bold and modern look, while the Kit Kat shape adds a playful touch to any space. This kit kat tile is perfect for adding a pop of color and texture to your kitchen or bathroom, and its glossy finish gives it a natural feel. Whether you're looking to create a statement wall or add a touch of personality to your island, the emerald green Kit Kat tile is sure to impress. Its versatile design pairs well with a variety of decor styles, making it a timeless choice for any home.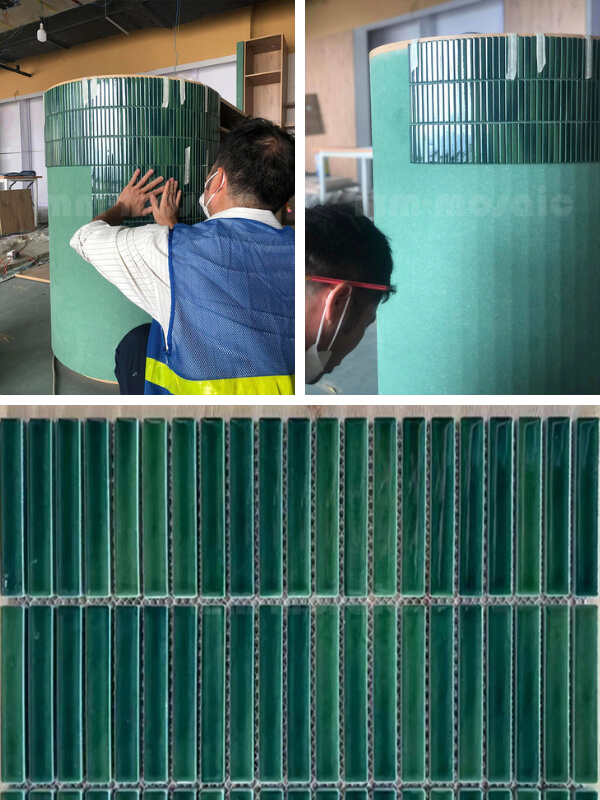 Featured Product: 12x92mm Ceramic Glazed Emerald Green Kit Kat Tile
#5 Kit Kat Tile Island
A tiled kitchen island is the best place to experiment with aqua-green kit kat tile because it allows you to play with other colors in your design. In this chic kitchen, our unique green glaze is filled with personality and character. Using high variation, some pieces are more opaque, while others show the detail of brushstrokes through a thinner application. This glossy and perfectly varied glaze creates a one-of-a-kind look that's the perfect option to complete this happy space.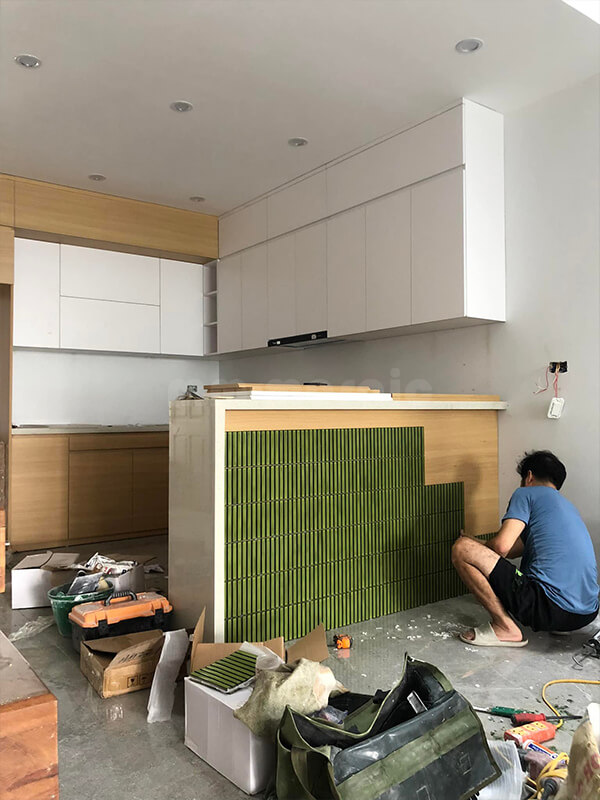 Featured Product: 20x145mm Ceramic Grass Green Kit Kat Tile
#6 Dreamy Pink Wedding Shop
We figured that the dreamy sweet glaze is ideal for a romantic wedding shop. We love styling sweet kit kat in front of this jaw-dropping tile color. This beautiful color will uplift your shop creating a modern and fun space to enjoy your wedding dress. Adding a statement wall is a beautiful way to personalize a space. Using a unique color like this is sure to make anyone who wants to enter the space.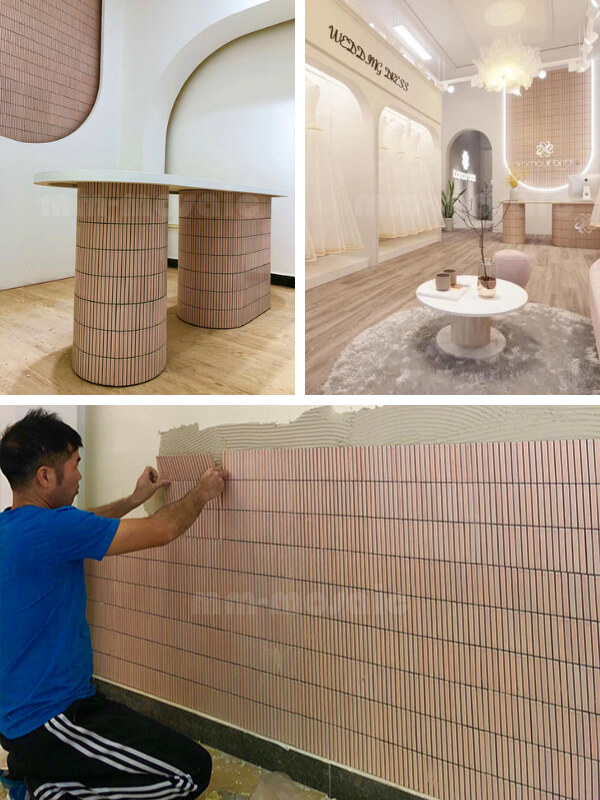 Featured Product: 12x92mm Ceramic Glazed Pink Kit Kat Tile CZO425A
#7 Go Bold with Retro Red
We're known for our bold kit kat tile options, and we wouldn't have it any other way. Since the inception of the mm-mosaic factory, our handmade ceramic tile has always been about expressing yourself and your personality through the tile. What better way to do that than with a color that is as fun as you are? Bathrooms are important rooms in the house, so add a festive touch to them as well! This unique bathroom reminds us of Christmas Eve when everything is the poinsettia.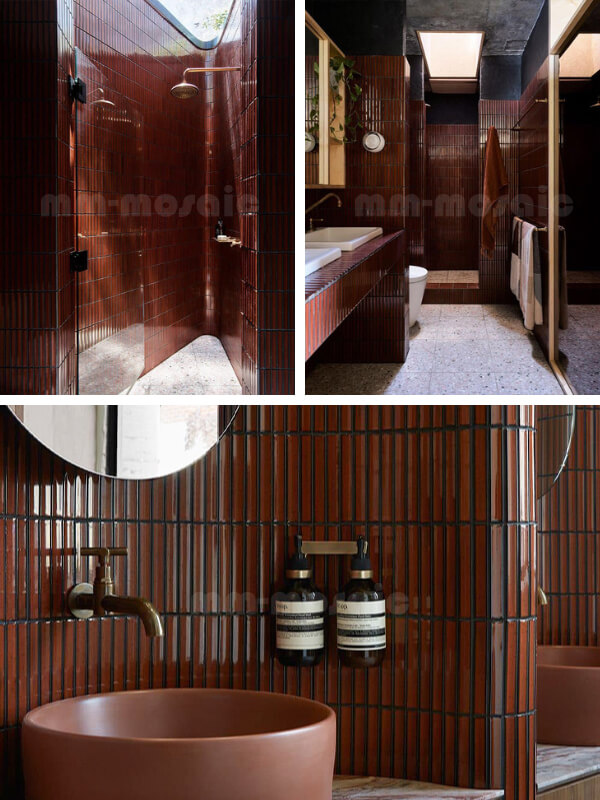 Featured Product: 20x145mm Ceramic Red Kit Kat Tile CZO401Z
#8 Dark Gray & Cool Hue
We love getting cozy during the cold winter months, so why not bring that same feeling to your shower? This cool-toned shower is one of our favorites because of how the dark grey kit kat tile wraps around the whole bathroom. Pairing a darker, gray colored kit kat tile with subtle black dots, creates a cozy and personality-filled space that is perfect for all things bathing and relaxing.
Featured Product: 20x145mm Ceramic Dark Gray Kit Kat Tile CZO302Z
#9 Kiln Brown Decor Whole Wall
Want to keep a retro vibe all year around? Then earth tones are the ones for you! This beautiful kiln warns brown wall decor is the perfect backdrop. One of the best parts of warm hues is the ability to bring a space to life and put your own green thumb personality into it. We mean, look how vibrant yet simple this space is! By adding them as your stairs backsplash, everything comes together in the perfect way.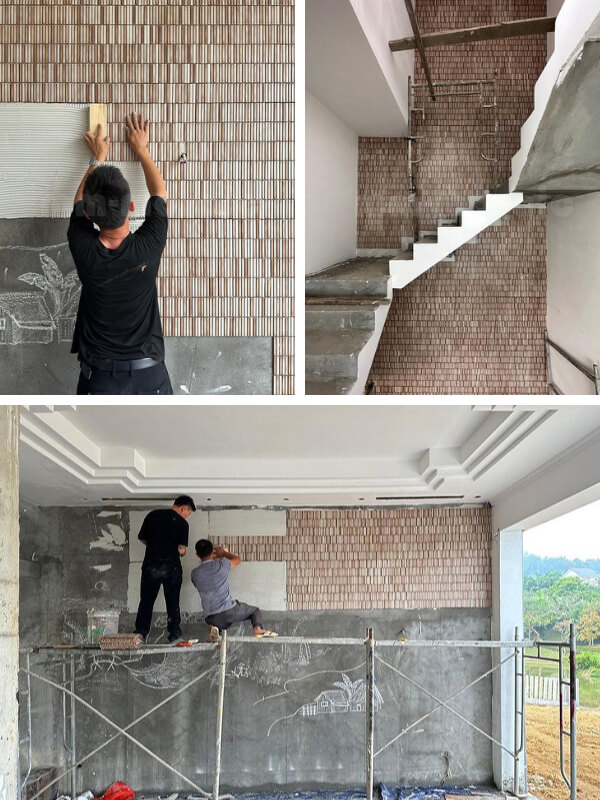 Featured Product: 12x92mm Ceramic Glazed Antique Color Kit Kat Tile ZMH3904
#10 Mysterious Blue
Color makes such a big impact in kitchen backsplash design, so it's important to make sure you choose one that you absolutely love. Kiln blue is a mysterious and tranquil color, and this appealing backsplash uses it beautifully! The high variation kitchen tiles add a gorgeous gloss and depth to the space while complimenting all the other elements. From the natural wood cabinet to the pop of kiln dark blue tones, this backsplash is truly a showstopper!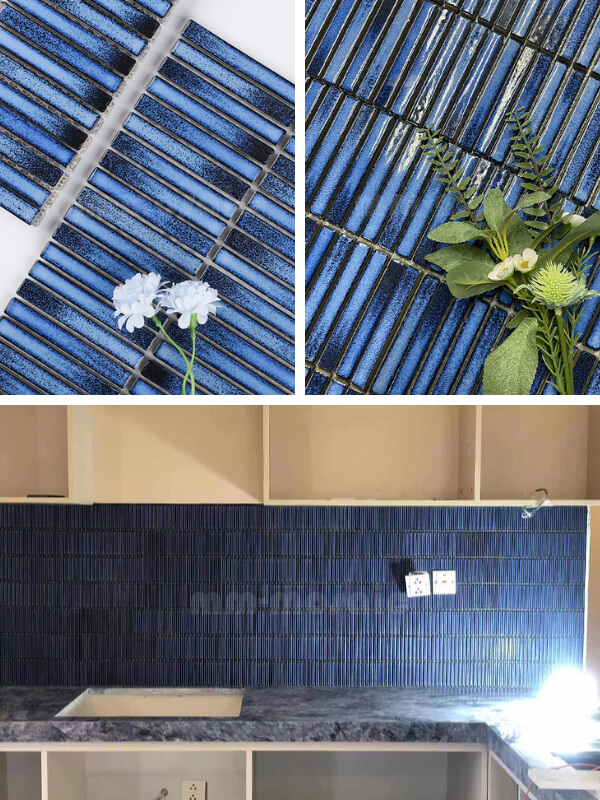 Featured Product: 12x92mm Ceramic Glazed Kiln Blue Kit Kat Tile CZO649A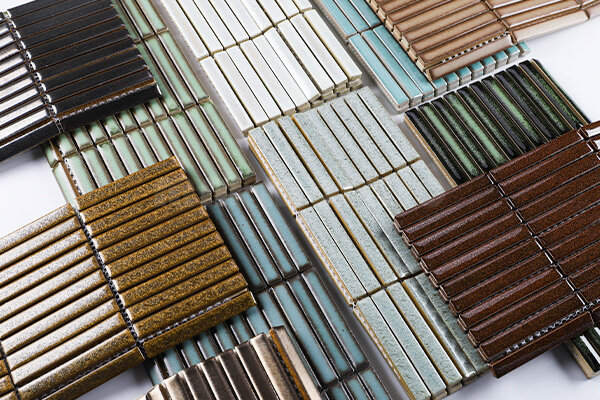 Get Inspired?
As a professional supplier of Kit Kat Tiles, MM-Mosaic is dedicated to providing the highest quality products to our clients. We believe that our tiles can transform any space into a work of art, adding warmth, beauty, and sophistication to any room. If you are feeling inspired by the beauty and versatility of Kit Kat Tiles, we invite you to reach out to us and start your tile journey today. Whether you are a homeowner, interior designer, or contractor, we are here to help you find the perfect tiles to bring your vision to life. So don't hesitate, to contact us now to learn more about our products and services. Let's create something beautiful together!