Although widely seen on walls, backsplashes and countertops, mosaic glass tiles on floor can elevate a room to another level, brightening it up with ample gloss. With elegant and exquisite glass mosaic tiles decorated, any living places especially shower/bathroom will shine on its own way. Why wet room is the best setting for this luminous mosaic tile? This is because glass mosaic tiles have a strict limit on maintenance – they are improper to be used in high traffic areas, and can be a costly option when subject to installation. Mosaic glass tile flooring does not fit for every application, particularly those that need a large-area paving, so it is important to understand pros and cons of the material before you make a decision.
Mosaic glass tiles come in actually any size and are often to be made in the shape of small square and rectangle. Yet, they are available in more size and shape choices. There are fan shaped/fish scale glass mosaic tile, long strip shaped, irregular of free matching, etc. Some mosaic tile companies also launch out new collection that is creatively designed, combining glass with other types of material, such as ceramic, stone and shell, digging out the most beauty of colors, patterns and textures.
Below glass stone ceramic mosaic tile in elegant Moroccan fan shaped design is a prominent example of producing the best visual effect in the mixture of three different materials. Different types of tiles are arranged in a specific order and this combination provides an uneven surface, which is slip resistant, and this is the main reason why it can be applied on the ground where bathtub sits and from which people will step out all in wet.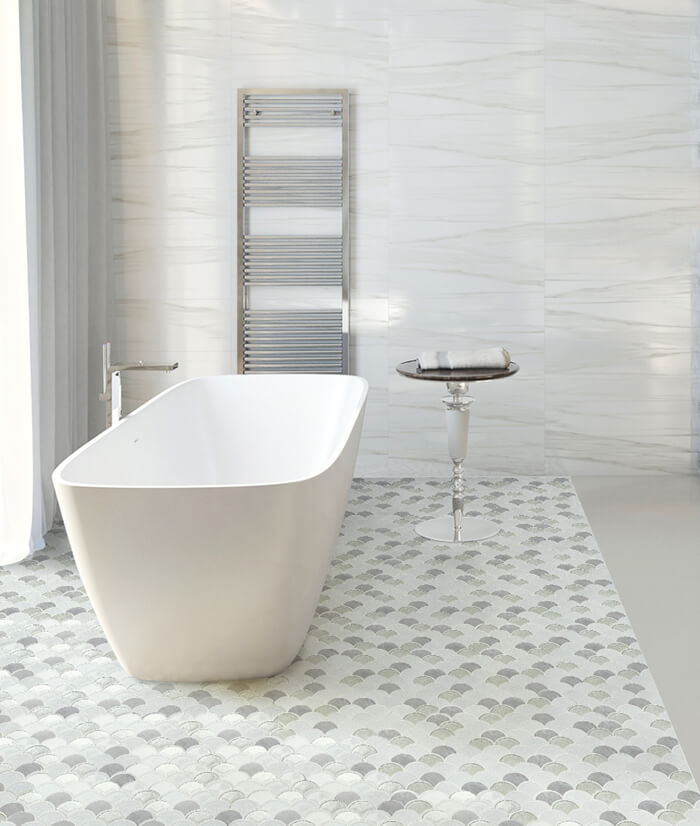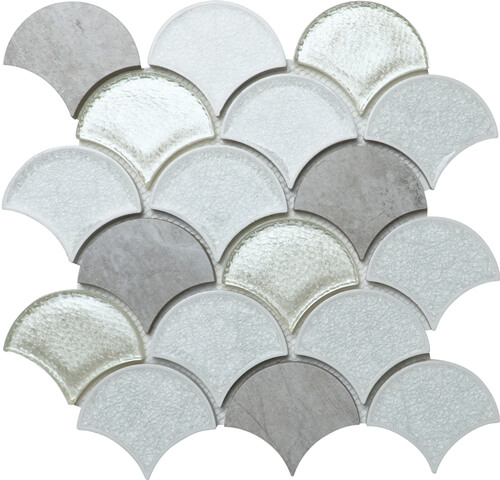 ceramic glass stone mosaic tile HZH046OYG
Advantages of Mosaic Glass Tile Floor
1. Graceful Design: Probably the biggest benefit of using glass mosaic tile on floor is the ornament that can be accomplished with a simple installation. Generally, there are two types – the pure colored and the multicolored. Pure colored glass tiles are often subway tiles, square tiles, etc; multicolored glass tiles are taking simple or intricate patterns and shapes are various. Some mosaic companies will supply dazzling repeating patterns, which are special for feature walls.
2. Sheen Look: Glass tiles have a reflective surface. It is one of the apparent characteristics of glass tiles. This further decides that they can reflect light rather than absorb it. No matter in ambient or artificial light, glass mosaic tile chips glow with a glittering luster that you cannot find in any other flooring material.
3. Wear Resistance: Eligible glass mosaic tiles for floor should pass the standard to be approved as flooring material. What's more, they should be durable and wear resistant. As flooring material, they should show the capability of bearing high pressure. Glass mosaic floor tiles for bathroom also should meet the requirement of moisture proof. That means you should choose glass mosaic floor tiles that are at low absorption rate for your bathroom.
4. Easy To Clean: Glass tiles are resistant to stains, mold and mildew. They tend to show dirt very easily so you will always know when it is time to clean. They are resistant to chemical damage and they are not porous, so you do not have to worry about stains sinking into the tile. They are also very easy to clean and can be wiped down with a damp cloth or mopped up with warm water.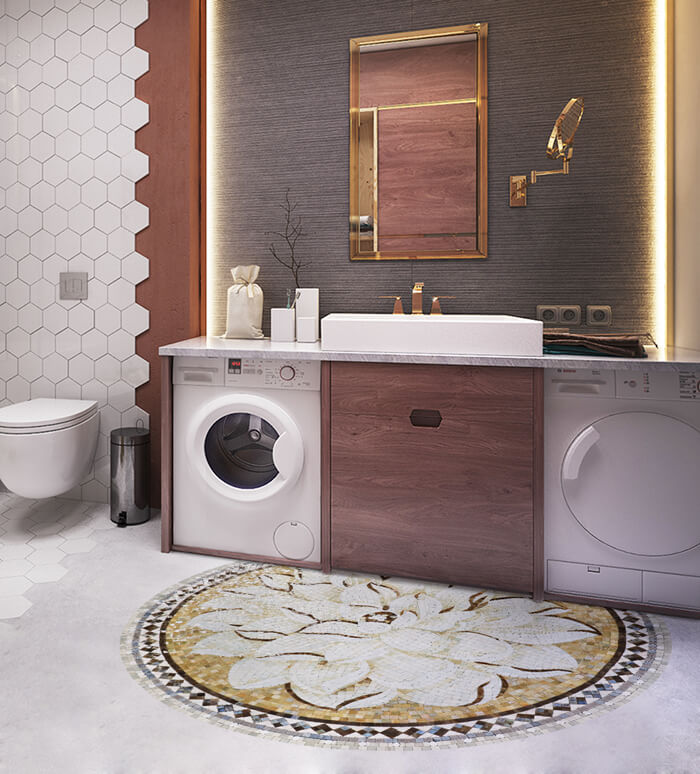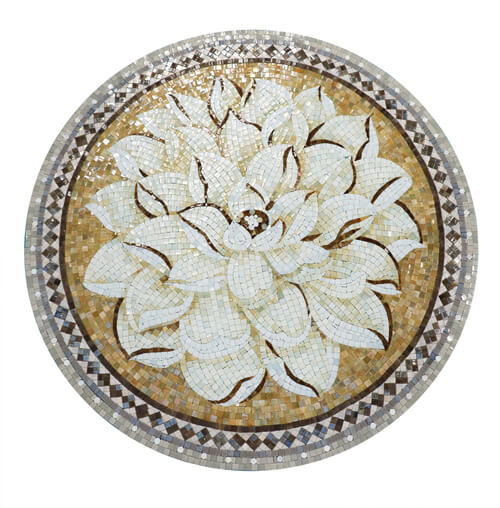 mosaic glass tile floor art for shower KZ016MY
Disadvantages of Mosaic Glass Tile For Floor
1. High Price: The biggest reason why most people do not choose mosaic glass tile for floor is the price. You may find a square meter of common glass mosaic tiles can be priced up to 30-40 dollars. Blended materials such as marble, porcelain, shell and metal even cost higher. The price also depends on how complicated the tile design is.
2. High Installation Fee: Often, mosaics are more difficult to install than tiles, since the sizes are small and many chips for many intricate grout gaps. Installing ceramic/porcelain or stone mosaic tiles prove to be a hard work, and the difficulty of installing glass mosaic tiles is even further intensified. If you are not skillful, adhesive will show and affect the finished look of the tiled floor. Because of the expertise glass mosaic tile installation needs, it is better to hire professional tilers, who should be experienced dealing with glass mosaics. Sometimes the installation fee you pay might be higher than the glass mosaic tiles cost.
3. Frangibility: Though mosaic glass tiles are durable, they are fragile. They cannot resist a short hard hit. In this occasion, they will break and bring tiny sharp fragments that can harm your body especially when you are walking on the floor with bare feet in shower. Once the glass mosaic floor is broken, it needs quick repair and that might be quite expensive because you are likely to have it replaced entirely.
4. Slippery: Though textured surface can be applied to glass tiles and grout lines can create anti slip texture too, glass is still relatively smooth as flooring. You should be cautious about that before you decide to choose it for shower flooring. Ask advice from local tile store and follow their tips to choose the best glass tile for floor if you insist and love it very much.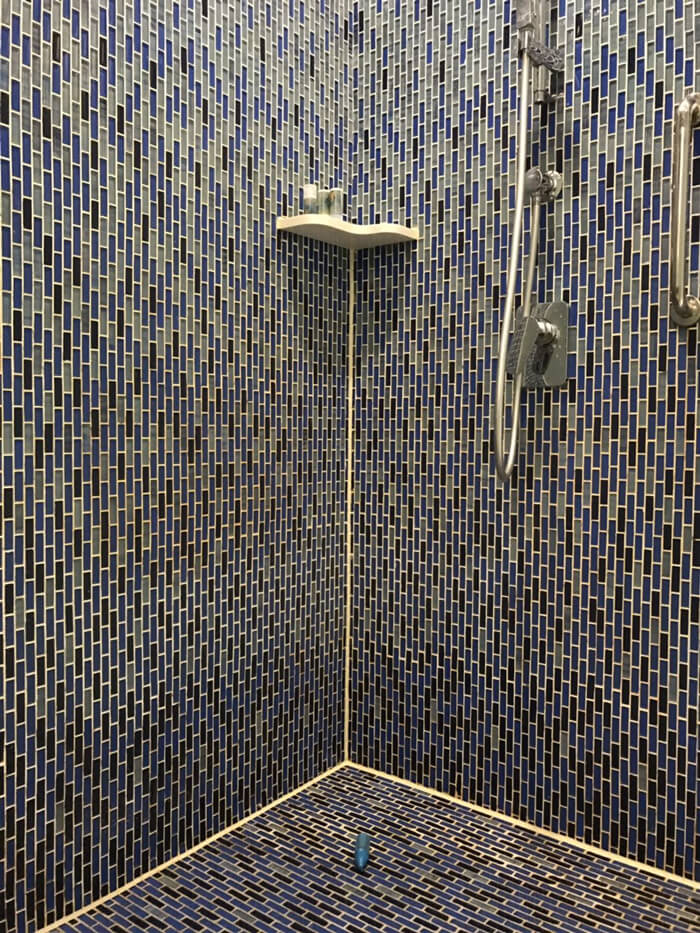 Glass mosaic tile is expensive to buy, hard to install and difficult to maintenance. However, it has its own irresistible charm when to be used as floor paving. If you really love it and have made a firm decision, welcome to CONTACT MM-Mosaic. We have plenty of glass mosaic tiles that can be used as flooring with beautiful designs. Visit our website https://www.mm-mosaic.com/ TODAY and leave us message for a free quote. Here you can get multiple factory price mosaic glass tiles.