Many people would choose mosaic tiles for their bathrooms both on walls and floors. This shows that mosaic tiles have outstanding benefits in terms of durability, versatility and flexibility. Bathrooms that are decorated with mosaic tiles are by no means second-rate, as they come in a great range of colors and patterns that are filled with artistic value. By using them in your bathroom ingeniously, you can customize whatever atmospheres you want – romantic, relaxing, interesting, etc. Follow MM-Mosaic to know more about bathroom mosaic tiles in this article.
Here are some advantages to install mosaic tile in bathroom:
1. Mosaic tiles can be fixed quickly on walls and floors because of the attached mesh. One mosaic tile sheet takes up about six subway tiles of standard size, which means a more time saving way for tiling.
2. Mosaic tiles are usually a combination of many small chips so that there is much room for grout. Grout color can affect the appearance of mosaic tile and make it lighter or darker in color shade. Also, the grout gap of mosaic tile is denser than tile. Believe it or not, they are highly suitable for shower flooring where needs slip resistance much.
3. Mosaic tiles are easy on the pocket. They have many kinds and tile companies launch out new collections continuously. The competition of mosaic tile market is keen so you don't worry the prices. They are wallet-friendly and available. You can find them easily in local building material stores.
4. Mosaic tiles allow you to create style of your own in the bathroom. You can freely add mosaic tiles to whichever place you want, mirror surrounding, basin background, shower cabinet flooring, etc. Whether adding or remodeling your bathroom by using such mosaic tiles to create personalized patterns can certainly provide the much needed sense of chic and taste.
5. If you desire mosaic tile for anti slip flooring, then penny round and any other tiny mosaic tiles are great to achieve your goal. By using them, the chance of slipping down and getting hurt is reduced. Everyone wants their homes free from safety problems and accidents. We should focus on the details and take any little tiny thing into consideration.
Following are some outstanding bathroom designs that have used mosaic tile:
As a bathroom, it is a place where people relax and refresh after a daylong work so it is supposed to be peaceful and comfortable. That decides the color of the tile we choose should not be too dazzling, otherwise it will steal the show and the balance of the bathroom design will be ruined. Marble look porcelain mosaic tile is one of the popular bathroom mosaic tiles that have mild color and natural pattern so many people would like to use it for backsplash decoration. Mild colors such as white and gray are great to create a neat and tranquil bathing area.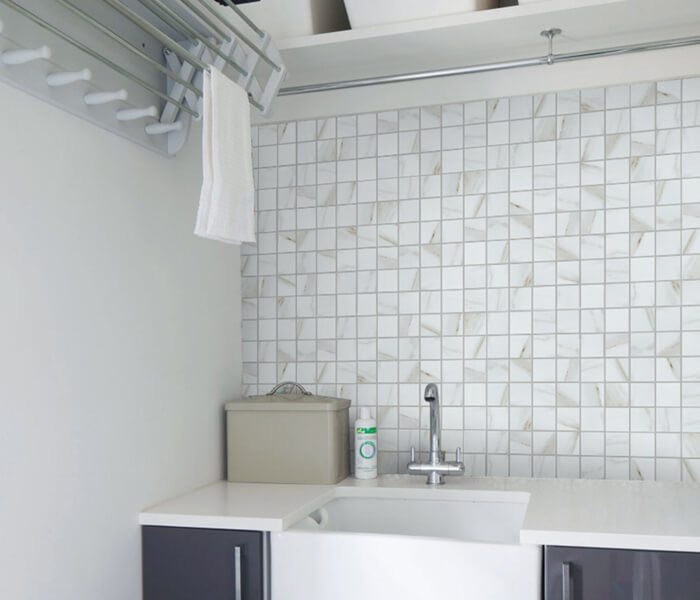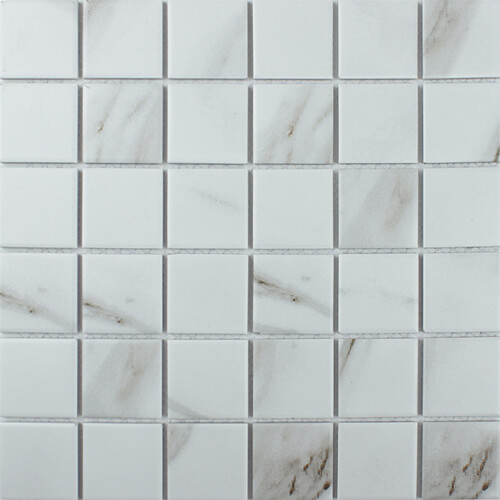 2 inch calacatta porcelain mosaic tile CKM937Y

Instead of using classic square mosaic tile, white herringbone mosaic tile can the bathroom wall more interesting. If you think glossy surface is too glaring, then choose matte surface. It can absorb a portion of light and weaken the irritation to your eyes. Herringbone design is original from fish bone, which is found artistic in tile design. Bathroom that uses this tile will get an ambiance of elegance and delicacy. As the attached picture shows, the bathroom owner uses larger marble tiles and fish bone mosaic tiles, which look quite matching and harmonious. If you also want such a clean bathroom, these two tiles are your best choices.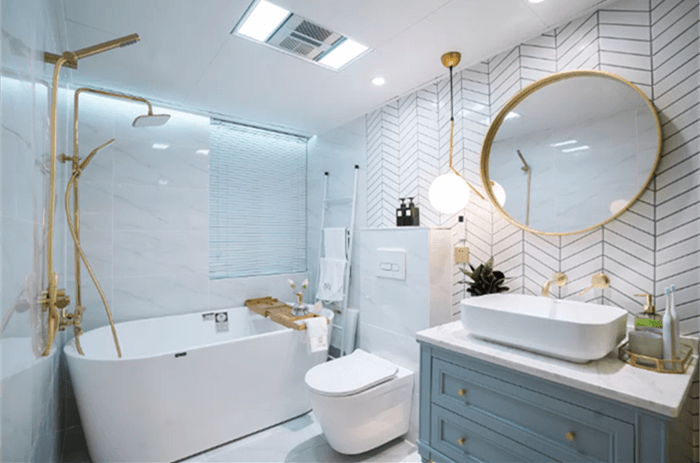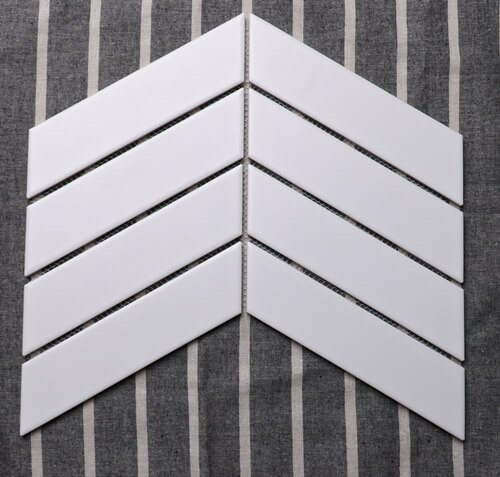 pure matte white herringbone mosaic tile CZM242B

Particular colors sometimes can make a difference on your bathroom. Have you ever thought of installing a mosaic backsplash? It is a solid wall that is both decorative and functional. On one hand, it adds beauty to your bathroom and can enhance it into another level. On the other, backsplash can help separate the room and make it more tidy. In this way, you can make the most of the space and keep its artistic value. The attached picture is a splendid example of using mosaic backsplash in bathroom. As you can see, it is a nature-themed bathroom. Many design elements are green or related to nature, such as the plain cement paving tile, the pebble pathway and the randomly scattered plants. Bathing in this bathroom, you will enjoy in the natural mood and have a pleasing relaxation.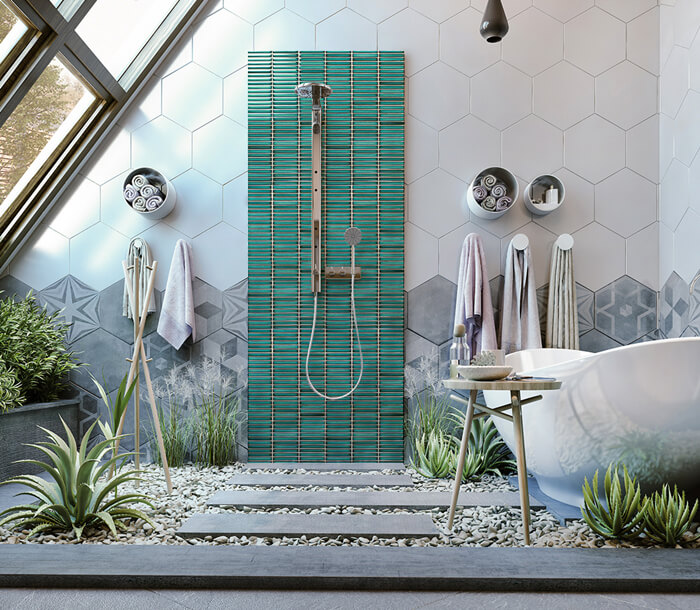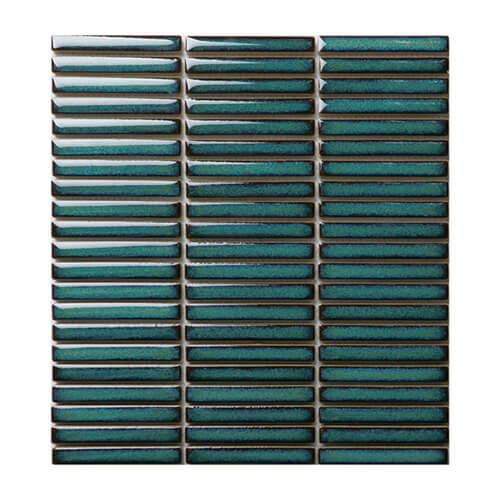 turquoise green decorative tile strips mosaic CZO949A

By reading this passage, you may have known that how important to use mosaic tile for decoration in the bathroom. Visit MM-Mosaic, a premium mosaic tile company, to get more tips about how to choose the best suitable tile that can add art decor feel to your house. Sample available here.