Mosaic tiles are commonly used in kitchen backsplash and interspersed in the places where designers want to create a focal part on walls. Yet, new trend shows installing mosaic tiles on floors instead of on walls is becoming predominant. Just think about where to decorate with rug patterns you will know where to use mosaic tile floor. Popular places like entrance and hallway are some good choices. Are you excited and can't wait to take a try in your own house? Then follow MM-Mosaic and we will show you 4 great examples for warm-up inspirations.
Generally, many home owners use wood tiles, cement tiles or marble tiles on their flooring. In fact, these tiles have been abused in today's home decorating as people tend to choose the safest flooring solution. If you really want to step away from mediocrity, then you can try mosaic floor tiles that are showy and artistic. Actually, mosaic tiles are usually used in commercial properties such as fashion shop, restaurant, hotel and jewelry store where need to enlarging eye-catching visual effect as much as possible. It's no wonder you might think they don't fit in your home. However, if used properly, your home will be greatly enhanced by the striking colors and the charming patterns. For patterns, MM-Mosaic suggests it will be better if you choose something abstract. That will leave a strong impression on your visiting guests especially when used on the entrance or hall. You can have abstract patterns on floors and this is only possible by using mosaic tiles. Mosaic tiles are usually different shapes of small chips combined, and by using different colors you can create a great variety of patterns and designs that give your flooring an appeal. Also, different materials mixed like ceramic and glass, shell and stone is easy to make variants that are unique and distinctive. It is a good chance for you to create an original floor design that only belongs to you.
Floral tile has its unique ink jet printing pattern. There is a possibility for you to use many of them that have different flower or geometric patterns on floors. That will result in an unexpected customized appearance instead. Floral flooring not only can be used in hall way, bedroom but also exterior places like garden and balcony. In fact, this tile is a renaissance of the flooring style in Victorian era, which is simple designed and dignified. Floral pattern and hexagon design is a good match that is easy to increase the ambiance of your house.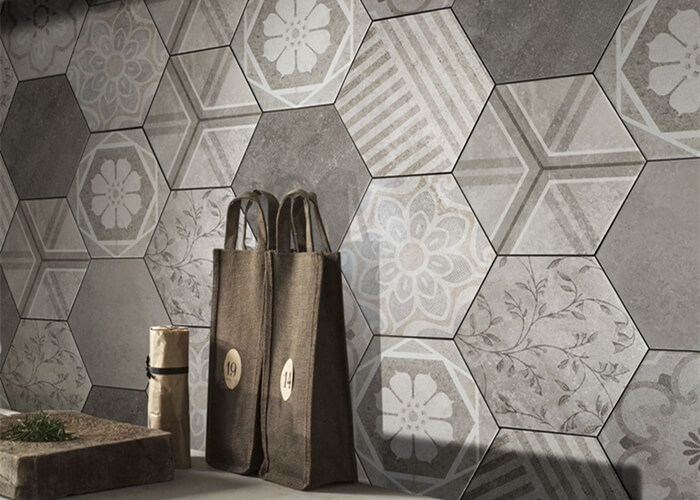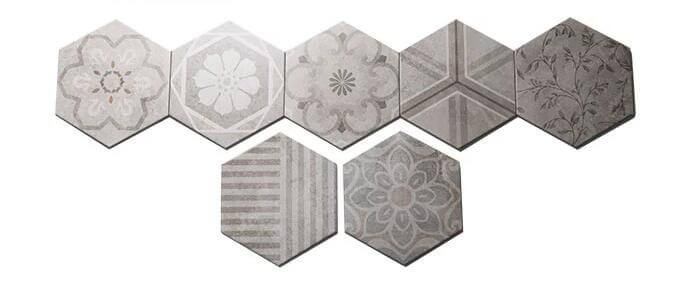 bathroom kitchen decorative floor tile PZM902FD-F
If you fail to find out a tile that suits your taste, mosaic tile art can be another good choice. It can help you to achieve a splendid flooring as well and even better because of its aesthetic value. Made of small glass chips, this mosaic tile picture can be used both on walls and floors. People are surprised at how sophisticated it is the handmade craftsmanship acts on the mosaic tile art and vitalizes the beautiful flower pattern. As you see in the attached design, designer use this in the dinning room and put it under the dining table, which is ingenious and fantastic.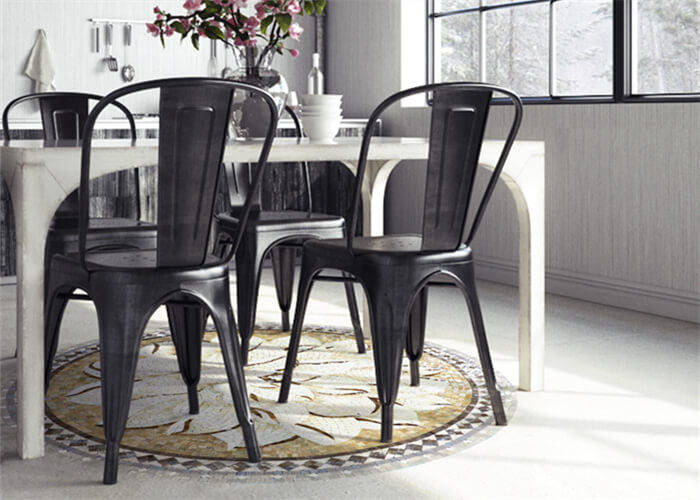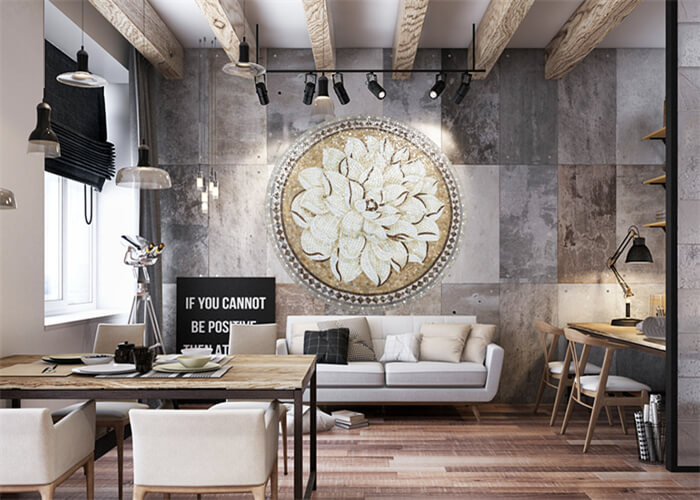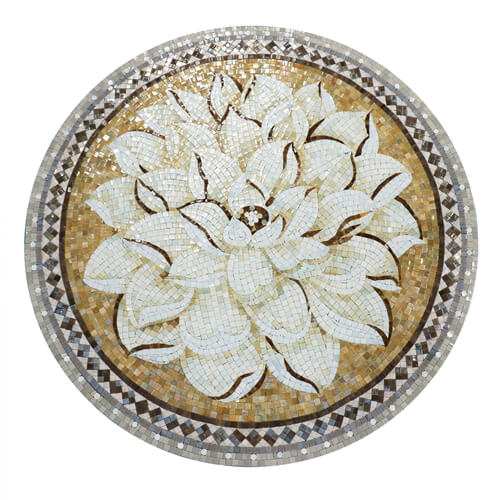 glass mosaic tile art for wall and floor KZ016MY

Stone is a common material for flooring paving too. If you are tired of large size stone tile, stone tile art is another option, which can bring artistic and delicate aura. Because of its durable quality, stone mosaic picture is very suitable for bathroom paving. But remember after it is installed, wax it. Stone more or less will absorb water and so make itself wearing. Its porous structure decides additional surface treatment is a must. One of the reasons why this stone mosaic art is special is its extraordinary geometric pattern. Simply using rhombus shape and three colors can it achieves a gorgeous look.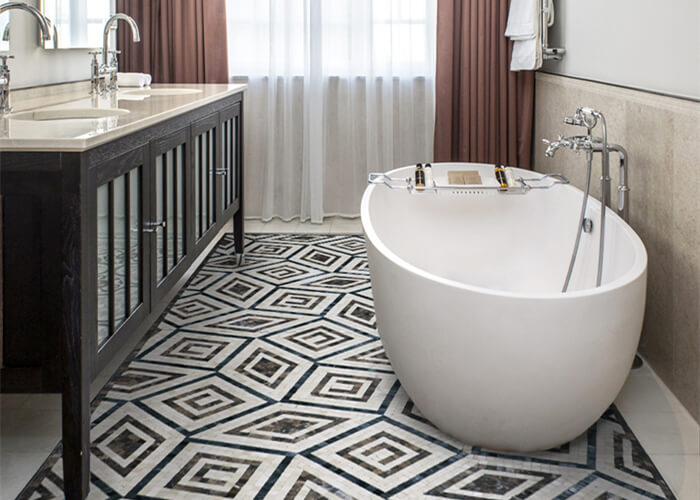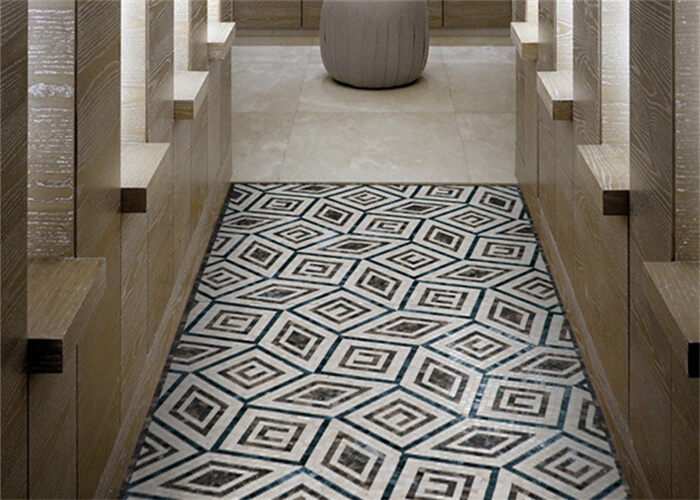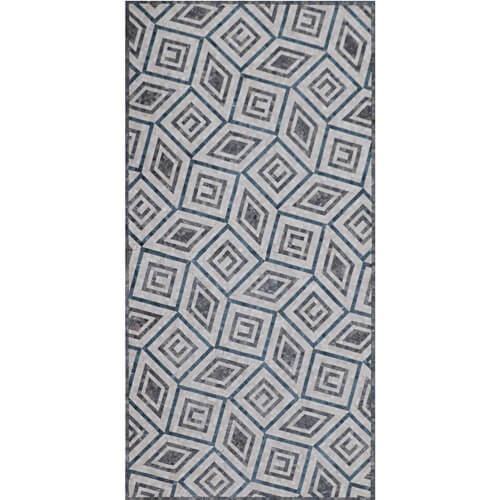 geometric designs stone mosaic KCO036SKS
The attached bathroom design shows a vintage stone mosaic flooring. It is a combination of many geometric elements. There are triangles, rhombuses, squares and rectangles. These geometries are ingeniously put together and create a beautiful flower pattern in the middle. This stone tile art is kind of like belonging to a certain tribe and conveying some religious meaning. If you are a big fan of exotic culture, try to use complicated patterns like this to decorate your flooring. That will be highly integrated with the other decorations of your house. Last but no least, remember to wax the stone flooring after installation to lengthen its service life.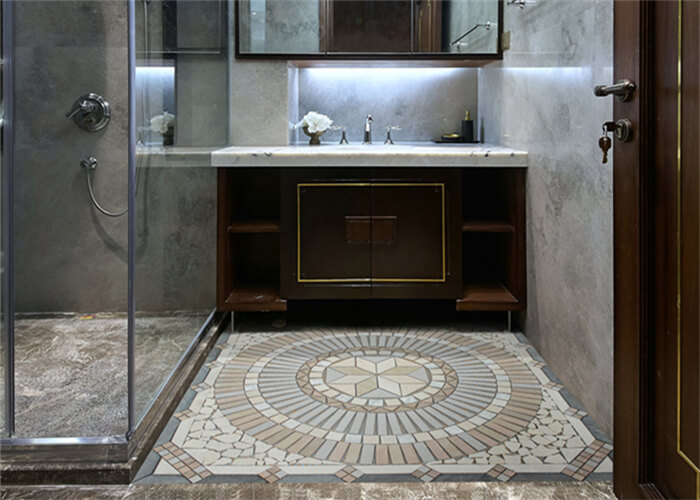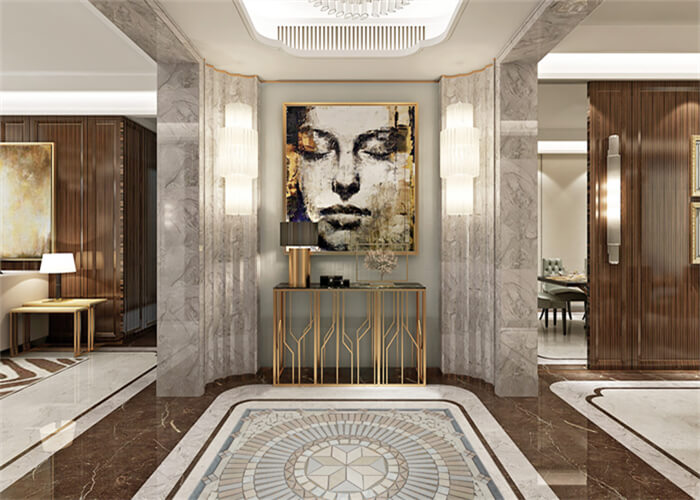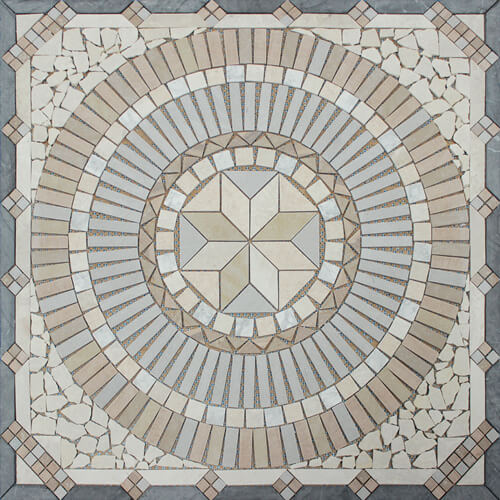 geometric pattern stone mosaic art KZO020SKS
Considering mosaic tiles for your flooring will surely help you enhance the atmosphere of your home. Adding a abstract pattern on your home will give you a different ambiance and at the same time make your place distinctive and unparalleled. Welcome to visit MM-Mosaic, a premium mosaics tile company, to get more mosaic tile design ideas and inspiring home decorating tips.