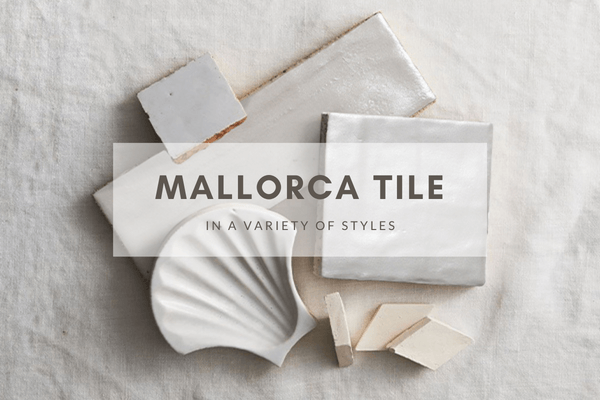 Mallorca Tile
Our new Mallorca Tiles have a subtle and pearlescent glaze that makes an attractive look and subtle shade variation to every square tile piece. They have a slightly matte finish as opposed to the high shine gloss, a similar artisan-style white ceramic tile. We hope you love these new pearlescent handmade tiles to rock the square tile look as much as we do! Let's go on with mm-mosaic tile factory to see more Mallorca Tiles...
#1 Pearl White
Our Mallorca Tile is designed to have a unique and handcrafted look - there are slight surface variations from a square tile to tile, as well as two shades of gloss within each box. We recommend laying out your Mallorca Tiles before you apply adhesive to make sure you like the blend of surfaces before you install the Mallorca pearl white ceramic tile. This is an own feature of this type of tile.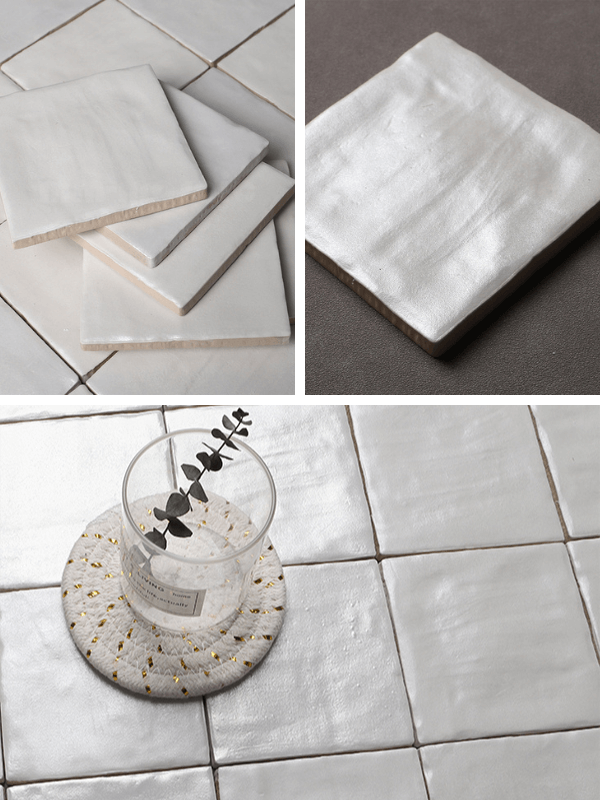 Featured Product: Pearl White Square Ceramic Tile 4x4
It doesn't get any more appealing than our Mallorca pearl white ceramic tile to add a minimalist look to your space! our 4x4 white square ceramic tiles are designed to add a classic zellige style to your home, while the white design and natural finish are perfect for a rustic minimalist kitchen backsplash.
Want that simple pearl-white look while remaining bold? Our beautiful glaze is sure to make you swoon. This subtle pearl white glaze color has hints of pearlescent and beige throughout. Similar to the real pearl color, this glaze has subtle variations and each install will be one-of-a-kind based on the making process.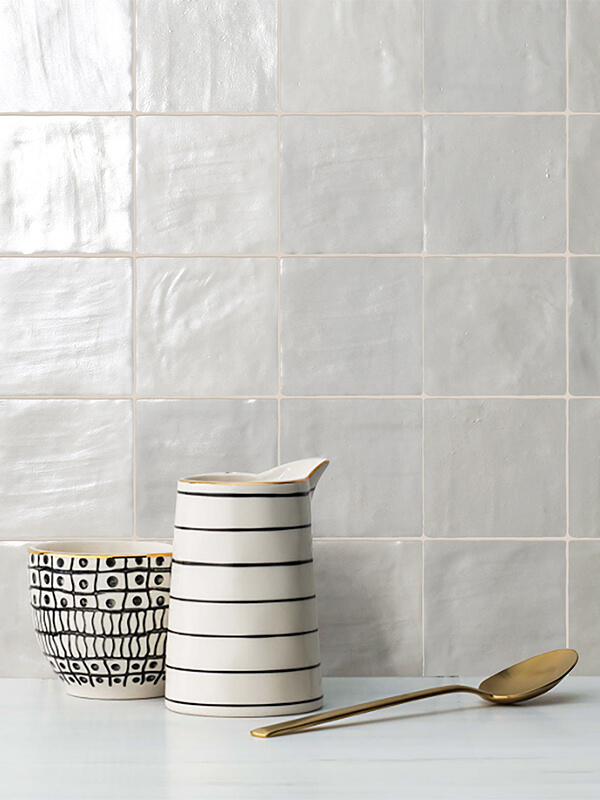 We love the way this glaze works with the exposed brick and how it was combined with gold fittings for gorgeous color contrast. They topped off this installation perfectly with a large sink, which we love because it shows off all of the beautiful Mallorca Tile.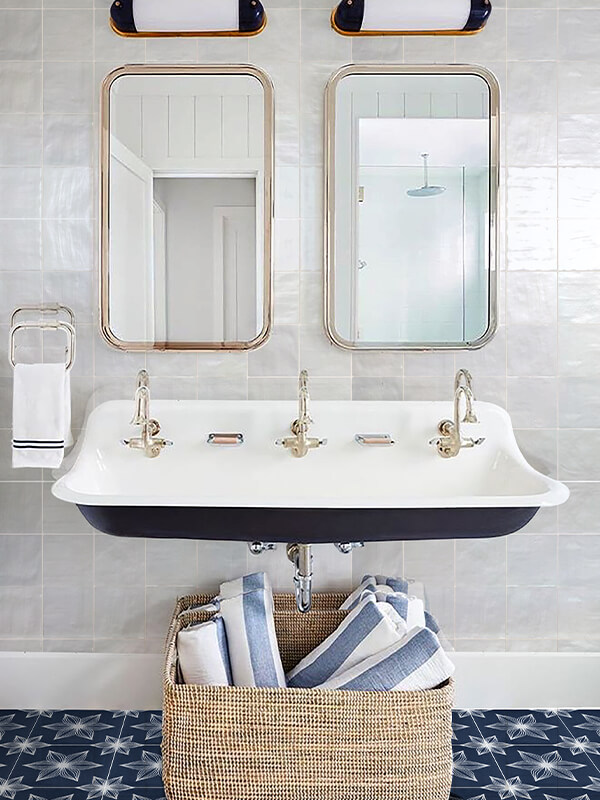 #2 Mallorca Black
We think handmade tile should be the same, and this glaze is one of our favorite glazes when someone wants to make a statement without being too bold. Rather than being dreary, we prefer to use this perfect pearlescent black Mallorca Tile for a room filled with bright pops of colored decor. How you decorate and design the space around your tile can help make or break the appearance you want.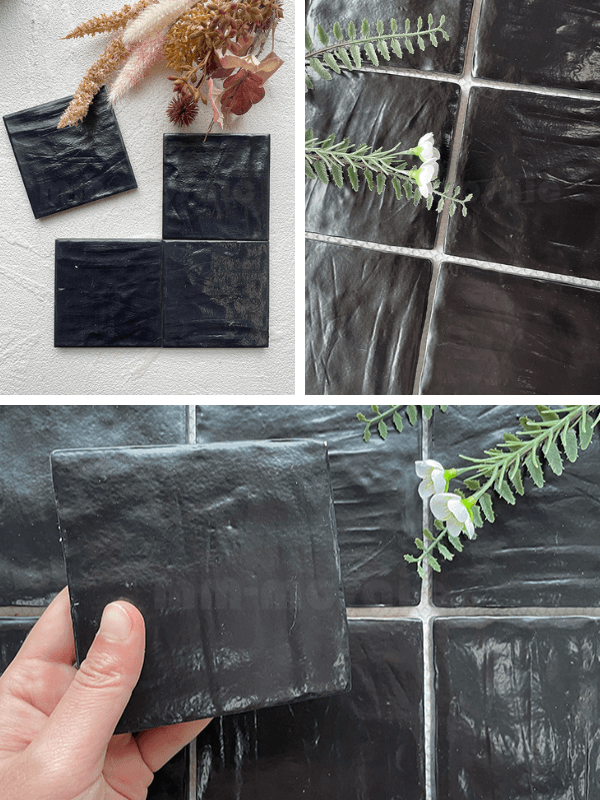 Featured Product: 4x4 Pearl Black Square Ceramic Tile 4x4
Mallorca Black is as deep as it sounds. This pearlescent black glaze has a subtle color variation, meaning there are multiple hues within the one glaze color based on how much glaze our tile elves apply, and where the tile sits in the kiln. A mixture of pearlescent and black, there's something about this tile that is so appealing. It's the perfect option for any space where you'd like to have a tranquil and serene vibe. Looking at this color makes us feel like we're at a night bar.
#3 The Smell of Spring
If you're looking for the detail of handmade tile while sticking with a timeless tile appearance, our pearl retro green glaze is a beautiful choice. This glaze has subtle variation, meaning, depending on how thick the glaze was applied and where it sits in our kiln, it will have a slightly different hue.
This results in a stunning variation with organic coloring, on some pieces you can even see the brush strokes from the Tile Elves' application. You can complete the kitchen or shower with bold design floor tiles, modern accents, and small potted plants.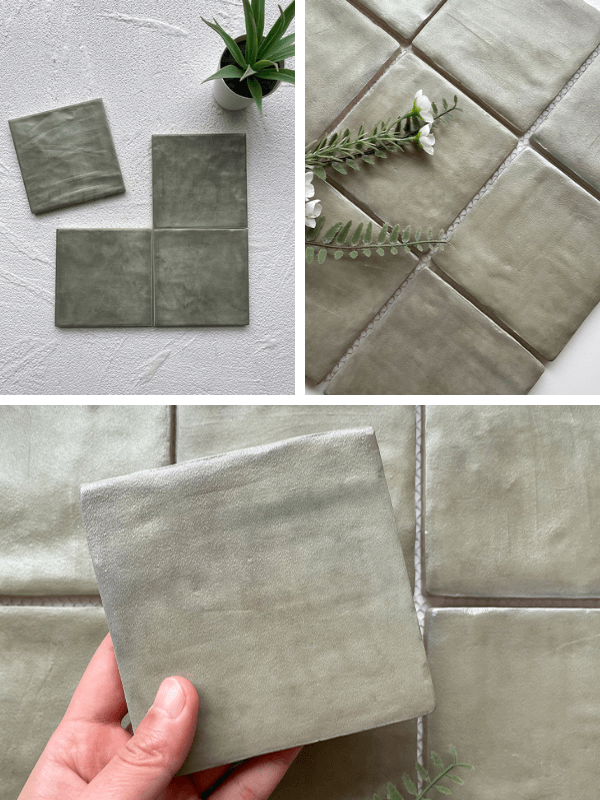 Featured Product: 4x4 Pearl Light Green Square Ceramic Tile 4x4
#4 Autumn Tone
We love infused Mallorca Tile in Autumn just as much as we love hay rides and warm apple cider! A unique Autumn tone sets the scene perfectly for all the fun cooking or bathing that goes on during the Autumn months. The combination of classic square shape and pearlescent allows this handmade tile to embody the cozy feeling of an Autumn landscape. Look closely and you will see the beautiful pearlescent variation on the tile finish.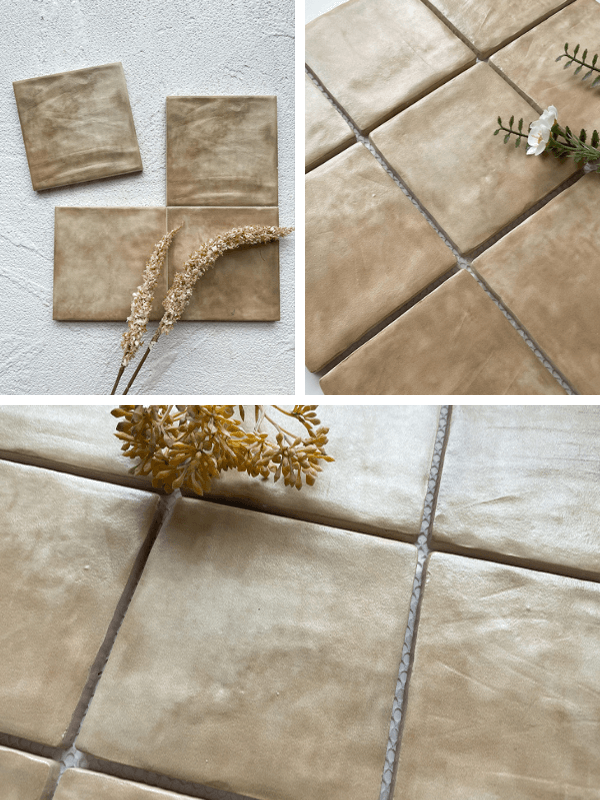 Featured Product: Pearl Light Brown Square Ceramic Tile 4x4
#5 Subway Tile
Want to bring unique subway tile to your space? No need to look further than the most timeless tile shape there is - subway tile! In the past year, we have seen some of our most stylish clients swap the staggered for the stacked pattern. It's a chic twist on a classic look, that is sure to leave a deep impression. This stacked pattern is perfect for those who favor modern, contemporary, or transitional design styles.
Featured Product: Mallorca Pearl White Ceramic Subway Tile 2.5x8
Our new pearl white ceramic Subway tile brings a fresh take on a classic shape, you can stack it, stagger it, or even tilt the tile diagonally for a diamond look. If you are a minimalist, this pearlescent subway tile might suit you. There is subtle shade variation from tile to tile giving these tiles an extra touch of elegance. This handmade subway tile has a slightly glossy finish. The light really picks up the movement in the finish. The color is best described as off-white.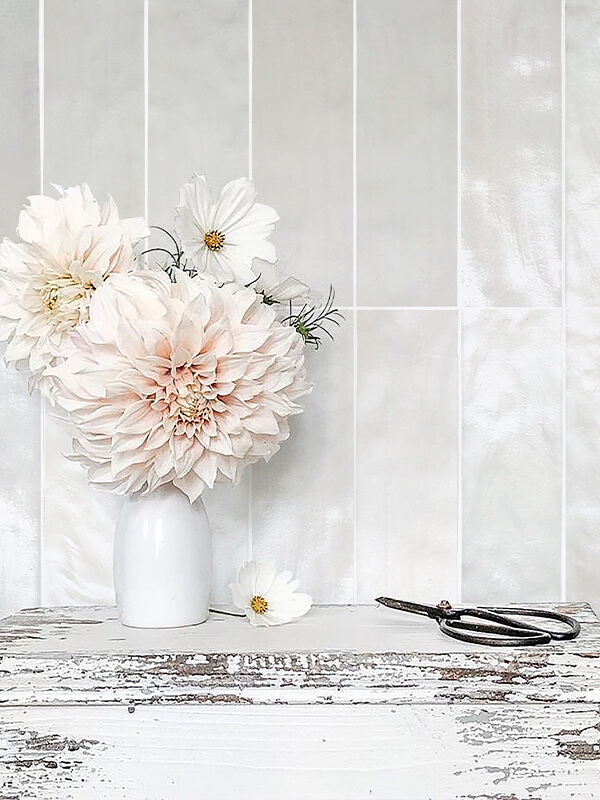 A perfect idea to ensure that minimalism doesn't look too cold or boring is to use a variety of textured glazes in a neutral palette. All of our tiles are hand-painted by our professional worker, and subtle pearlescent glazes we have to allow for those brush strokes to show through. Other glazes simply have a magical variation to them.
Visit our Design Inspiration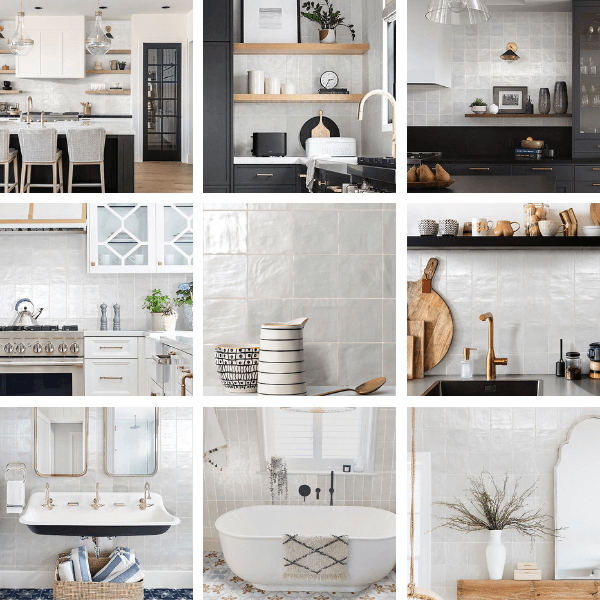 Get the Look
If you fall in love with our new Mallorca Tile, both of these tile glazes and shapes are available on MM-Mosaic online shop. Meaning, you could get this ceramic square tile shipped directly to your door! Now, Order free tile samples to see and touch! We would also love to hear what inspires you! Did these pearlescent glazes give you any inspiration? Tell us more about your future project and get the ball rolling.