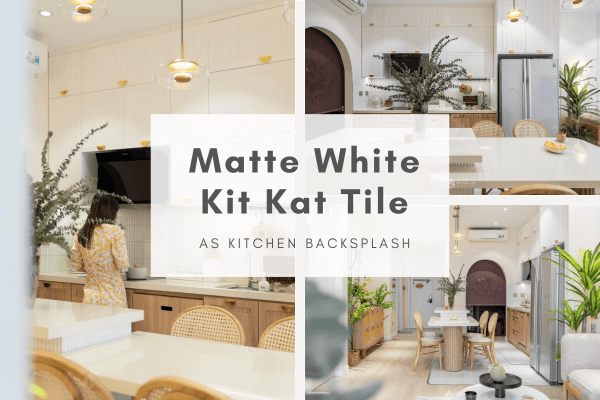 Ready to be obsessed with our Kit Kat Tiles? This simple white kitchen backsplash has us in the mood to grout these pop shapes everywhere. Our interior designer Jane made this kitchen transformation a modern chic dream with our kit kat tile in matte white. They add just the perfect pop of shape and color to this minimalist kitchen. If you want to learn more about Jane's design process and get a behind-the-scenes look at the kitchen remodel, keep reading. We guarantee you won't be disappointed!
What is Kit Kat Tile?
"Kit Kat tile" refers to a type of rectangular tile that is long and thin, typically measuring 12x92mm and 22x145mm They are named after the popular chocolate bar, which is similarly shaped. Kit Kat tiles are a popular choice for kitchen backsplashes for several reasons.
Their elongated shape makes them visually interesting and adds a modern touch to a kitchen. They can be arranged in various patterns, such as stacked, or vertical to create different looks. Plus, the narrow width of the tile means that there are fewer grout lines, which can make cleaning easier and create a seamless, cohesive look, making it easy to find a style and color that suits the design of the kitchen.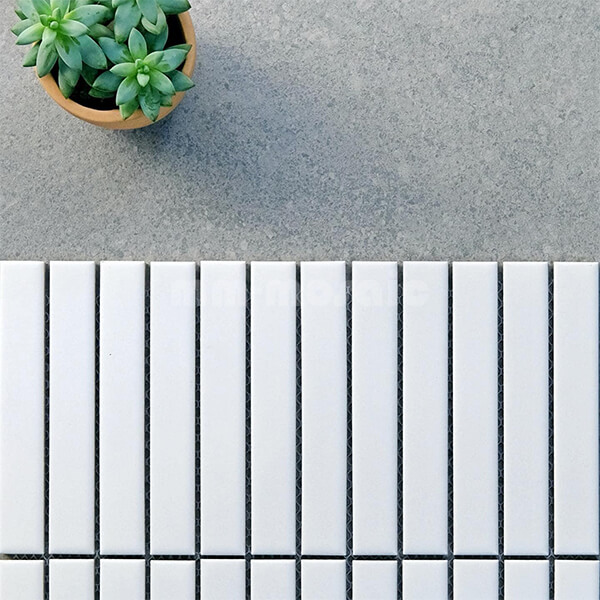 Featured Product: 22x145mm matte white kit kat tile
The Vision of the Kitchen
The open-concept kitchen is designed with warm-colored lighting, which creates a cozy and welcoming ambiance. The use of warm colors creates a natural and rustic atmosphere that is perfect for a kitchen.
The white cabinets add a modern and fresh touch to the room, while the wooden chairs and light-colored wooden storage cabinets bring warmth and texture to the space.
One of the key features of the kitchen is the island, which adds both function and style to the room. It provides extra counter space for meal preparation, while the legs add a unique design element that sets it apart from other kitchen islands.
Jane has also incorporated several plants throughout the space, which adds a refreshing and calming touch to the kitchen. The plants bring a bit of nature into the room and help to purify the air.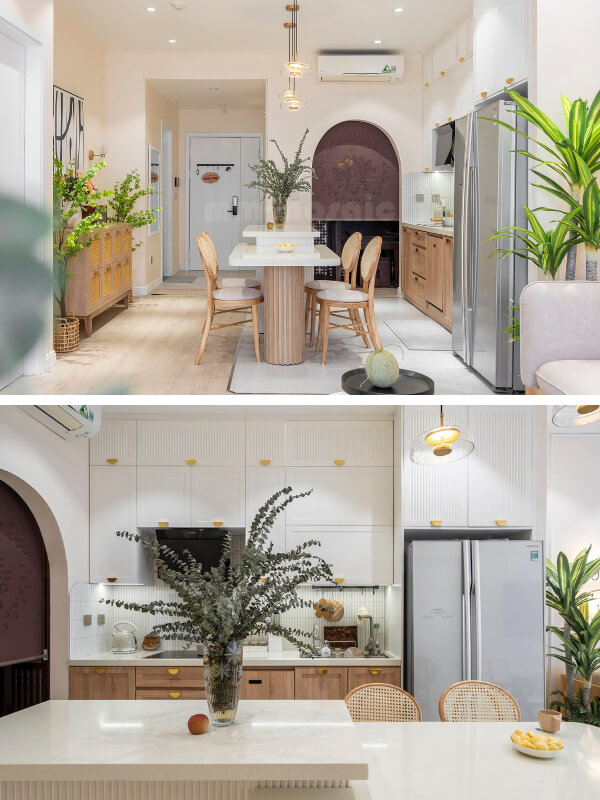 However, the real highlight of the kitchen is the white Kit Kat tile kitchen backsplash. The backsplash adds a sleek and modern touch to the room and serves as a stunning focal point. The white tiles reflect the warm-toned lighting, which creates a beautiful and inviting glow in the kitchen. Overall, the combination of warm lighting, white cabinets, wooden elements, and the Kit Kat tile backsplash creates a beautiful and functional kitchen space.
Simple Kit Kit Tile in White
The kitchen is adorned with a simple and minimalistic aesthetic, featuring 22x145 white kit kat tiles as the backsplash. While minimalist white kitchens have recently become popular in the design world, we hold a strong belief that white is the new neutral. The matte white kit kat tile backsplash adds a touch of understated elegance to the simple and unpretentious kitchen. The finger tiles are arranged in a vertically stacked pattern, creating a clean and modern look. The matte finish of the tiles adds a subtle texture that enhances the overall aesthetic of the space.
The white color of the tiles provides a clean and fresh backdrop that complements any color scheme or decor style. In this particular kitchen, the white tile backsplash is paired with light wood and white cabinetry, silver fittings, and black hardware for a classic and timeless look. The simplicity of the design allows for the natural beauty of the materials to shine through, creating a warm and inviting atmosphere.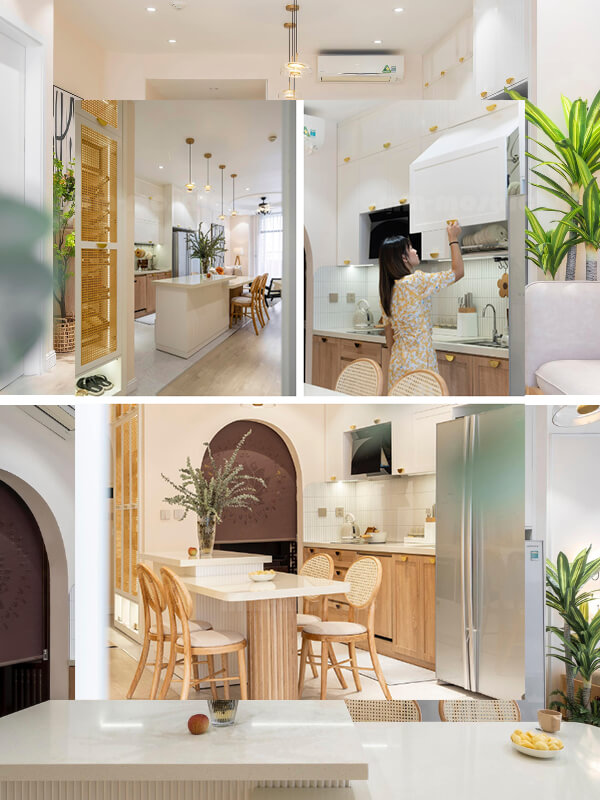 The matte white kit kat tile backsplash is also incredibly versatile and easy to maintain. It is resistant to water, stains, and scratches, making it a practical choice for a kitchen where spills and splatters are inevitable. The smooth surface of the tiles also makes them easy to clean with just a damp cloth and mild soap. This strip mosaic tile is the perfect addition to this simple and unpretentious kitchen, bringing a touch of sophistication and practicality to the space while still maintaining its understated charm.
For more kit kat tile projects, visit our blog "Kit Kat Tile for Office Leisure Space"
Cooking is Relaxing
"Maintaining a healthy balance between work and personal life is of great importance to me. As someone who has dedicated considerable effort towards building a successful career, I understand the value of having a well-designed, comforting, and secure environment to return to after a long day at work. Such a space can help alleviate stress, provide peace and relaxation, and rejuvenate one's spirit." Jane said.
"Cooking is also a relaxing way." Said Jane "Given that many of my clients hold executive positions in their respective organizations, they too, require an ideal sanctuary where they can unwind and de-stress. I make it a point to comprehend their interests and preferences outside of their professional lives and then integrate those elements into the design of their personal spaces. By doing so, I aim to create a unique and customized environment that truly resonates with their personality, enhances their lifestyle, and enables them to fully enjoy their personal time."
More to Adore
Behind an appealing space remodel, there is always an inspiring interior designer who deserves to be in the limelight. Jane is a female designer who has a deep passion for environmental sustainability, nature, and greenery. She has been fascinated with planting flowers and plants since she was a child, and as she grew older and became an interior designer, she found ways to incorporate greenery into her designs.
"I firmly believe that having greenery in indoor spaces is highly beneficial. Not only does it add beauty and life to a space, but it also has a calming effect on the mind and body. When you are surrounded by nature, it can help to reduce stress levels and create a sense of calm and relaxation. I believe that incorporating greenery into indoor spaces is an essential part of creating a healthy, relaxing, and beautiful environment. Whether you are designing a home, an office, or any other type of indoor space, plants are a must-have element that can make a significant difference in how the space feels and functions."
Given her passion for nature and environmental sustainability, Jane strives to incorporate eco-friendly and sustainable design practices into her work. She understands the importance of creating designs that not only look beautiful but also have a positive impact on the environment. By combining her love for nature with her interior design skills, Jane creates unique and inspiring spaces that bring a touch of the outdoors inside.
At the mm-mosaic factory, we are proud to offer high-quality mosaic tiles that not only look great but are also long-lasting and easy to maintain. We encourage our clients to take advantage of our sample program to get a first-hand experience with our mosaic tiles and to explore the endless possibilities for their renovation projects.
Let us help you bring your design ideas to life and transform your home into a space that you'll absolutely adore for years to come. Contact us today for free samples to see and feel for yourself!