MM-Mosaic attended the 2018 TISE held Jan.30th-Feb.1st in Las Vegas as an exhibitor. We exhibited many of our newly-developed and hot-selling mosaic tile sheets and received positive feedback from visitors. It doesn't matter if you couldn't make the show for some reason, because in this article we're going to take you go it over.
As you can see in the attached photo, that is our booth. Though it is not a spacious stand, it is big enough to accommodate many of our popular mosaic tiles, which are designed into different shapes and colors. They are categorized by several themes and orderly shown on the display shelves-Carrara Series, Gradient Penny Round, Fish Scale Series, Premium Herringbone, Premium Penny Round, Premium Finger, Premium Subway, Wall & Floor Tiles, Oak Series and other selective items. In the following paragraphs, we'll pick up some items which purchasing agents asked most on the show. That is a certain reflection of the market. Hope you can get inspirations.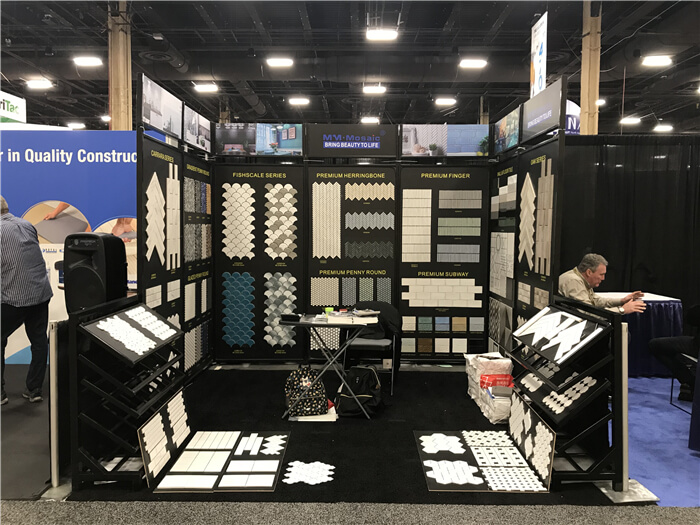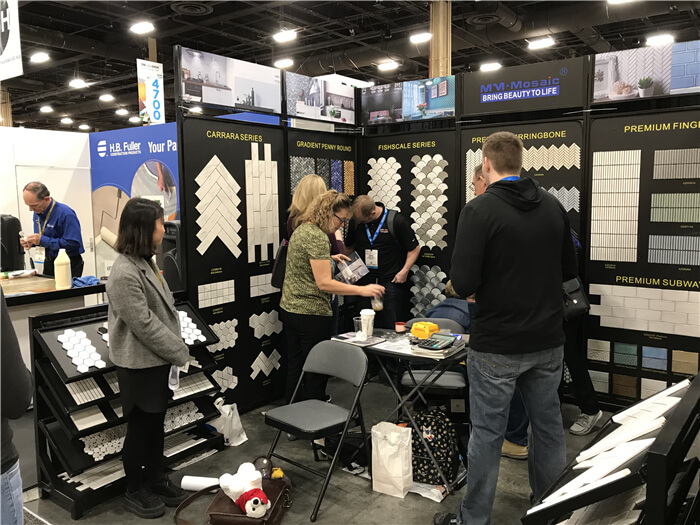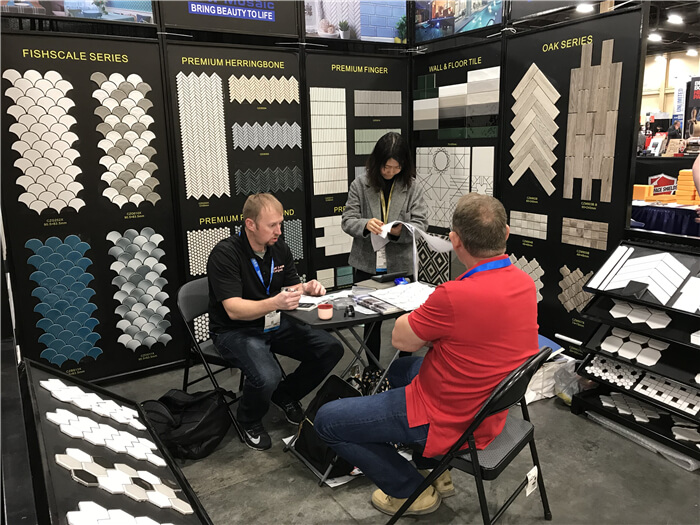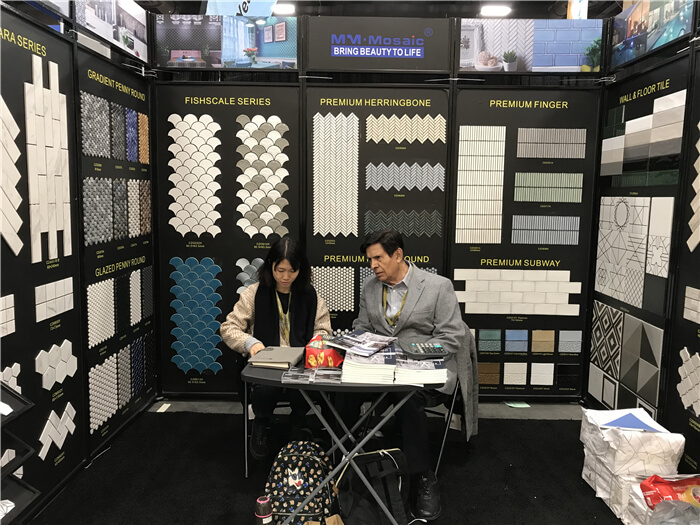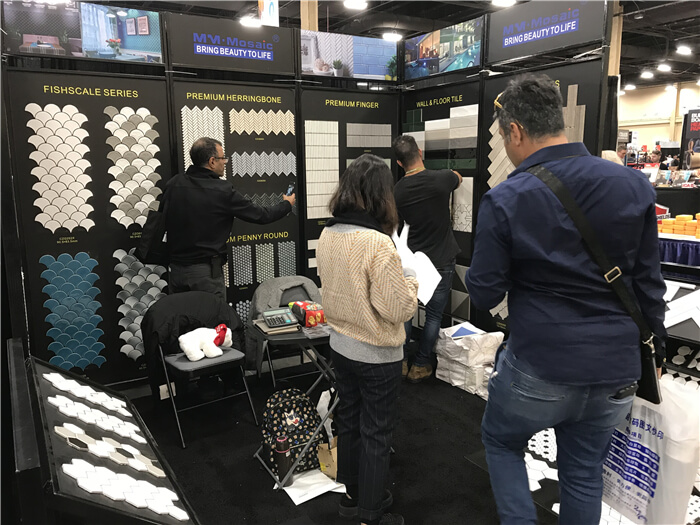 Carrara Series
It is not surprising that this rhombus diamond shaped Carrara marble look porcelain tile evoked a strong response among the visitors. Carrara marble has its own texture, so natural and particular. Porcelain tile ink-jet printed with this has a capacity to make the space pure and holy, just as the bathroom shown below. You are no need to buy the costly tiles made of Carrara marble, as today's craftsmanship is enhanced to make the tile exactly same with the real. You can get more info in our two published articles: 4 Ways To Use Carrara Porcelain Tiles In Your Home and Go Neat With Carrara Porcelain Tile.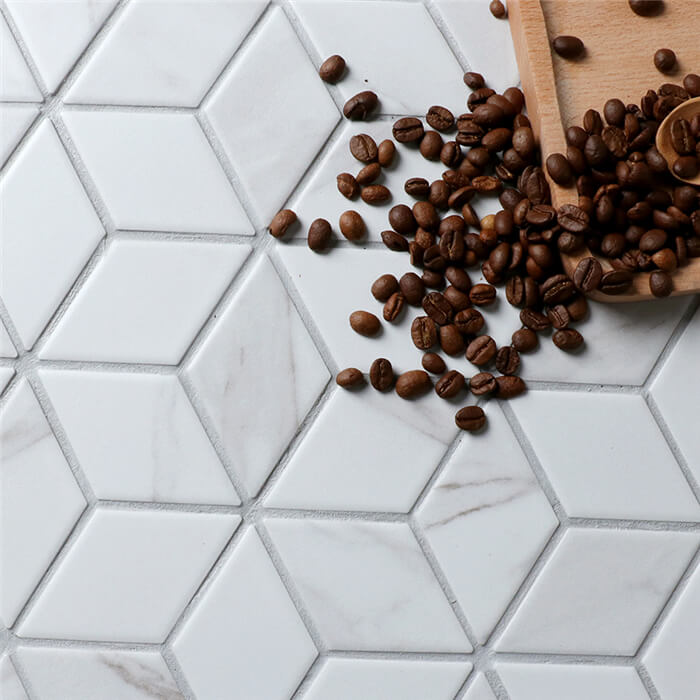 White Marble Porcelain Tile CZM929Y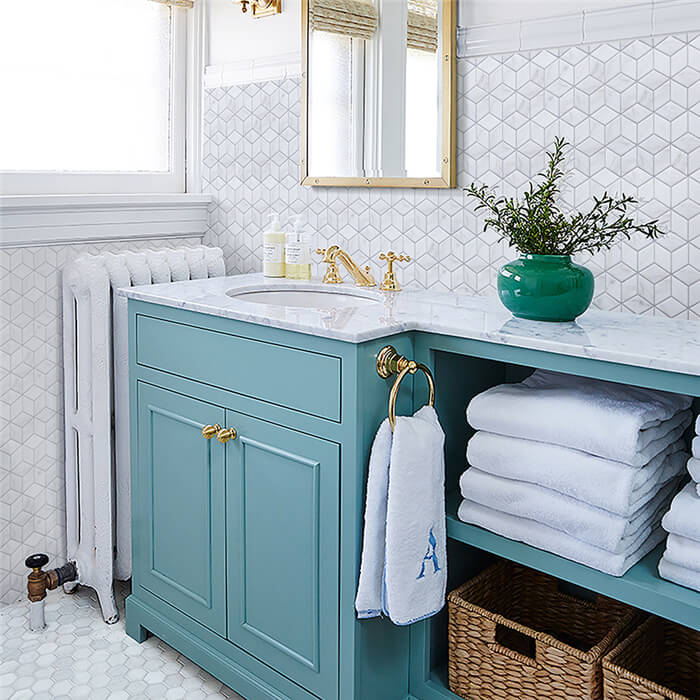 Gradient Penny Round
Round is a beautiful shape as a design element. It is mellow and full. 19mm and 28mm are the common diameters. They are the sizes that have been experimented and proved can achieve the best visual effect when used as wall decoration. Below is the 19mm dark blue. The color is deep and profound. The surface is glossy glazed. It is so great for creating a mysterious luxury, especially in club, bar, villa and resort. Click our already published article Penny Round-The Most Balanced Element for more versions of penny round tile designs.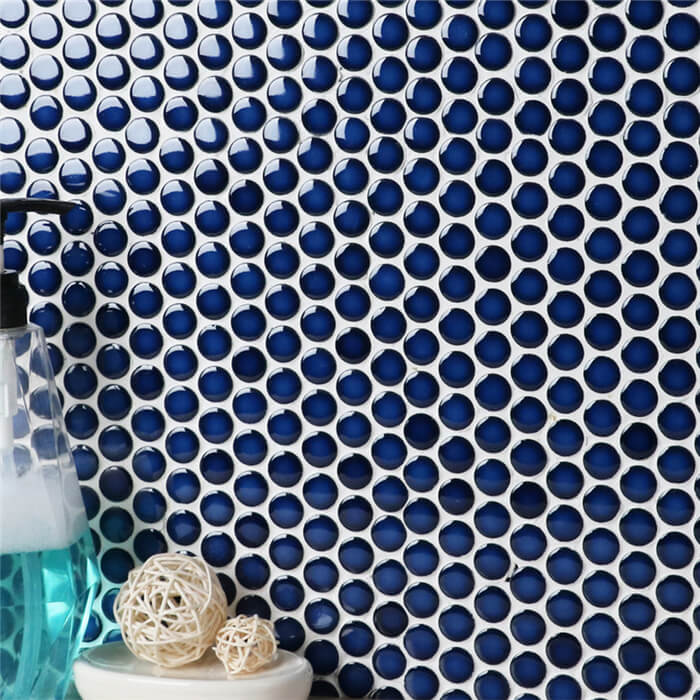 Sky Blue Round Mosaic Tiles CZO616Y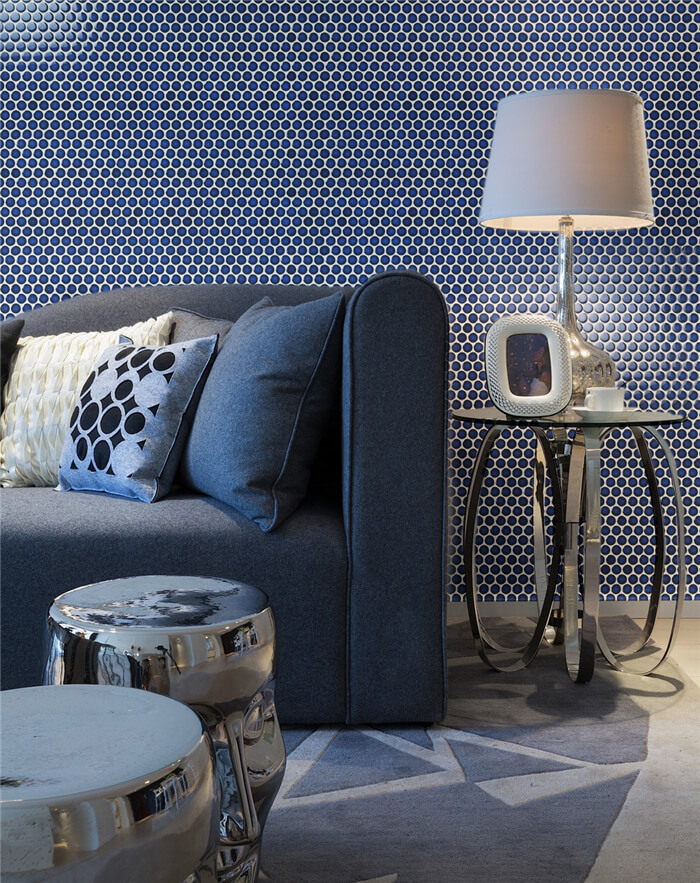 Fish Scale Series
Inspired by the ocean, this azure fan shaped mosaic tile looks marvelous. When installed, you'll feel like standing on the space that has cool wind breezing, refreshing and salubrious. You might think this color is too dazzling for home inner decoration. However, if applied correctly, it will shine and become a focal part. Also, due to the bright color, it is very suitable for business establishments like restaurant, jewelry store and fashion shop. You can get more fish scale tile applications in this article: Crackle Finish Mosaic Tile-The Combination Of Antique And Modern Style.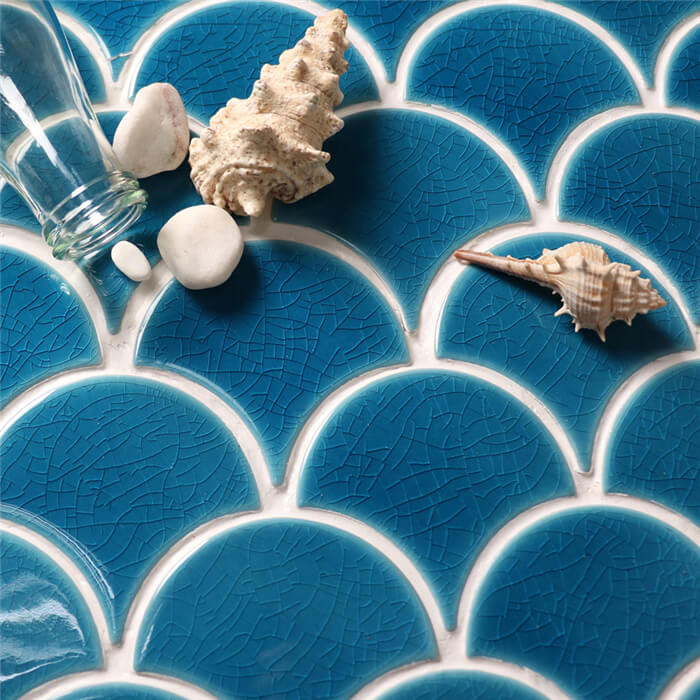 Moroccan Fish Scale Mosaic Tile Backsplash CZB613X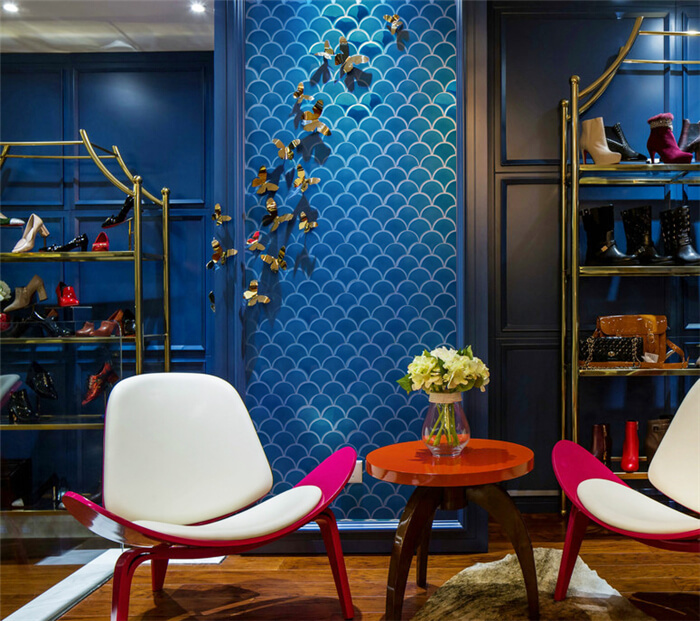 Premium Finger
Are you looking for a mosaic tile which has a special design? Then this mosaic tile strip may meet your appetite. The surface of the tile is uneven because of the 3d strips arranged closely and the pattern is fantastic because of the fambe processing. It has an ability to stretch the space visually so if the room you want to decorate is a little bit small, then this tile is absolutely a wise choice. Without doubt, it can also be used vertically, just as the bathroom backsplash shows, which make the room higher than the exact height.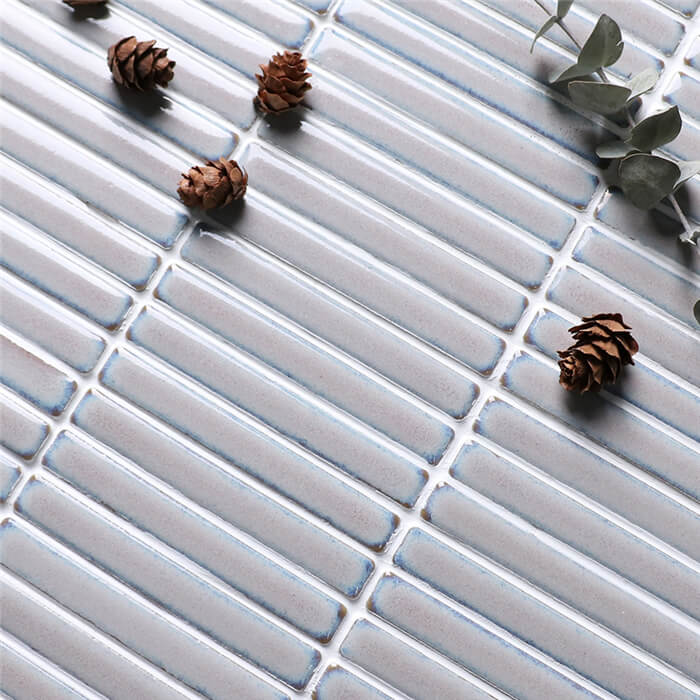 Fambe Gray Mosaic Tile Strips CZO351A
Oak Series
Oak here refers to the tile color, which is rustic brown. This color is often seen on trunk. Inspired by this, porcelain tiles that have wood grain come out. Those tiles have better performance than wood tiles. It is lower in water absorption rate and covered with glaze, which means it can replace the wood laying on floor in moist places like bathroom and kitchen. If you're a big fan of wood tile but bothered at its limited application scope, wood look porcelain tile could be another option. Also, you needn't worry it is fake looking, as you can see in the following picture, the tile is as vivid as the real. More detailed info, click our published article Wood Look Tile-Present The Essence Of Hardwood.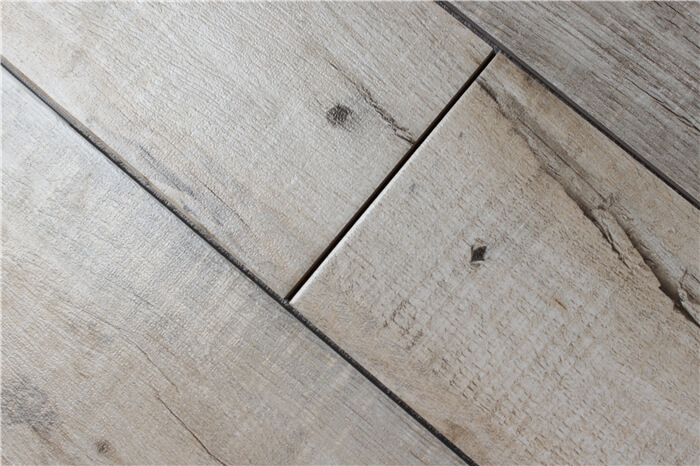 Wood Effect Floor Tiles NSO1601K
Buy mosaic tiles online from MM-Mosaic, one of a tile producers in mainland China that specializes in supplying ceramic/porcelain mosaic tiles, glass mosaic tiles, wall and floor tiles, mosaic tile art, mosaic tiles for swimming pool and other tile related products. We would be so happy to hear your sweet home get enhanced by our products. Keep a close eyes on our blog update for inspirations.