Have you ever considered a thorough plan for your flooring or wall in every seasonal change? Making a comprehensive plan on the floor is not only to bring vitality back to your space but also to strive against hot weather conditions. Maybe you can put beautiful rugs or carpets on the floor or wall to withstand the cold winters, however, it's impossible to use the same that covering the carpets on floor in summer due to it will get heat up quickly. Therefore, choosing a suitable summer flooring mosaic tile is going to be a trend.
Why not marble material, bamboo or hardwood? If you have this query, you might have no clear knowledge about porcelain mosaic floor tile. Porcelain tiles are the best choice as it cold down the heated flooring and wall temperature as well as physically and visually can give the whole home more cool breath. Although many households think mosaic tiles isn't great because it may make you feel like walking or touching on the ice. Nevertheless, nothing is perfect, this weakness of tiles will become the strength in summer. Just imagine how comfortable to walk or touch on cool porcelain tiles when the fierce sun is hanging in the sky! On the other hand, its easy maintenance and high durability combined with the features of various vivid colors and attractive patterns will be the appropriate choice for flooring.
Shining summertime is approaching, and until now, have you got any home design inspiration? If not, we have prepared plenty of creative ideas for your space. Many customers have ever asked if we have floor porcelain tiles and the answer is sure, of course! Lots of our premium mosaics are not only suitable for the wall but also for flooring. As the mosaic tiles feature, it has become a popular option for many years.
Green Represents Summer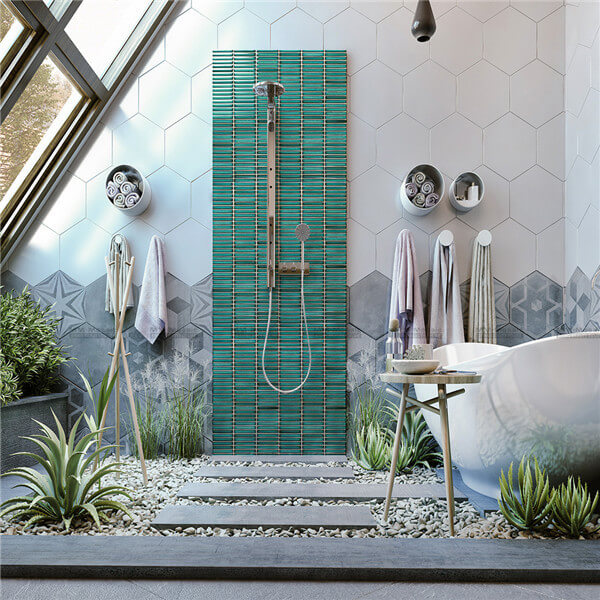 Featured Product: 12*92 Premium Glazed Finger Stackbond CZO949A
If you must choose a color to represent summer, there is nothing better than green! These mysterious black green mini strips are paving in a stack bond way, which is the focus point of the shower.
The hexagon tile is the classic shape, and how about adding some new elements into it?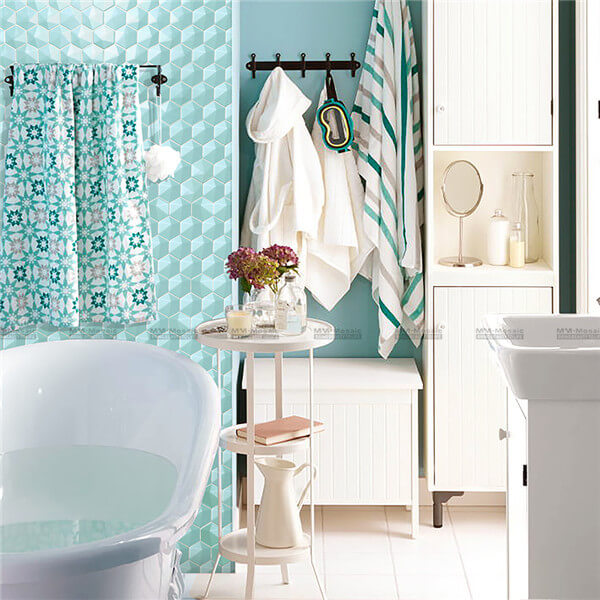 Featured Product: Glazed Matt 3D Hexagon Porcelain Mosaic Blithe Green CZM711D
Just like the above design: the special three-dimensional design mix the small hexagon mosaic tiles, which are used as bathroom wall decor. This shower gets everything right! A stunning light green background wall tiles complement the graceful white flooring.
Lovely Pink Inspirations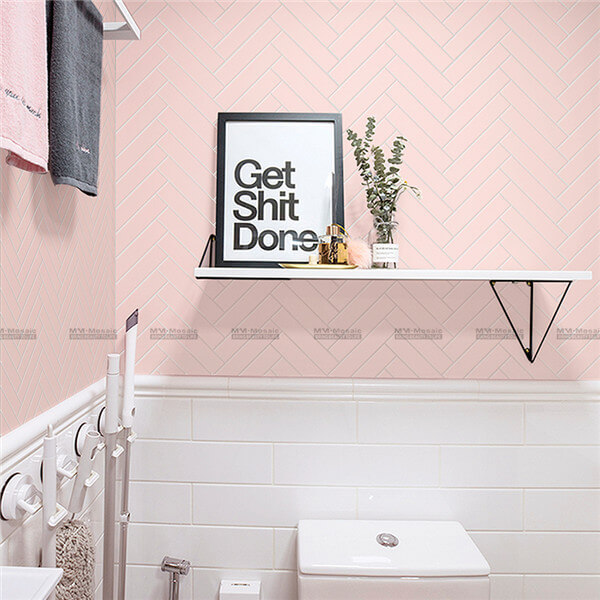 Featured Product: 32.5*145MM Strip Herringbone Porcelain Mosaic Matt Pink CZM904B
Our interior designer paired blush pink tiles with pure white subway tile to create the perfect shower backdrop for this clean and orderly bathroom. From the pink herringbone tile wainscot to the white porcelain mosaic, the contrast and balance keep this small space summer dynamic and interesting.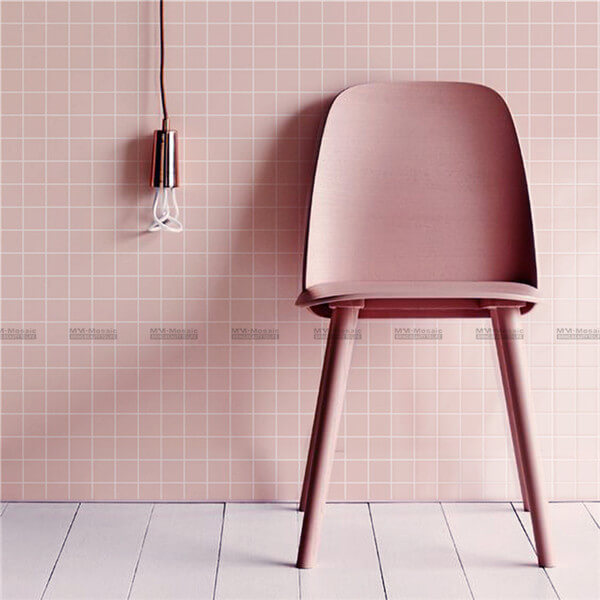 Featured Product: 48*48mm Pink Series Mosaic Tile CKG410B
The dull light grey flooring tiles are immediately softened by the rest of the room's pink accents, which combine well with the same tones chair, and meanwhile, make the living room background stand out even more.
Elegant White Theme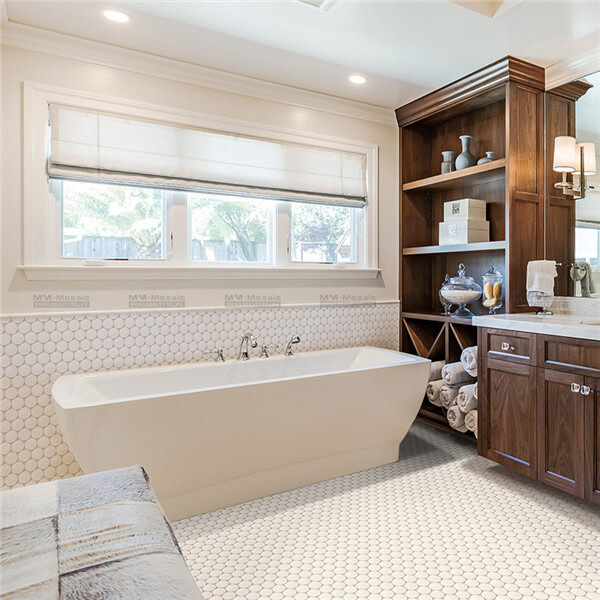 Featured Product: 48MM Cookie Circle Ceramic Mosaic Matt White CZM241D
Cookies circle mosaics are a great choice for bathroom mosaic tiles flooring. Due to the environment of the washroom is filled with moisture, it's important to think about skid resistance. This 48mm size tiles and its matte finish will serve your wet foot well.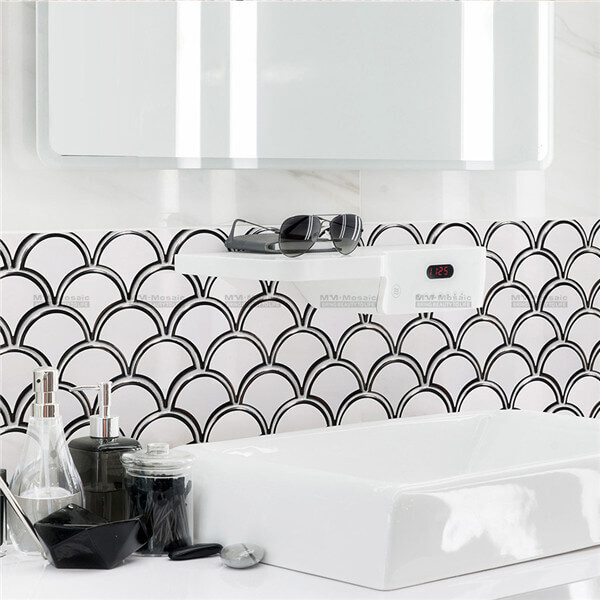 Featured Product: Glossy Metallic Print Porcelain Mosaic Fish Scale CZO935D
If you are obsessed with a gloss finish, you can entirely still use it and we suggest that paving it in the wash tray background will create your bathroom a subtle way or just consider putting a floor mat for the dampest areas.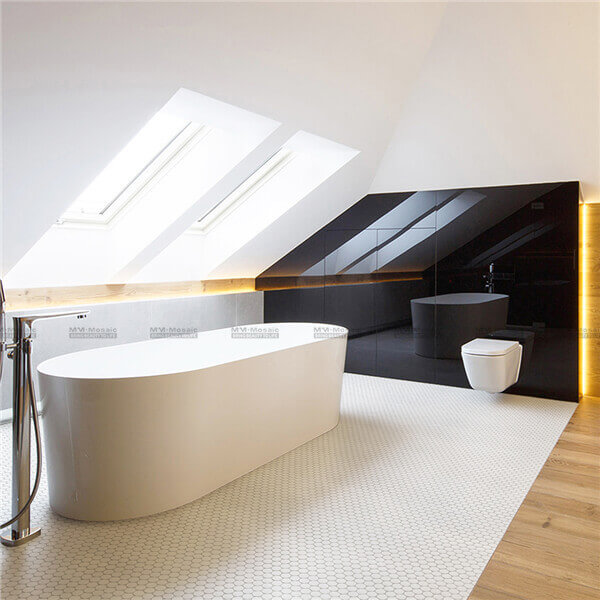 Featured Product: 19mm Unglazed Penny Round White CZO235B
When it comes to Non-slip flooring tiles, our previous launched 19mm penny round tiles, which are specially designed for the wet bathroom. However, one of our customers laid these tiles on her living room wall, which make her home a feeling of minimalism. The dark grey round clock echoes the pure white tiles while the light grey curtain paired well with natural wood color dining table sets, which bring this space a refreshing atmosphere.
Multicolor Palette mix Big Dot Pattern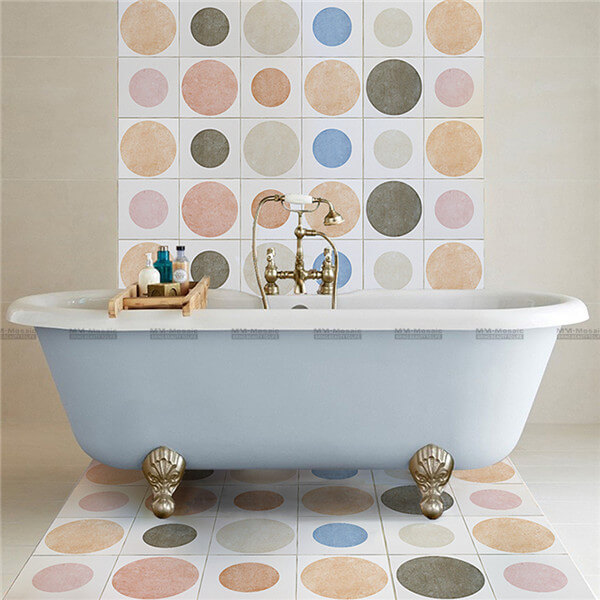 Featured Product: 200*200 Wave-dot Tile PRM907DN
Summer means alive and funny so it's necessary to choose creative tiles. Uniformity is boring and how fantastic that every single tile on your wall or floor doesn't have to look the same shape. Just like the following design, how beautiful is this bathroom with a multicolor palette mix this big dot pattern! Placing a pure white big bathtub in this colorful space completes the look.
Coldness Industrial Style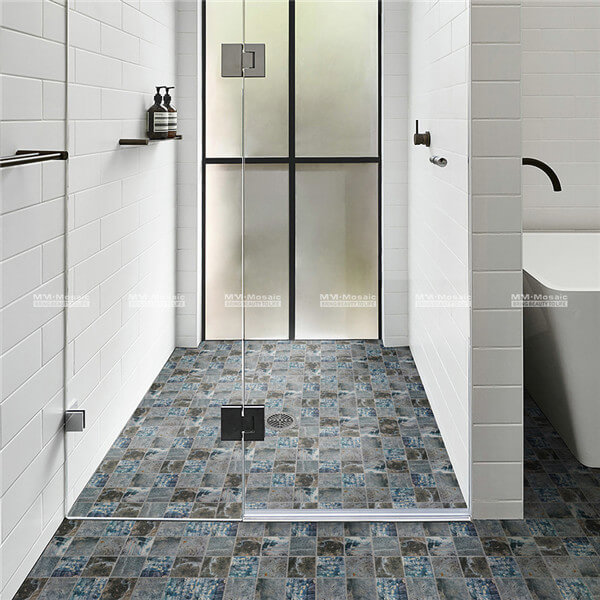 Featured Product: Digital Print Vintage Industrial Style Porcelain Mosaic CKO005JN
During the hot summer, the time of bath will increase therefore choose this bathroom tiles not only can cool and refreshing feeling on the vision but also make your mood cool down, which making them a suitable addition to your bathroom for both floor and wall. Its various and lifelike digital print pattern can bring more vividness and interestingness to the surrounding space.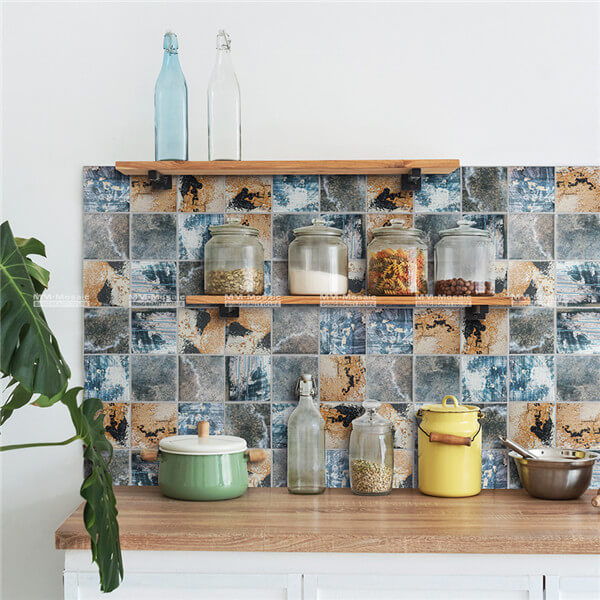 Featured Product: Digital Print Vintage Industrial Style Porcelain Mosaic CMO004JN
In heat summer, the interest in cooking might decrease, which reflects the importance of selecting suitable summer tiles. Why not try our latest product? The bright color mixes indifferent grey tones of this tiles combine well with the natural wooden kitchen fittings, which can certainly awake your interest in cooking.
If you want to learn more knowledge about the color collection, here is a helpful article for you: How to Combine Warm Hues With Cool Tones in Mosaic Interior Design >>>
Get some design inspirations? Need premium samples? Here are mosaic tiles for sale! Inquire us at the first time! MM-Mosaic, as a professional mosaic manufacturer, will provide the high-end products and services to your satisfaction.