Mosaic tiles are usually made up for being used on two cases, either wall or floor. Do you know some of them have dual use, that is, can be used both on wall and floor? It sounds simple, but in fact depends on many factors like patterns, colors and shapes of the mosaic tiles. MM-Mosaic wonder you have run into similar situation like that, finding many mosaic tiles are not versatile for any kind of surface. In this article, we are going to introduce you five mosaic tiles that are designed to fit both in wall and floor decoration.
On the first and the second picture attached below you can see the different concept of the two home owners using white hexagon mosaic tile in their kitchens. One is installing it on floor, the other is on wall. The first thing we can tell is that they are both a minimalist. What kitchen they want are simply decorated. The combination of white color and geometrical line is enough to create a bright and spacious room. No matter tiled on floor or wall, matte white tile is a good choice, since on floor it is not slippery and on wall is not dazzling. Also, appropriate mosaic tile size makes possible this tile not looking strange on floor and wall. Try to imagine how incompatible of the design elements in the kitchen will be if the tile size is too big or too small you will know what I am saying. By the way, there are also many other white tiles for wall and floor decoration. You may also like to read about Common But Not Mediocre Decorating Options-White Tiles for more principle of white tile collocation.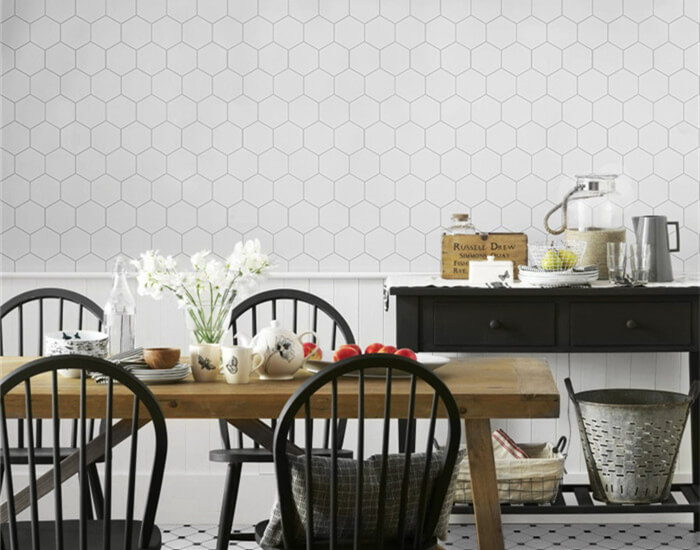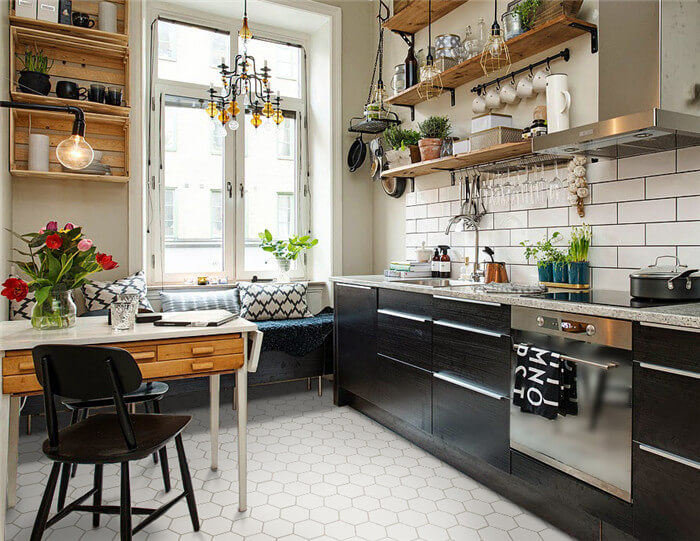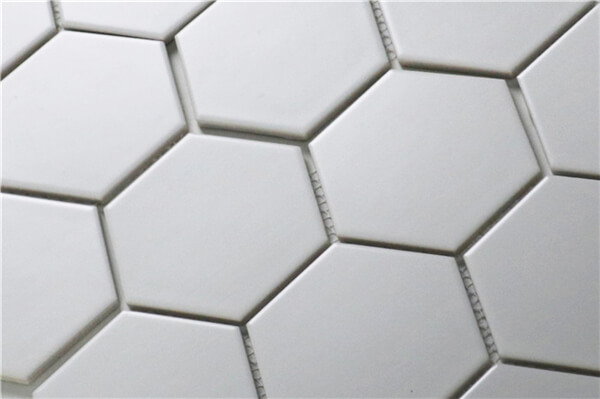 hexagon mosaic floor tile CZM234B
Brickbond, a way of tile paving, works well on wall and floor and often brings a gorgeous visual result. It is a versatile pattern that can nearly blend in any space of different styles. There are three most popular brickbond-pure color, wood grain and marbleized. Pure color is subway tiles combined in a brickbond way with mesh on back; wood grain is often joint with adhesive dots; marble look usually achieves with ink jet processing, dot-joint as well. Now many home owners would like brickbond porcelain tile that looks like marble better because of its vivid texture, durable material and favorable price. As shown in the attached kitchen backsplash design, brickbond imitation marble tiles stretch the cooking area visually and make the backsplash become a focal part of plain and neat design. Besides, brickbond can create a nice marble look flooring. The attached bathroom design is a great example. The white marble porcelain tile shines and brightens the room against the mellow ambient light. It is an ingenious way to make good use of surroundings. Most of the time you should take many design elements into account and learn to integrate them harmoniously.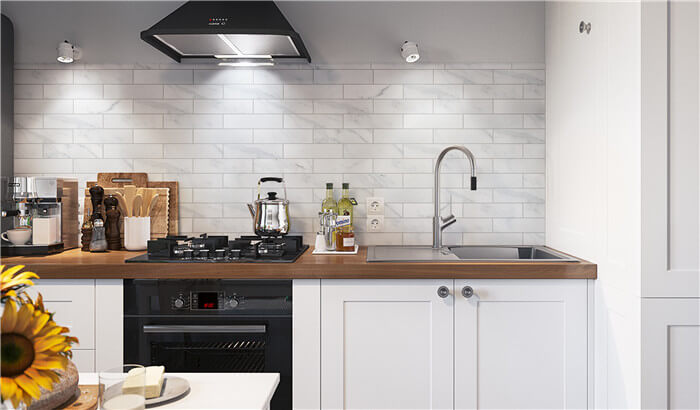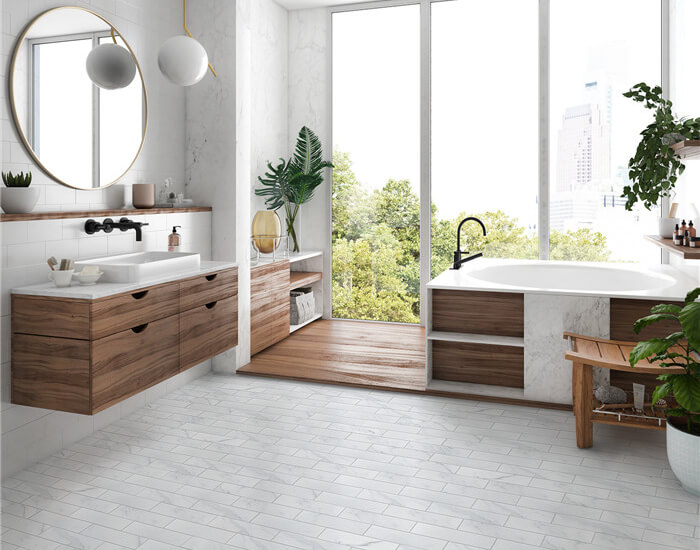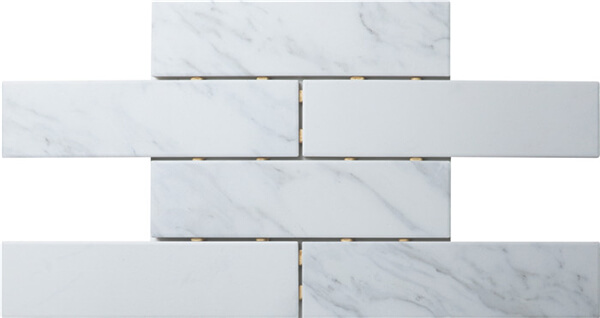 marble look subway tile CZM901B-B
Are you also surprised at the beautiful combination of glass, ceramic and stone fish scale chips? They are connected in a specific way and bring an elegant style. Everywhere decorated with this mosaic tile beyond doubt will be enhanced. You may be worried about that scale shaped tiles are too luxury for a formal occasion. Yet, it is partly true. Take the hoffice attached below for example. The fan shaped mosaic tile wall is very matching to the woodworks such as the funnel shaped wooden decor, the wooden shelf and the wooden cabinet. Not only does it mitigate sharp comers in the study design, but balance out the blank space of the wall that is used to be white painted. Also, anti slip surface, due to fan shaped chips of different materials combined, makes the tile possible to be used as flooring. However, you still have to consider the traffic flow. After all the tile is made of glass and ceramic, which are relatively fragile. You should be careful about where to use it. The bathroom design attached below is a tip-not using the tile on the entire flooring but just installing it on the platform, where bathtub sits alone.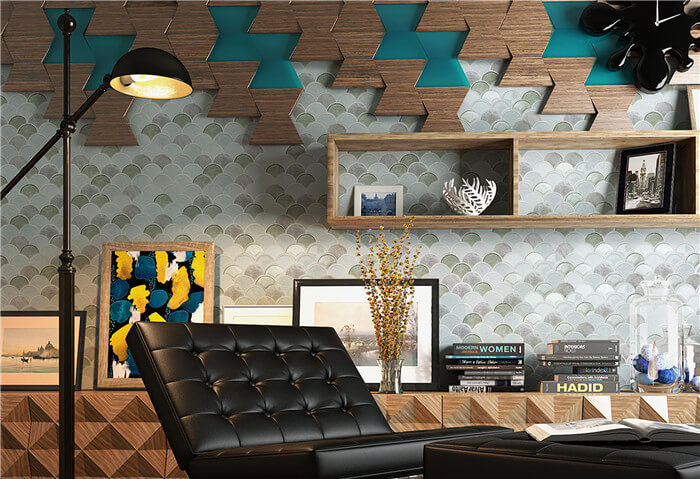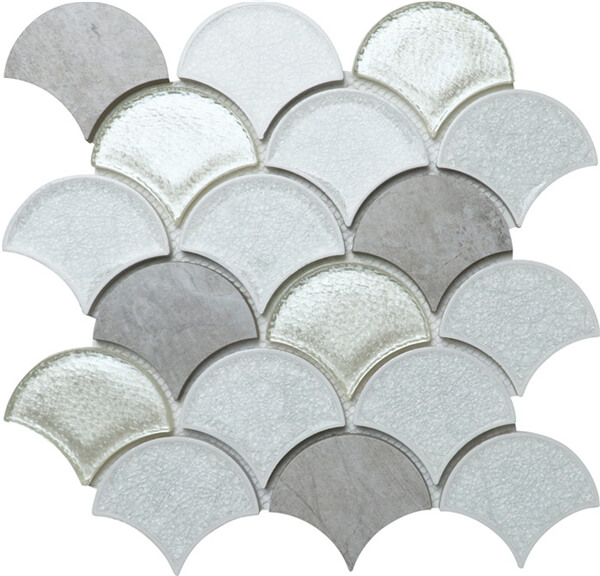 fish scale mosaic tile HZH046OYG
Black and white are two classic colors that easily create modern style. They have been universally used in interior design. You may think they give a rigid impression and are hard to fit perfectly in other design elements. In fact, if the tile is made in some interesting shapes or pattern, there is no such a problem anymore. As shown in the attached a corner of the living room, black-white puzzle shaped interlocking mosaic tile adds a sapid touch to the room. Childish interest is interpreted in a incisive and vivid way. On the other side, this tile can be used on floor as well, but brings a different atmosphere. This time is closer to modern style. Simple black and white almost take up all color lumps you can find in the attached entryway design. Puzzle pattern flooring undoubtedly is the highlight. It is a good way to catch your friends and customers' eyes when they first come to visit your home. Believe it or not, a flooring like that really impresses them deeply.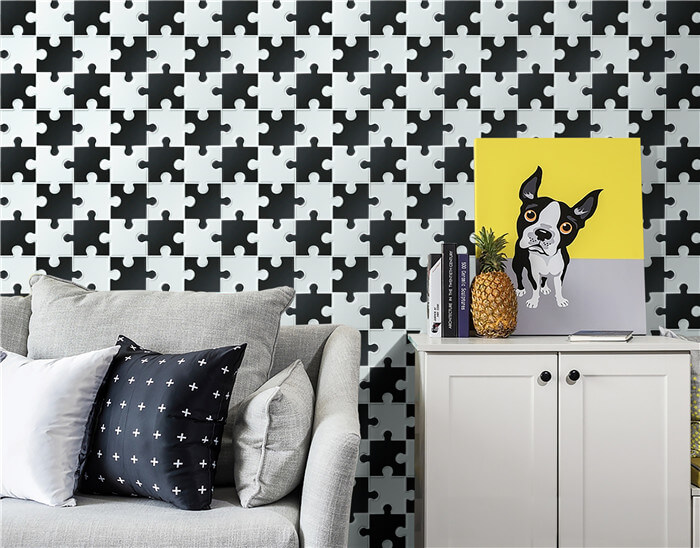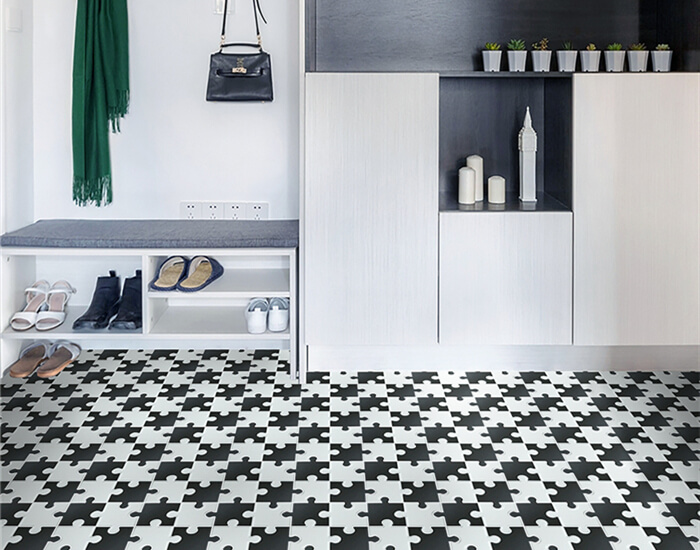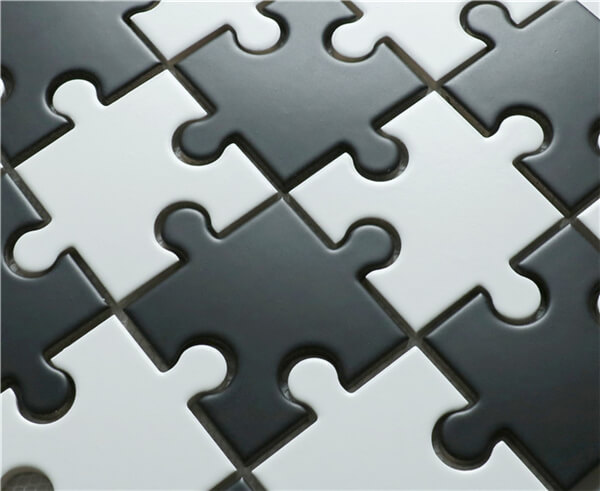 There is another mosaic tile that can be decorated both on wall and floor, that is, mosaic tile art. It is an artistic decoration different from any other tile product, which have more aesthetic value. There are three most popular mosaic tile wall arts-ceramic, stone and glass. Apparently, the ceramic and the stone are not as good as the glass in performance if used on floor. Generally speaking, the ceramic is fragile and the stone is not friendly to maintenance. In the case of high traffic flow, glass mosaic tile art have predominant advantage. Take the attached shower room floor design as an example. Glass mosaic art can satisfy the needs of pressure resistance and mould proofing.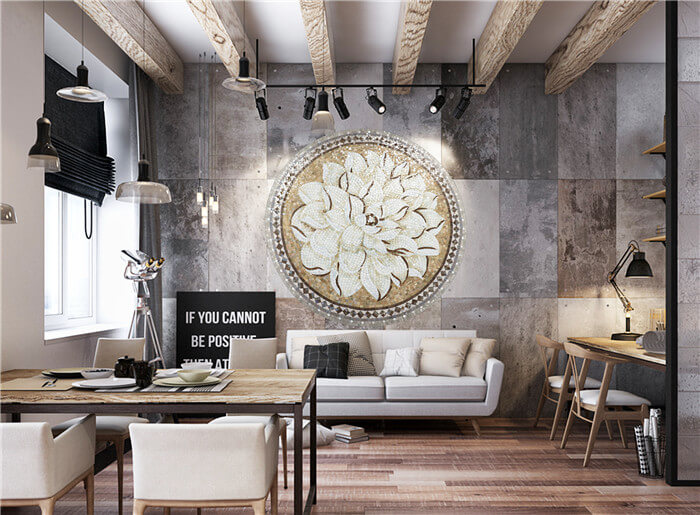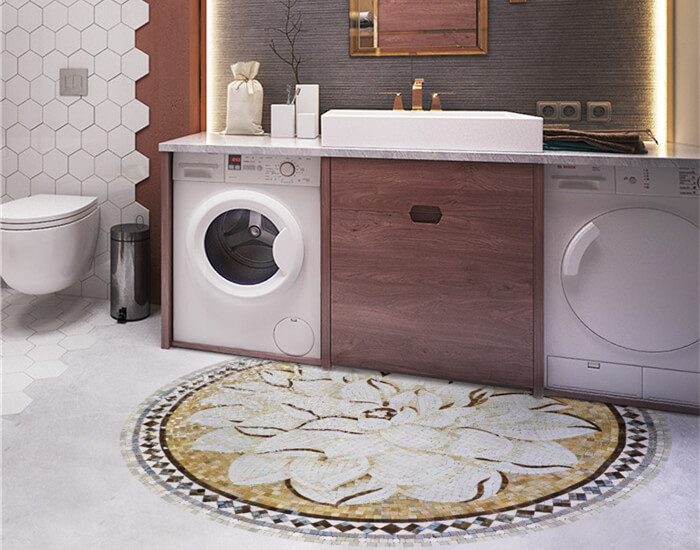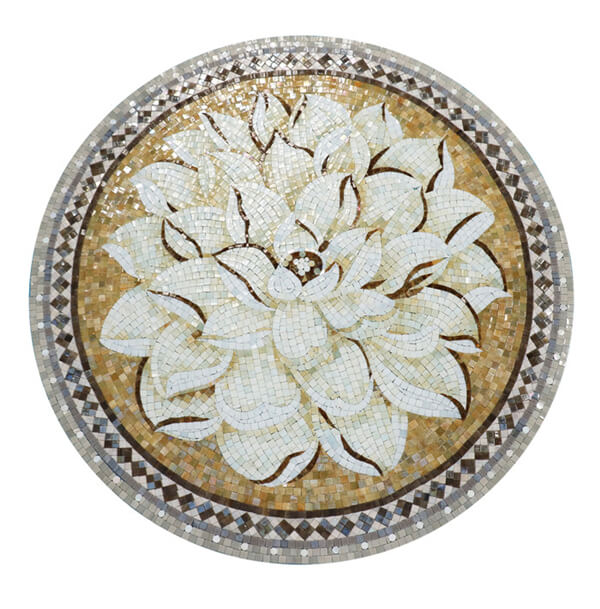 MM-Mosaic is a mosaic tile company who keep providing the most innovative tile products to our customers. Welcome to visit our official website http://www.mm-mosaic.com to get more info. We will be so thrilling to hear your new ideas about mosaic tile designs.