Many homeowners feel bored at the unchangeable ambience of their property. It is like there is a voice in their minds echoing, encouraging them to upgrade the furnishing regularly so as to make their house interiors look appealing and unique all the time. They are attempting to find the beautiful as well as cost-efficient solution that really freshens up the places they are dwelling in. One of the trendy options is to use beautiful mosaic tiles to create delicacy and taste for the home. These tiles usually are shown a particular tiny pattern repeating in horizontal order, and able to highlight the interior details that you want to emphasize. If you are looking for a way to integrate them into your home design, you should find some that have high quality and distinctive look. MM-Mosaic here is excited to show you 5 residential applications of mosaic tiles in different interior places that are beyond your imagination.
When you finally decide to add some mosaic tiles to your home, the first thing you may consider is the regions where you want to put them on. There are many locations in your home that can be decorated with mosaic tile decor. If you are just going to outstand a certain part, kitchen backsplash is a good choice. You just have to be creative enough to make the tiles look harmonious with the surrounding decors.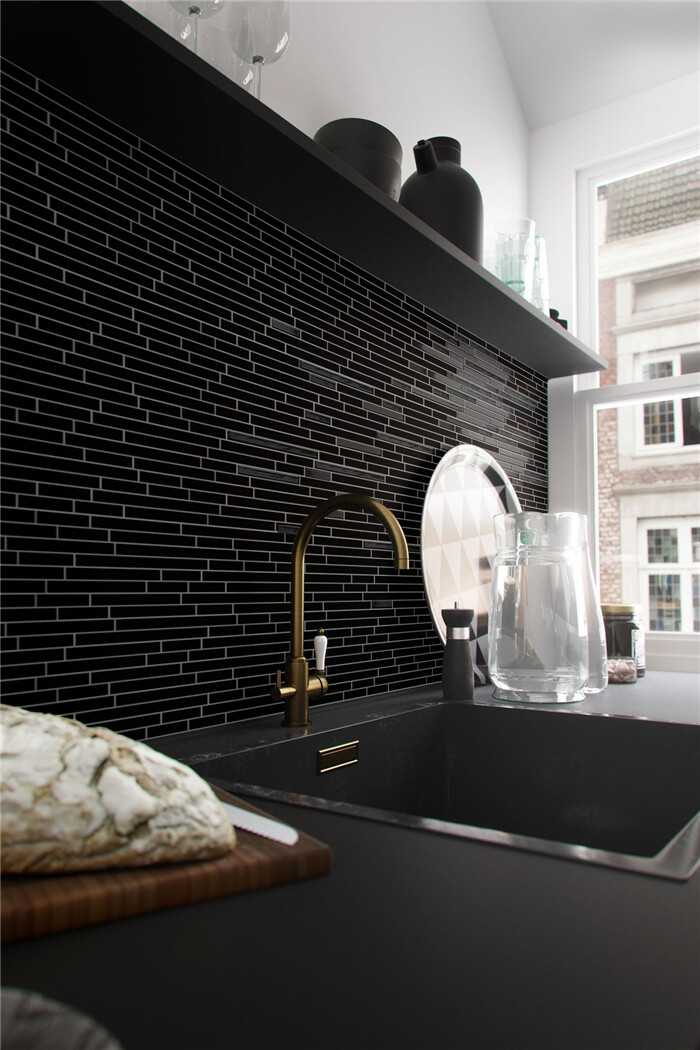 Featured Product: Black Backsplash Tile For Kitchen CZG109HA
The next thing that requires you to consider when installing mosaic tiles is to find the proper one that perfectly fits your original design. You should have a clear recognition of what material and visual effect the tile is in order to take good use of its features such as reflective or matte finish, smooth or waving surface and foresee the final look after tiling. Glass mosaic tile is one of the splendid options if you love its reflective effect and style in a way that really changes the ambience into what you aspire to. These tiles are made of wear-resistant and durable material so they are perfect for wet places like bathroom. It is a worth investment and will not disappoint you.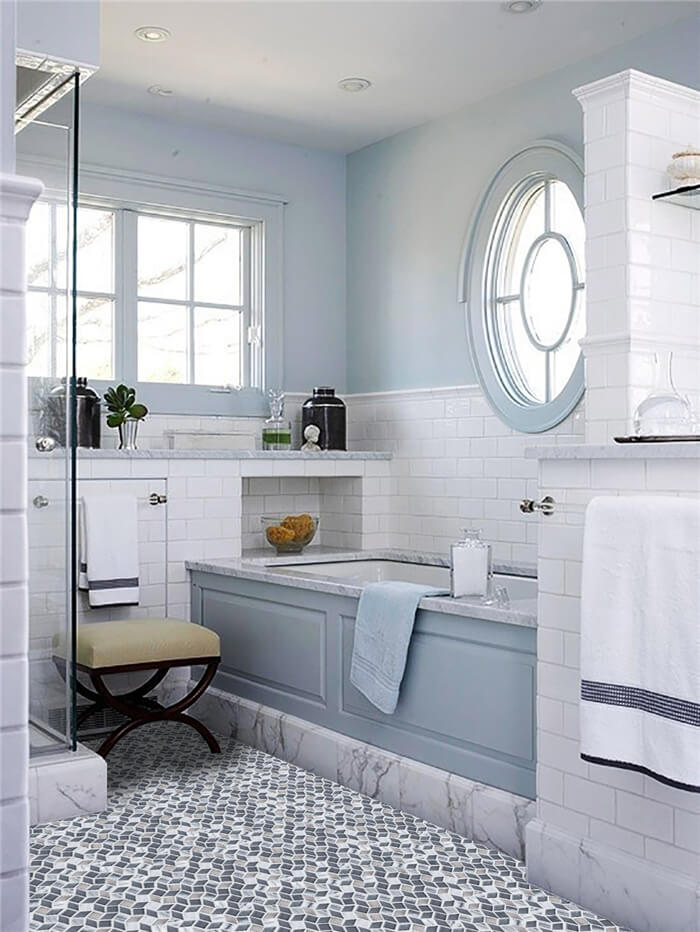 Featured Product: Bathroom Glass Floor Tile HZH029NY
Also, mosaic tiles can be used as your source of DIY mosaic art projects. Some mosaic addicts love collecting mosaic chips of different materials, colors and textures to make handcraft art on the walls, floors, tables, lamps, etc. It can be some exotic patterns, a cartoon character or some abstract color blocks. That means you need to put in considerable time and energy. If you think you are not skillful enough to create perfect decorative mosaic tile murals for your interior decorating, then you always can buy online from premium mosaics tile company a well-designed handmade mosaic that really enhances the style of your home. Then you are ensured to have a house interiors that outstands in your neighboring.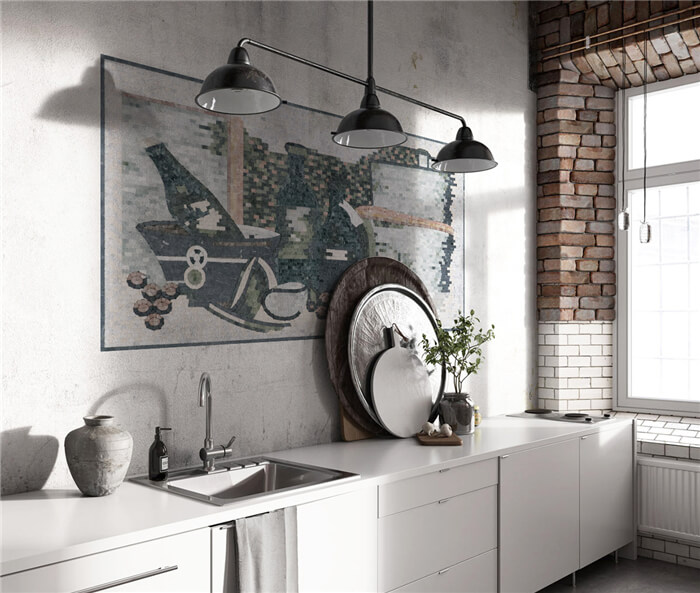 Featured Product: Stone Mosaic Art KZO026SKS
There is a type of mosaic tile which is made of more than one material. We usually call it mixed material mosaic tiles. Ceramic, porcelain, glass, stone, marble, concrete…all the materials can be freely matched together to form a special look. And it is often a mosaic tile that has the most prominent hand feeling and refraction effect due to the random arrangement of mosaic chips. So you will find each mosaic tile sheet is different from one another. If you love this irregular and natural style, then incorporate your design ideas with the tiles to make the improvements that you are dreaming come true. You will see a stunning result.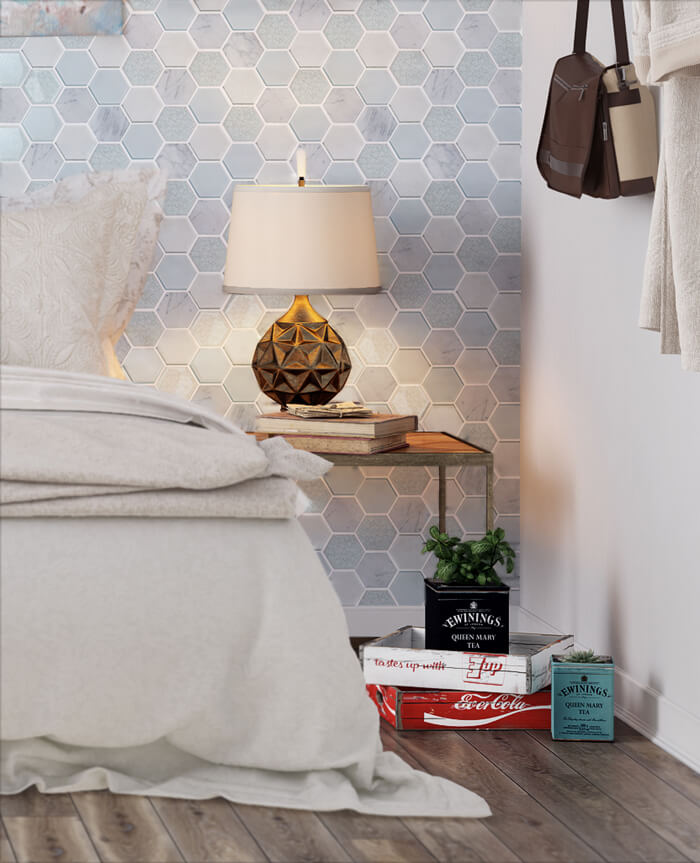 Featured Product: Mixed Mosaic Tile HZH020OYG
Have you ever thought about using mosaic tiles in a way that breaks the rule? Thinking out of the box you will find unexpected result. Just like the bathroom shown below. The owner used pool feature wall tiles to decorate her backsplash besides the bathtub, which is unobtrusive and unusual.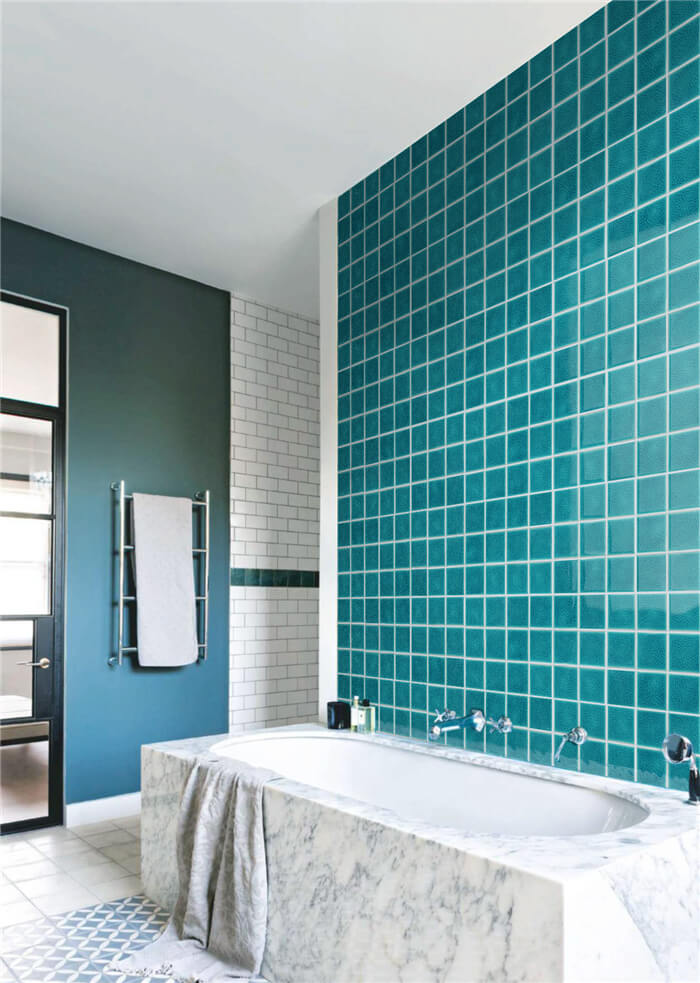 Featured Product: Unique Bathroom Backsplash Tile CTB608X
There are unlimited concepts when residential interior decorating comes to mosaic tiles. Do you have any adventurous mosaic tile design ideas? Just feel free to share your story with MM-Mosaic, one of a mosaic tile manufacturers who has more than 10-year experience in mosaic tile supplies.