Stone is a common building material that people are accustomed to decorating their properties. Natural stone has many positive traits such as durability. No matter installed as kitchen backsplash or bathroom background, stone mosaic tiles prove that they have become one of the representative favorites for designers in interior decoration to add style and luxury. Amongst, black marble stone mosaic tile has the strongest magic to create chic of highly integrated mixture – blending natural element into modern setting perfectly.
MM-mosaic has recently launched a natural black stone tile product, featuring three dimensional cutting edge and gray white marble texture. The reason why tile chips take the shape of rectangle is to make indistinct rhombus pattern. See in the attached zoom-in picture, both sides of the stone chips are cut so that the middle diagonal part is protruding and apparent. In this way, when each four chips combine, there comes out a rhombus. Many rhombuses connect in a specific arrangement and create a beautiful geometric pattern. Of course, there are many other colors for this 3d mosaic tile, which have the same charm with the black one. Using which color depends greatly on what style you want your home is. Simple, luxurious, rustic, antique? Think twice and consult professionals before installation to avoid unexpected finished appearance.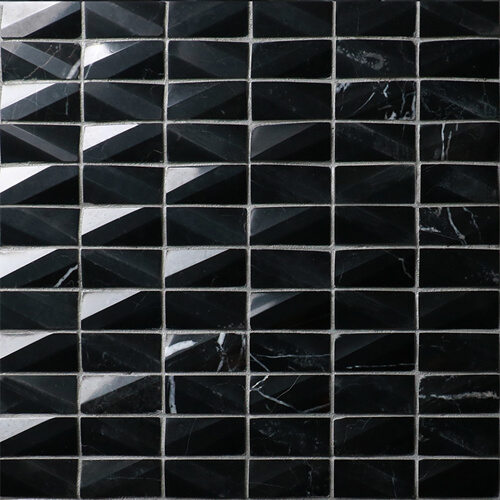 natural black stone mosaic tile sheet MZG131XN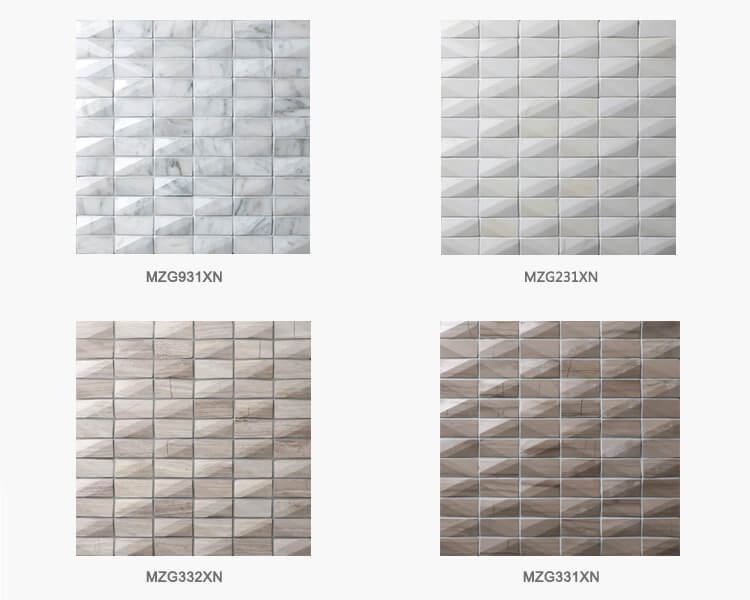 Natural stone made mosaic tiles are suitable to be used in almost any room, bathroom, kitchen, living room, etc. You don't have to worry color fading, frangibility and many other issues that may find in other kinds of artificial mosaic tiles. Cleaning and maintenance is easy as well, just clear water and domestic detergent if there is stubborn stain. Stone mosaic tile usually has charming luster so that you can use it to highlight and brighten any space you want. You are also not limited to decorate all those common places such as kitchen backsplash and bathroom mirror surrounding. See in the attached two designs, they are all improved by decorative mosaic tile sheets. Black colored mosaic tile serves as a backsplash behind the light gray colored shelf and makes it more modern and stylish. Imagine how bland it is if just left pure painted white. What's more, it is easier to get stained and there is few solution. Given all that, installing mosaic tile is a great alternative. It is both functional and decorative.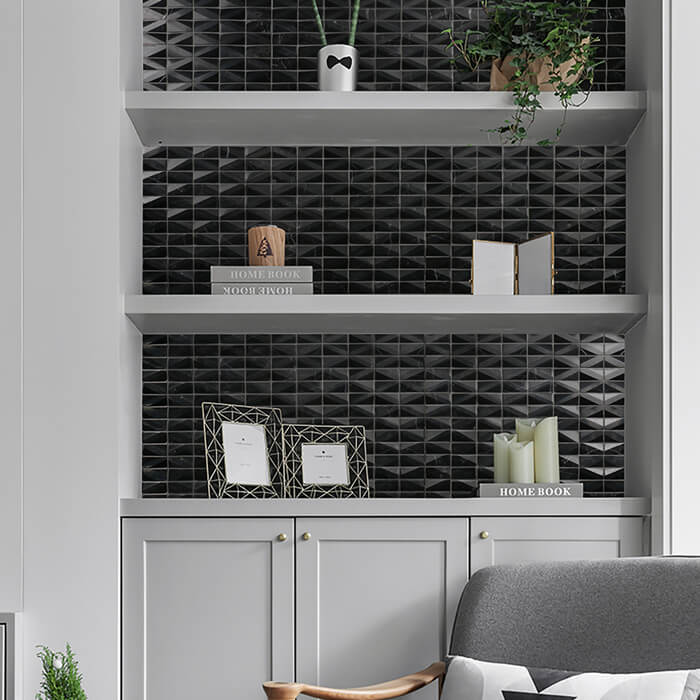 Following are some advantages you choose stone mosaic tile for wall decoration:
1. It can easily be fit in any very small or narrow space by cutting with an ordinary scissor, since it is combined with mesh on back. Generally speaking, mosaic tile sheet is more adjustable for corners and joints between walls and floors than large sized tile.
2. As it is made of natural stone, stone mosaic tile is friendly to almost any existing surface such as plain cement wall. They are matching and adhesive in nature so that you don't have to worry stone mosaic tile easily falls off from the substrate.
3. Stone mosaic tiles are not porous mostly. That decides they are not easy to be dyed so you can see it they are possible to be taken to kitchen backsplash, where cooking oil and source are unavoidable.
There are also some tips for you to install stone mosaic tiles:
1. It is suggested making plan before you start the installation, and maybe you can take a small part for trial to see whether you can handle it by yourself or not. If not, you would better turn to professional craftsman for help.
2. Calculate how much square meter of stone mosaic tiles you need to have, and it is recommended adding 5%-7% more to your order when you purchase tiles from local store or on the internet in case you can take the spare for trial or maybe you need to cut the tile in order to adjust it in small spaces.
3. Natural stone mosaic tile has its weight, so if you plan to use it as backsplash, use small carpenter's nails to hold the tile. In this way, you can grout it easily and levelly.
Stone mosaic tile can easily turn any plain area into a tasteful living space at minimal cost and effort. Pay close attention on MM-Mosaic, a premium mosaic tile supplier, you will get the latest tile design ideas and home decoration tips. Welcome any residential and commercial project purchasing. Sample is available and free quote here.