Keep the tile design appealing and the details impeccable - that's the motto of mm-mosaic tile factory. This new arrival laminated glass collection makes a deep impression with a timeless look. The tile designer, Max, opted for the beautiful color of different shapes for a classic look that's anything but ordinary. The details of contrasting Laminated Glass Tile, the classic tile shape, and the detail takes any space to next level. Keep on reading...
What is Laminated Glass?
Glass is a material that has desirable properties for use as wall decors, such as scratch resistance, ease of cleaning, resistance to staining, and relatively low cost. Furthermore, glass can be of decorative value based upon its transparency and because it can be sandblasted or etched in a decorative fashion to reflect light in a visually pleasing manner. But glass material may be easily broken, and for this reason, glass has generally not been readily available as a wall decor material. Therefore, laminated glass material is born.
The new arrival Laminated Glass Collection is made by MM-MOSAIC. The raw material is recycled glass. This laminated glass mosaic is sprayed with some colors on the tile surface to make it look colorful and beautiful in the sun.
1 Square Metallic Laminated Glass
Made from glass materials, metallic, and blended different-size squares, this laminated glass mosaic is perfect for interior design. All of this new collection is laminated glass, but we have different add materials to suit your particular project. We use laminated glass mosaic because it's durable, easy to clean, and perfect for our modern look. It really works for almost any project - from statement walls, and backsplashes. All of our laminated glass mosaics are suitable for indoor projects and we have a special tile design for outdoor tile projects.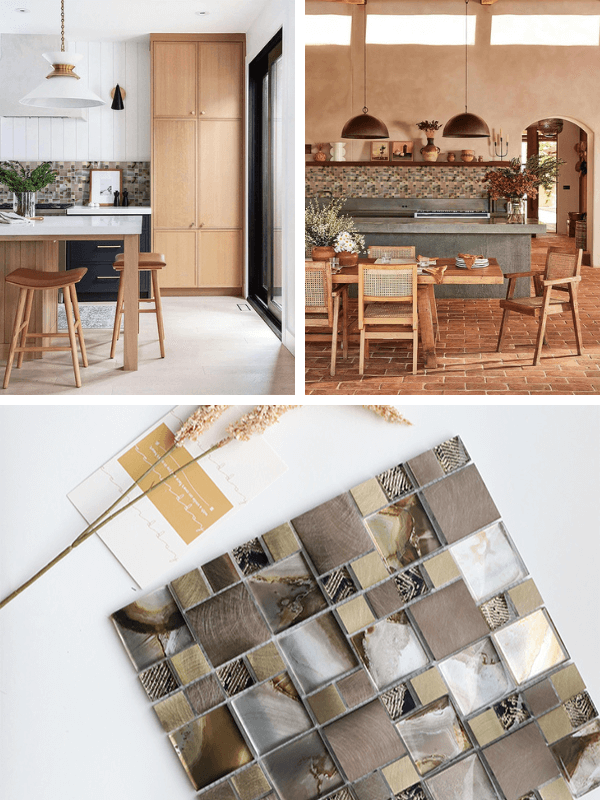 Featured Product: Square Mixed Metallic Laminated Glass GZOJ9906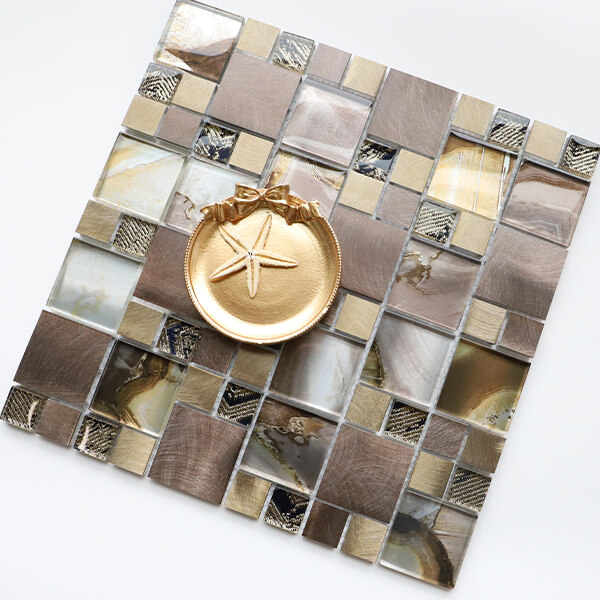 Crafted from a laminated glass and metal blend, our Laminated Glass Series merges exceptional shine and shimmer with a distinctive texture. Add dramatic dimension to any shower or kitchen backsplash, whether you are doing a backsplash or feature wall. This strong and durable laminated glass mosaic enhances any space with long-lasting, functional beauty.
2 Linear Shape Laminated Glass
The shape of the tile that you choose not only influences the style of the space but the cost of your overall project. Because each of our laminated glass mosaic tiles is carefully hand-cut by our talented workers and we also can combine different sizes in a sheet. For example, in this blend-size linear shape laminated glass mosaic, we blend three sizes of linear shape mosaic chips together, making an attractive appearance.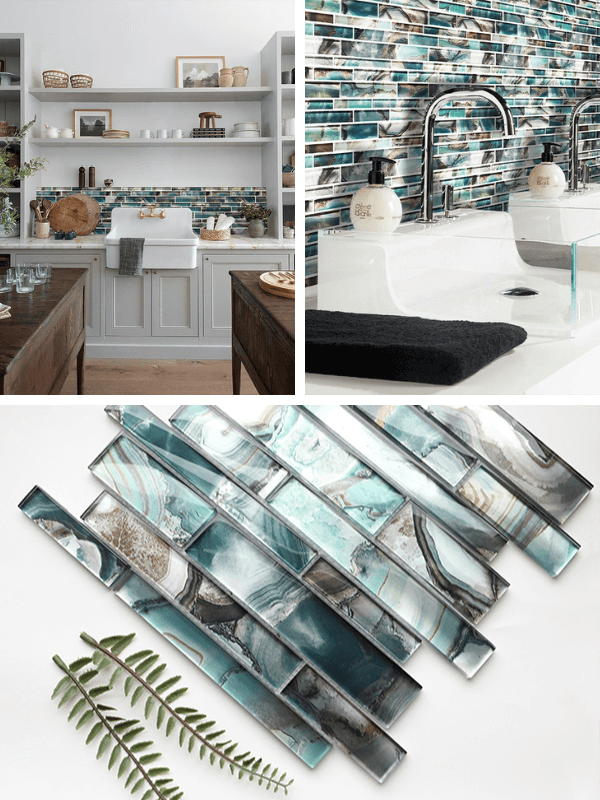 Featured Product: Linear Shape Laminated Glass GZOJ9917
Kitchen backsplashes aren't typically an eye-catcher and in only small areas it would be easy to write this space off with a dull design. By adding a bold and movement-filled backsplash, this space grew to look almost twice as large! Never forget, no space is too small to make a big impact on your entire home. This dreamy linear laminated glass mosaic is the perfect example of how a little tile can go a long way.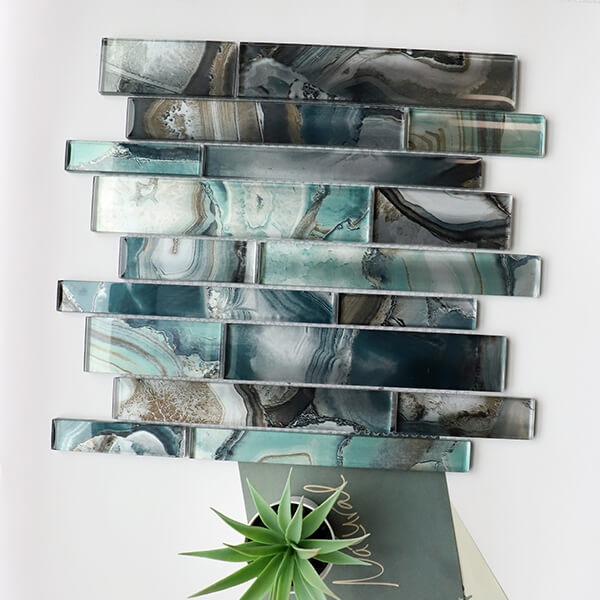 Completing the perfectionism of this installation is one of our favorite finishing techniques: flat edging. Rather than having an original edge, let your tile orderly shown into the wall. To create this look we cut the edge pieces of the tile that will be exposed and do a custom layout on mesh sheeting for an easy installation. This finishing technique adds a bit of modern spice to any project and is an easy custom option.
3 2x4 Subway Laminated Glass GZOJ9903
Size matters when it comes to your tile choice. While our larger sizes will stand out more visually, our smaller sizes will help maximize a tight space. But we recommended you choose this classic 2x4 subway tile, with laminated glass materials, you will get the unique tile look.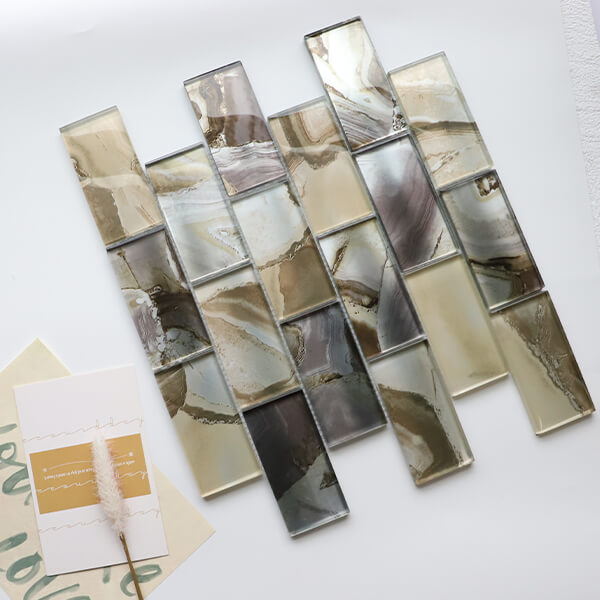 Featured Product: 2x4 Brickbond Laminated Glass Subway GZOJ9903
There are a few other details that make this small backsplash a winner. One choice that we appreciated deeply: how the beige-white paint matched the grout color for a magical transition from tile to the wall. Little options like this can make a large influence on the final backsplash design and this bar backsplash gets an A+ in grout from us! In addition, the wooden open cabinets, adjacent walls, greenery plant, and exposed ceiling gave space for this project to pop. Finally, nothing makes us happier than the finishing touches of adorable decor. All of these things made for the most unforgettable small backsplash design we've seen in a while!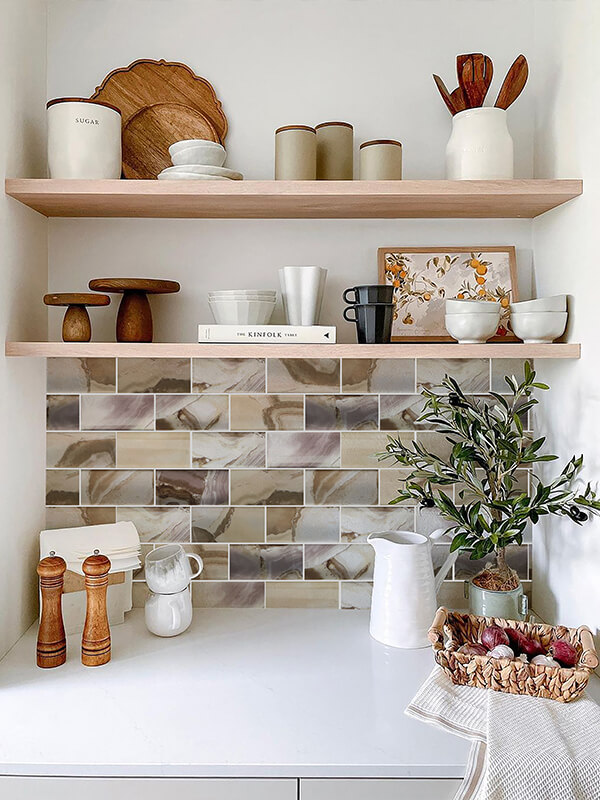 Add beautiful storage containers to keep your bathroom vanity area clean and eye-catching, just like your glass mosaic tile. If you are like most of us, you have plenty of items in your bathroom. Avoid clutter with storage options that you will want to use every day. We love these rattan baskets - how beautiful does that look with a beautiful 2x4 subway laminated glass backsplash?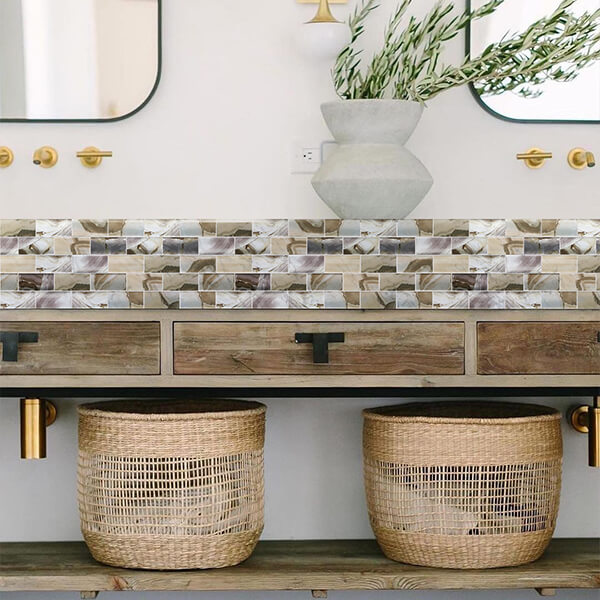 Visit our Design Inspiration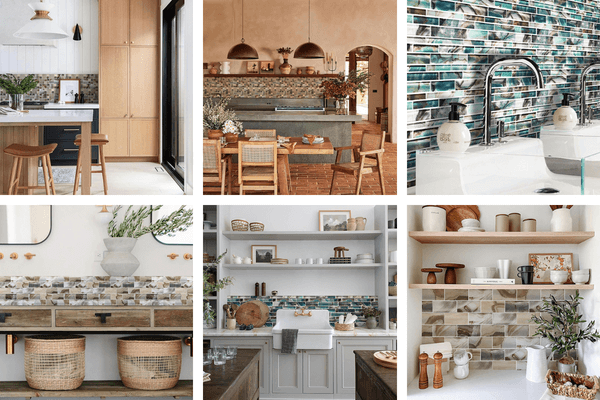 Feeling inspired? Let's take this tile back home.
Whether you are looking to add Finger Tile to your entryway accent, shower, or kitchen backsplash, MM-Mosaic is here to help you along the way. Why not tell us your design ideas and visions, and we will get the kiln fired up and ready to go? Order tile samples to see and touch right now! You might fall in love with our exquisite handmade tiles and we're so happy to hear what inspires you.