Moroccan style backsplash design has been a trending kitchen look that is centered around delicate and characteristic pattern design elements. With a complicated and not dazzling arrangement of patterns, which have been on the rise in popularity and can easily translate into many common kitchen design styles from contemporary to retro Moroccan age. We are very glad to show you one of our Vietnamese kitchen renovation project that embraces the unique Moroccan backsplash look, which just finished!
Design Stage
After gathering the inspirations of our customers, we worked with our design team to create a beige tones kitchen backsplash that wouldn't feel monotonous or dull. To make this backsplash warm and more interesting, we created an irregular Moroccan patterns arrangement by cutting one digital printed Moroccan sheet into four sheets. Hence, we can get 4 different styles, which all have a perfect glossy finish whether the decorative pattern surface or the pure beige chip. The combination of pure colors and sophisticated Moroccan patterns bring an amazing contrast as the kitchen light hits this backsplash. More digital printed porcelain tiles application click this post: Digital Print Ancient Wood mixed Moroccan Style Porcelain Mosaic >>>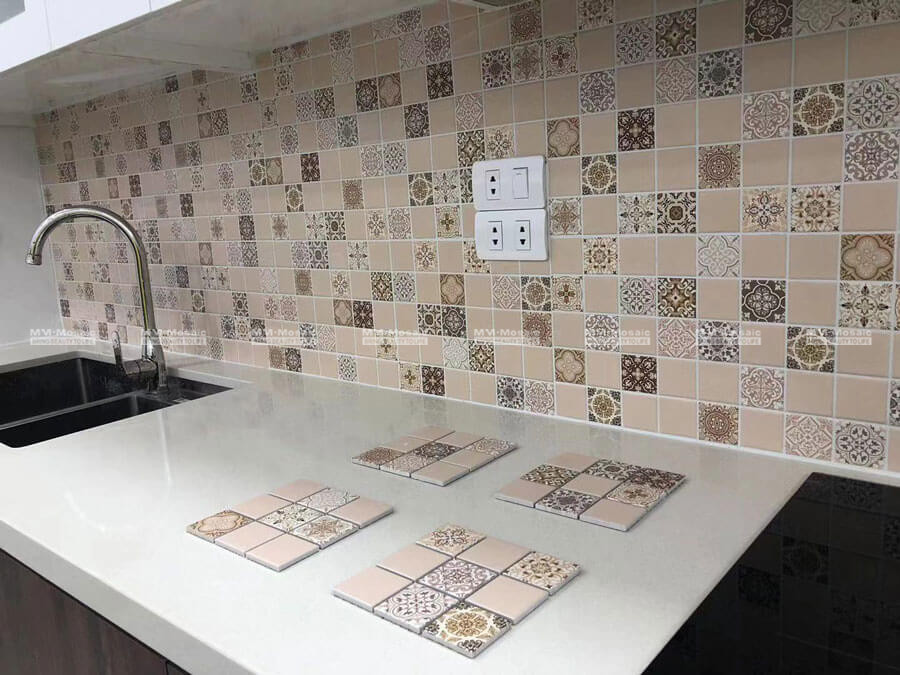 Exclusive customized sheets
We provided the ideas of paving ways for these interesting decorative patterns to make our customer's installation more convenient. What's more, due to every sheet has the mesh on the back even if it was cut into four chips, these mosaic tiles are easily fitting together like square toy bricks to create the eventual design.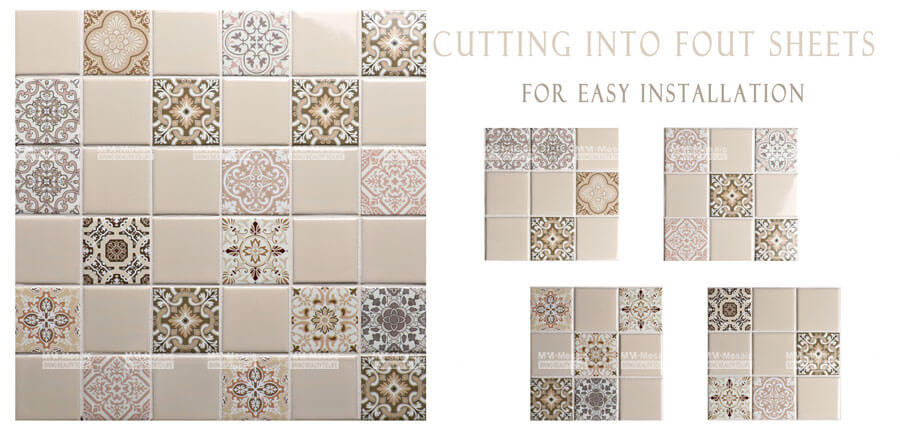 Installation
According to the customer message, he said that they were able to install these sheets without striking a blowing and the results are so satisfactory. His family members all love these exquisite decorative tiles! Let's see the snapshot of his backsplash renovation: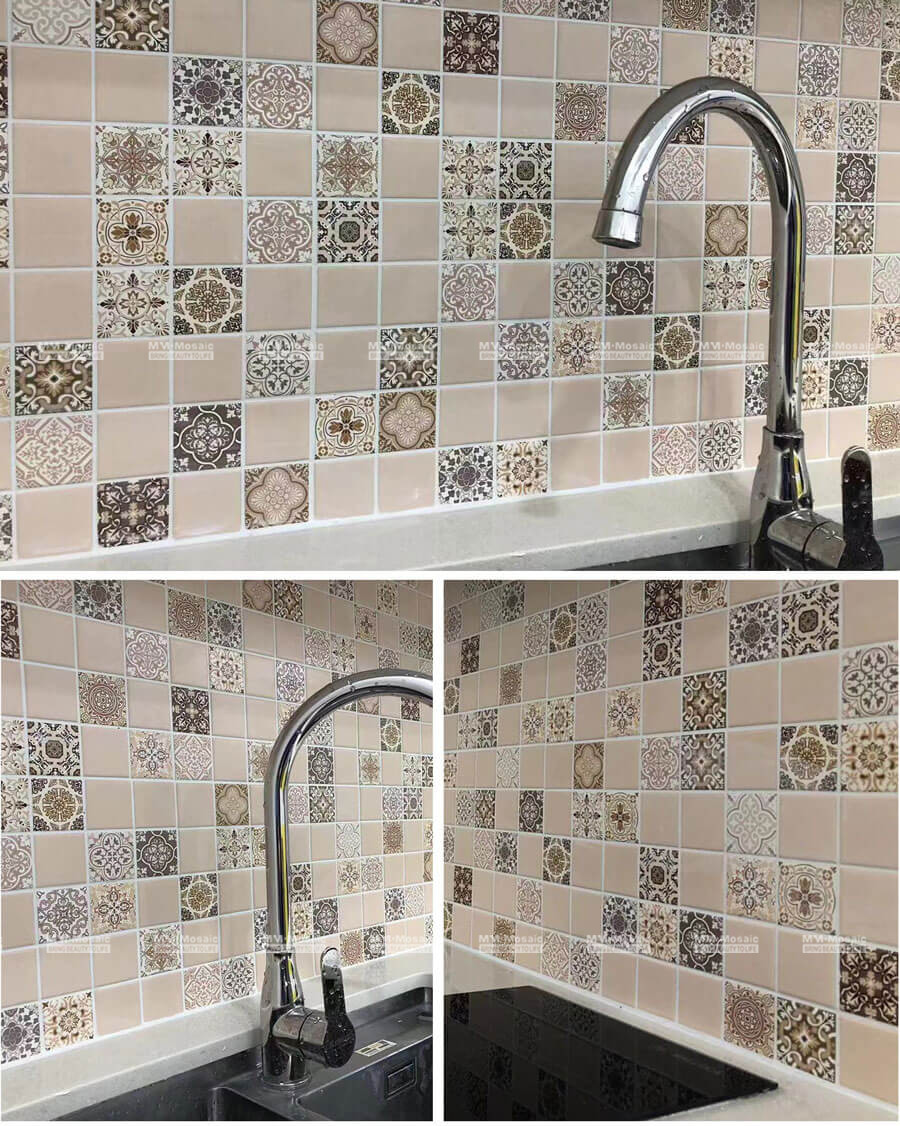 The Results And Other Decorative Recommend
We were all very surprised to see our customer's renovation of this stunning backsplash. With the smart application of pure palette and multifarious patterns, this kitchen proves that everyone can get a unique Moroccan style backsplash while also bringing a warm and attractive space for your house.
Except for this tile, there are various digital printed Moroccan which can create a different atmosphere for your kitchen: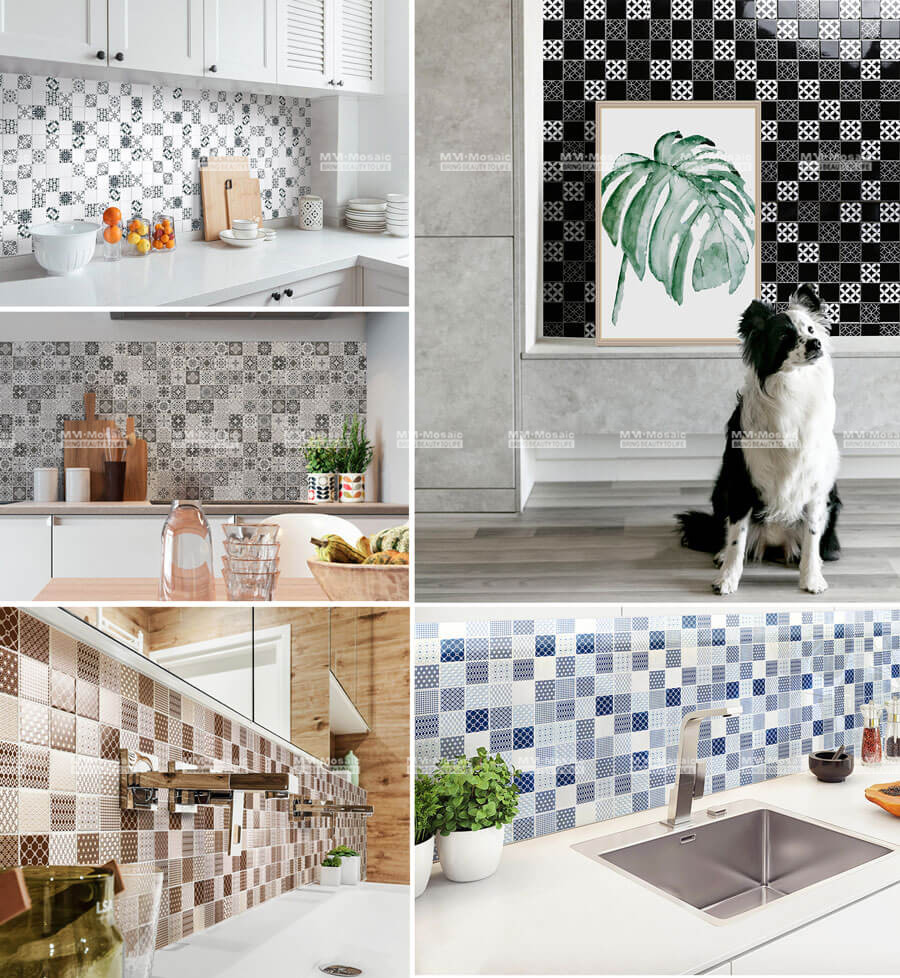 Get any idea of decorative tiles? Contact us for samples to see and touch now! MM-Mosaic are pleasant to hear your home project and tile inspirations. As an experienced tiles supplier, we will continue to share more beautiful renovation post and design more creative tile combination.