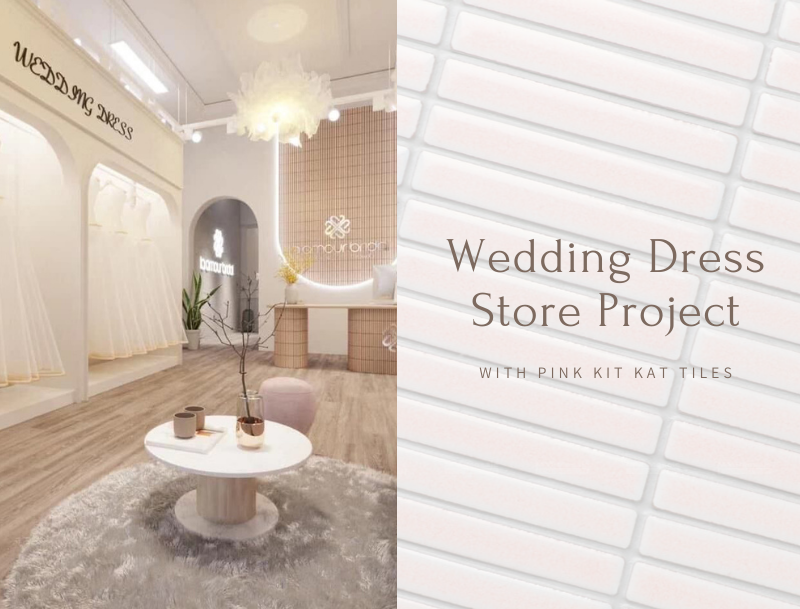 What better way to bring in the week of Valentine's Day than sharing our awesome project at Vietnam Wedding Dress Shop - L' amour Bridal? Three of our favorite elements were brought together with this wedding dress shop decoration: Charming finger mosaic tiles, dreamy Pink Palette, and wedding dress! The creative mixture of pink color brings the romantic vibes that every couple who is ready to get married gets to experience when they walk in the door. From this project, we were so glad enough to share some insights of the shop interior designer and show this shop to more loves!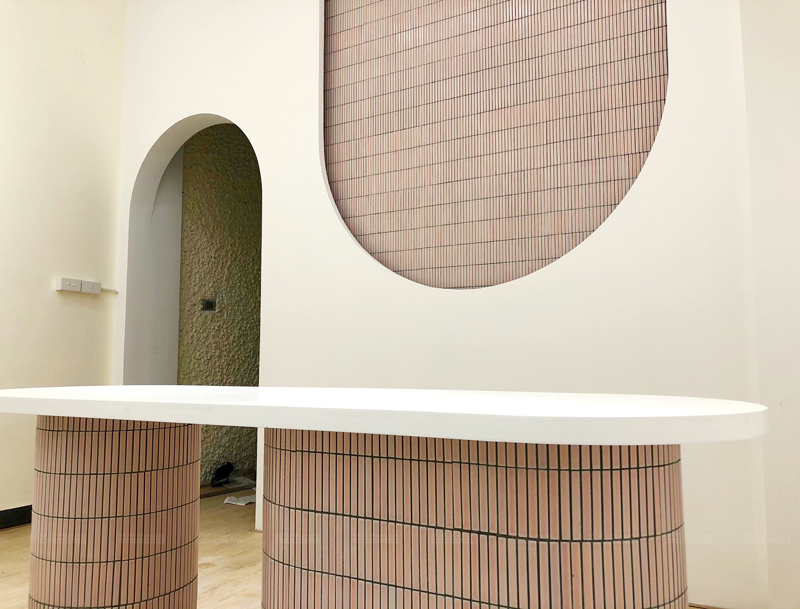 Inspirations
The inspirations of the wedding dress shop were born when the owner watched countless brides trying on their wedding dresses in the cramped fitting room and saw many wedding dress shops without romance atmosphere. Therefore, the owner decided to open a pink tones store with a wide-fitting room and wedding dress display rack. From early design conversations with the client, we were attracted by these ideas and he said that being a stylish wedding dress shop owner is more than creating the perfect space for each couple, the most important is telling them what's love and how to feel love through this romance design.
Check out our blog for more creative inspirations: How Mosaic Goes From Bathroom To Bar Counter >>>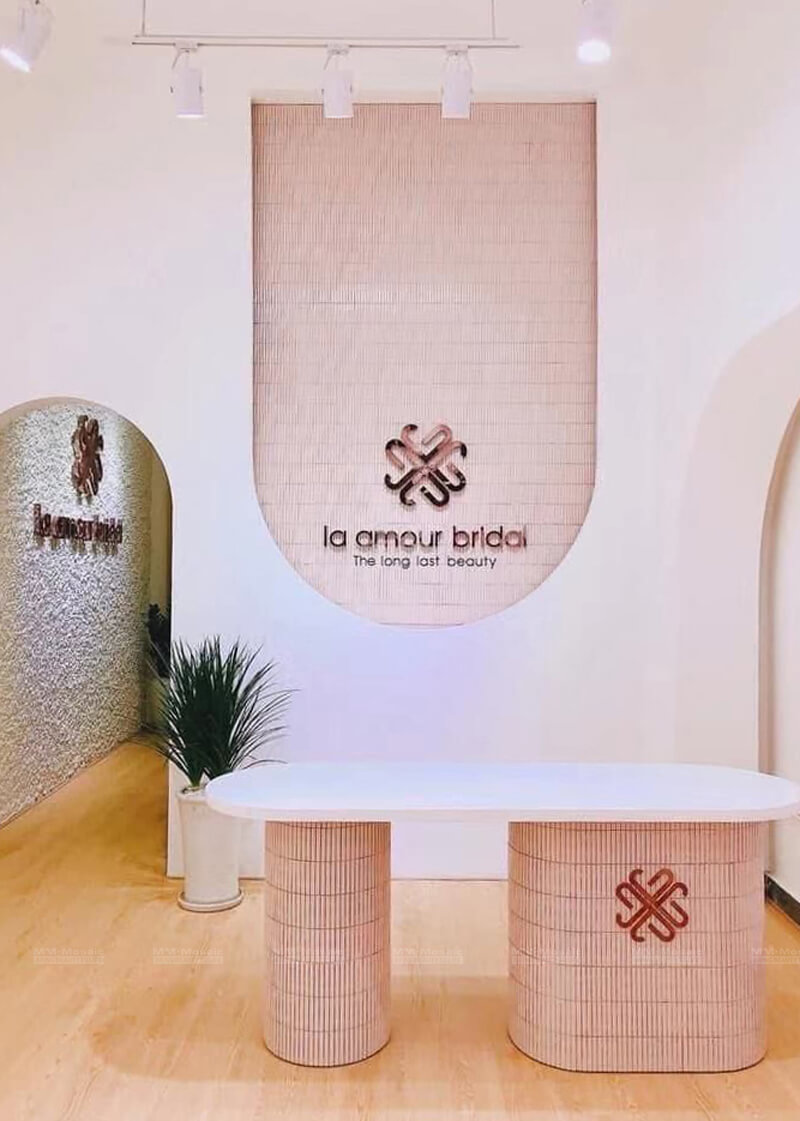 The Space
One of our favorite features of this new shop space is the reception desk. The unique pink finger stack bond accent wall and the imaginative table design made it an outstanding space of inspiration. Instead of putting a hidebound reception table, this desk is made of pink porcelain mosaics and marble countertop, which we think is a perfect backdrop for our premium tile factory!
Head to our blog for more commercial project styles: How Moroccan Fish Scale Plays With 6 Commercial Space >>>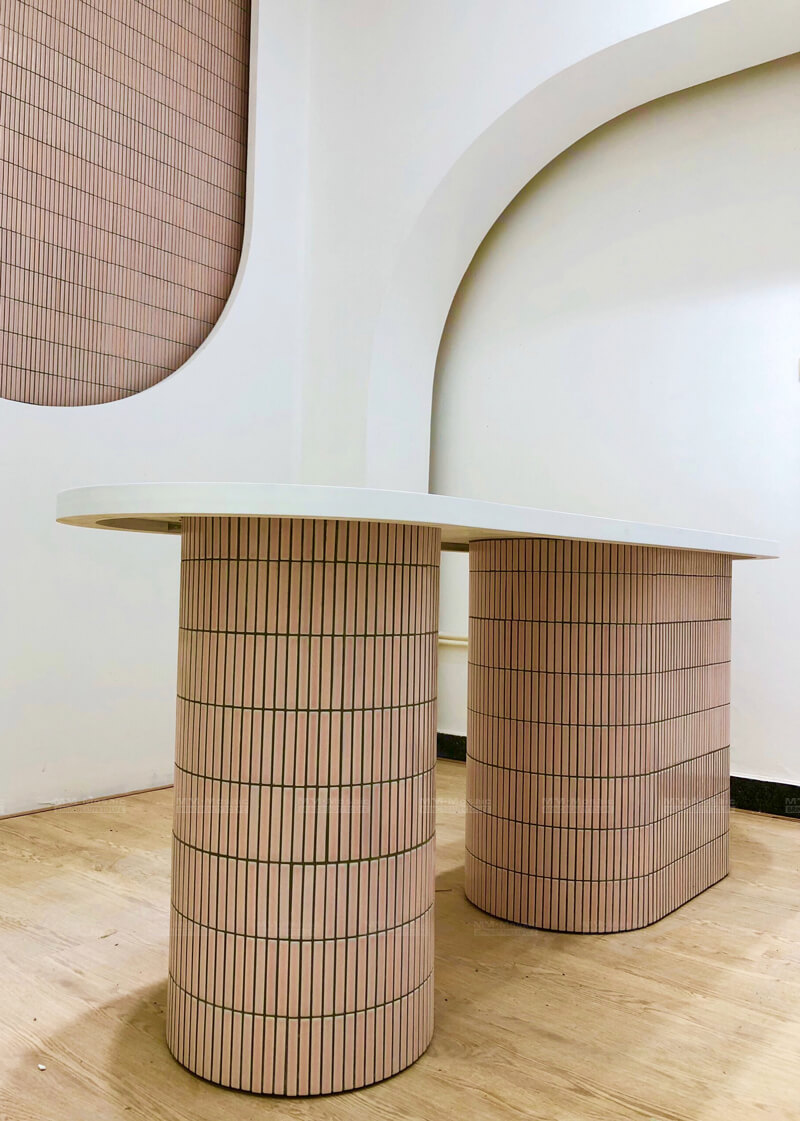 Why Pink? Why Stackbond Shape?
We all love this dreamy palette and Stackbond to this space and want to mix them with our beloved mosaic tile. We landed on a 12x92mm finger stack bond in a tiled way, which is both a wonderful and classic design to lay out a tile pattern. For the color, we chose pure light pink, this way there was a fambe surface and dreamlike color to complement the pure white wedding dress in the shop.
Here is another interior design of pop herringbone tile in a pink hue, for more check out here: Pink Glazed Matte Strip Ceramic Herringbone Tile >>>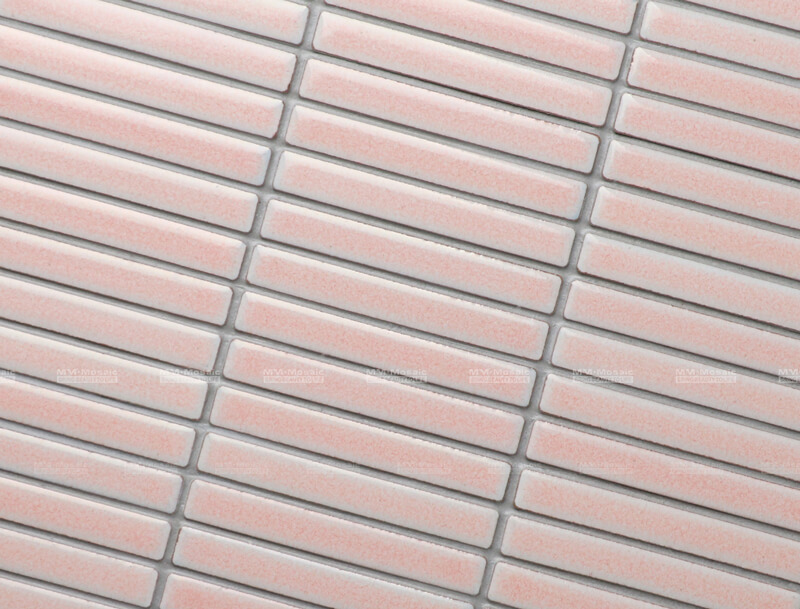 Featured Product: 12x92 Premium Glazed Finger Stackbond Mosaic Tile Collection

Installing Process
Our porcelain mosaic tile comes on a back meshed design for easy installation. We were so surprised that they were finished the installation. We love knowing that the special extra back design we take in making our mosaic tile help any workers get the job done!

Our tile makers take into consideration how the whole layout will look perfectly when making each sheet. Our 12x92 Finger Stackbond glaze has a fascinating variation in its color. The mosaic tile maker makes sure to layout these tiles in a way that shows a beautiful display of this surface fambe variation.
After checking out this installation of another shop project, maybe you will fall in love with our tiles: Coffee Shops with Amazing Scallop Backsplash >>>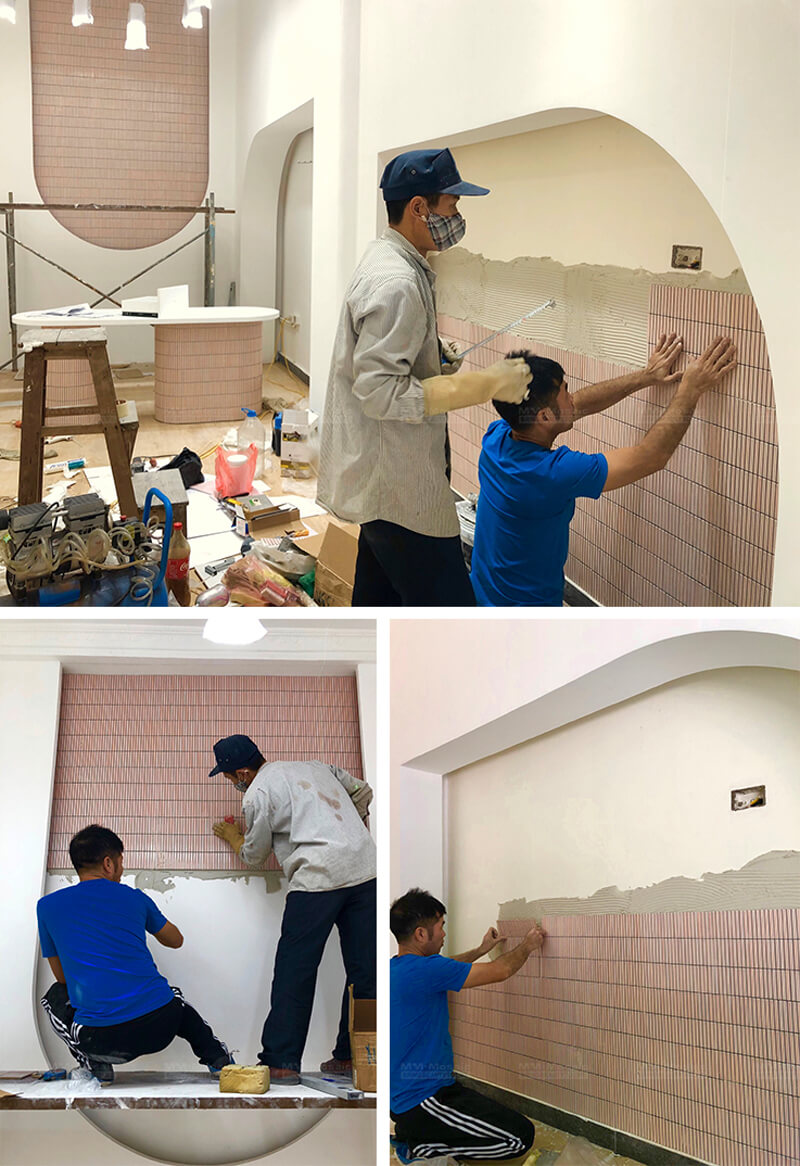 The Result
This wedding dress store turned out absolutely wonderful and we couldn't be more pleased. The pink space paired together well with a custom ceiling light and greenery. Our reception space now enhances the high quality of our tile and creates a romantic space to welcome each couple, and makes more people feel the glamour of this pink mosaic! If you are in the Vietnam area, please feel free to visit this shop and share your ideas about this project!
For more commercial projects, head over to our blog: Voguish Mosaic Designs Inspired By Vietnam Store >>>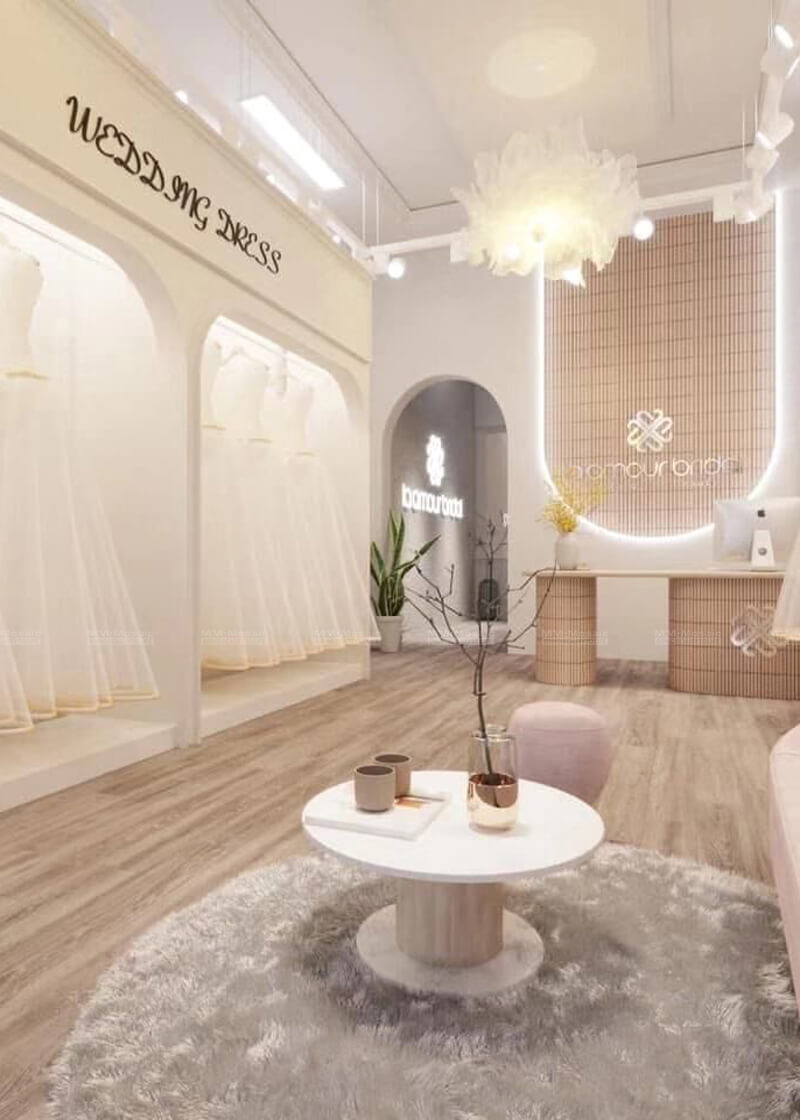 Some Useful Tips From This Shop Owner:
1. Putting Your Brand In A Prominent Position
It's a great way to make your customer remember your brand and share it with their friends, so you will get more customers.
2. Warm Vibes and Romance Ceiling Light Design
You can just install the special ceiling light, such as flower shape, branch shape, as well as warm vibes hue, which will enliven your shop.
3. Mirror Is Also Important!
Oversized mirrors are always a perfect thing to be installed in the wedding dress shop. If the space is big enough, why not install more angles mirrors to offer multiple views.
4. Showing The Professional Aspect Of Your Shop
Utilizing the little things, such as a veil, glove, and jewelry, to fill your empty space.
5. Don't Forget To Place The Cozy Furniture
Remember that you are getting your clients to stay long enough to try the wedding dress. Therefore, the responsibility of the shop owner is to keep them comfortable and the good way is to place the comfortable bong bench.
6. Some Greenery May Good!
Greenery plant brings the natural atmosphere and let someone down, it's a great idea to put some in your shop.
7. Displaying The Welcomed Wedding Dress!
Why not try to variate the displays regularly so as to retain an interest in your store? People always like new things.
Make sure that you can also consider various styles of curtains to match each new season within your budget, which will make your shop look fresh and new. Meanwhile, you should keep your wedding dress shop clean all the time and make sure that the shop looks dust-free.
Get Inspired?
Did this wedding dress shop inspire your future commercial projects? If you're interested in our premium tile, don't hesitate to contact us to order tile samples to feel the real touch in person! As wholesale tile suppliers, MM-Mosaic will share more stylish projects and trendy interior designs for our readers. Let's look forward to our next project!