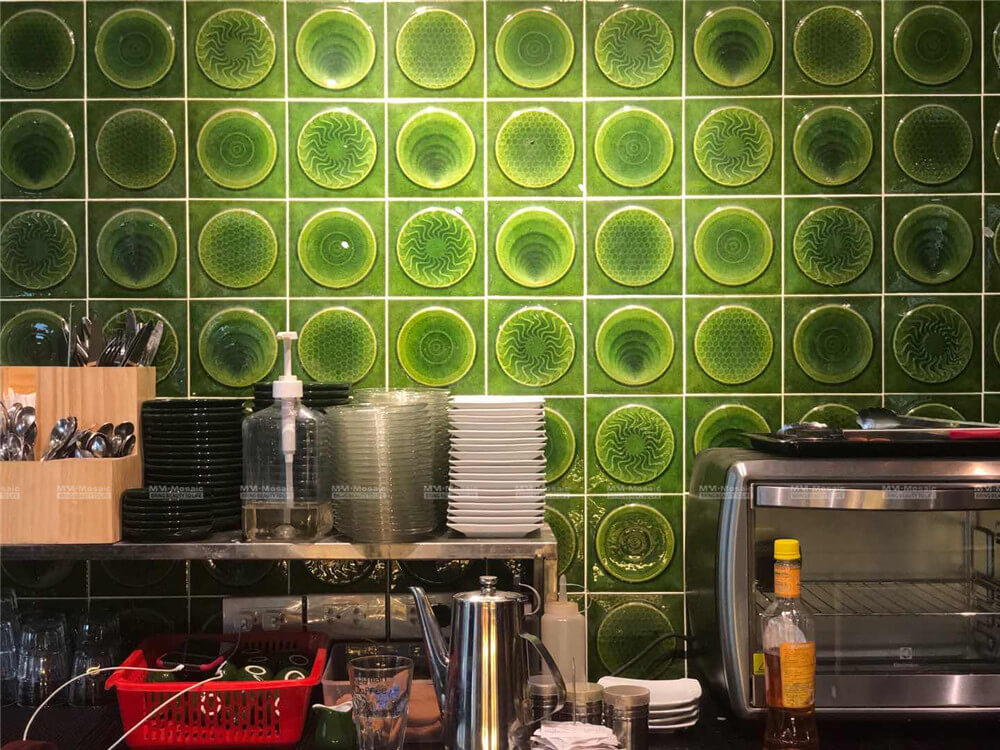 Why do we prefer the refreshing green glazes? It reminds us of the wonderful summer holiday, tropical forest, huge mountain, delicious kiwi fruit juice, a Christmas tree, and even carefree childhood days. It also reminds us of how significant it is to incorporate positive and delighted feelings into interior designs. In this blog post, we're going to share the green palette cafe shop project to show how to renovate your commercial space and how to use green to transform the common walls: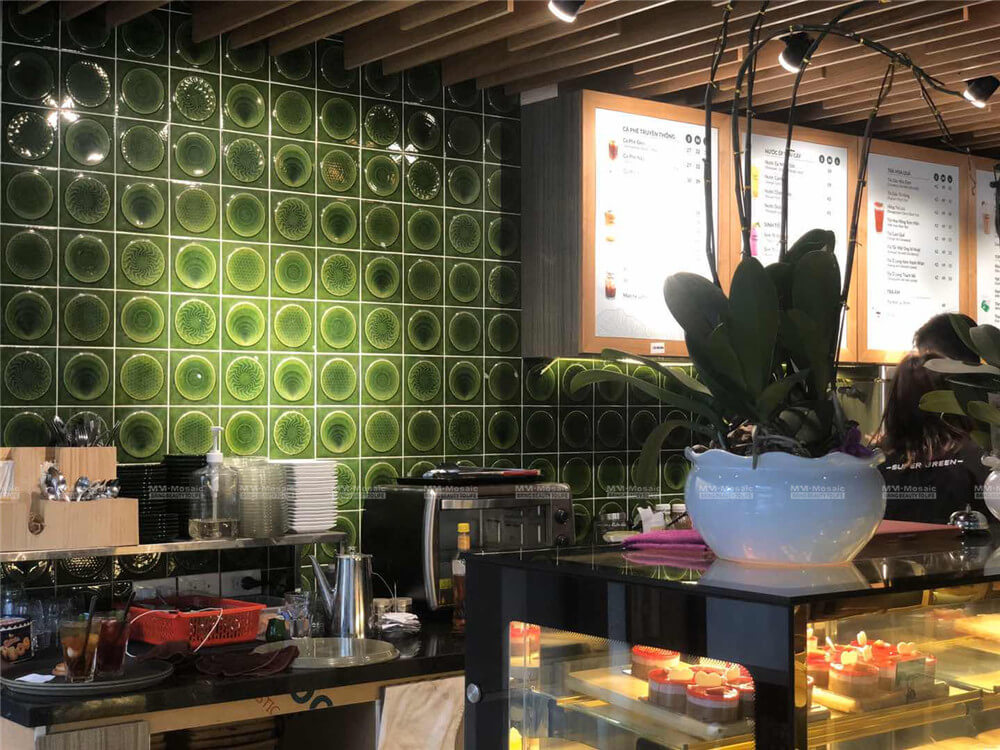 Featured: Green Glazes Collection
"Green has healing power and is understood to be the coziest and relaxing color for the human eye to view. I Love It!" - by this shop owner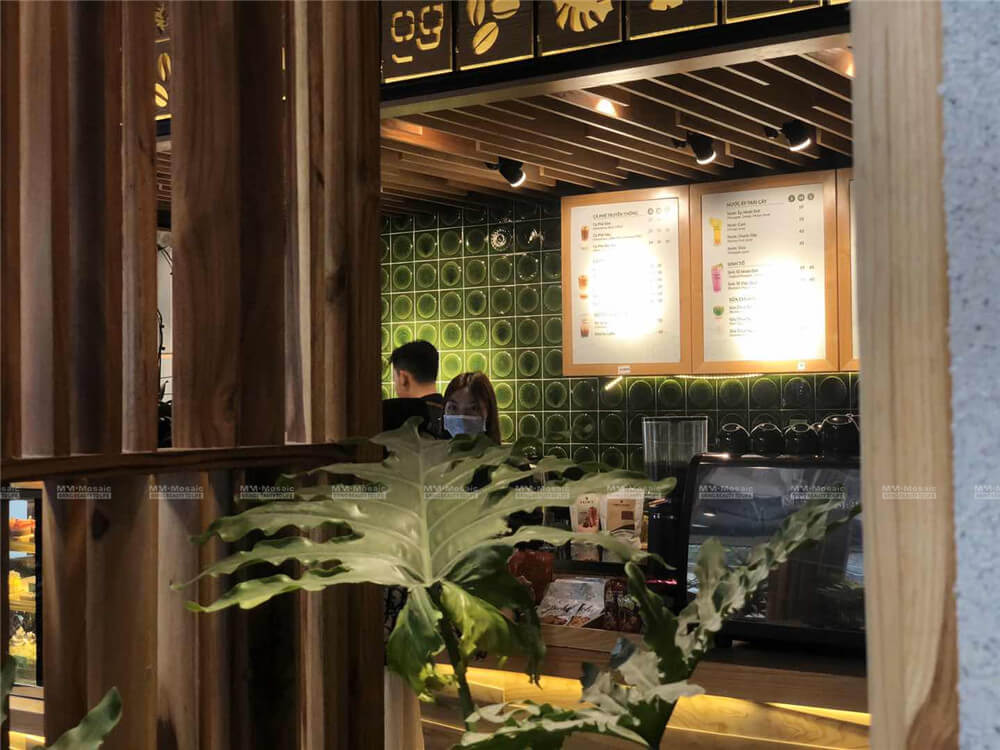 Tell A Story
All long, we decided that it was indispensable to create a story for each interior project that our design is to convey the message of the building process whether home space or commercial space. MM-Mosaic not only a tile manufacturer but also a space design KOL. A comfortable space that embraces tranquil walls, unique creativity, and moments of retreat. The water bar workspace was the shop we focused on to communicate our constant tenet. Pairing green glazes and chic pattern mosaic tiles allowed us to create a vintage and understated space for this cafe shop.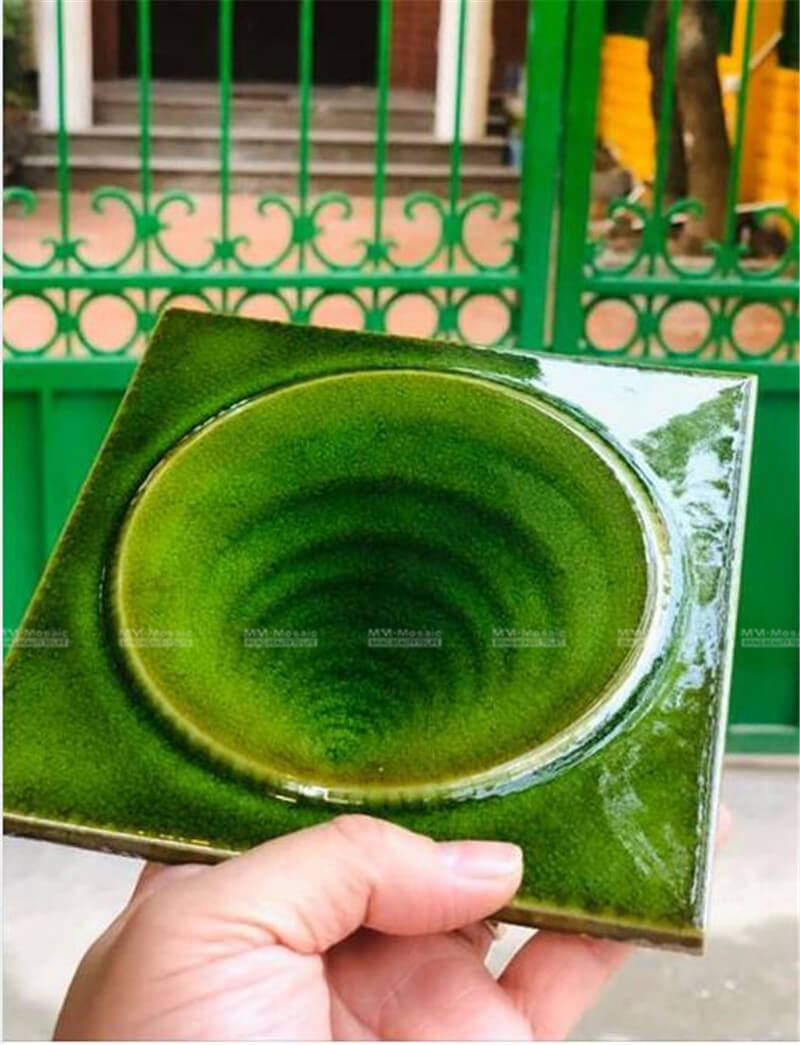 Play With Mixed Colors
Mixing and matching tile colors is one of our favorite things to do right now. It creates a unique mosaic look that we completely adore. The natural leaf shapes created will make the glazes look like a custom piece of art whichever color you choose!
Find other attractive palettes by reading our another blog: Pink Palette Finger Stackbond Mosaic Makes Dreamy Wedding Dress Shop >>
Consider Contrasting Grout Color
We all know that it is the little things that make a large difference. That's definitely true with grout color. If you prefer to choosing a single glaze color like our cafe shop project, we think it can look distinctive to use a contrasting grout palette. Because our green glazes are the cool tones, therefore, we choose neutral white color as the grout color to make some different and It highlights the glaze even more. By utilizing an importantly different shade, you can get your handmade tile to trend, improving the natural beauty of your whole shop.
Learn more green glazes interior design with our blog: 16+ Dark Green Palette Refreshes Your Space >>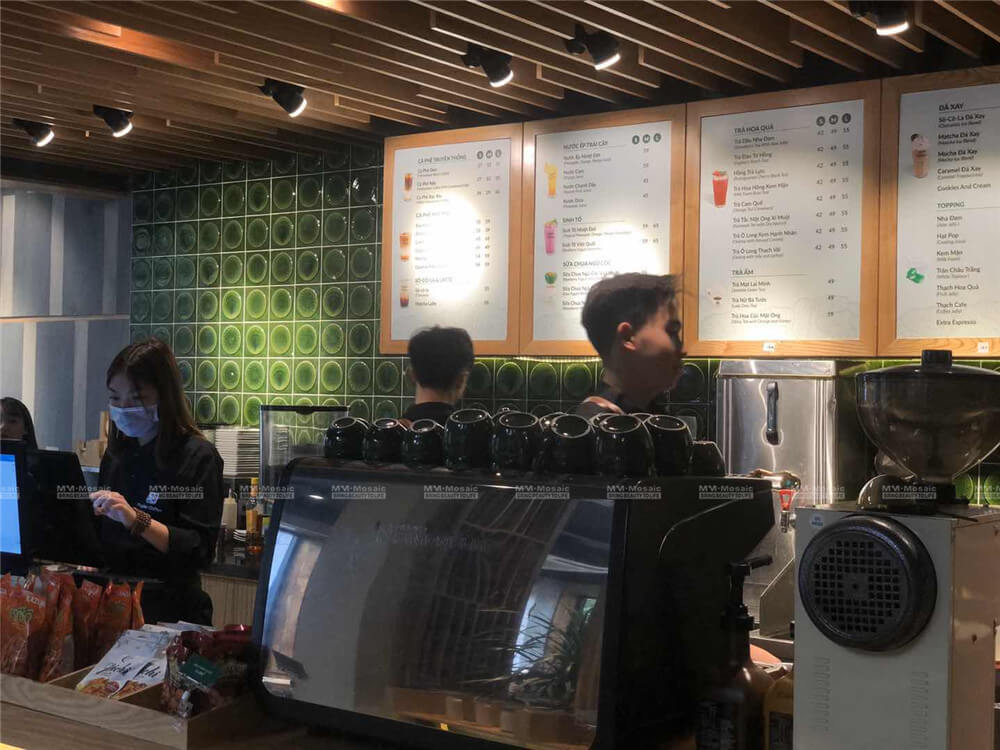 Go Green Continue
Stepping into the tranquil and unique restroom right now! We were inspired by the saying "more means good." Enhance the atmosphere of a small restroom space by filling it with shades of greens. Because this space wall's courageous focal point is the round pattern green glazes porcelain tiles, our designer echoed the walls with two big round mirrors and rustic style round stone hand basins.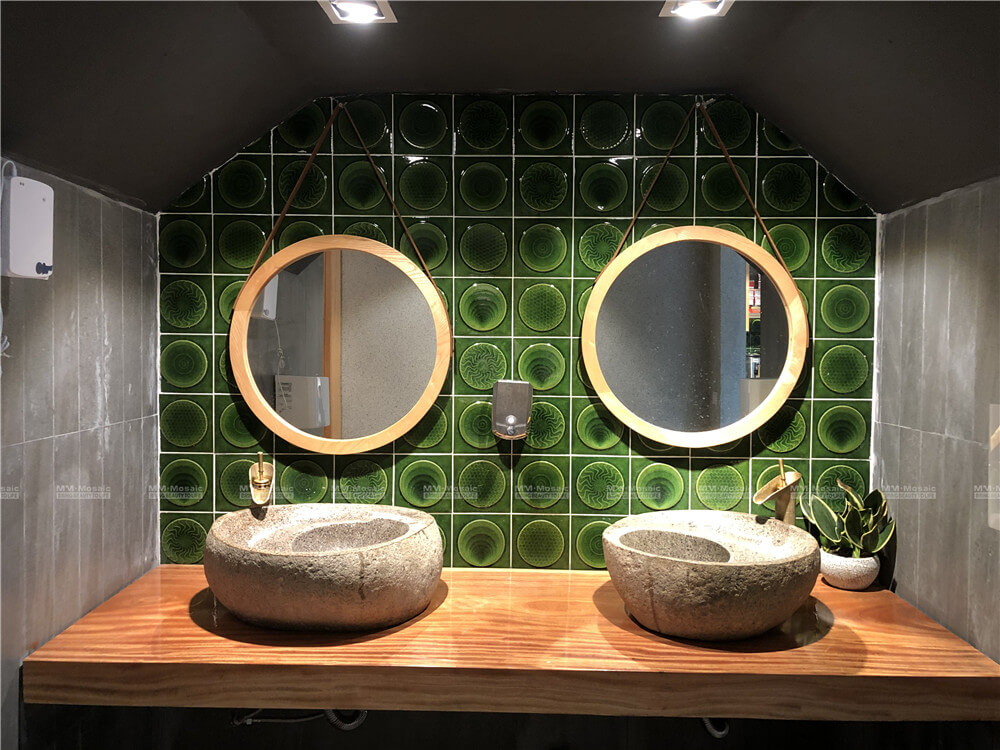 Tips on How to Install This Green Tile
Many of our porcelain tile themselves, others choose to hire some tile installers. It's really an individual preference and dependent on your personal abilities. Installing the wall tiles yourself can be interesting and funny. We have some tips and projects to help you through the process. If you want to install your shop wall by yourself, please pay more attention to the details!
- See more commercial shop projects might help you more. Here is a cafe shop entrance design with green glazes leaf shape wall tile:"Tile Your Shop Entrance Green Leaf Shape"
- Head over to this blog to get a feel if you prepare to start your DIY job. It includes the particular step instructions, it's called "How to Tile Your Backsplash with Porcelain Mosaic"
- For further installation instructions, this is a great post to tell you how to cut the detailed places while you're installing. "Cut Tiles Right To Ensure A Gorgeous Tiling Project"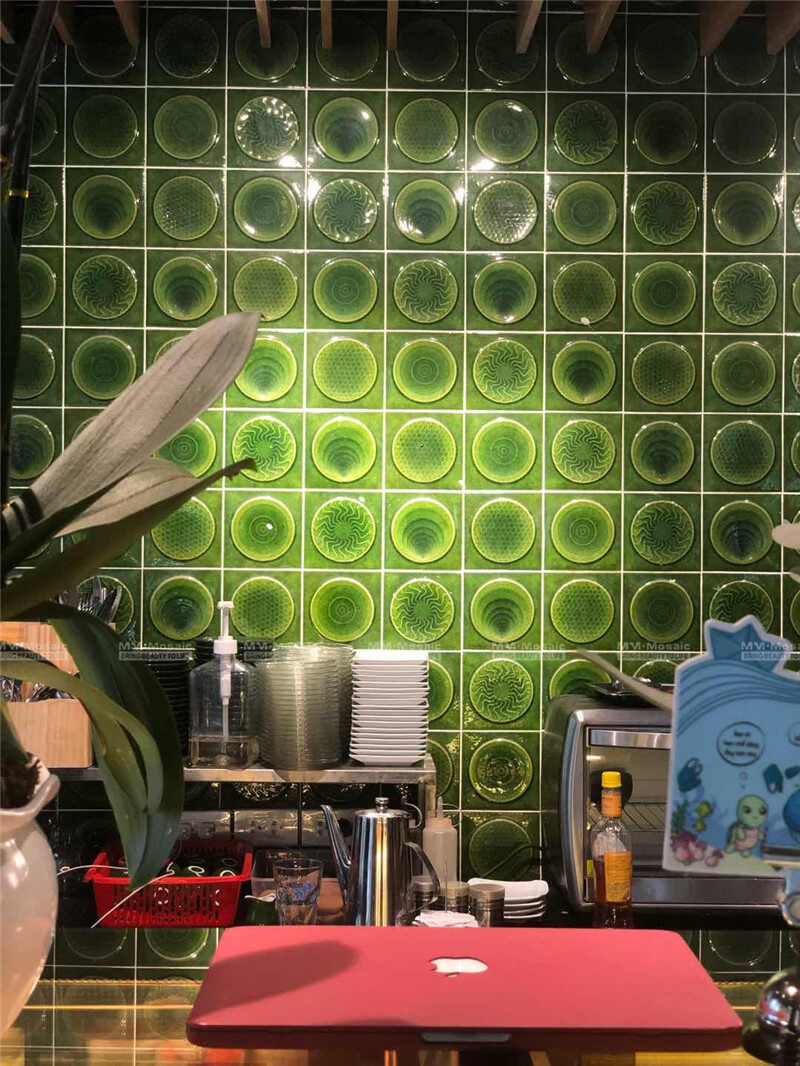 Ready to redecorate your space with the color green? MM-Mosaic has a wide range of green glazes mosaic tiles to help with that. Visit our other commercial projects to get more renovation ideas or order tile samples to see and touch this smooth green glazed surface immediately!
Any Ideas? Let's take this green glazes home!