Are you thinking a change of wall decoration would certainly lift your home? If you want to add color and vitality to your life space or reception area that fits to welcome guests, then look no further than glass mosaic tile. This tile have many kinds and that means plenty of opportunities to upgrade your home in any manner you think it makes the best effect. Also, they do not absorb light but reflect it, and the result is a brighter and spacious room. To achieve such a fabulous design, you should learn to find the right one and blend it into the surrounding perfectly.

Before we get started, there are two tips you are supposed to know about how to use glass tiles to decorate home in a proper way. First, glass mosaic tiles are durable. Glass has proven itself a sturdy material that is water and mildew proof owing to the no-pore structure. While glass can break under heavy pressure, it is advisable to use on walls better than floors. What's more, glass is transparent originally. Why glass has colors is because of the addition of colorant. It is not suggested installing colored glass tiles on house front wall, garden and anywhere that has strong sunlight, because that will accelerate the speed of fading.

For finding the most suitable glass tile, the first thing you should do is to decide a color scheme based on the existing decoration of your home. That helps to narrow down the scope, and is a saving of time and labor to pick up one from lots of choices. Depending on the look you want to create and the way you get used to use the room – maybe you prefer to a luxury living room that acts as the focal part of your home rather than a pragmatic space for rest and relationship development amongst family members – will help you to choose the most suitable glass wall tiles. In the following examples, we will go into more details.

Reception Room
From pendant light to printing cushions, each detail in this luxury guest room reveals the noble sense of taste of host or hostess. In general, it is a warm tone design. At the first glance you may has got deep impression on the beautiful beige and pink elements - flannelette couch, wild deer statue, classic mural painting and many. Especially the hexagon glass mosaic tile backsplash, it appears shiny pink against the dim light and makes a brighter living room. As shown in the attached zoom-in picture, this tile is combined with silvery and crystal white small hexagon chips. The silver color serves as a reflective mirror implanting into on the back of the glass chips. If you aspire a gorgeous effect, this tile can achieve it.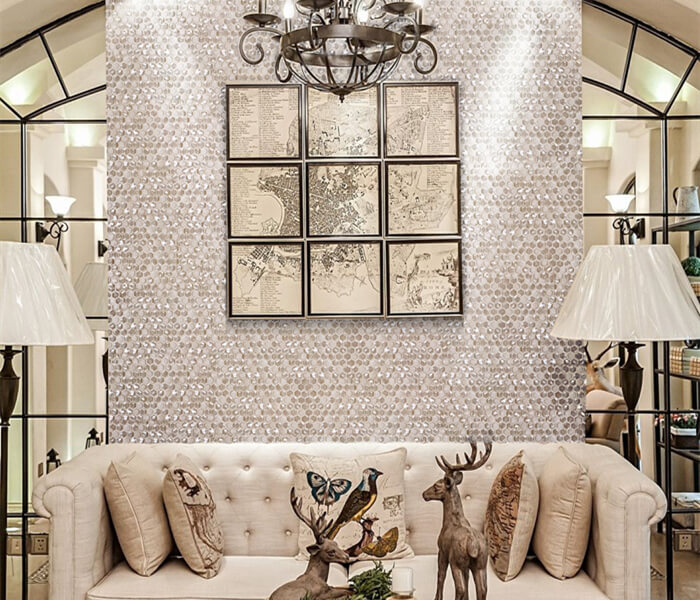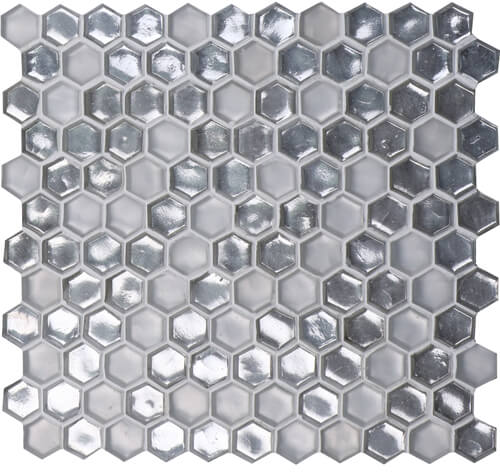 silvery hexagon glass mosaic tile GZH033WQ
What an ingenious design it is. From a distance, the blue mosaic backsplash is like a pouring waterfall giving the reception room a natural touch. The seven spotlights are the key points that provide striking effect on the backsplash. Without them, the backsplash will be eclipsed. Also, it should be attributed to the glossy surface of the tile. It is a texture and effect that any other material like ceramic, porcelain, marble, cement cannot achieve. Looking close at this tile, you could see its gradient texture, which is navy blue, light blue, green blue and even brown yellow. That makes it a great glass tile for swimming pool too. This tile will absolutely enhance your pool give it a fabulous look that have your neighborhoods in jealous admiration.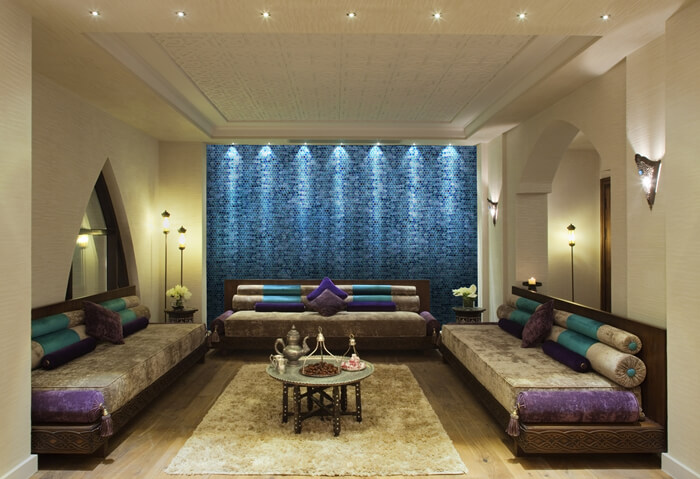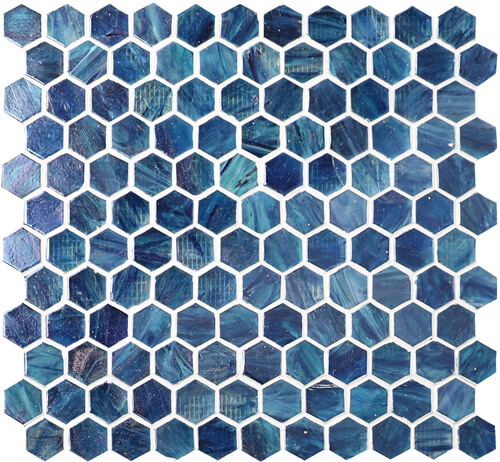 blue mosaic backsplash hexagon tile GZO601WQ
Kitchen
Most home owners would choose to use white glazed subway tile for their kitchen backsplash decoration. For those who love chasing trends, it is mediocre apparently. If you are a conservative renovator who wants to keep simplicity yet cannot stand freakish change, this white glass subway tile may meet your appetite. It is just added with crystal and reflective effect based on the classic kind, but enough to make your kitchen distinctive. Also, using tile that is made of glass in cooking area where easily stain things with water and oil is great choice, as it is easy cleaning and low in maintenance cost.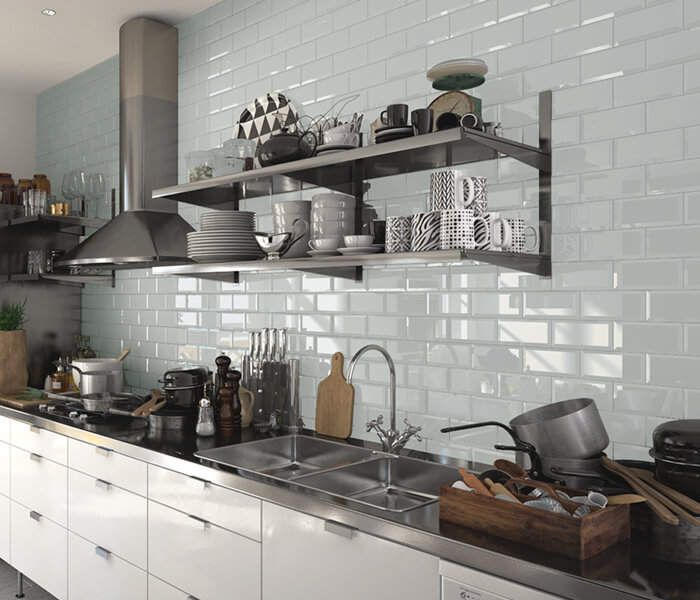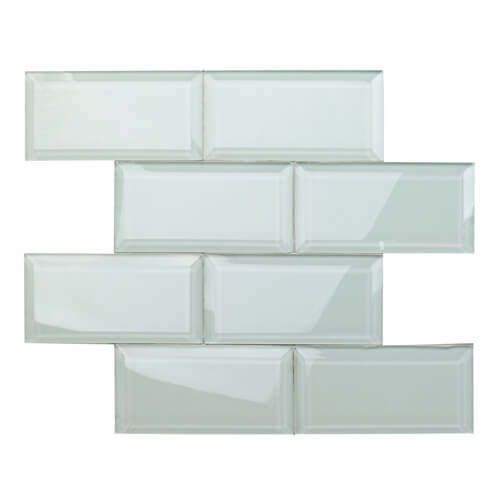 standard white crystal glass subway tile RZG202MT
From the decorations we can tell the host or hostess of this dinning room loves elegant things much – anaglyph table and chair, delicate tableware, rose-themed hanging pictures and other details manifest the habit of the people who are living here. Generally, the design is extraordinary and remarkable. All elements are nicely placed, particularly the pink glass subway tile, which sets the basic tone of the room. Meanwhile, it is highly integrated into the surrounding, bringing out the best effect one another.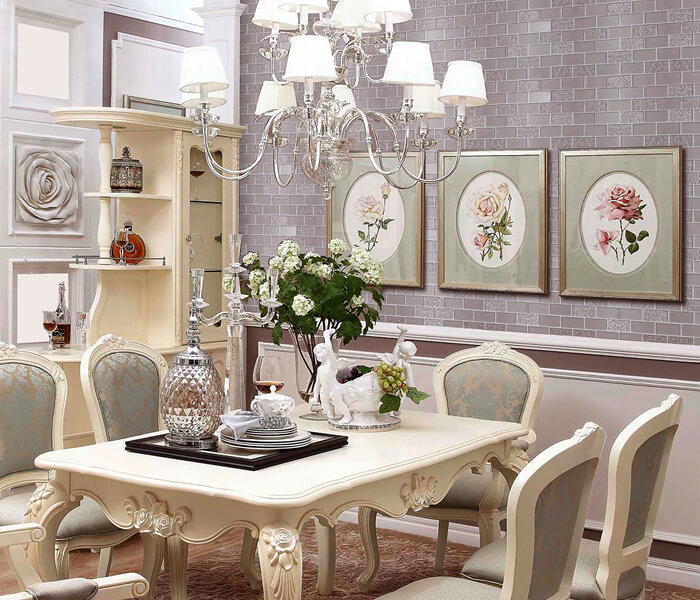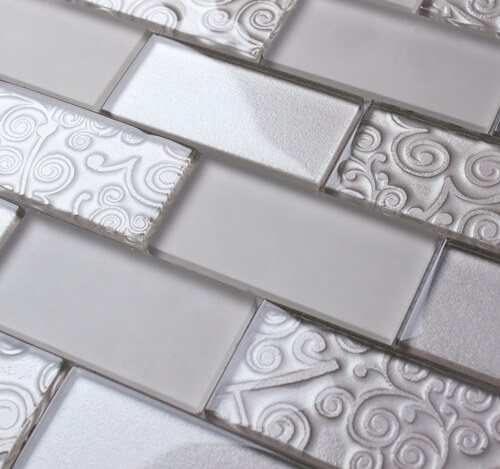 patterned pink glass subway tile RZH001NY
Bedroom
The following two bedroom designs both take patterned glass subway tile as headboard backsplash decoration. They both pick up the type that is in light color. We can tell the first may be a princess room from the pink decoration and the bear doll. In order to enrich the backsplash design, the host of this room choose to add wow effect with crystal beige glass subway tile so that it won't be a plain plastering wall anymore. Unlike the first bedroom design using it for perfect blend-in, the second uses white glass tile backsplash for another purpose. As shown in the picture, the wall behind headboard is wood made. The reason why using such a very different white tile instead of keeping similar color scheme is that the designer of this room wants to create striking effect and balance all elements well in a space. Sometimes beauty is born in the way of harmony, sometimes is distinction.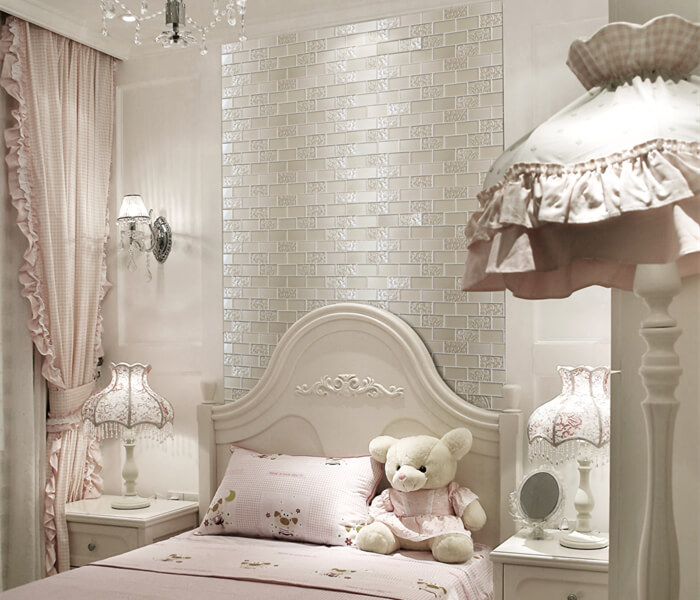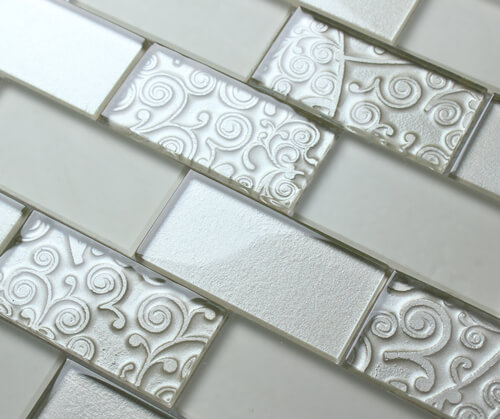 patterned beige glass subway tile RZH005NY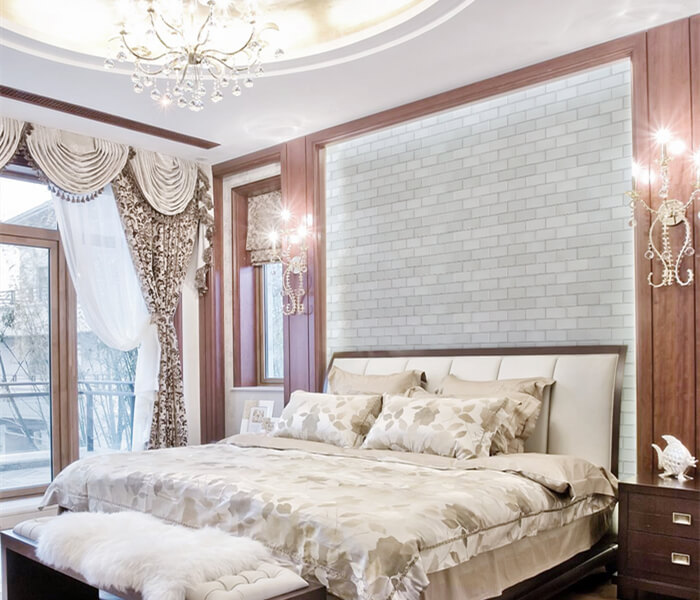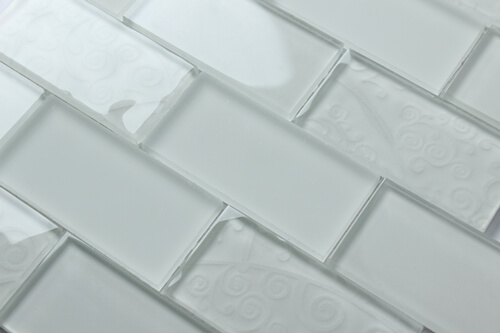 patterned white glass tile backsplash RZH202NY
Bathroom
Today, more and more house owners would like to have a bold try in home decorating. They love to find out what it is uncommon or what they don't have in their country. Exotic design is an example. It often differs from other styles with its sharpening colors. Amongst, red and yellow are the two most favorite. Look at the attached bathroom backsplash, it is decorated with yellow-red-orange glass mosaic. The tile is well melting in the surrounding – yellow granite wall, mirror with antique golden frame and metal faucet. If you refuse to mediocrity, take this tile as a nominate in your future remodeling plan.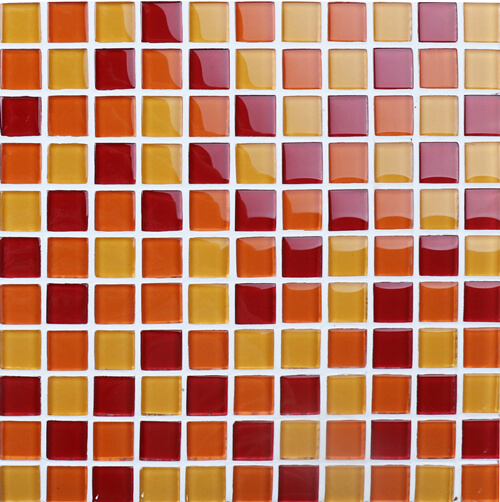 red yellow orange mixed mosaic tile RHG005NY
MM-Mosaic is a mosaic tile company who keeps providing the most innovative tile products to our customers. Welcome to visit our official website http://www.mm-mosaic.com and get more info. We will be so thrilling to hear your new ideas about mosaic tile designs.