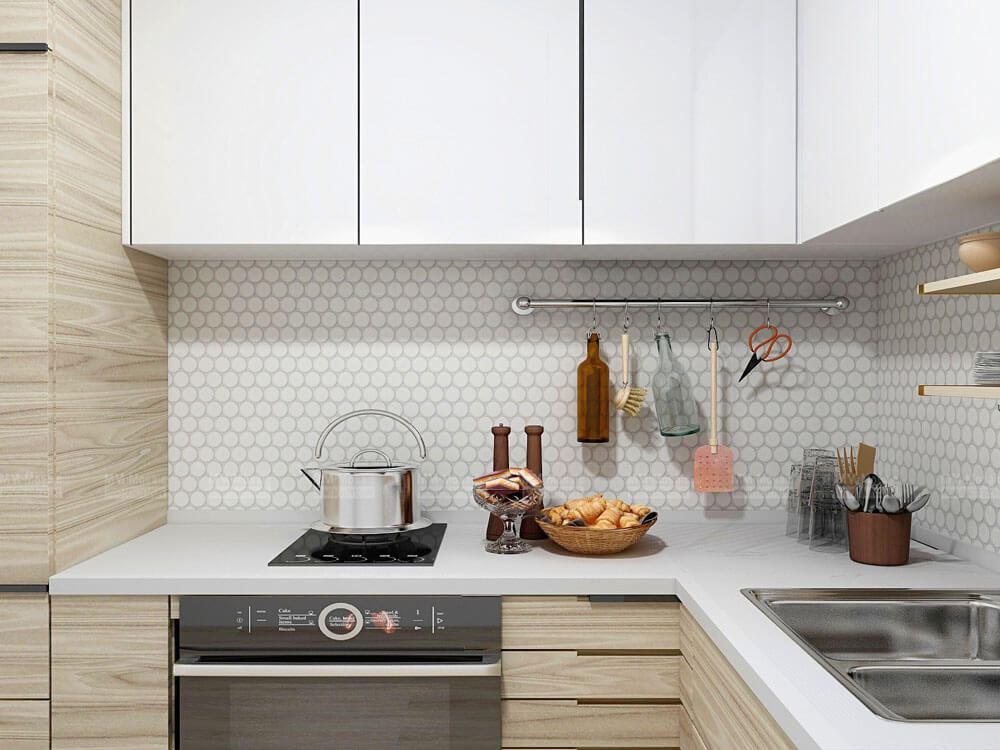 While spring might be the season of the deep cleaning, but golden autumn is certainly the right season to revamp and reinstate your house. Between the tranquility of a quiet home once the children have gone back to school, the odour of fallen yellow leaves and the gentle breeze you can let in through the windows, hence it's this cozy season that should be inspired to renovate your home. If you're reading interior design magazine for some ideas, check out this post that you might get inspirations here:
White Penny Round Trend
White is having a moment and is always been popular, which might seem inherently a color for each season. Whether mixing the cool tones or warm hues, white also can bring a comfortable and inviting atmosphere that's wonderful for autumn. Look this funny 48mm crystal glazed cookie circle mosaic, with glossy white tone and classic shape, can suitable for any interior space in the fall season. See more penny round tiles inspirations here: 48MM Crystal Glazed Cookie Circle Porcelain Mosaic >>>
Cozy Honeycomb Tile
Grain yellow is the most representable color of autumn. Just like these plain kitchen backsplash, which is the ideal element to enhance or upgrade in terms of investment since the initial cost is not high while the visual effects are perfect. The high-quality ink-jet printing technique brings the pattern and color to life, and add the autumn breath to your kitchen.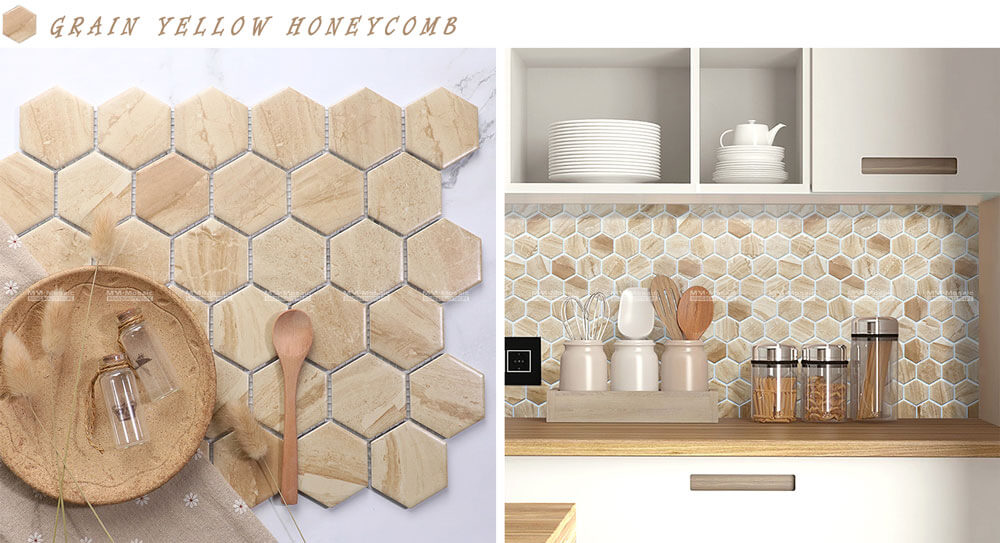 Available Moroccan Style
As we knew that Moroccan is justly famous for its summer season and attractive beach holiday, however, it doesn't mean that this place or style shuts down for the rest of the year. The Moroccan Autumn actually has its individual charm.
Fish scale
Autumn can feel like a season of contradictions. Maybe you will feel melancholy and sorrow while the cloudy sky like cool palette. At this moment, you need some change to boost your mood, for example renovating your backsplash. Traditional Moroccan fish scale mosaic certainly still has its place, particularly when it is stylishly designed with a special gray and unique uneven surfaces. And not only does a fancy ceiling light can illuminate all your kitchen space, but the well-designed backsplash will also become object attention under the warm light.
Check out this blog for more interesting scallop tiles design ideas: Fantastic Uneven Fish-scale Porcelain Mosaic >>>
Digital Print
Another element can represent Moroccan style is sophisticate but no dazzling pattern. To truly appreciate these exotic patterns, you might have to let go of the past summertime and utilize this beautiful backsplash fully to improve the autumn calm feel in your space.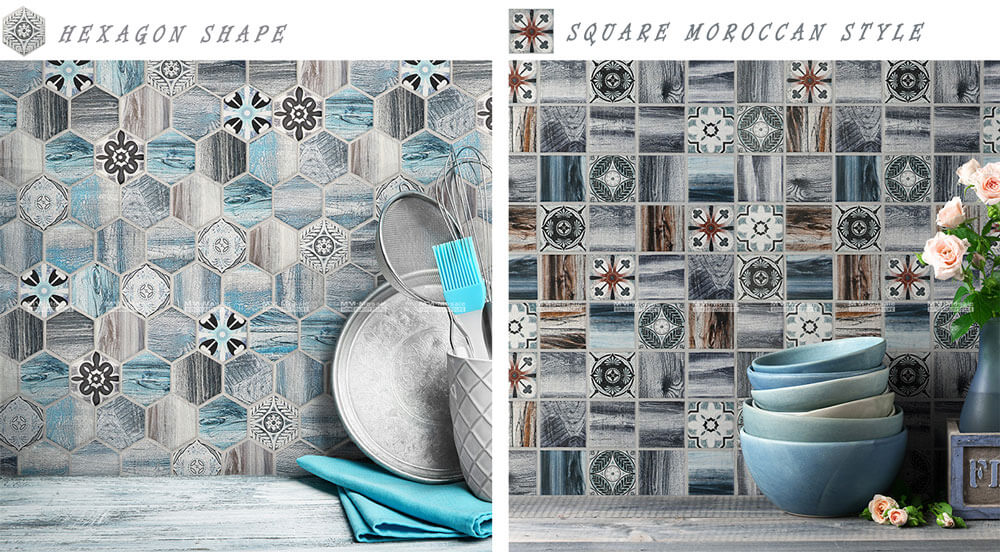 Spinning Autumn of Irregular Materials
Feather Tiles

Look at this feather tiles from another way, you might find that it looks like a leave. The process of emerald green leaves change to yellow fallen leaves is not instantly complete, one stage of them is that the green will fade and become the light green just like the below tile color. For other stunning tones feather tiles interior design click: How to Utilize the 87X305X9MM Feather Shape Tile >>>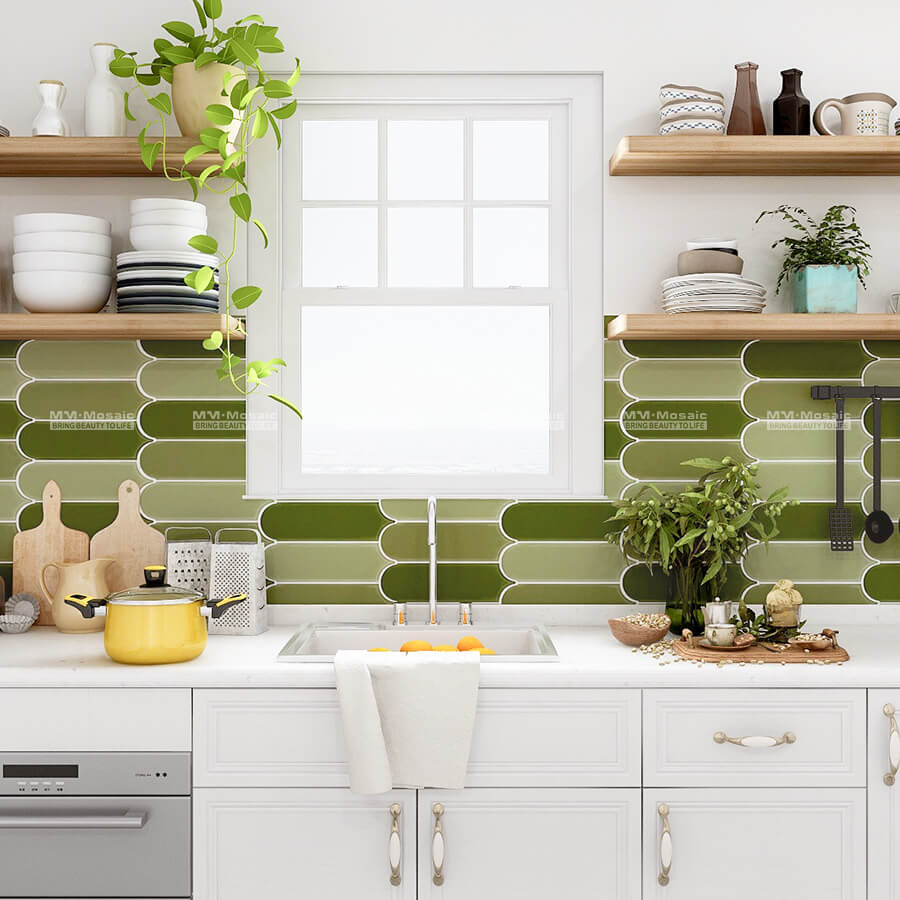 Star Cross
Autumn with its various color palette and color temperatures always awake human with inspiration. No matter yellow or calm gray tones, the star-cross mosaic can integrate into them well in interior space. Check this post for more stat cross mosaic ideas: Interesting Gradient Grey Star Cross Porcelain Mosaic >>>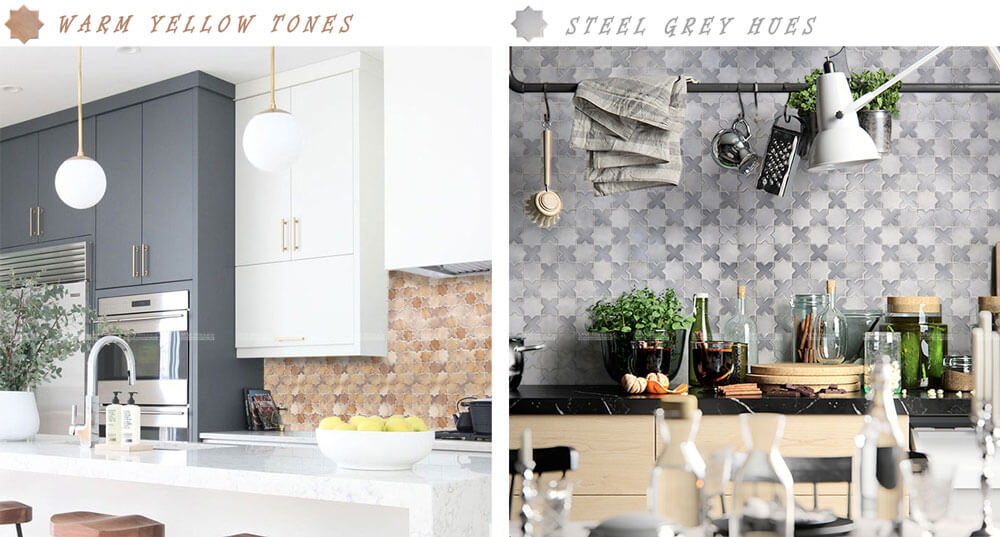 Warm Glass Mosaic
Glass mosaic catches the light like no other type, especially glowing under indirect lighting. Moreover, one advantage of a glass mosaic is that stubborn lampblack and sauce can be easy to clean away when they stick to the backsplash.
Get useful ideas?

MM-Mosaic will continue to develop the quality of products, as well as share more amazing interior design for global customers. We also pay more attention to the season change so that get miraculous inspirations, which we can apply these elements to our tile design. Wanna exquisite samples to touch? Contact us immediately!