There are some shapes are so beautiful that they do not need any extra decoration or design. Our fish scale mosaic absolutely looks wonderful in one simple shade. Would you like to see fish scale mosaic used in real life? You could contact us to get a sample or finish this article to learn more about this stunning home, how to achieve the Nordic style for yourself and more fish scale shape mosaic backsplash inspiration.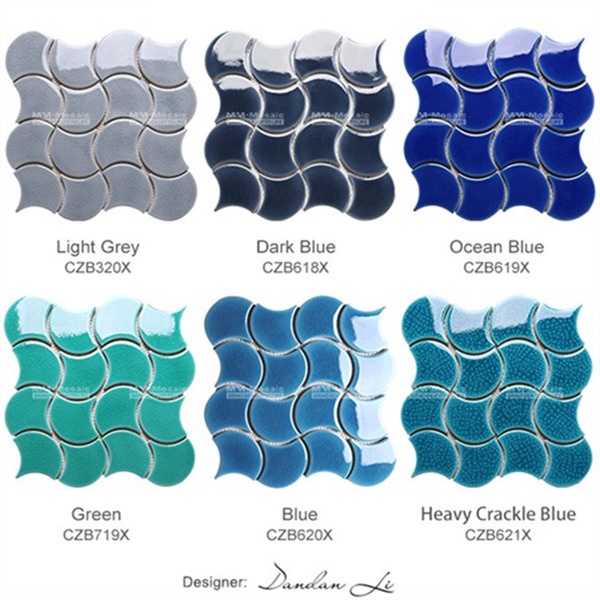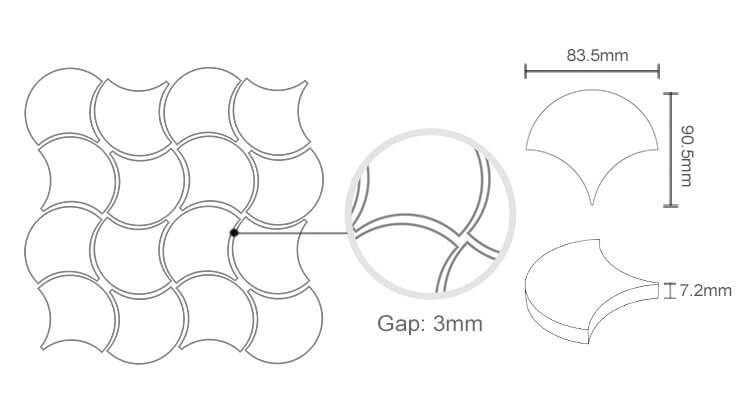 Chip Size: 90.5x83.5x7.2mm; Sheet Size: 286X286mm

Thickness:7.2mm; Gap:3mm; Mesh mounted on back, easy to install
How To Style Your Kitchen Mosaic:
This home of summer breath offers wonderful examples of how to design and add decor to your kitchen space. As a fanatical fish scale ceramic tiles lovers, we believe that you may make your dream mosaic choice first, then building the look from there. In this design style, the green fish scale tile with light green cabinetry gives a stunning pop and is the beautiful complementary color to your warm simple flooring tiles. The light green curtains and green plants complete the Nordic style, while silver metal hardware keeps it a modern look. Here's a tip we have for you choosing a color palette for your space is don't shy away from a little color. Maybe, a bright and bold color combination is just what a kitchen, dining room or bathroom, need to come alive.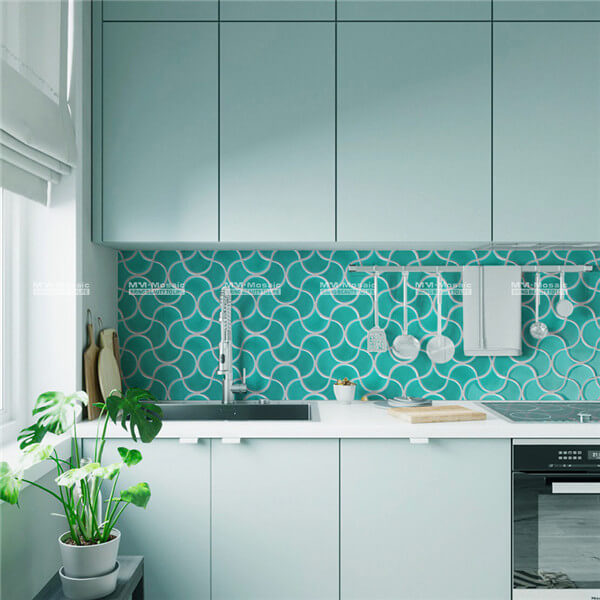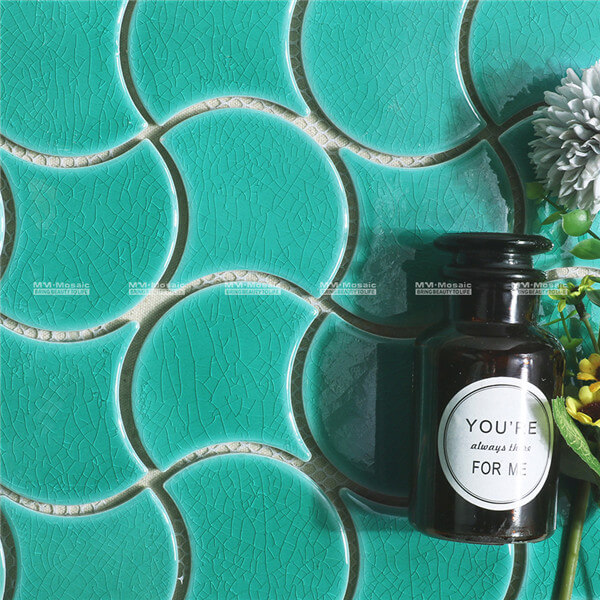 Another Kitchen Look For Your Choice:
With very little customized work, our mosaic shape will have you in geometric bliss! In this case, the light grey fan mosaic tile with the bright white cabinetry brings a feeling of comfort and relaxation.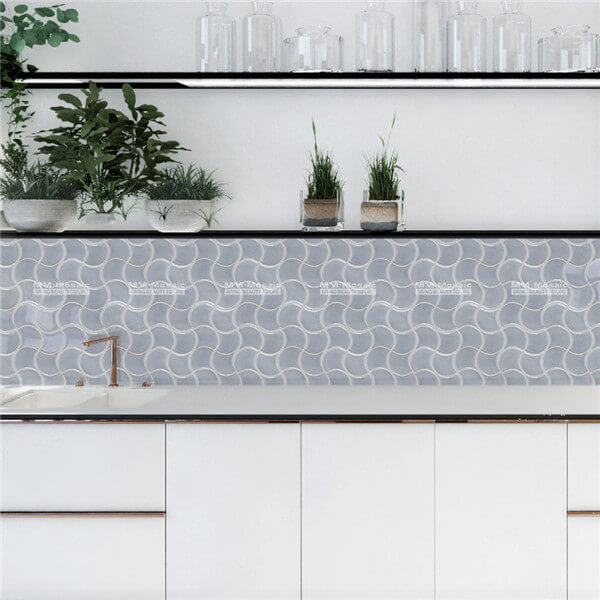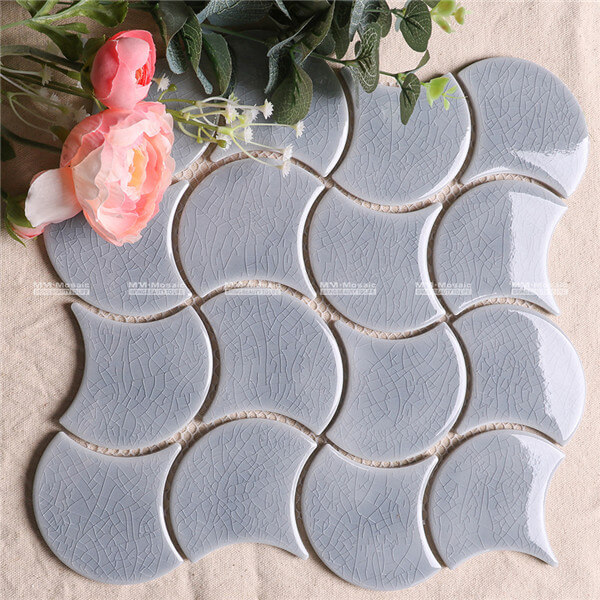 Nordic Style Bathroom That Uses Fish Scale Mosaic:
Bathroom is a place that needs a little extra fun with mosaic and decor. You spend plenty of time there, so put in the extra energy to make it a vivid space to get ready in the morning, or a relaxing space to wind down after a busy day. How to renovation your bathroom? Maybe you can try these ways to style your bathroom mosaic.
If you want to tile a partial or full wall, pick a color that will make it a statement. Making your small bathroom seem larger, you could use dark blue fish scales. This color will brighten the room, and the curved shape expands the perceived visual space. Making your bathroom more lively, you could choose green fan shape mosaic.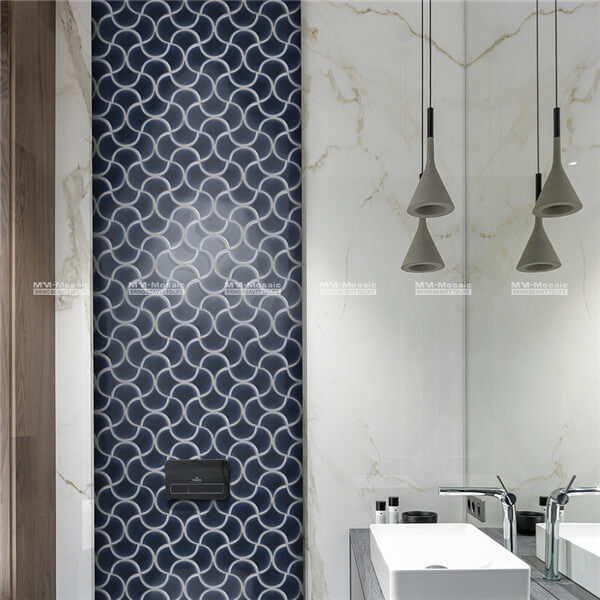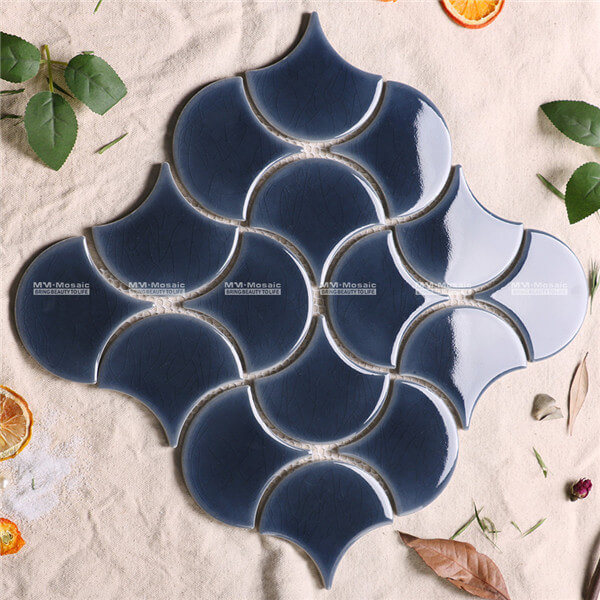 Dreamy Ocean Style Dining Room:
There's no doubt that people usually wanted minimal but well lived in with a color palette and feeling that was timeless and would easily take on any season of their life. We spend most of our lives at the dinner table, it would be the heart of our home and where every guest would gather whether we ate hot soup inside in the dead of winter or shared desserts in the summer. You may need a space that everyone in your family feels the warmth of home and would not be bothered by the dirt of our life. There's nothing more fitting than a dreamy blue fish scales mosaic for an ocean style dream dining room. Full of rich blues, this statement dining room is exactly where we'd want to spend more family time in our dining table.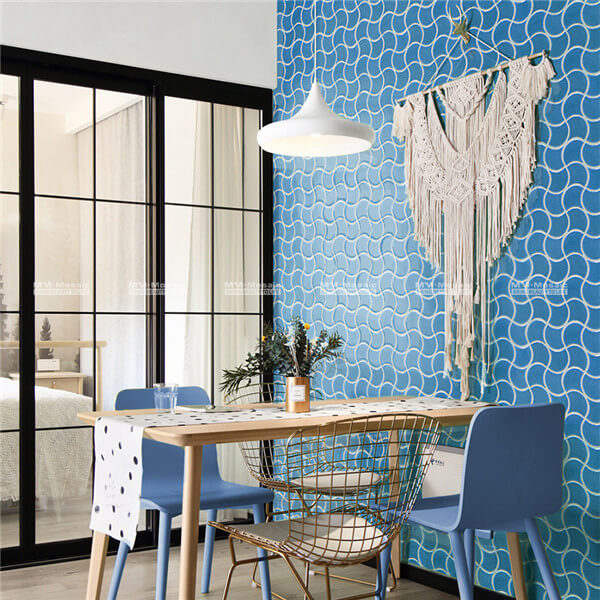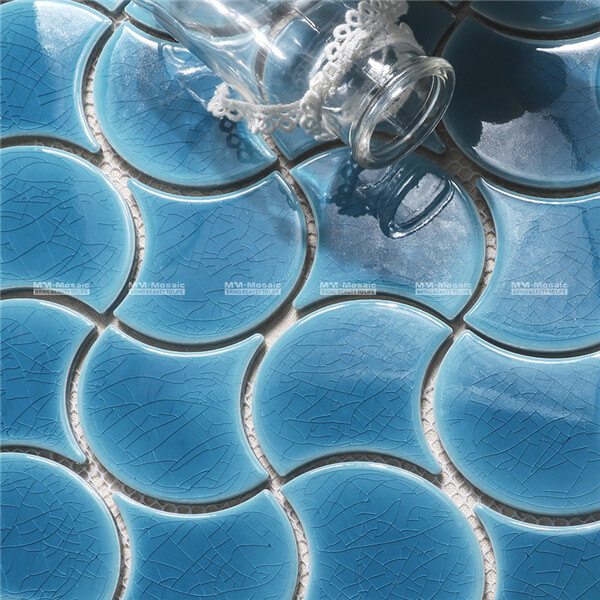 How To Get The Above Look:
Getting the above look is easier than you may think! This mosaic is available on our online shop and we will provide easy-to-install mesh sheeting, ensuring that everything is lined up perfectly with even grout lines. Do not hesitate to inquire us for the best pricing if you are in the market for this product.
If you want to learn more about home design, you would also like to explore similar patterns in the post: Crackle Finish Mosaic Tile-The Combination of Antique and Modern Style
MM-Mosaic is an experienced mosaic manufacturer from China with over-10-years, we have a long-term business relationship with different customers all over the world. We are looking forward to doing business with you.