Mosaic tile comes in variety of shapes for choice, and round mosaic tiles are a staple common to see in today's residential and commercial decoration. It is a great surface pattern to create a delicate and contemporary style, read on and discover our newset penny mosaic design.
Why penny round? Read the post: Penny Round Design: The Most Balanced Element >>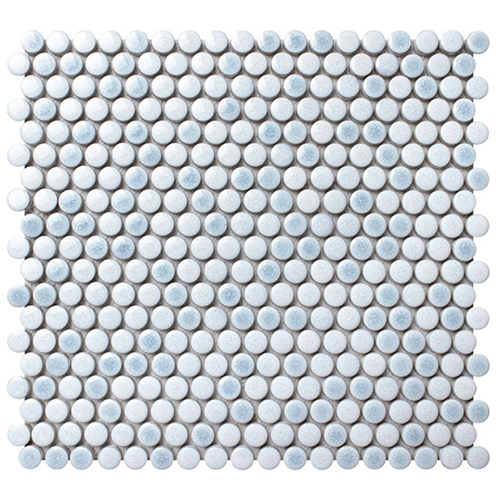 Featured product: 15mm penny shaped light blue mosaic bathroom tiles
The small chip size of 15mm diameter provides a glossy surface process and fambe blooming textures that also looks like snowflake, which makes a chic and fairytale style to any rooms. 6mm thickness, 2mm gap and designed on mesh back, the tile sheet is easy to install and cut. Use ceramic as material, this product is eco-friendly, durable and good quality, wear-resisatnt and low water absorption rate, it requires less maintenance and guarantee a long service life.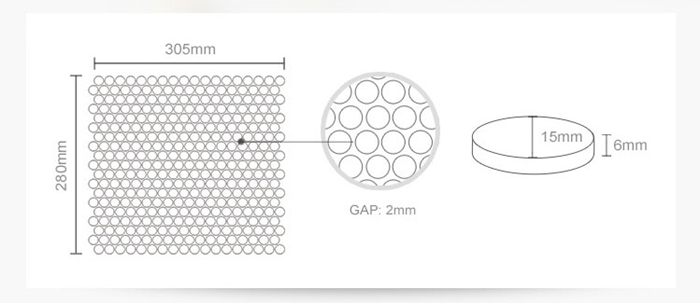 Circular mosaic tiles are versatile in application, they are well-received in both wall and floors in living room, bedroom, kitchen, bathroom, entrance and any rooms. This light blue blended round mosaic tile should be on your buying list if you want to choose a fresh pattern. Example as below, you can tile your whole wall with it to make the basic vibe of your living room. The tile paired perfectly with the beige big couch and patterned rug to build a comfortable area to you and friends.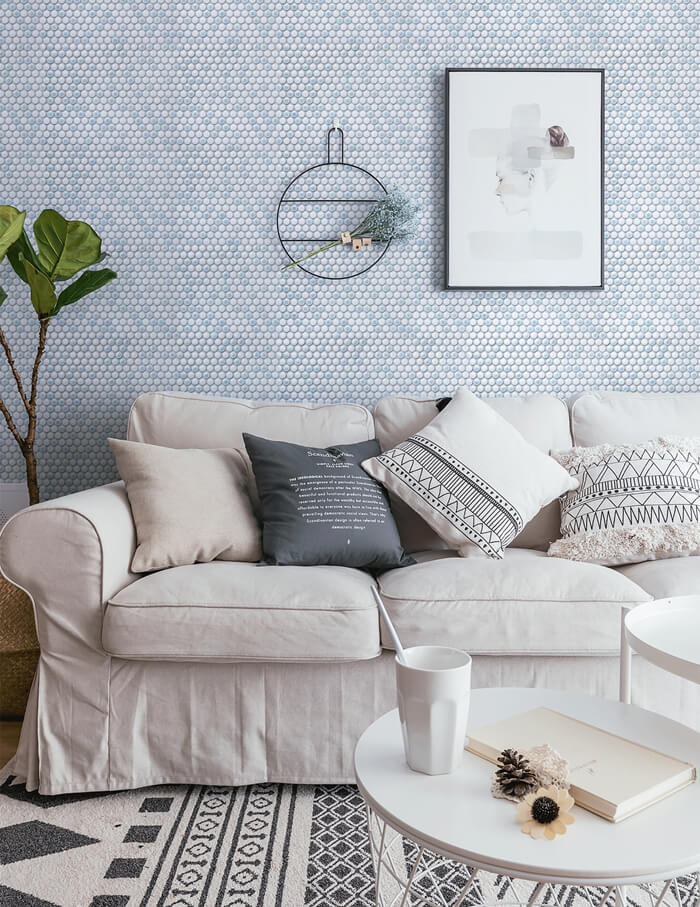 Nordic style is getting trendy and more and more popular in interior decoration. You can use lighter tone to complete this style. Take a look at the space below, you can feel the beauty of simplicity and the look won't out of style. Sometimes, less is more!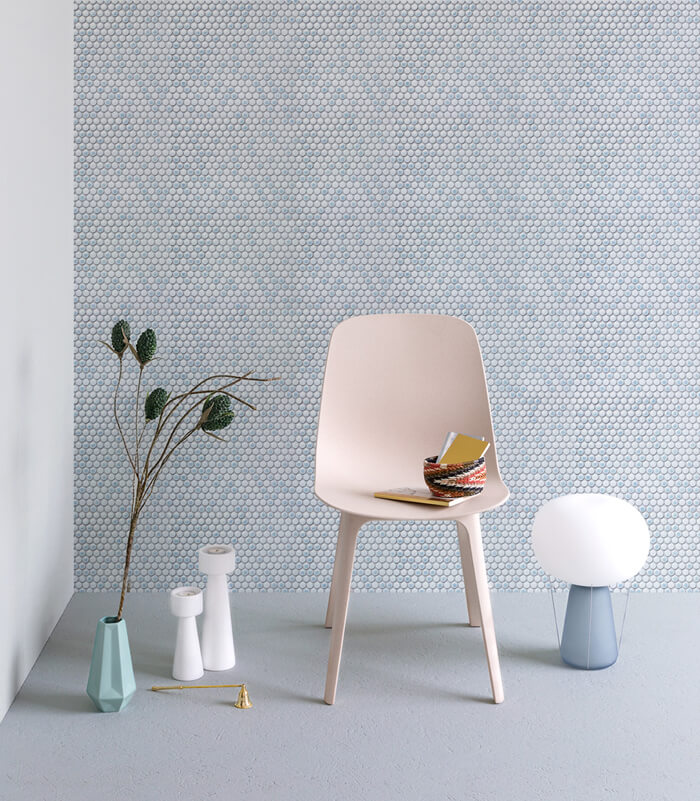 When it come to home renovation, do not overlook your dining room, where you will spend lots of times with your family and friends. A right dining space will definitely make your food more tasteful and dining time more enjoyable. The combo of lighter blue penny, artist works and wooden table with chairs strustures an cozy dining area for better living! If you want a penny round tile backsplash design, this product will rock your space nice!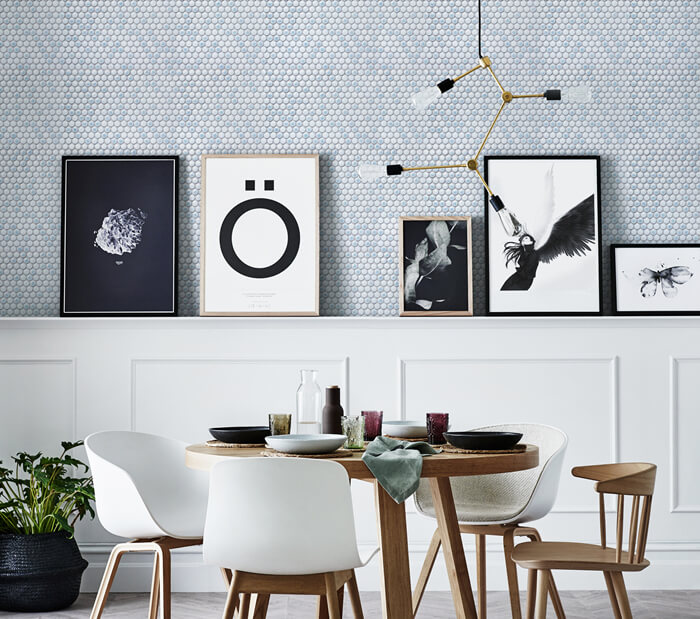 Try to make more possibilities with this penny tile, you can use it for floors, too. Penny tile for bathoom floor is a prevailing way and most people take it. You don't need to worry that this surface is not safe for bathroom floor, the tile with lost gaps will make the floor less slippery.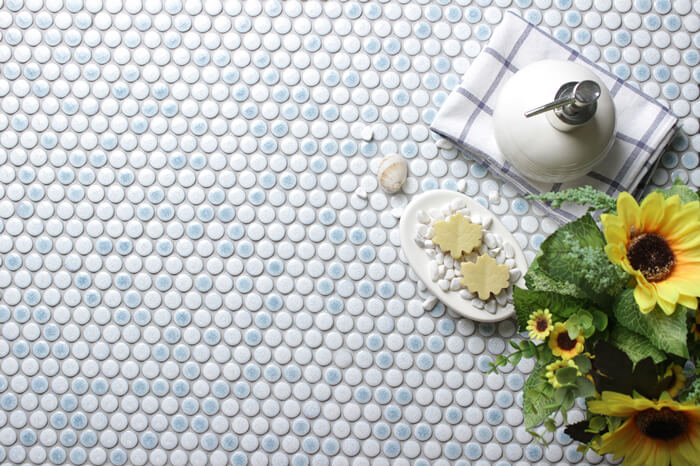 How to choose a best bathroom floor tile? This post gives your answer: Choosing A Right Anti Slip Floor Tile For Your Bathroom >>
If you are interested in this product, welcome to contact us for best pricing and more details. Colors availbale in 7 color: light blue blend, dark blue blend, dust grey blend, pink blend, grey blend, blue blend and black blend, wide colors to fit different home styles. Dark blue is another hot sale color, for more details, click to read this post: Style Collection: 15mm Blended Blue Penny Round Tile >>
MM-Mosaic is a premium mosaics tile company from China, we supplies variety of mosaic tiles wholesale price with professional service, we are looking forward to estalish long business relationship with all customers fromn all over the world.
Discover more new penny tile collection at MM-Mosaic? You would like to read this post: 2018 Newest 10 Penny Round Tile Designs >>