Tiling your wall with three-dimensional porcelain mosaic will transform your space into an imaginative and valuable house. Similar to sculpting finishes, the 3D mosaic has the ability to change an otherwise humdrum and uninteresting surface into an outstanding and eye-catching wall. The aspect of three-dimensional tiles can change the surface of the tile, with their cambered, raised and sculpted designs that make your home pop. They create attractive effectiveness in any setting by adding imaginative surface and the illusion of movement.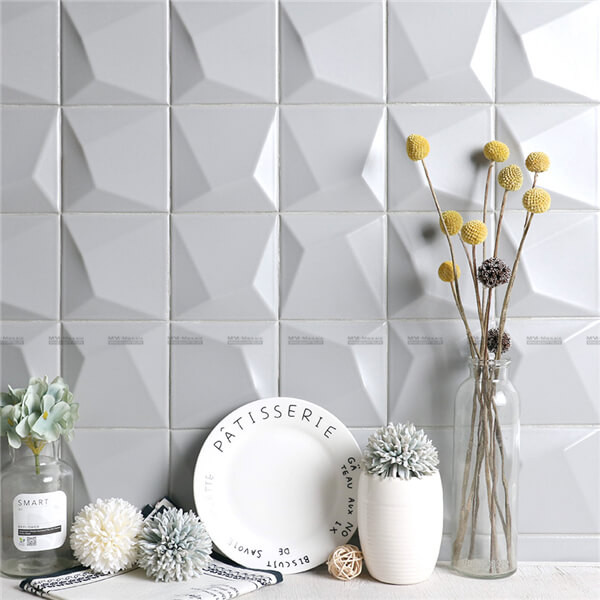 FEATURED PRODUCT: 4" GLAZED MATT 3D PORCELAIN MOSAIC GREY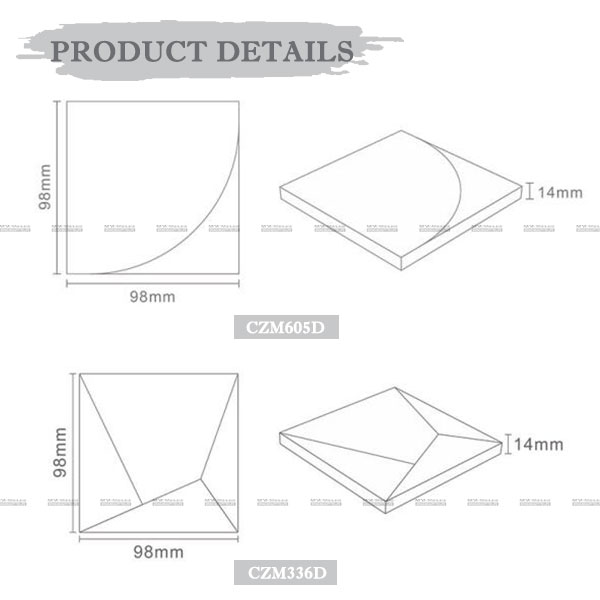 Our two characteristic three-dimensional glazed porcelain mosaic collection, fit right into the sculpted wall interior design. These collections provide two different surfaces, one is called the H surface, and another one is named M surface. With 6 optional colors, both of them are 4 inches, which will create your home an alive ambiance.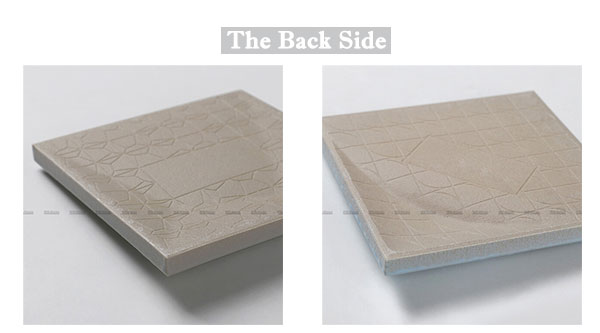 Depending on how you put the place of these tiles, you can create numerous combinations with various colors and different angles. Just simply turning the mosaic, you can transform the appearance of the mosaic's peaks and valleys.
LIVING ROOM IDEAS
The natural lighting in the living room plays off the highs and lows in the grey mosaic, which leaves the back wall with a consecutive flow of texture and shadows. What's more, bringing your space a minimalist style and make you feel relaxing with easeful green print and green plants.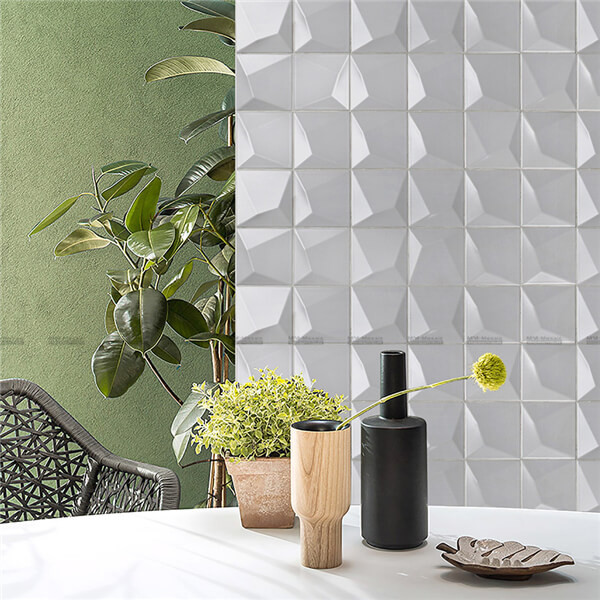 If you are a little interested in a neutral hue, here is another living room design with a lovely light blue palette. This classic square shape tile has come to life through its special three-dimensional surface, adding the surprise factor to a featureless and common space. Furthermore, it will change through the daylight to create varying shades and diverse visual effects.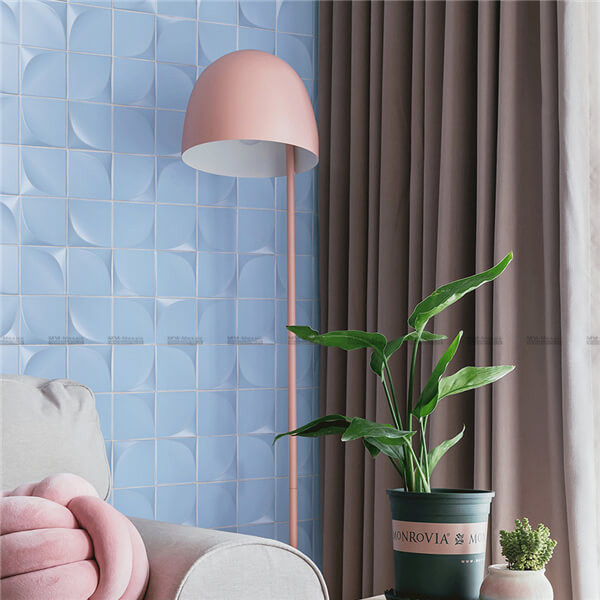 KITCHEN BACKSPLASH
Except for paving three-dimensional backsplash tile, we don' know of a better statement-making way to breathe life into a kitchen room. Giving your illusion of even more depth and dimension, 3D tiles can grab the light anytime and make it dance on the backsplash.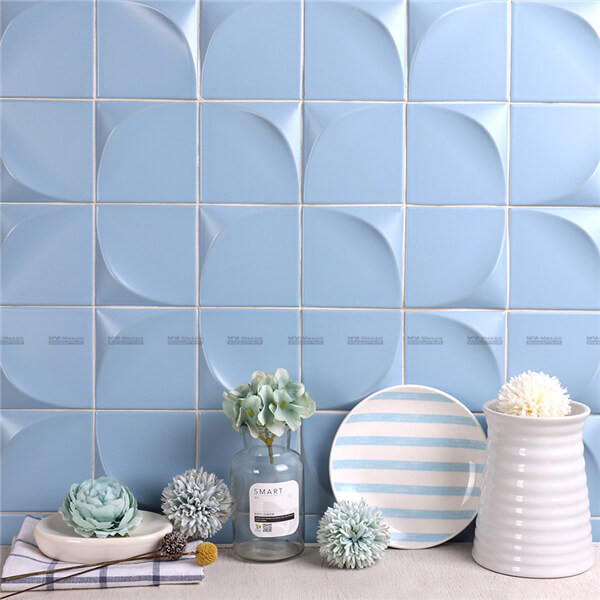 FEATURED PRODUCT: 4" GLAZED MATT CAMBERED PORCELAIN MOSAIC SKY BLUE
What's more, its own color and surface will reflect light and create a sense of movement at the same time. How sensational design it is! Making you have an impulse to run your fingers over their cambered and convex surface
BEDROOM DECOR
Paired perfect with the wooden wardrobe, this porcelain tile really highlights the originally dull wall and takes away the harshness of an all-wood palette. This porcelain mosaic might be rotated to enhance a variety of patterns and all of them bring you the most powerful visual impact and strong tactile shock.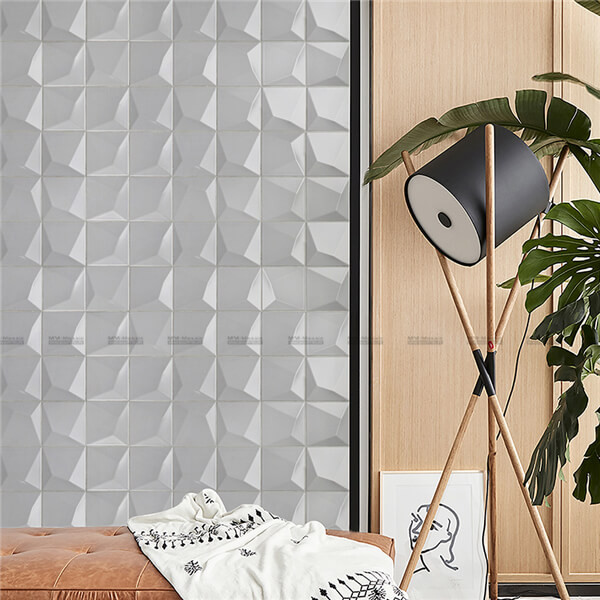 BATHROOM INSPIRATIONS
Have any inspirations of light sky blue tones bathroom trend? This one features crisp blue 3d bathroom tiles but is also injected with plenty of natural comfort sky tones, balancing the best both worlds and giving this space a cozy and extraordinary feeling. The light brown flat-front washstand, metallic fittings, and pure white bathtub are all very contemporary as well as pair excellent with each other.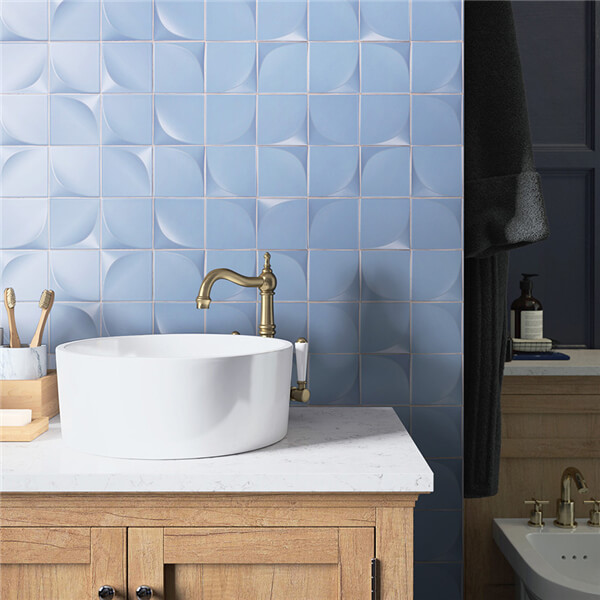 Want more combinations? Here are six colors for your reference and click here you will get more design inspirations of this collection: Style Collection: Three Different Surface Glazed Matt 3D Super Rhombus Mosaic >>>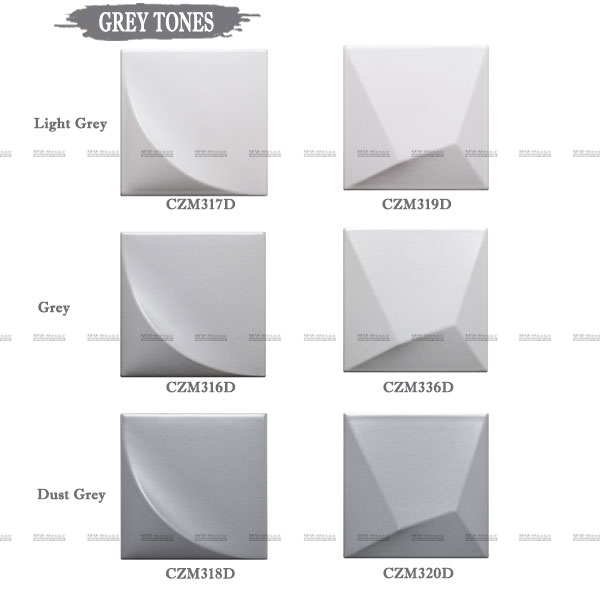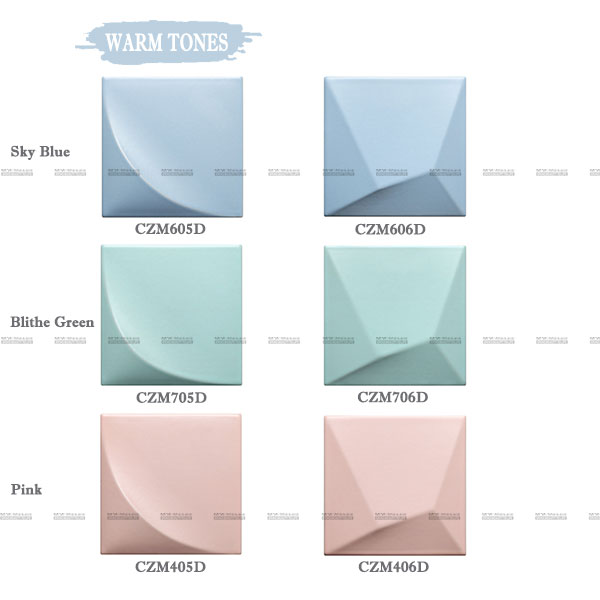 Get ready to take this interesting 3D look for your space? Inquire us for more design inspirations! With ten years of mosaic manufacturing experience, MM-Mosaic believes that you will get the most professional advice from our design and select the suitable porcelain mosaic from our wide range.