If you want to get creative with tile shape, not color, cookie circle is the perfect option. You might have daydream while looking at the beautiful scenery of the pure white clouds and green plants, wishing you could be this place. Now you can incorporate our latest six colors of cookie circle into the theme of your interior space using the spacial 48MM size penny round tile. The serene tones of bright white to dark blue ease through the interior inspiration in these classic shapes. Reading on how does our designer integrates these stunning mosaic into space.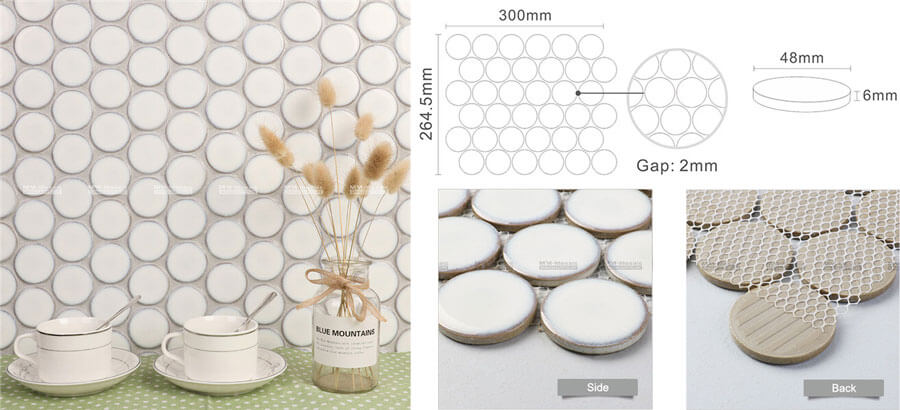 Featured Product: Crystal Glazed Cookie Circle Porcelain Mosaic White ZOC1202
1.Resurgent Entryway
Not only the cookie circle are attractive because of their visual appeal, but they are an ideal material for slippery surfaces. An entryway is a high-traffic area of any home it's in. To make the entryway even more prominent, but in an unobtrusive and classy way, you could consider installing a white cookie circle mosaic on the wall of the entrance, which not for the whole wall just for small areas paving. Combining it with a shallow wooden storage cabinet helps to contain and frame these mosaics and also balances the plain whiteness of the wall tiles with a natural wood warmth atmosphere. How simple and wonderful way it is, which can upgrade for a monotonous entryway space.
Get more interesting ideas that will inspire you with this post: Why Penny Round Mosaic Can Keep Your Entryway Fantastic?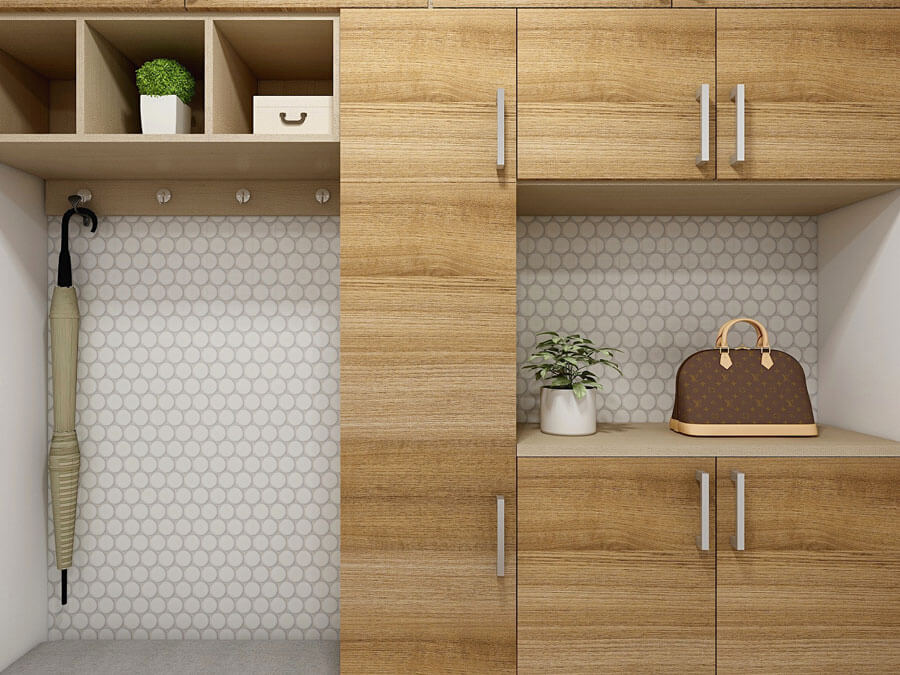 2.Softness Backsplash
Nothing can wake up a tedious kitchen like a diverting backsplash. It's a pragmatic renovation that adds practical function to any cooking space. No matter what your house design style is traditional inspired, contemporary or anything in between, our timeless penny round mosaic can take your space to the next level. When the eternal white backsplash connects the same hues cabinetry and countertop, it only makes sense that hues from the three elements are represented. We also love this comfort of the creamy whites and a little light browns used there.
If you're a DIY enthusiast, this blog might help you: DIY: How to Tile Your Backsplash with Porcelain Mosaic >>>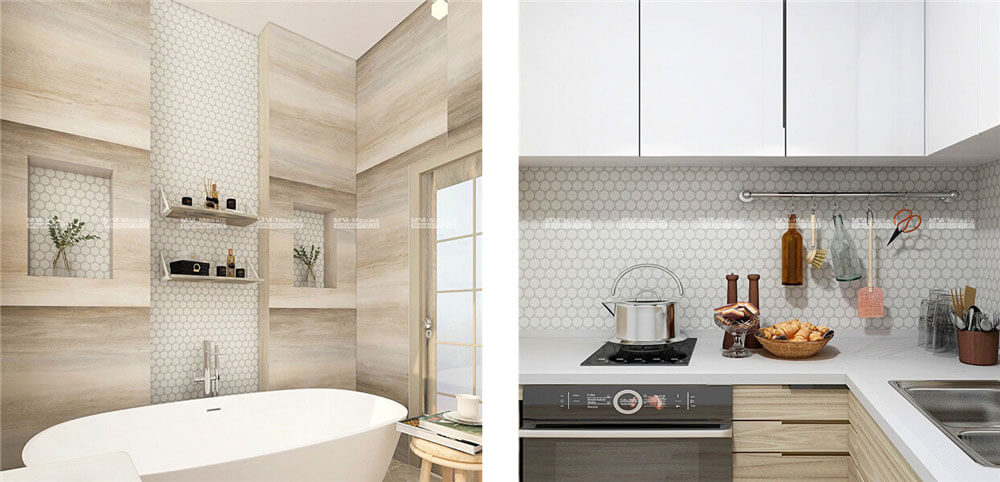 3.Simple Tones
Due to their 48mm size, it makes sense that using them in a larger space or area would highly effective. This is definitely the case here, where a central wall and two side window casing area is laying with cookie circle mosaic that pairs well with the other hues of decoration in the rest of the bathroom. The tiny details of the connection make a huge difference in any space.
Check out more color combination with this post: How to Combine Warm Hues With Cool Tones in Mosaic Interior Design >>>

4.Low-Key Study Room
Why not take your love of dark tones and combine them with your love of penny round mosaics, and you have just stumbled upon the recipe for the perfect study room. Especially in a windowless study room, our cookie circle mosaics provide a visual flowing and reflective appearance to the wall, reflecting light and imitating the feel of the natural light.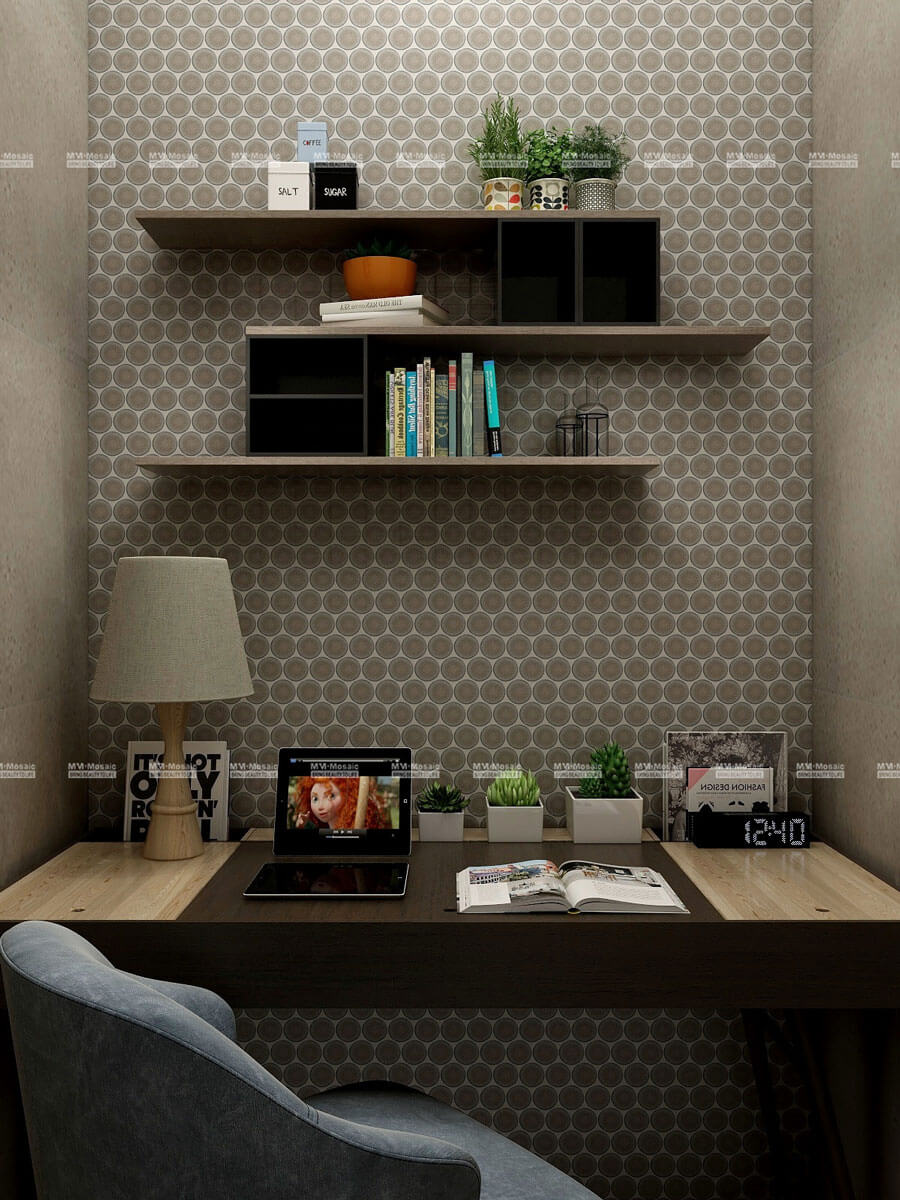 Get any penny round mosaic idea? Now, contact us for samples to see and touch.! Here are various design styles and high-quality mosaics for your reference. MM-Mosaic is waiting for your creative interior inspirations and your home or commercial projects.