We've developed using the crystal glazed that launched as our this week's latest collection, and the mini size matches fish scale shape will bring something different afflatus. Blue is a classic color for interior space, which makes you reminisce about the sea and sky. Not only blue is calm and relaxing, but it can also stimulate thinking. How about adding some blue elements into our newest collection?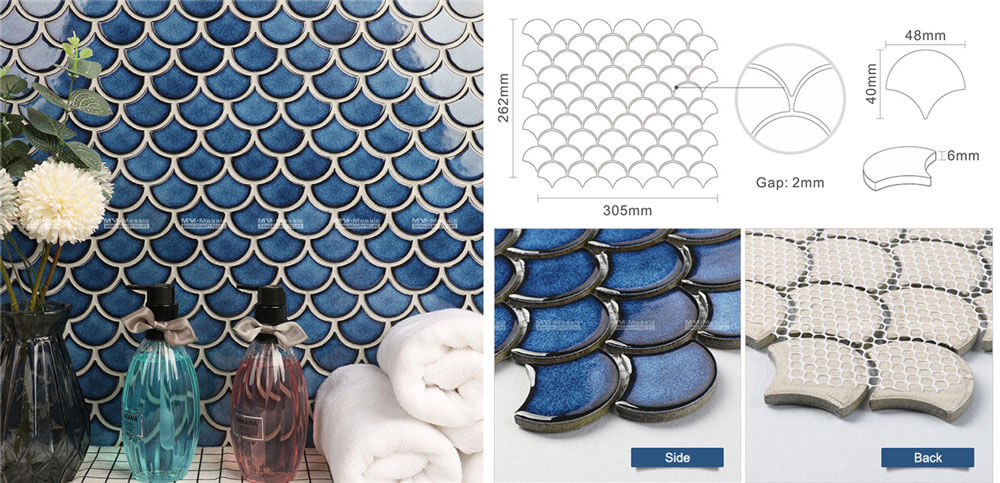 Featured Prodect: Dark Blue Crystal Glazed Mini Fish-scale Porcelain Mosaic ZOB1603

1.Deep-Sea Inspiration
The kitchen is a space in the home that every family member spends plenty of time in, so why not add some special theme, which you like, to make it outstanding with a characteristic backsplash? Without exception, each kitchen needs some backsplash materials to create that extra bit of personality, such as porcelain mosaic. Not like the previous size, we innovate these mini fish scale shape mosaic with exquisite color variation so that they can pair well with the light and bring the flowing feeling to the interior space. The touch of color from the backsplash is a wonderful addition to this kitchen's quiet blues and chic aesthetic.
Check out more paving ways of fish scale tiles with this post: Fantastic Uneven Fish-scale Porcelain Mosaic >>>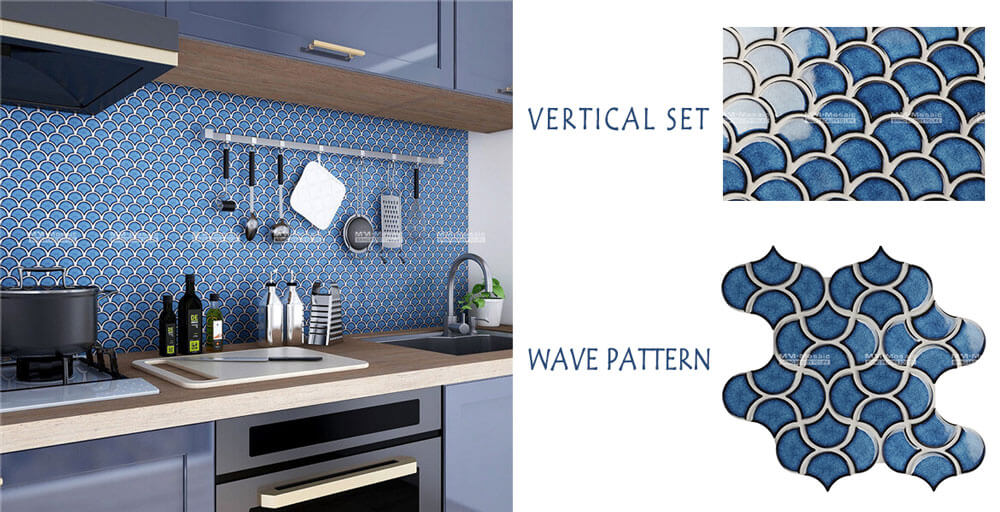 2.Blue Tones Shower Room
There are so many beautiful things to pay attention to this bathroom that it's difficult to know where to start. The minimalist gray cabinetry? The simple but stylish fittings? The clean and bright mirror? The beautiful wall printing? Or the attractive blue tones mini fish scale wall tiles? We believe that you might not move your eyes from the stunning wall tiles, which balances the whole space design and combines well with the neutral palette of this room.
More bathroom renovation ideas here: How to Realize This 13 Small Bathroom Inspirations?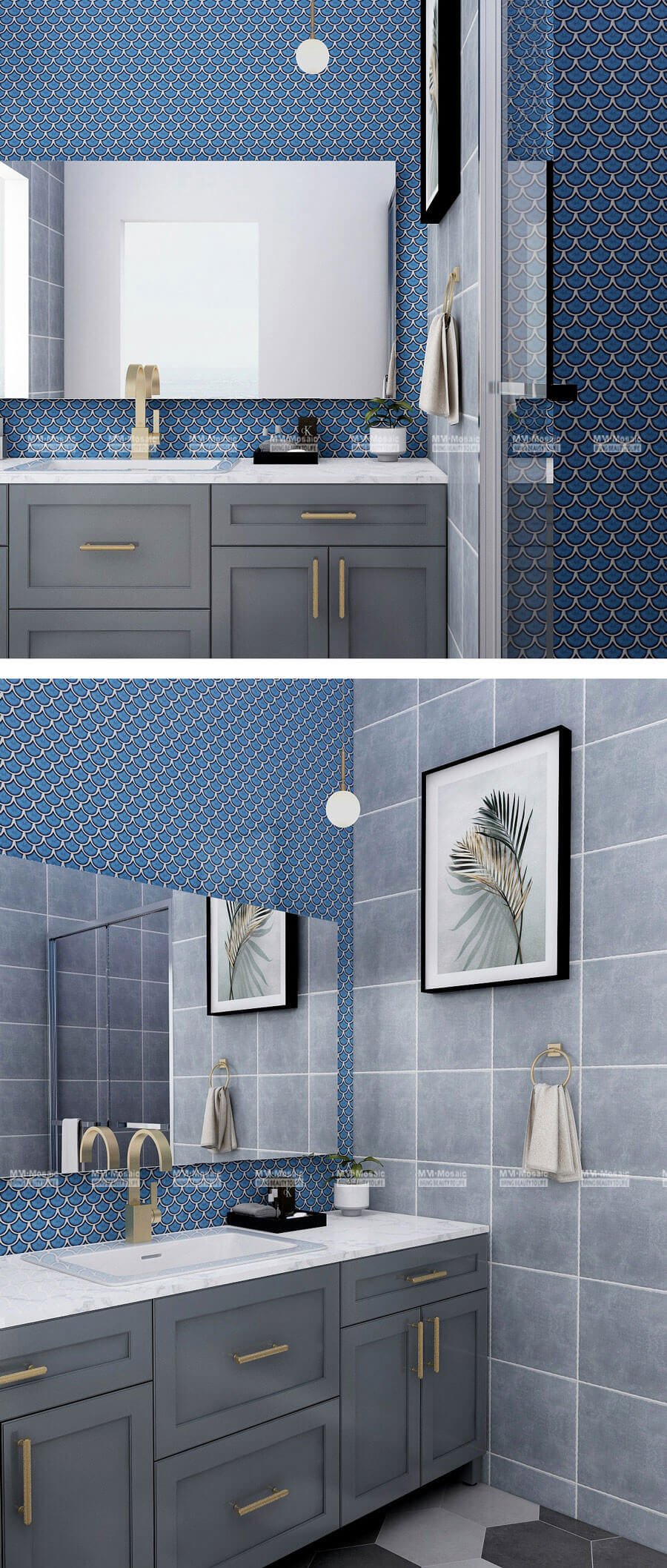 3.Refreshing Space
Using the refreshing trendy background wall as the main focus point, this space certainly stands out from the rest of the common white and monotonous modern living rooms. Notice how the mini size fish scale mosaic echoes and integrate into the other natural wooden wall and the white cabinet, as well as how the eye-catching wall pair with the large picture, the potted plant, and the chandelier with a sense of design
Read more about living room design click: 9 Genius Backsplash Tile Ideas For TV Wall Design >>>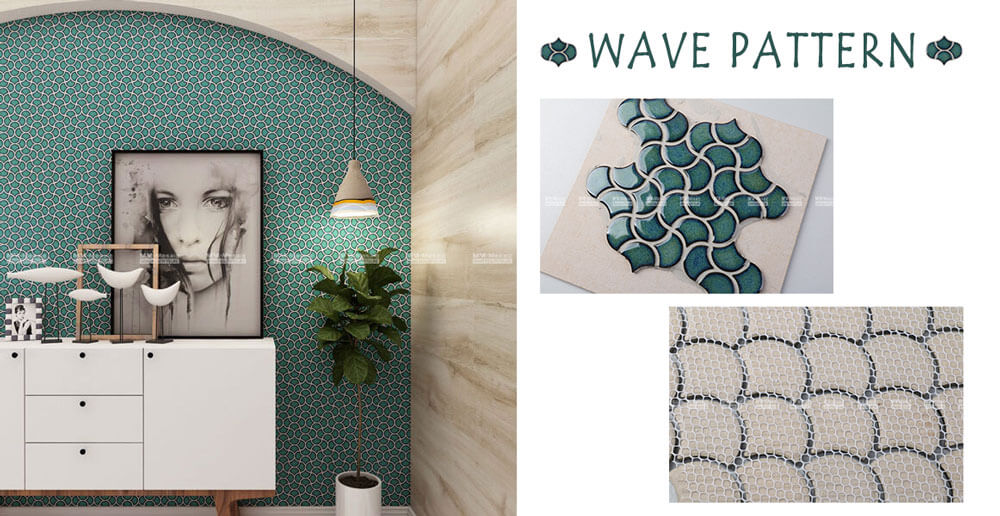 Featured Prodect: Green Crystal Glazed Mini Fish-scale Porcelain Mosaic ZOB1703-B


Get any inspiration from this post? Contact us for samples to see and touch now! MM-MOSAIC not only manufactures creative and high-quality mosaic but shares various perfect commercial projects and home renovations from our global customers.