Waterjet mosaic tiles now are prevailing in many residential and commercial space projects, due to its magnificent and luxurious characteristic, these surface patterns are popular among with interior designers and architects, widely used in villa house, luxury real estates and various high-end hotel projects.
What is WaterJet Mosaic Tile?
Waterjet mosaic tile is manufactured by the tech of water jets cutting, which uses an extremely-high press stream of water to carry an abrasive grit. The abrasive does the cutting through a mechanical sawing action and leaves a solid, precise cut surface. Waterjet cutting is a very precise, clear and efficient process to cut hard materials, which has a small kerf width to allow find contours to be cut, and produces high tolerance parts. The Waterjet tech also allows for complicated and difficult shapes such as inside corners, notches, architectural and artistic shapes, it is a high level process to create unique mosaic tiles designs. The waterjet cutting process is also clean and eco-friendly, this is why this product is getting trendy in today's interior decoration.
The design of water jet mosaic is really mesmerizing, it is versatile in wall and floor decor, providing the choice of curved or softer lines, and often produced mixed materials like marble, glass, porcelains, metal and natural stone as well as rare materials including mother of pearl, moonstone and more.
MM-Mosaic is keeping going and making innovation on our product lines to meet more our customers' demand worldwide, we bring new collection of waterjet series with popular pattern, read on and discover these gorgeous new members of us and see them how to add a WOW factor to interior space.
New Launched WaterJet Cut Marble Series At MM-Mosaic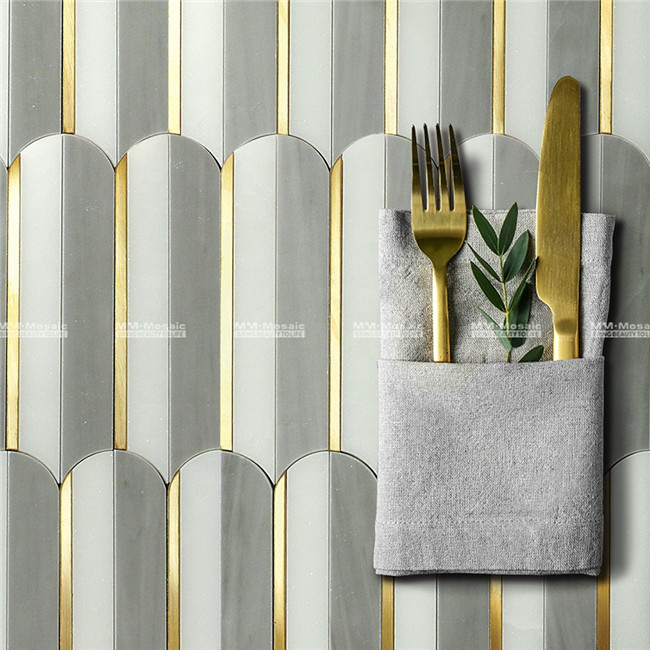 Featured product: Gray mixed white brass inlay waterjet stone mosaic tile ZOD4001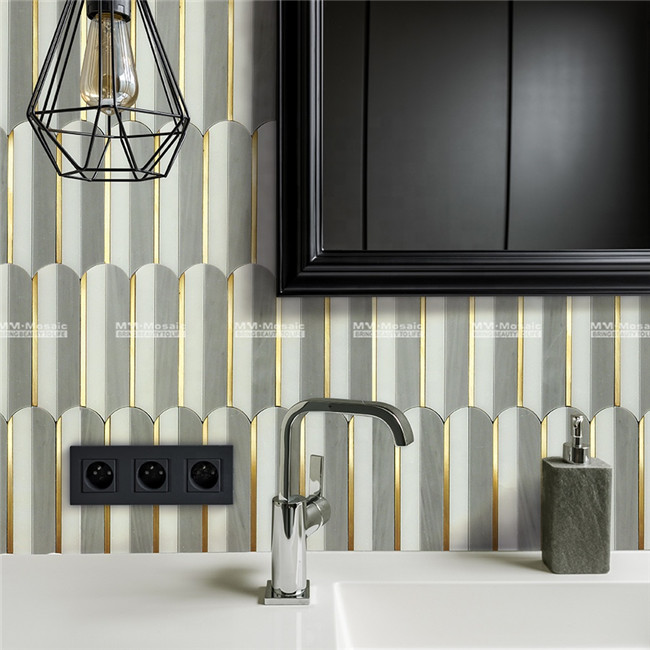 The waterjet marble tile in gray mixed white brass inlay hue and a feather-like shape is a dazzling option for your kitchen or bathroom backsplash design. You don't have to fill the whole wall with this surface pattern, just measure the right backsplash area and finish it, this corner place will surely draw all eyes to your desired mosaic and make your space stand out!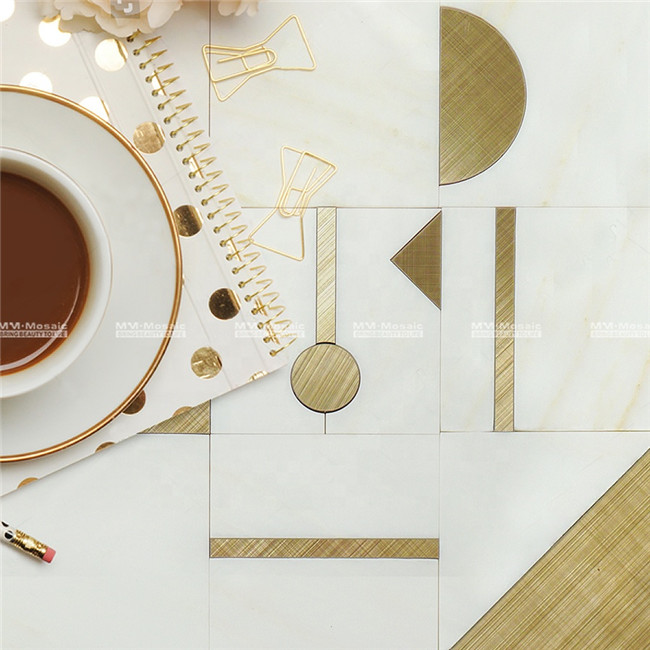 Featured product: Geometric white mixed gold waterjet mosaic marble tile ZOD4002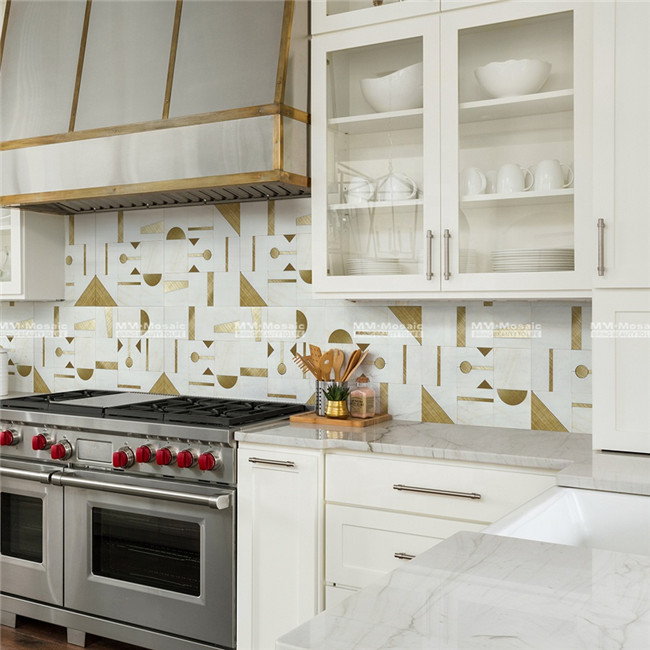 Give your room a distinct look and timeless beauty with a geometric surface pattern, and this item is a great choice for you. The combo of white and gold makes a chic and luxury tone and the geometric pattern is guaranteed to bring a WOW factor to your space. The waterjet tiling back spalsh design for kitchen is both functional and beautiful, it creates a pleasing cooking area, and works well to highlight the modern home style.
Featured product: Carrara white thassos water jet cut marble mosaic ZOD4003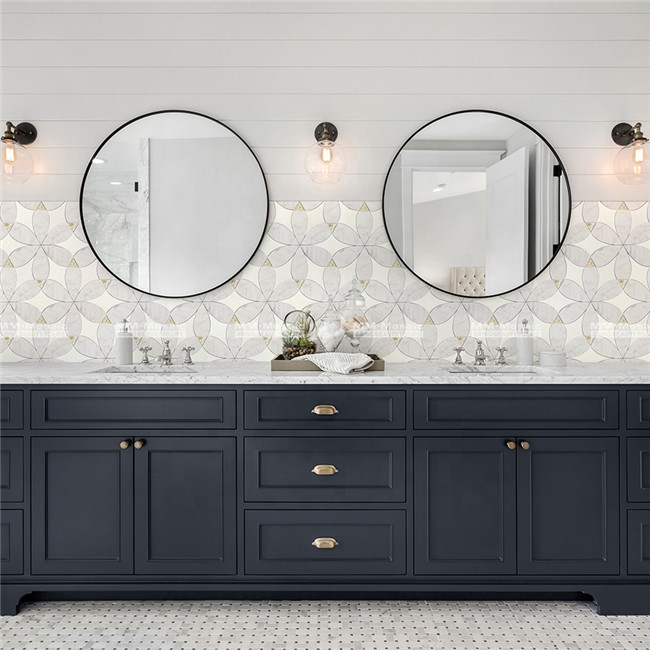 Waterjet mosaic tiles in flower pattern is one of the best sellers in this collection, which works perfectly to bring a touch of elegance to room. The stunning surface pattern is blended with carrara white thassos and brass inlay and made of beautifully cut marble. It's been placed in the classic-style bathroom, working perfectly as a backsplash tile. The nice featured wall in the bathroom is completed via simple white wood panel upper half of the wall and the flower water jet mosaic wainscot on the bottom half, this is well paired to bring your bathroom come back to life. And don't think you are limited to use it in the wall, it is also workable for flooring!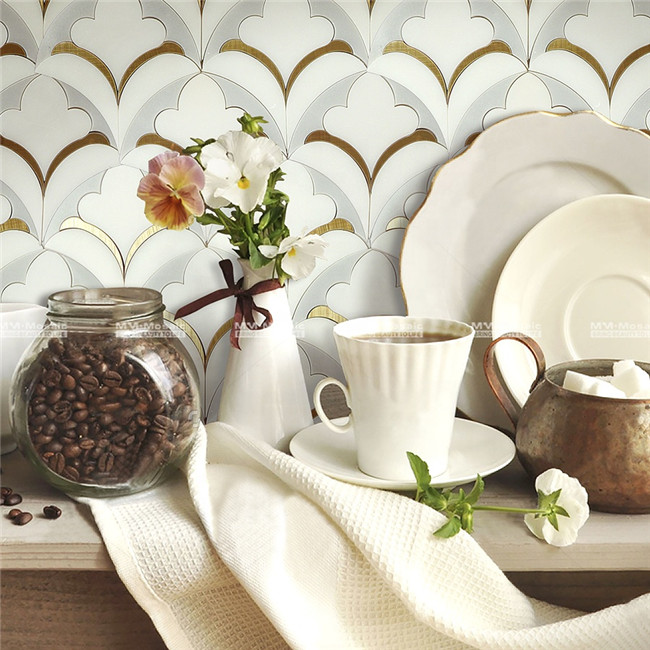 Featured product: Carrara fan waterjet marble mosaic ZOD4004
The waterjet mosaic in fan shaped pattern is a design we love, fan shaped mosaic tiles are always well received in many home decorations, they look amazing in wall and backsplash decor. The fan waterjet design comes in gray white thassos mixed brass color, if you have a large-scale kitchen backsplash to fill, just do it and you will get a distinct appearance and make a statement to your kitchen! I do love this contemporary kitchen space, it looks so fantastic and graceful with this waterjet marble tile. The kitchen is bright and spacious, you will have a great morning-coffee or cooking time here.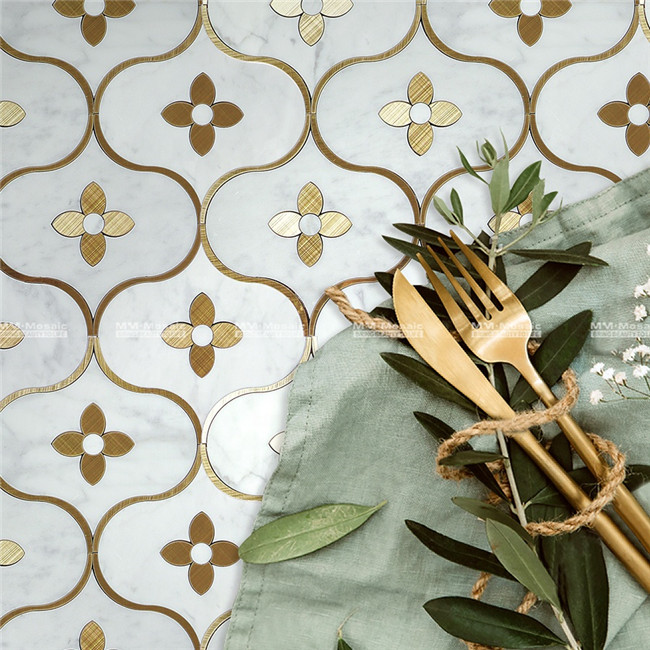 Featured product: Luxury water jet mosaic marble tile flower design ZOD4005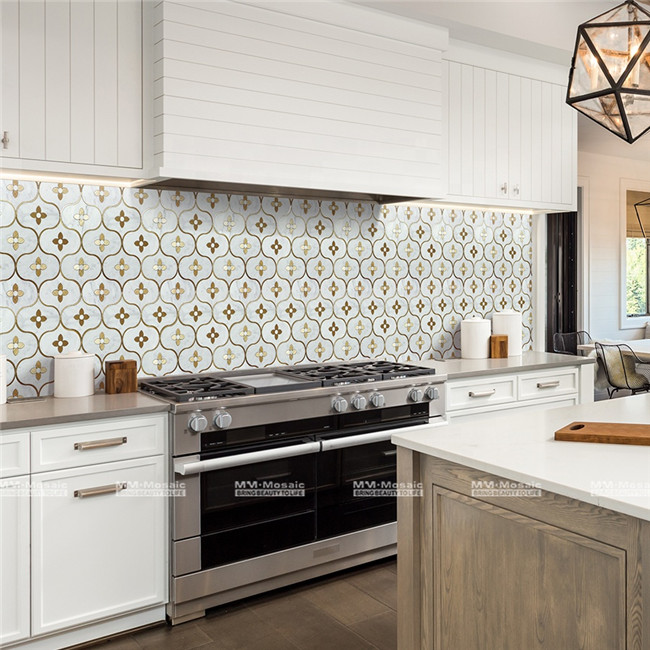 This gold-toned polished brass inlay paired with Carrara white marble and small chic flowers produces a water jet pattern that can make a statement in your space. The flower waterjet tile is a great option to help you install a backsplash that won't go unnoticed, it is put beautifully in the modern-style kitchen, setting the luxury vibe and brightening the space up!
If you are looking for one type of mosaic tile that is environmentally-friendly and can take on any design imaginable, water jet mosaic tile is a nice pick! Waterjet mosaic tile can be produced on variety of shapes and patterns, they gives possibilities on options for fitting your interior style decoration. Endless customization is available at MM-Mosaic. For more designs of waterjet mosaic tiles with amazing quote, do not hesitate to contact us now. Leave your message and we will get back to you soon.
For more newest information about our products, head to our Mosaic Style >>