Split tile, as one of new model ceramic tiles is widely used in both residential and commercial space, they have unique texture and finish, smooth surface with a rustic feel. With advanced process workmanship, MM-Mosaic brings brand new modern style split tile, which is definitely different from the traditional design. This new collection owns the classic groove texture that old style split tile has, and create a contemporary style for any spaces. Colors is various and will not fade away. Read on and explore more about our new tile item.

60x240mm Crystal Glazed Split Bricks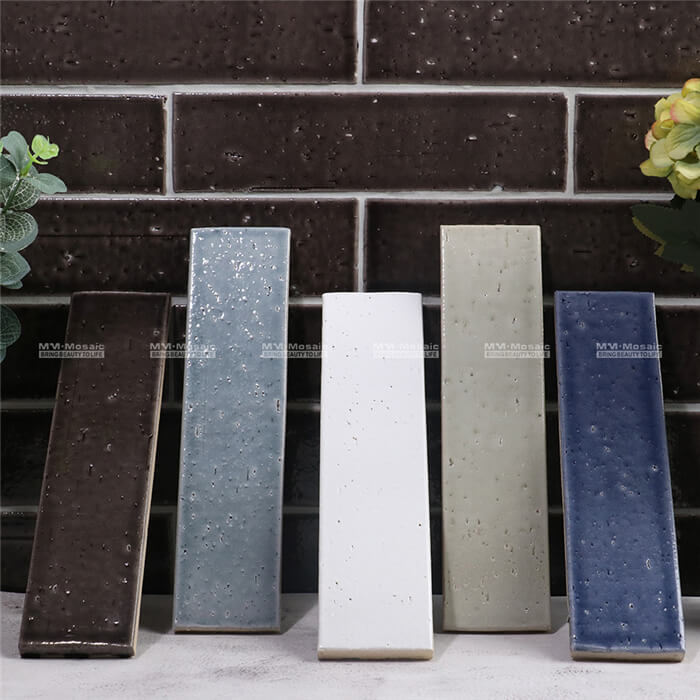 Featured product: 60x240mm ceramic split tiles wall bricks


The tile piece features a 60x240x11mm size, which makes your installation easier and quicker. It is a good news that the dovetail groove on the tile's backside helps your installation stronger and won't fall off, the cost of installation is low. Differ from old style split tile, the new split face tile has smooth crystal glazed surface, unquestionably, the surface requires less cleaning work and maintenance, and you can still achieve a wonderful rustic feel from its groove texture. The tile piece is not mesh-mounted on back, that means it give more possibilities to your paving way, stack bond, subway, chevron and so on, you can choose the style you prefer.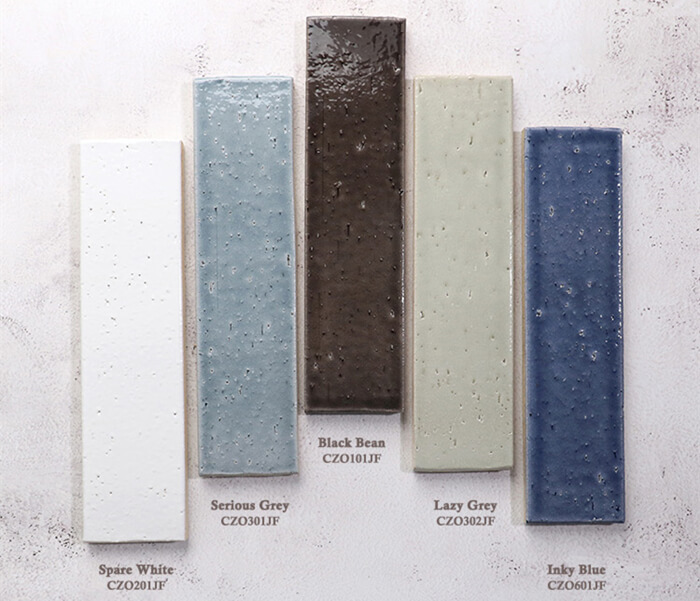 We offers 5 classic and popular colors (spare white, serious grey, black bean, lazy grey and inky blue) to suit your home style, if you need more colors, welcome to inquire us now >>
At the present time, people has higher and more specific requirement when choosing tile for project, this is why more and more new-style and new-technique tiles are born in our life. Split brick tiles have won high popularity in many space projects due to its unique touch, sheen and colors as well as its high performance. See the following example how our split face tile spruces up a room, and you will fall in love with this products.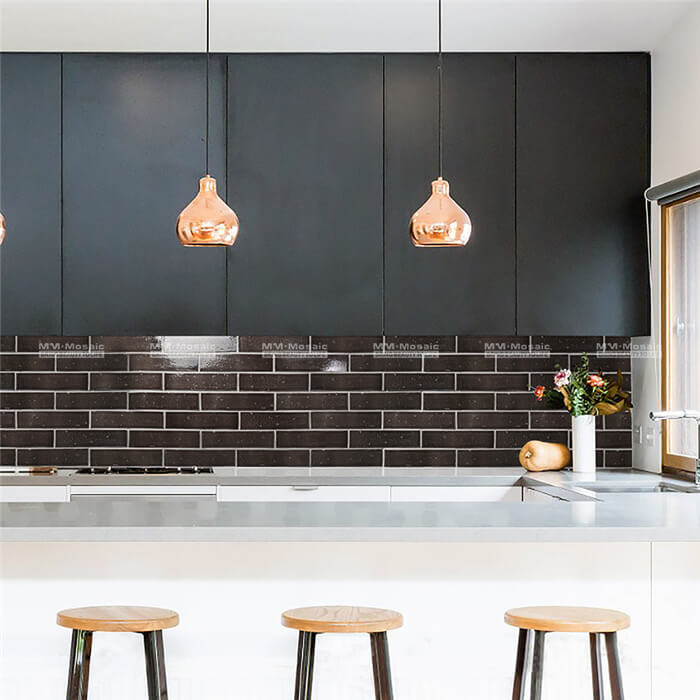 That's definitely the kitchen backsplash design I want! The coffee brown split tile surely fits the space perfectly, it adds sheen to this space and reflective nice by the trick of light and shades. We choose to install this tile in brick bond pattern, you can get a clean and classic look that a subway tile has, and have more characters from its rustic surface. The dark color is a smart choice for it is stain-resistant and easy to clean. You will enjoy your cooking time in such a comfortable, good-looking kitchen.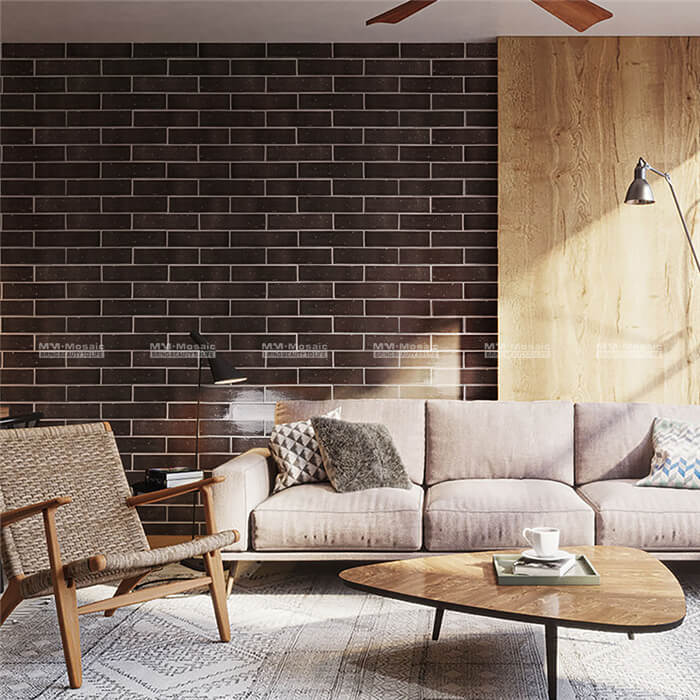 Tiling your living room is a good way to show your personality and taste, you can show your own style to your guest and friends impressively by installing a stunning wall design. The combo of brown split tile wall and wood furniture structures you a superb warm space all year round. If you have a big window, just let the light in, your living room's resting area would be so cozy and relaxing. What's more, the space would seem much more spacious.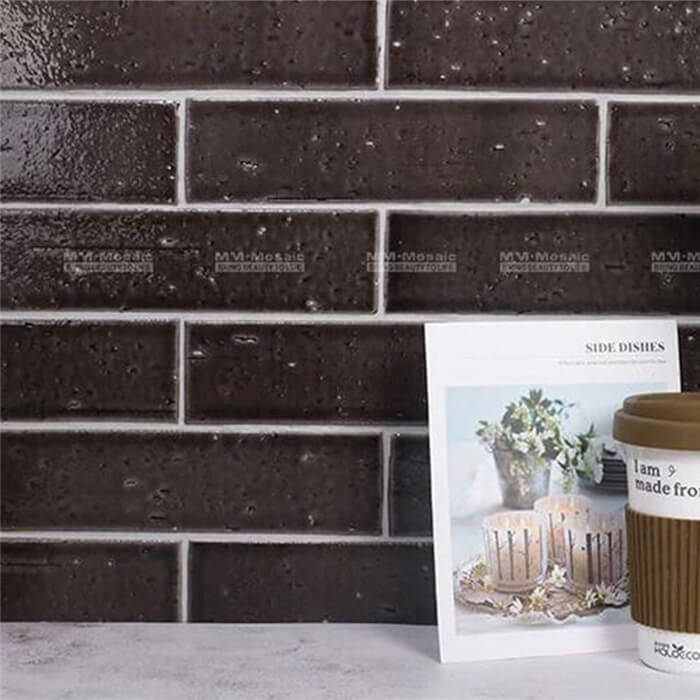 Click to see more about the split tile CZO101JF >>

If you have got inspiration and be interested in our 60x240 split face ceramic brick tile, do not hesitate to contact us for best pricing and more details. And welcome to comment below what inspired you or how will you use this tile design in your interior space.

As a professional mosaic and tile manufacturer from China, MM-Mosaic is committed to produce premium products and service for all customers worldwide. We are glad to hear from and looking forward to establish a long-term business relationship with you. For more best mosaic tile wholesale, head to our product page for wide options.