With their multicolor tones and interesting geometric pattern, Moroccan porcelain mosaics are your preference if you are desperately looking for a style. However, there are various tiles and interior designs for your choice, which will make your eyes dazzling and increase the difficulty of finding a suitable match. Combining with our new arrival Moroccan style mosaic, we provide some helpful suggestions for choosing the most suitable Moroccan tiles pattern.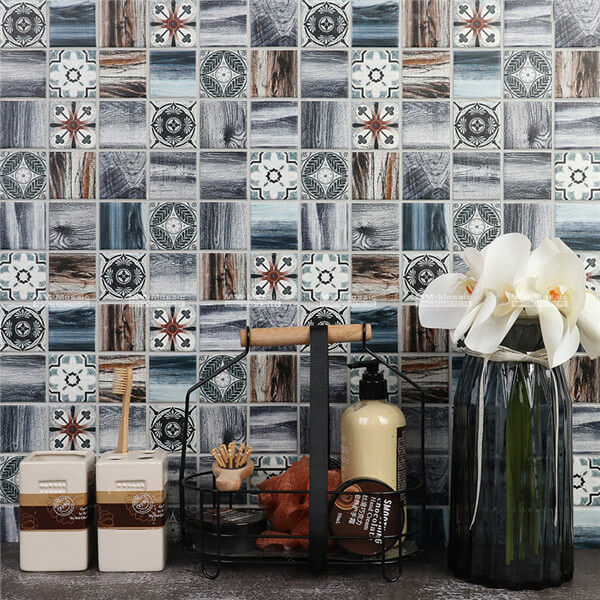 Featured Product: 48MM Digital Print Ancient Wood mixed Moroccan Style Porcelain Mosaic CKO003JN
Do you really know that what Moroccan mosaics are?
If you have ever been to Moroccan, you might authentically know that the streets are filled with diverse special and unique patterns that cover almost every visible surface. Therefore, it's impossible to define which style that presents Moroccan mosaic due to its diversification.
In fact, there are two tiles can be regarded as the representative of traditional Moroccan tiles. One type is called zellige tiles, made by glaze and fired clay, which is small size and paved in a complicated mosaic pattern. The other type is named cement tiles, as its name implies, it made by cement material, which has large size, relatively plain patterns, and simple geometric lines.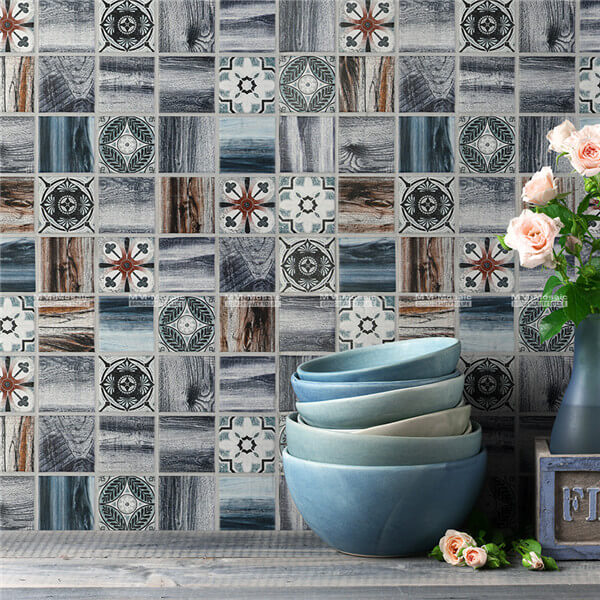 Though how beautiful the traditional Moroccan tiles are, they are difficult to be applied in common home decoration. Because of the material they used, this natural clay and cement are unstable as well as can be easily damaged. What's more, it is hard to get these tiles if you are not a local, and even if you painstakingly find the craftsmen, there are might be a communication problem between you.
Why not try the new technology-Digital Print, Show Originality
The technology of digital print is the greatest innovation in tile to create delicate porcelain mosaics and it has the ability to imitate the lifelike wood texture and realistic marble character.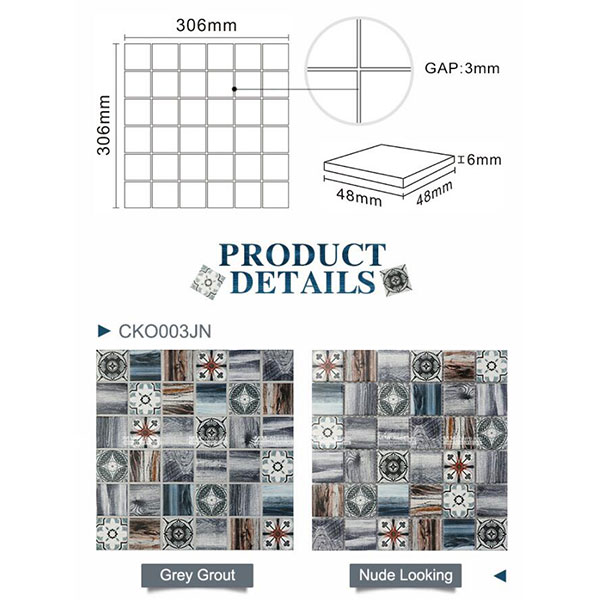 The blend of various Moroccan patterns and natural wood texture surface will actually make your walls and floors stand out, which are guaranteed to capture the attentiveness of your guests.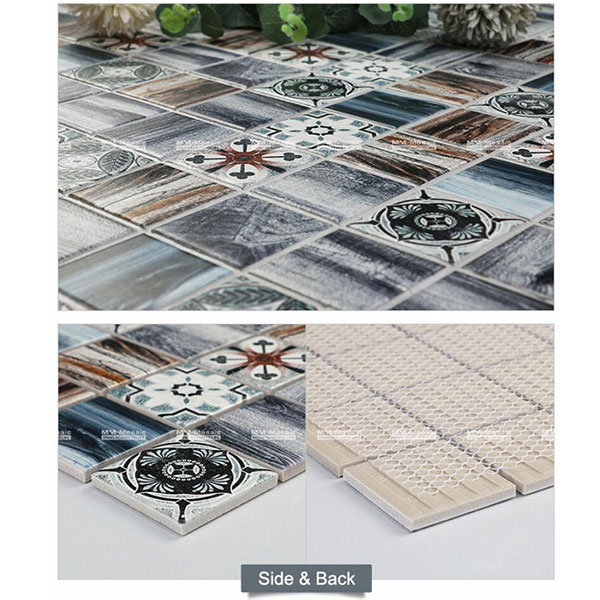 Moreover, its slightly eyeful neutral tones, mixed dark blue, cool gray and light brown, will create your home space a subtle appearance.
Characteristic Kitchen Backsplash
When it comes to a kitchen backsplash, everyone knows the fact that the kitchen is the most important space of the home and no one wants it to be boring.
Just like this design shows, we utilize the unique Moroccan style mosaic tiles to laid in the backsplash, which adds more pleasure to the kitchen. Its classic hexagon shape combines well with the light blue tones, and it can definitely leave a deep impression for your family members and guests.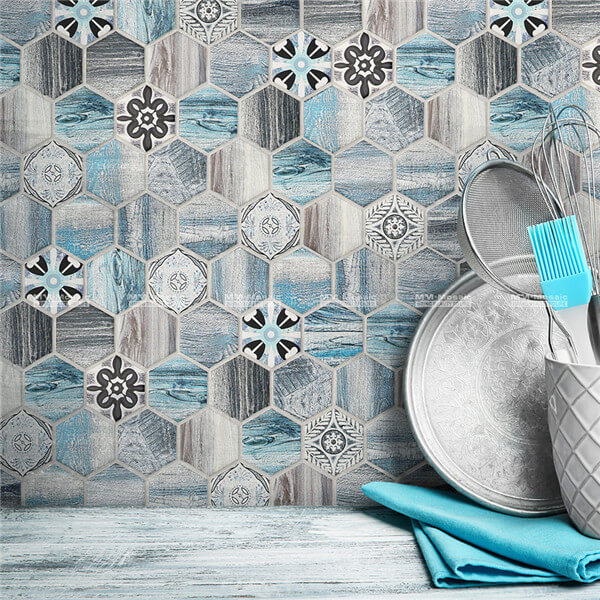 Featured Product: 51MM Digital Print Ancient Wood mixed Moroccan Style Porcelain Mosaic
Stunning Bathroom Flooring
How to decorate your bathroom? Are you Bored with bland but don't like too fancy on the floor? Why not give up the invariable pure white tiles and choose something with exotic. The most welcome way is laying the funny floor tiles.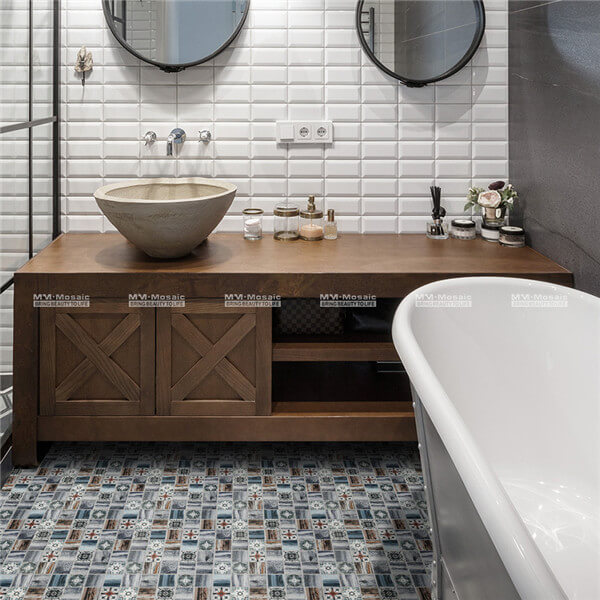 While you are taking a bath or washing your teeth, this digital print bathroom tiles not only can modernize your shower but also give a bit of flair for you. Furthermore, the geometric lines are pairing well with the Moroccan pattern, which will add plenty of quietly brilliant to your space.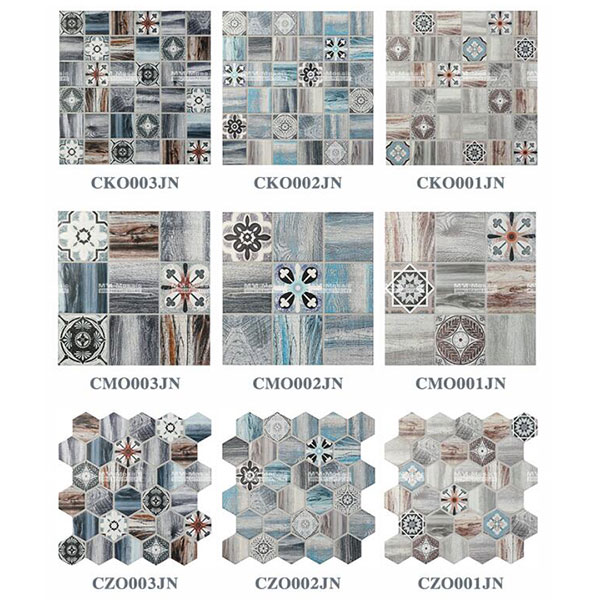 If you are a Moroccan style fan, this article might provide more knowledge for you: The Hottest Trend For Interior Design-Moroccan Arabesque Tile >>>
Wanna get these premium tiles? Inquire us for some samples! Samples give the chance for you to see how the mosaic real looks in your space. As a professional mosaic manufacturer and exporter, MM-Mosaic will provide the latest design inspiration and high-end tiles for your reference.