One of the eternal trends in interior design is vintage industrial style, which creates your space an amazing and fashion-forward feeling. This look is usually all about showing the building materials of a home that many try to conceal. If you are a freshman in interior design, you can just dip your toes in the industrial world simply by enhancing some elements that arouse an urban feel. For example, the most common method is laying vintage industrial feeling tiles.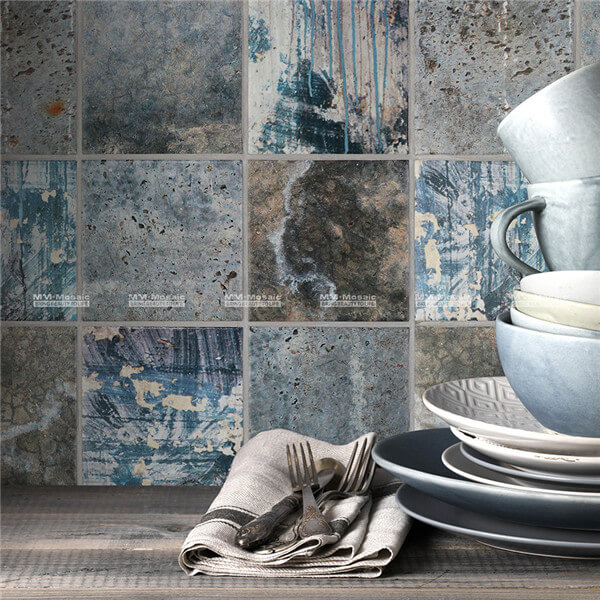 Featured Product: Digital Print Vintage Industrial Style Porcelain Mosaic CKO005JN
Furthermore, outstanding digital print technology in manufacturing porcelain tiles are becoming more and more popular. This welcome technology is a method of mosaic tiles patterns design whereby data and delicate images are printed directly from a computer onto the mosaic surface, which has brought about an exceedingly swift transformation from traditional screen and roller print to digital print technology in mosaic tiles manufacture. Therefore, what surprise things will happen when digital print technology meets vintage industrial style?
FLOORING INSPIRATIONS
When it comes to getting a truly industrial feeling, you might think about dark gray cement floors that have the ability to create the stark and undressed industrial feel in your home. However, it's not a practice idea that straightforwardly pouring concrete on the floor in the actual life. In order to get a similar look, here is a suitable choice for you: digital print vintage industrial style porcelain mosaic.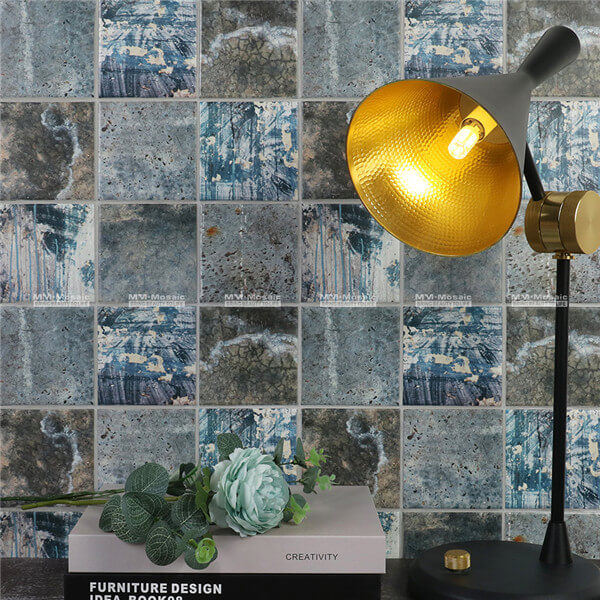 Not like the material of cement, porcelain mosaic is not only particularly durable but also waterproof as well as stain resistance and it is comparatively inexpensive paired with many other flooring options.
What's more, as the digital print technology develops, there are in a huge variety of colors and lifelike patterns just like this follow porcelain mosaic tile bathroom design.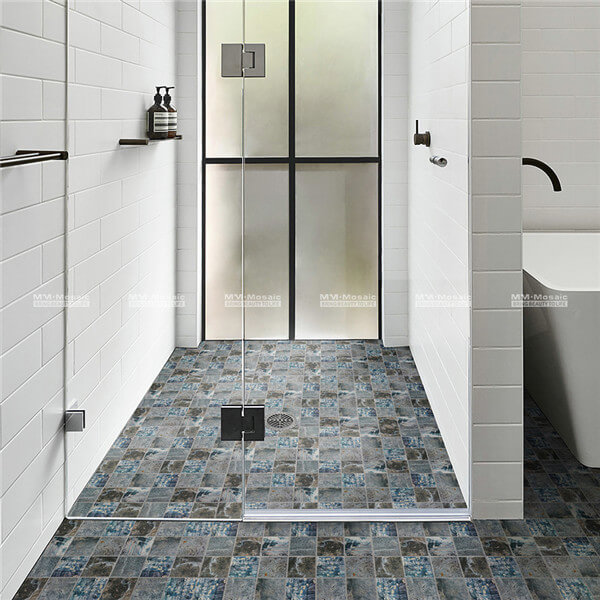 Gap: 3mm; Thickness: 6mm
Chip Size: 48x48x6mm; Sheet Size: 306x306mm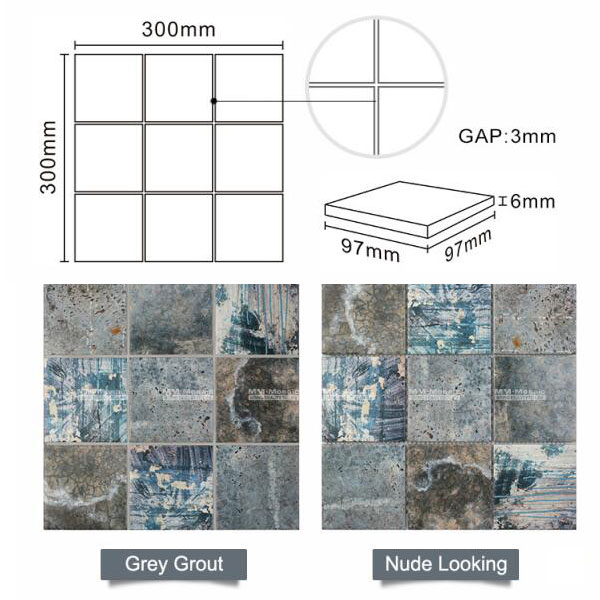 When used it as a floor, your space is filled with a strong industrial atmosphere due to its dark gray and brown color combined well with the thoughtful blue tones, which allows you to decor the washroom with simpler and functional black fittings that exemplify the vintage industrial look.
WALL INSPIRATIONS
Digital print porcelain tiles are actually known for being able to imitate the appearance of many other authentic-looking materials. On the other hand, Square tiles, once dumped for the subway tiles, are making a comeback and it never really disappeared in Europe and also become popular in America. When vintage industrial pattern combines with square-shaped tiles, your kitchen backsplash will be the most prominent space in your house.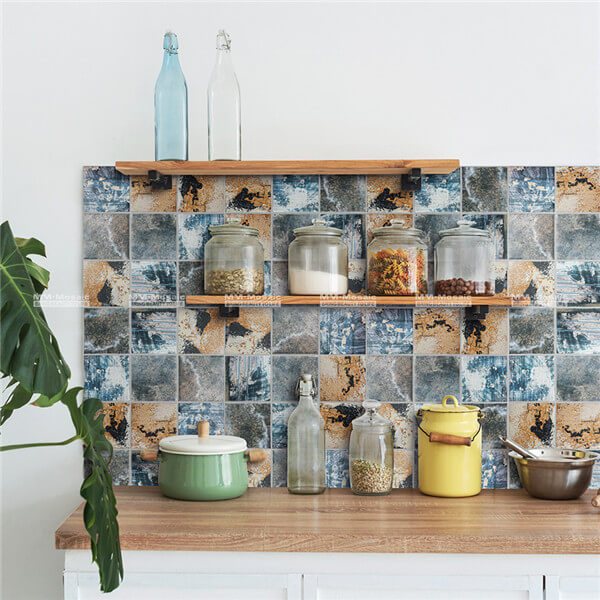 If you are a person who prefers to overall cold tones, laying it in front of the kitchen counter might be more appropriate for you. Just like this design: this look of mimic natural materials really never goes out of style, cool tones digital print tiles is a porcelain tile reminiscent of natural cement, with a range of mid-tone grays. Sometimes modern kitchen fittings are a bit plain so it is an excellent way to give some charismatic spark.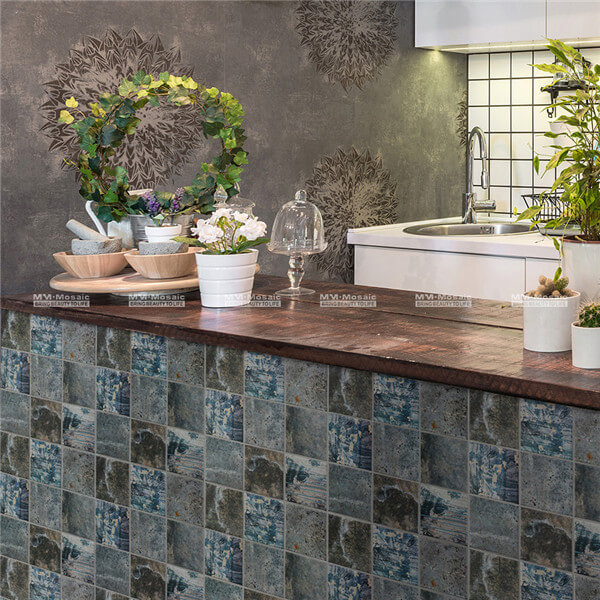 This beautiful kitchen features a mosaic tiles kitchen backsplash. The warm color of vivid brown mixed cool gray and blue tones, which make the whole kitchen more lively and it goes well with the other wood fittings.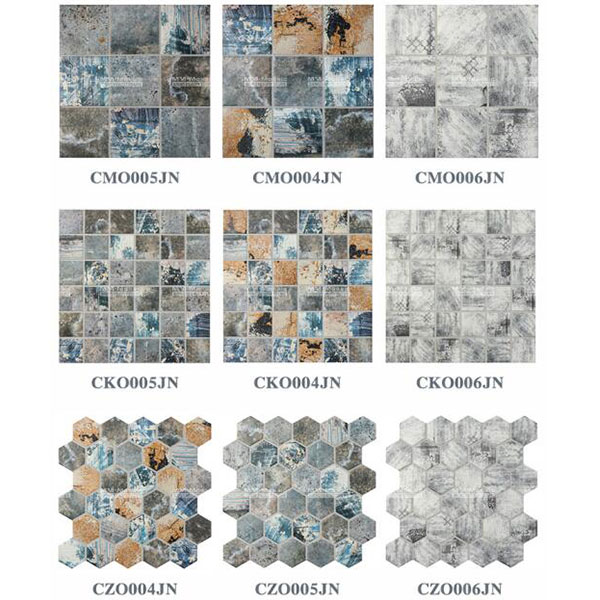 As we know, styles might come and go, and you can encompass them all easily when you are chosen a practical and durable porcelain mosaic that coordinates with just about space, from urban industrial to modern style. Here is another wonderful digital print porcelain tile, might become your second choice: Style Collection: Digital Print Ancient Wood mixed Moroccan Style Porcelain Mosaic >>>
Get any interior design inspiration? Need some premium digital print mosaic samples? Don't hesitate to inquire us! As a professional mosaic tiles manufacturer, MM-Mosaic will provide you the suitable suggestions of home decor and the best service.