With its unique uneven surface design, fan-shaped porcelain mosaic also called fish scale tile or Rain Drops, which can be laid in three different ways for equally captivating patterns. As a timeless mosaic shape, the Rain Drop is most definitely a designer's favorite due to its ability to bring fantastic things to any space it adorns.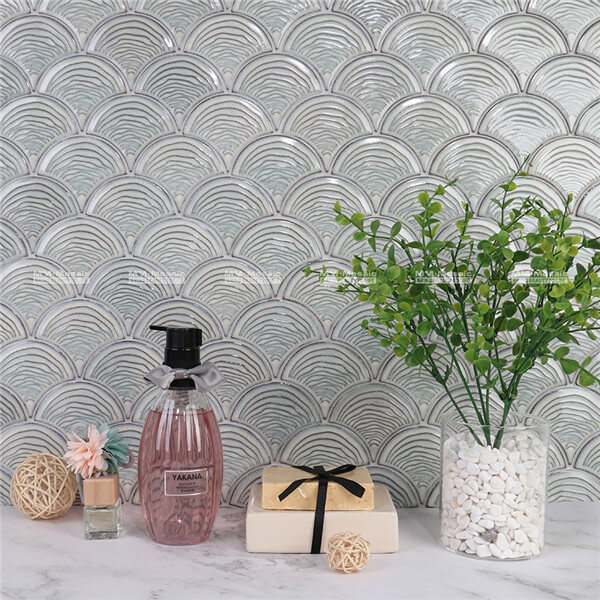 Featured Product: Uneven Fish-scale Porcelain Mosaic Steely Gray ZOC3904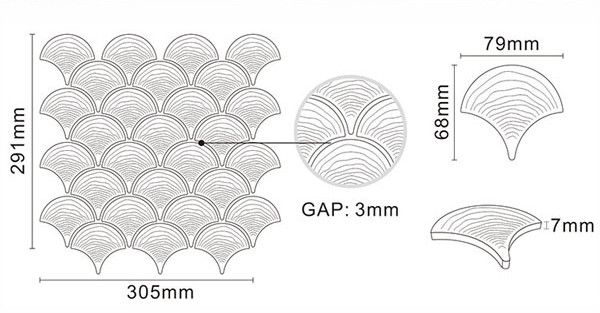 The First Way: Vertical Set
Getting cues from enthusiastic Moroccan architecture, Rain Drops in a Vertical Set pattern is a classic and contemporary twist on ancient designs. This arrangement creates an imaginative scalloped pattern for interesting layered shape effectiveness.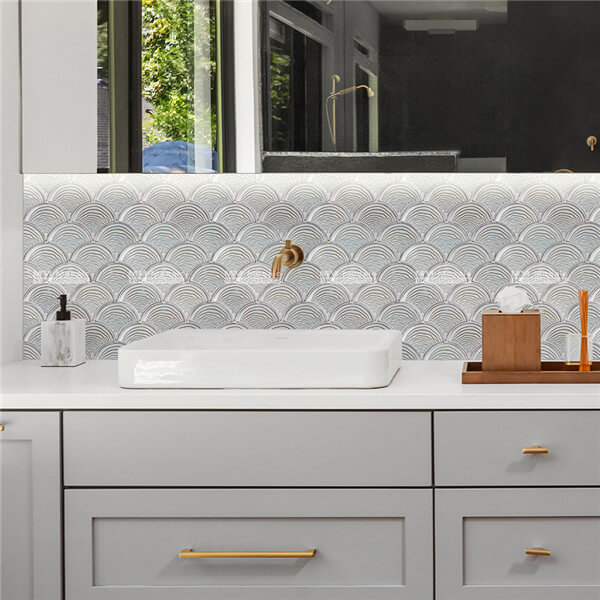 A washtub surrounds adorned with Rain Drop mosaic will stand out your space and give your morning routine a welcome uplift.
Just a little space can make this lovely fish scale mosaic going a long way: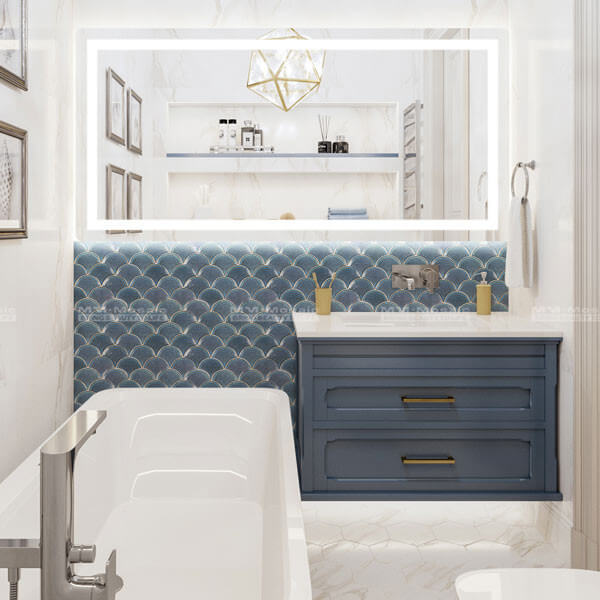 Featured Product: Uneven Fish-scale Porcelain Mosaic Dark Blue ZOC3601
Incidentally, this funny shape and uneven pattern in warm tones also enhance the design sense of the whole space.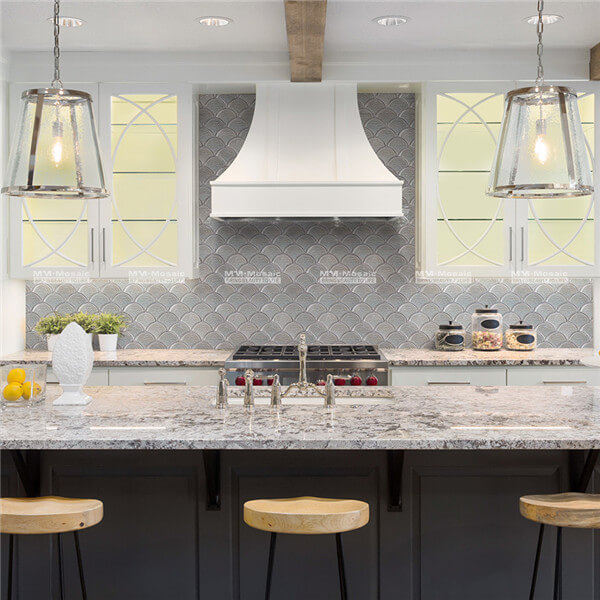 The Second Way: Rotating 180 Degrees
We rotate our Rain Drop upside down into 180 degrees also show a picturesque and layered effective. What's more, this paving way makes it more similar to the authentic fish scale.
While this bathroom is plenty diverting and attractive thanks to the lifelike Rain Drop mosaic, our interior designer had added future-proof details like a fresh green plant as well as the gold metal fittings, which echoes the modern mirror and stylish washstand.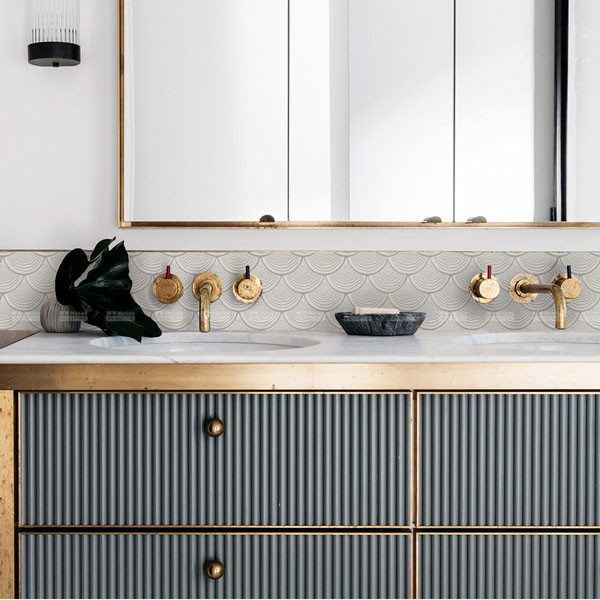 Featured Product: Uneven Fish-scale Porcelain Mosaic Light Gray ZOC3901
It can be denied, the kitchen is the hub of a house. Even though there are comfortable living areas within a residence, homeowners and their guests always seem to congregate in the kitchen. It has become a social space that brings family and friends together in good times and bad. The kitchen is not just for having meals, but for sharing stories, doing homework and even making important decisions. As a result, homeowners are willing to invest in this multipurpose living space.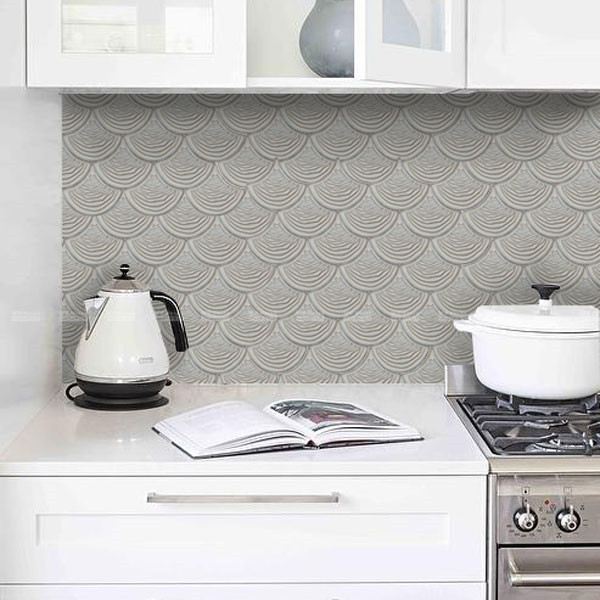 Featured Product: Uneven Fish-scale Porcelain Mosaic Beige ZOC3903
Furthermore, when it comes to investing in quality materials, more often than not, consumers are turning towards porcelain mosaic. For example, the fish scale tile mosaic. The fan-shaped materials not only aesthetic value, but they also offer durability, and in many cases, ease of maintenance. With the seemingly limitless supply of uneven finish and stunning lines available today, there is the latest product to meet each individual interior design style.
Little Tips: Choose a certain grout color.
Before talking the paving way, there is a little you must to know about. Grout lines play a significant role in choosing the right porcelain mosaic. Picture a 100 square wall with uneven fish scale tiles. It seems a little overwhelming! It just like that you are looking at one of those optical illusion drawings. And your eyes might be so busy when you pay attention to so many lines.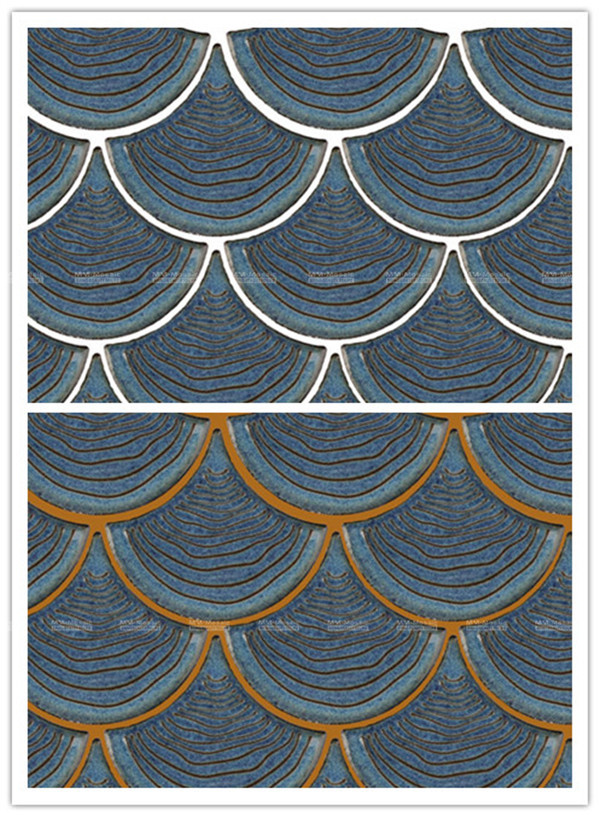 Grouting the best grout color is similar to your mosaic tile color. This will make those busy grout lines disappear and make your space appear larger and more seamless.
For more colors combination, here might have some detailed tips can help you: How to Combine Warm Hues With Cool Tones in Mosaic Interior Design >>>
The Third Way: Horizontal Set
Mosaic design is a different specialty than interior design. That's how the journey started! What're the suitable materials for the bathroom? Porcelain mosaic is commonly used in residential bathrooms - another personal space where homeowners seek quality material.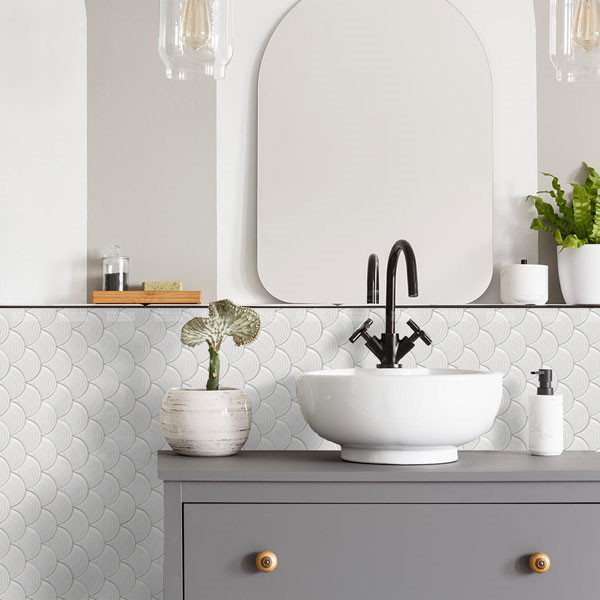 Featured Product: Uneven Fish-scale Porcelain Mosaic Paper White ZOC3201
Bathrooms have become a retreat. Households want a soothing environment where they can relax after a long day, and porcelain mosaic gives the versatility and sustainability that is needed for these types of design.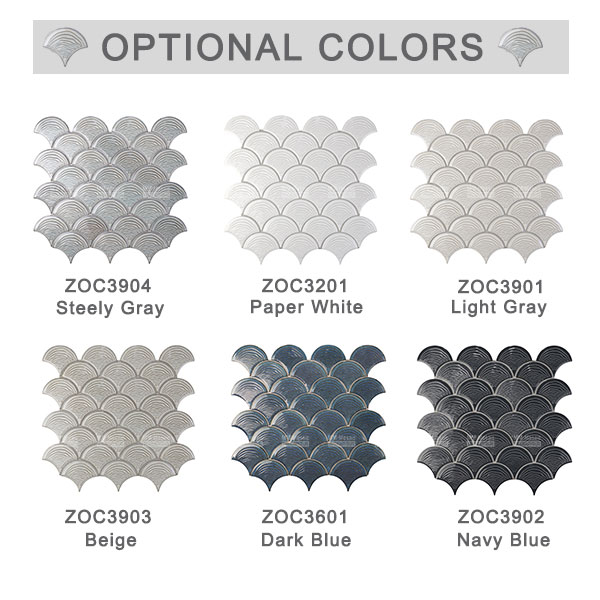 Get any fan-shaped paving inspirations? As a professional fish scale tile manufacturer, MM-Mosaic has prepared premium samples and more mosaic interior design ideas for you. Contact us immediately!